Cuisine Scene:
Finding Middle Ground
by Debra Martin Koma
AllEars® Senior Editor
Feature Article
This article appeared in the February 14, 2006 Issue #334 of ALL EARS® (ISSN: 1533-0753)
Normally, when we feature a Walt Disney World restaurant review, it's of a more upscale spot -- places like Jiko, California Grill, or Todd English's bluezoo that offer a total dining experience with memorable service, outstanding cuisine, and an exceptional ambience.
But let's face it -- not all of us are related to Donald Trump or Bill Gates, and many of our dining "experiences" at Walt Disney World are of the more moderate variety. That's why this Cuisine Scene is focusing on several of the World's more modestly priced eateries, both counter service and table service, for both lunch and dinner. Several of these spots reflect a trend toward catering to those who want more than the standard burgers and fries of yore.
Yes, these are still Disney prices that we're talking about, but meals at these dining spots won't break the budget as quickly as one entrée at Victoria and Albert's will. So put your fancy finery away, and don't worry about extending your pinky -- this is, as Dr. Evil would say, all about "taking it down a notch."
====================
Pizzafari in Disney's
Animal Kingdom
====================
OK, its name gives away Pizzafari's primary focus: pizza pizza pizza. It's good at serving up fast-food fast and efficiently, but also offers patrons some interesting scenery, along with varied meal choices. There's not much out of the ordinary as far as Pizzafari's little pies go. They are small circles of dough, topped with a tomatoey sauce, cheese and, for an extra 30 cents, pepperoni if you want. Ho hum. No, where Pizzafari gets interesting is in its other offerings. The Chicken Parmesan Sandwich, served on a multigrain bun, is a good-sized slab of chicken breast coated in a lightly seasoned breading, with a dollop of tomato sauce and cheese. Not haute cuisine, but not bad for $6.99.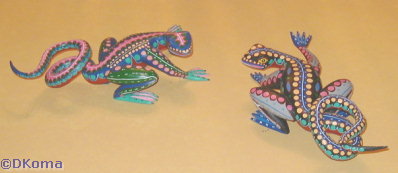 Even better is Pizzafari's Hot Italian Style Sandwich, with layers of turkey, ham, Swiss and Provolone cheese topped with a Caesar salad and pesto-marinated tomatoes. At $6.79, this sandwich is a welcome change from the usual greasy burgers, and is enough to satisfy a moderate appetite. If you're into a lighter lunch or dinner, Pizzafari has a traditional Chicken Caesar Salad for $6.99. For kids, there are peanut butter and jelly sandwiches or cheese quesadillas (both for $3.99 with accompaniments), a nice change of pace from chicken nuggets and hot dogs. To top it all off, you can enjoy your meal in one of six different, brightly painted and uniquely themed areas: the Home Room, Nocturnal Room, Upside-Down Room, Camouflage Room, Four Seasons Room, or the Bug Room. These are particularly fun to examine if you manage to go at a time that's a little less busy and noisy -- the designs and images are really something to see.
====================
Studios Catering Company
Flatbread Grill in the
Disney-MGM Studios
====================
This counter service spot, which was dormant for the better part of two years, reopened last spring to accommodate the anticipated crowds for the neighboring Lights, Motors, Action! Extreme Stunt Show. When it initially reopened, it sported an exotic new menu, featuring savory Middle Eastern specialties, like cumin-spiced lamb kefta with baba ghanoush, tandoori chicken, and a steak "gyro"-style sandwich with roasted red pepper hummus. Unfortunately for those of us who happen to enjoy Middle Eastern cuisine, that menu apparently didn't enthrall the Stunt Show throngs, and the menu has recently changed to a modified Mideast experience. Gone are the gyro and the kefta, but the new choices are still far from the usual fast-food options. The popular Barbecued Pulled Pork Sub ($6.49) offers tangy, tender meat on a fresh roll, while the new Grilled Chicken with Rice and Beans ($5.49) was fairly flying off the counters. I instead tried the Greek Salad with lemon-oregano dressing ($6.39) and was not disappointed in the least. The fresh lettuce was not overly drenched in dressing, and was accompanied with a generous amount of feta cheese crumbles, kalamata olives, and, to my carb-loving surprise, a fresh triangle of pita. The bowl was overflowing, to the point where I couldn't finish it all -- it was just lunchtime after all, and I had much more eating left to do in the day.
To be honest, the Flatbread Grill's Chili Cheese Hot Dog (with Potato Chips, $6.19), didn't appear to be a hot seller -- most kids, and even adults, were choosing to have their dog undressed. Which was fine with the Cast Members -- sans chili and cheese the dog only cost about $5, and subsequently ended up being one of the most mundane things on the menu. The Chicken Caesar Wrap ($6.29) on the other hand was both health-conscious and satisfying. Strips of grilled chicken and lettuce covered in a traditional Caesar dressing, then rolled in a soft flour tortilla, this tasty alternative sandwich was a mouth-pleaser, and definitely an antidote to the "not hamburgers again" syndrome.
If you're looking for a sweet treat after your meal, the Flatbread Grill offers up some selections that are also not run-of-the-mill. When was the last time you had the chance to try vanilla panna cotta or a fresh fruit eclair (both $3.59) at your local fast-food joint? From the looks of the numbers of these desserts that were being sold the day we visited, people are truly eating them up.
====================
Sunshine Seasons in
The Land at Epcot
====================
When The Land closed last year for construction on the new Soarin' attraction, the entire pavilion got a facelift, including its food court, formerly known as Sunshine Seasons Food Fair. The resulting new food court, simply called Sunshine Seasons, has retained its predecessor's health-conscious focus, but provides Disney, and specifically Epcot's Future World, with much-needed variety in dining choices. Attractively designed, the bright, airy space of the pavilion's interior sports soothing colors. The food court itself is a bevy of activity, due in large part to the masses attracted by Soarin'. Despite that, people-watching quickly becomes secondary to noshing on the tantalizing goodies in front of you.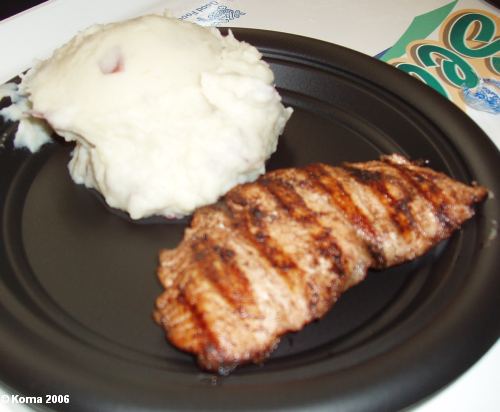 The choices at Sunshine Seasons are far from mundane. Even the pickiest eaters should be able to find something here, either from one of the made-to-order stations, or from one of the numerous grab-and-go refrigerated cases. Like sushi? Sunshine Seasons has it! Fancy a fancy mini-quiche? It's in the case next door. Quick snacks, ready-made sandwiches and salads, pastries, fresh fruit, beer and wines are all available if you're eating on the run. But if you have the time to sit a spell, Sunshine Seasons has more substantial fare, too. On a recent visit, my hungry son opted for the Grilled Salmon with Mashed Potatoes with Kalamata Olive Pesto ($9.09) from the Wood-fired Grill station. The salmon was moist, not overdone, simply grilled without benefit of coating or marinade. The heaping helping of mashed potatoes, swirled with the pesto, was creamy and rich, and almost filled the bottomless pit I affectionately call "my teenager."
The freshly made sandwiches proved to be just as tasty. The Black Forest Ham and Salami Grinder for $7.59 was piled high with fresh meat, topped with lettuce and tomato, and served on chewy ciabatta bread. The Turkey and Muenster Cheese on Focaccia with Chipotle Mayonnaise $6.99 (formerly known as the Turkey Muffuletta) was also a healthy size, very slightly spicy, with savory focaccia topped with baked-on parmesan.
We tried Sunshine Seasons for lunch, but, as it's open most evenings until Epcot closes, you can easily do dinner here. If you're hoping for something more than finger foods, stop by the Asian Wok station for some Sweet and Sour Chicken, or the Noodle Bowl of the day. There are always several heartier entrees to choose from at the Grill Shop, such as the aforementioned salmon, or beef and chicken flatbreads with
tabbouleh. Even the Soup and Salad station offers choices for more sophisticated palates, like the Roasted Beets and Goat Cheese Salad with Cilantro and Lime dressing ($7.09) and the Seared Tuna on Mixed Greens with Sesame Rice Wine dressing ($8.39). And if your children are craving something more than yet another hot dog, maybe they'll enjoy the chicken leg with mashed potatoes, or the mini-sub (both $3.99).
To close out the meal, those with a sweet tooth (or a whole head of sweet teeth, as the case may be!), should not miss the Bakery station -- choices run the gamut from creme brulee, chocolate layer cake, chocolate mousse, eclairs, fruit tarts and strawberry shortcake, to rice krispie treats, ice cream and Nestle (sponsor of the Land) toll-house cookies.
====================
Big River Grille and Brewing
Works at the BoardWalk
====================
Having heard many mixed reviews about the Big River Grille, I'd been slow to try it for myself. The one and only time I'd been in the place was for a drink and snacks with friends and the food quality, service and atmosphere less than impressed me. But in the name of research, I ventured into the restaurant on a recent trip and was pleasantly surprised on all counts.
The decor and the menu at Big River Grille are both no-nonsense, reflecting the fact that this is an American brewhouse experience, plain and simple. Plain wood and metal seating is comfortable yet practical, while menu items, both at lunch and dinner, emphasize sandwiches, ribs and red meat (although there are one or two chicken and pasta entrees). Service is equally no-frills -- pleasant but not overly attentive -- but that's OK for this type of eatery, reminiscent of the TGIFriday's or Applebee's that you might frequent at home.
At lunchtime, the Roasted Turkey Sandwich ($8.99), which comes with lettuce, tomatoes, mayonnaise and Havarti cheese on fresh sourdough bread was above average, with an abundance of moist turkey and a generous amount of kettle chips. Another midday alternative,
the Honey Dijon Chicken Sandwich, featured juicy grilled chicken breast basted in sweet and tangy honey-dijon mustard. Topped with crispy bacon strips and Swiss cheese ($9.75), all on a fresh-baked roll, this sandwich was a bit messy to eat, and definitely not heart-healthy, but delicious just the same.
In addition to the surprisingly tasty fare, the Big River Grille has two other advantages that set it apart. First, for beer-lovers, the homemade brews, crafted on the premises. The other, the outdoor seating, looking out onto gorgeous views of Crescent Lake and the Epcot resort area. With no lunch entree priced over $18.99 (the salmon) and no dinner entree over $24.99 (the NY Strip Steak), Big River Grille is a definite contender for those looking for a solid mid-range meal.
====================
Yacht Club Galley
at the Yacht Club
====================
Located just off the main lobby of the Yacht Club, this moderately priced restaurant should not be overlooked by diners desiring a nice, yet casual and moderately priced sit-down dinner.
The nautical motif initiated in the hotel's lobby is carried through this airy, well-appointed space. There are the wooden slat-back chairs decorated with wave-like carvings, the blue and green stripes featured on the bench seats and wall coverings, the model ships in glass cases -- all little accents that add to the New England nautical theme.
We visited on a recent sparsely attended Sunday evening -- there were maybe 10 other patrons in the restaurant -- which was a mixed blessing. When the restaurant is so unbusy, you generally receive very attentive service, but sometimes it can be almost overly so. And since the idle kitchen is so desperate for something to do, often they don't pace the delivery of your courses as well as they might. Unfortunately, both situations were the case during our meal, but, fortunately, the meal itself was so good we could overlook the overzealousness of the wait- and kitchen staff.
The meal began with a basket of warm, fresh rolls, both multigrain and sourdough. So tempting, yet we tried to resist since we had ordered the Spinach Cheese Dip ($8.19) to share as an appetizer. What a winner this starter was! Topped with diced red onion, tomatoes and real bacon, this warm and cheesy mixture spread on the accompanying fresh grilled pita was so savory we could have made a meal of it.(http://allearsnet.com)
But we had ordered entrees, which, alas, came a little too soon for us to fully enjoy our appetizer. Never mind. The Braised Beef "Sandwich" ($16.49) featured fork-tender beef served open-faced atop a bed of wilted arugula on a fresh split baguette that had been toasted, the entire presentation dotted with a pungent crumbled blue cheese. The sauce was gently flavored with a hint of balsamic and accented by the addition of meaty Portobello mushrooms and sweet caramelized onions. The only complaint, aside from the meal's untimely arrival, was that perhaps the chef had been a little heavy-handed ladling out the sauce.
The Scallop, Shrimp and Mussel Penne Pasta ($17.49) was another outstanding entree, although we requested it minus the mussels. Five substantial shrimp, paired with five succulent scallops, were neither tough nor overcooked, and were mixed with a mélange of perfectly cooked pasta and vegetables -- zucchini, mushrooms, onions, and pencil-thin young asparagus. The tomato sauce, seasoned with fennel, was not overpowered by the anise-like herb, and the dish was topped off with a smattering of fresh-grated Parmesan. It was wholly satisfying.
After a meal so filling, we asked our servers to let us digest for a while before we embarked on the adventure of dessert. We were glad we waited, because it would have been a pity to miss out on the Galley's sweet offerings.
When presented with a tray that featured an array of tempting morsels, including maple creme brulee and Boston Creme pie, we knew we couldn't pass up dessert. And so my dining companion ordered the Dark Chocolate Mousse, served with housemade mango gelato ($6.19). Rich and chocolaty, the mousse was surprisingly fluffy and came garnished with fresh raspberries and a white and dark chocolate swizzle stick. The mango sorbet was slightly tart, a cool and refreshing accompaniment that paired well with the dark chocolate.
The Blueberry Cheese Cake ($6.19) was a dream come true for this dessert devotee. Creamy white chocolate cheesecake with a crunchy graham cracker crust, the dessert was indeed rich, but still enjoyable. The white chocolate was not overly sweet, as it can be; however, the blueberry topping was a tad on the gooey, syrupy side. The accompanying dollop of fresh whipped cream and wisps of dark chocolate that complemented the dessert beautifully would probably have been sufficient. (http://allearsnet.com)
All in all, dining at the Yacht Club Galley was a positive experience, both aesthetically and financially. Dinner for two, including dessert (but not beverages or tip), came to around $55. While that's not as inexpensive as dinner at your local McDonald's, it's nowhere near the cost of dinner at the Galley's around-the-corner neighbor, Yachtsman Steakhouse, where a single New York Strip can set you back $36.
Dining around the World can be an expensive proposition, there's no question about it. But thankfully there seems to be a growing number of options on Disney property where one can dine within a reasonable budget without having to suffer a steady diet of burgers, hot dogs and pizza.
-=-=-=-=-=-=-=-=-=-=-=-=-
Related Links/Info:
Disney Dining Experience -- Don't forget you can get 20 percent off meals and beverages at many Disney restaurants with this discount card.
Reviews -- Read what others think, or submit your own opinions!
-o-o-o-o-o-o-o-o-o-o-o-
Editor's Note: This story/information was accurate when it was published. Please be sure to confirm all current rates, information and other details before planning your trip.