Cuisine Scene:
Good News, Bad News
Review
by Debra Martin Koma
AllEars® Senior Editor
Feature Article
This article appeared in the May 10, 2005 Issue #294 of ALL EARS® (ISSN: 1533-0753)
As we all know, change is inevitable. But, while some change is good, not all change is necessarily for the better.
I recently revisited two long-time Walt Disney World restaurants after long absences and had that concept reinforced for me.
NOTE: As of September 2005, the Garden Grill has reverted to its original family-style menu and format. This review remains just for archival purposes.
=================
GARDEN GRILL
=================
On the good news front, the Land pavilion's Garden Grill restaurant recently reopened after a several month hiatus while work was being completed on the new Soarin' attraction in the pavilion. The bad news? There have been some changes.
The restaurant itself is the same -- it's still a collection of booths arranged in tiers on a circular floor that very slowly rotates, moving from facing the Land pavilion to eventually overlooking the interior of the Living with the Land boat ride, and then back again. Noise levels vary as you revolve, from loud to very loud with the addition of the ride's ambient noises -- barking, chirping, and other sounds of nature. In addition, the Garden Grill is still a character meal, "Chip and Dale's Harvest Feast," featuring the two chipmunks, Pluto, and the Big Cheese himself, Farmer Mickey Mouse.
Though the restaurant is the same, I began to notice the subtle changes from the moment I approached the podium to be seated. As she pulled out a menu for me, the hostess asked if I had any food allergies or other special dietary considerations -- I don't recall any Disney restaurant ever asking me that before. The difference in the new Garden Grill became clearly apparent the moment I looked at the new menu, which has changed dramatically. Gone are the "all you can eat" skillets overflowing with homey comfort foods like catfish, flank steak, and other rotisserie meats, cornbread stuffing, potatoes and vegetables. These have been replaced by a menu that gives you a choice of more upscale, contemporary entrees, with a set starter, salad and dessert served family style. (When asked whether this meal was still "all you can eat," the server hesitated, then somewhat reluctantly admitted that it was actually "additional portions on request." In other words, if you asked for more they'd bring it, but they don't go out of their way to advertise that.) In addition, the Garden Grill now offers "organic wines," that is, wines made with organically grown grapes. (They're also offering a special "Happiest Celebration on Earth" Buena Vista chardonnay, $7.75 per glass.)
The meal started with a family-sized portion of two types of warm breadsticks (chewy multi-grain and sourdough, similar to those served in Le Cellier, the restaurant in nearby World Showcase's Canada pavilion), and three types of dips: a lackluster roasted red pepper hummus, a fresh herb olive oil (very heavy on the garlic), and warm sharp cheddar cheese sauce (the best of the trio, until it cooled and started to congeal). Accompanying the breadsticks was a family-style Spring Salad with Garden Vegetables, composed of arugula, spinach, and other baby greens, with chunks of zucchini and yellow squash, and red onions. These were tossed with the tiniest bits of pecans and an herb vinaigrette, which had a hint of rosemary. While the greens were fresh and crisp, the dressing was a bit too tart for my taste.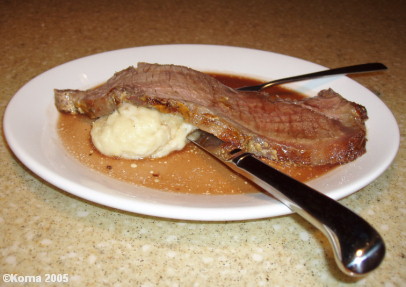 There are now five entree selections from which to choose: Chipotle-rubbed Rotisserie Chicken with orzo and pearl barley risotto; Seafood Cioppino; Grilled Red Snapper; Slow-roasted Beef Strip Loin with caramelized shallot mashed potatoes; and Mushroom Ravioli and Vegetables. I sampled the latter two choices with very mixed results.
The strip loin was just about the thinnest "steak" I've ever seen, aside from minute or breakfast steaks, and was ringed with a band of fat. When asked, I had requested the steak be prepared medium, but it came with the barest amount of pink -- more like medium well. (It's a pet peeve of mine -- if you're going to bother to ask me how I like my food cooked, then please cook it that way!) The steak was not as tough as I feared it might be, though, and the sauce accompanying it, which was supposed to be "au jus," almost had the flavor of a wine sauce to it. The mashed potatoes were creamy and flavorful, though I could not detect a note of caramelized shallot at all.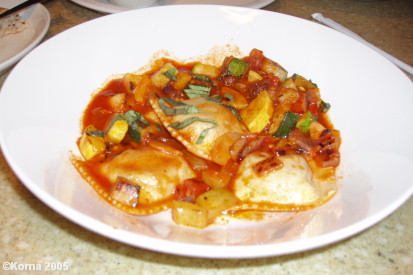 The mushroom ravioli was attractively presented, with bright red, green and yellow peppers, and yellow and green squash. But there were only three of the mushroom and cheese-filled pillows, not nearly enough for an entree for a hearty diner. Garnished with fresh basil and loads of garlic, the ravioli themselves were savory, but the tomato broth they floated on was weak and overloaded with celery chunks. The other vegetables, apparently grilled before being added to the dish, imparted a smoky flavor that did not complement the pasta at all.
But most diners at Disney don't go to a character meal for great food -- they're there to meet Mickey and friends. And in this, at least, the restaurant succeeded as well as it ever did. Characters came at a steady pace, one every 15 minutes or so, and they were attentive to even single diners, not just the many families that filled the place.
Dessert for everyone is a chocolate fondue -- warm, rich chocolate sauce with an assortment of goodies for dipping. There were chunks of lemony pound cake, deep dark brownies, tiny chewy chocolate chip cookies, marshmallows, gummy worms and the barest amount of fresh fruit -- three slices of strawberry and three chunks of pineapple. The chocolate sauce was delicious, and the "dippables" were a kids' delight, but as a grown-up, I would have preferred a little more fruit, or the choice to have a different dessert -- say, the luscious strawberry shortcake the restaurant used to serve.
Having read about the new Princess Storybook dining at Restaurant Akershus in the Norway pavilion, I realize that the character meal there is presented in much the same way as the meal at the new Garden Grill -- family-style starters and dessert, a single entree per person. It seems this could be a new trend for the future. But, I guess there's no use in pining for the past. All in all, at $21.99 for adults, $10.99 for kids, the Garden Grill is not the great down-home character meal that it used to be, but if you or your family need a Mickey (or Chip and Dale) fix, it certainly fills the bill.
=================
SCI-FI DINE-IN THEATER
=================
On the other hand, a return visit to the perpetually maligned Sci-Fi Dine-In Theater at the Disney-MGM Studios proved to be a surprisingly pleasant experience. And that kind of change is always good.
There's no denying that the Sci-Fi is one of the most originally themed restaurants on Disney property, from the darkened drive-in "theater," to the old-style vehicles converted into tables and booths, to the hokey science fiction B-movie clips and cartoons that run on a continuous loop and are projected on the huge screen. But for years readers have written to us (and we've thought ourselves) that the only good things at Sci-Fi were that drive-in motif, along with the shakes and desserts. Perhaps the restaurant has gotten a new chef, because that was definitely not our experience at dinner last week.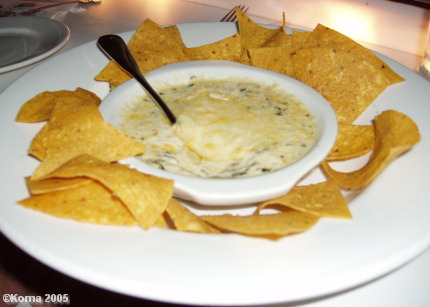 After being seated in the back seat of our "car," we started with an appetizer of Spinach and Artichoke Dip ($5.99). The green veggies were blended with asiago, mozzarella, and Swiss cheeses, and served hot with a generous portion of crunchy tortilla corn chips. Although the cheeses got stringy as they cooled, making dipping a bit of a challenge, the mixture had a terrific, rich flavor, the chips were light and non-greasy -- the starter was a great way to begin the meal.
When my dining partner asked our server Michael which entree he'd recommend, he carefully steered her away from the steak if she were ordering it well done. When he heard she wanted it on the rare side, he changed his tune, however, and heartily recommended it, and he was right. The 8-ounce Flat Iron Steak ($16.99) was grilled to a perfect medium rare and served with a red wine glaze that was a little sweeter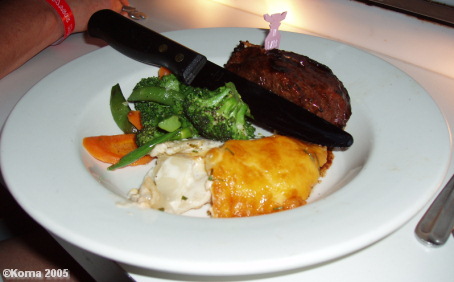 than expected, but not overwhelming. It was accompanied with a mélange of broccoli, carrots and sugar snap peas, steamed to a perfect crispness. The side of scalloped potatoes was not as good as Mom's, but was creamy and a welcome unusual touch, compared to ordinary baked, mashed or french-fried potatoes.
The Reuben Sandwich (sans sauerkraut) ($11.99) was also a happy surprise. Thick slabs of marbled rye Texas toast ensured that the sandwich, heaped with lean corned beef, melted Swiss cheese and Thousand Island dressing, did not turn mushy, even after sitting for a few minutes. It was one of the best sandwiches I've had on Disney property, and accompanied as it was by a pile of french fries and a crunchy dill pickle spear, it more than filled the tummy.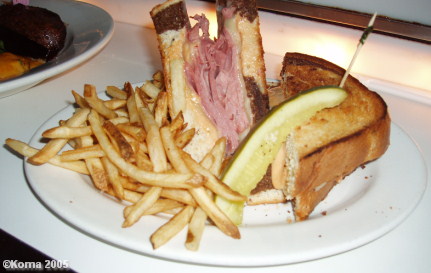 Enhancing our overall dining experience were our efficient server, whose jokes and attentiveness were much appreciated, and the aforementioned film clips, which ranged from movies we'd never seen ("Frankenstein Meets the Space Monster") to a heart-warming bit of Walt Disney himself, discussing his plans for the futuristic Experimental Prototype Community of Tomorrow. It was a nice touch.
Since everyone still raves about the Sci-Fi's after-dinner delights, and since we really had no room after our more than generous entrees, we skipped dessert, but still gave Sci-Fi high marks for both food and service. If you've been wondering about the restaurant yourself, I'd say it's worth a try after all.
-=-=-=-=-=-=-=-=-=-=-=-=-=-=-=-=-
Related Links:
Sci-Fi Dine-In Theater lunch and dinner menu
Sci-Fi Dine-In Theater Children's menu
-o-o-o-o-o-o-o-o-o-o-o-
Editor's Note: This story/information was accurate when it was published. Please be sure to confirm all current rates, information and other details before planning your trip.