A Dream is a Wish your Heart Makes… Cast Members have Dreams, too!
By Deb Wills, ALL EARS® Editor-in-Chief
Feature Article
This article appeared in the February 13, 2007 Issue #386 of ALL EARS® (ISSN: 1533-0753)
A dream is a wish your heart makes… and for two Cast Members I recently spoke to, this Year of a Million Dreams finds them in their dream jobs of a lifetime.
During the recent Year of a Million Dreams Press Event at Walt Disney World, I had the pleasure of meeting Annie, a member of the Dream Squad, and Lowell, a 2007 Walt Disney World Ambassador.
=================================
A REAL DREAM JOB
=================================
Annie has been a Cast Member for three-and-a-half years. So how did she end up on the Dream Squad? "I was in the right place at the right time, oddly enough. I'm a member of the main entrance team at the Disney-MGM Studios and our area manager asked me to join the Dream Squad."
Dream Squad members have three different responsibilities. First, they work as a Dream Greeter, which is how they spend most of their time. As Annie say, "It's up to us to be inventive and to try to find new and different ways to make connections with our guests every day. I consider this a privilege We have all the time in the world with the guests. We can solve problems, help plan their day. Some of our attractions have height restrictions… so we may go have a coloring party with the kids who aren't tall enough and waiting for their family."
The second task is called Prize Fulfillment. They may work half the day as a Dream Greeter and half carrying out their prize fulfillment duties. Prize Fulfillment involves the mass giveaways of say, a hundred Dream Ears, or 50 Dream FastPasses. I asked Annie about guests who use alternative entrances and exits to the attractions since it seems that some of the prizes are awarded to guests going into or out of an attraction. Annie explained that "in the case of a show or attraction, it's who participated in it. So if you were there, you are eligible no matter how you go in or out." She also noted that many prizes are awarded in non-attraction/show locations, such as say, character greeting locations.
The last duty a member of the Dream Squad has deals with awarding the upper level prizes. This activity is random and doesn't happen often — about once every six weeks or so, members of the Dream Squad become part of a team that awards the bigger prizes. Annie noted that "for upper level prizes, we have someone like a Disney Public Accountant with us to make sure everything is above-board."
Recently Annie was part of a team that awarded a huge prize — a trip for four to Disneyland. The trip included tickets, airfare, lodging and meal money. About 15 minutes prior to the upper level prize being awarded, the Dream Squad finds out specifically where they are supposed to go. They may or may not know what the prize is at that point, but this time Annie's squad did. The trip was won by a 6-year-old boy sitting in a specific seat in Buzz Lightyear's Space Ranger Spin in the Magic Kingdom. Had this seat been empty, it would have gone back into the prize bin to be allocated at another time. Sometimes the Dream Squad is instructed to go to an alternate location. In the case of something like the overnight stay in Cinderella Castle, that is time limited to that day. "We would definitely be instructed to go to another specific location," for that prize, Annie confirms. With the big prizes, the guest may not know exactly what the prize is before the Dream Squad escorts them to a quieter location for full details.
A number of All Ears® readers have asked, "What about me? I'm a solo traveler or I don't travel with children. It seems that all the Magical Moments are for families!" I asked Annie about that. She explained that as a 53-year-young person, she spends a lot of time with people in the park who are around her age. "I actually got to plan a day of golf for a guest who was here by himself. He had a golf pin on his lanyard and we started chatting," she says, and one thing led to another. "I'm as likely to strike up a conversation with a couple or someone alone as a family. I used to travel solo to Disney five or six times a year. I always wanted to be treated just as special as everyone else. So I spend a lot of time with those types of people because that's what I would want to have happen if it were me. I always had a high expectation of cast members and I have a higher expectation now that I am a cast member."
What's the best part about her job? Annie told me, "The best thing about the Dream Squad is the chance to connect with guests. We are in the parks every day and are visible… Look for us and say hello! We are there for the guests and that's all we are there for — the guests. The more guests we meet the happier we are."
==========================
TO BE A DISNEY DIPLOMAT
==========================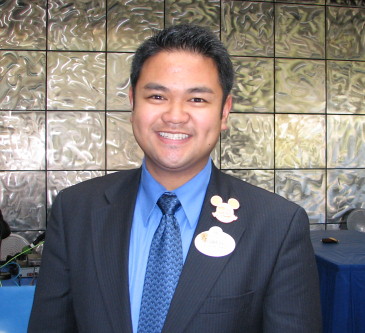 Walt Disney World Ambassador Lowell Durango began his career with the Disney Company five years ago as a member of the College Program, selling merchandise in the Magic Kingdom's Adventureland. His bright, infectious smile and outgoing nature quickly made me feel like we'd been friends for years. I had always thought the ambassador's job was to represent the entire Walt Disney World Resort to the public. While that is true to a degree, Lowell explained that 80 percent of an ambassador's job is focused on cast members.
After graduation from the University of Texas, Austin, with a bachelor's degree in communications, Lowell returned to Walt Disney World as a Captain for the Jungle Cruise. Soon he was in Magic Kingdom Guest Relations giving tours such as Keys to the Kingdom, Family Magic, etc. Perhaps he's been your tour guide. Later he went on to Disney University to teach Traditions and worked with the Disney Cruise Line cast members. Most recently he was at the Disney Institute.
I asked the obvious question of Lowell, just how do you become an ambassador? His answer: If at first you don't succeed, keep trying! This was Lowell's third try at the Ambassador Team (2004, 2006 and 2007). The actual process takes place over the course of several months. In August, the prospective ambassadors make presentations about the program and the process. One hundred two applicants participated in the first round of interviews. Lowell and up to three others had approximately 10 minutes to respond to a panel of managers on a variety of questions, including Products and Services and History and Heritage. Within the week, the 102 was narrowed down to just 20 potential ambassadors. Director-level interviews followed, which included role-playing a situation that the current ambassador team had to deal with. The applicants had 15 minutes to develop a "script," then fielded a series of questions from a panel of eight director-level cast members. The final stage consisted of two parts — Media Day with mock interviews, presentations, writing samples and photo shoots, then an interview with Walt Disney World President Meg Crofton and members of the Executive Team.
Nine finalists were on stage on November 3 as the current ambassadors reminisced about their year-long experience. Then Mickey Mouse and a former ambassador came onstage with the very special ambassador pins on a pillow. At this point, Lowell said, there was so much excitement in the air. "When they announced my name, I drew a blank! My mouth dropped, my hands went to my mouth, I couldn't believe it," Lowell recalls. "The audience was screaming my family and friends were cheering."
A large part of this year's focus is to promote the Year of a Million Dreams. "The celebration is for cast members, too!" Lowell notes. The Dream Squad we see in the parks are granting dreams to guests, but the ambassadors grant dreams to cast members. "Maybe we have a limo pick up the cast member instead of a bus. It is a random process like in the parks. I got to recently grant a dream to a Cast Member from Textile Services at All Stars who won a four-day cruise. Same like with the guests version, the fun, spectacular and unbelievable."
An ambassador's biggest challenge? "Flexibility 24/7," Lowell asserts. "We are there for the Cast Members… no matter where or when. There is so much support from friends and family, that they know for one year you are dedicated to this." He chuckled when I asked him to tell me what a "Day in the Life of an Ambassador" is like. While some events are planned well in advance, he said, "We learn our schedule through Blackberries".
I asked Lowell what advice he would give a Cast Members thinking about participating in the Ambassador program.
"Number 1, have a passion for this company," he replied. "Know what it stands for and what it is about. That we do make magic and we do make dreams come true. That's what our goal is. Number 2 — you have to want to serve. A lot of folks say, "Oh, the Ambassador, they have their photo taken, they are on TV, they are on the radio. But truly the majority of our role is focused on the cast. We are here for them, we represent them, there are 59,000 of them and we need to make sure they feel special."
"If you go out for Ambassador, do it for the right reasons," Lowell noted. "Because you want to serve, you want to help, you want to make the cast members feel that magic so they can deliver it to the guest. If you can understand that, then you can be an Ambassador."
"When I heard about the Year of a Million Dreams campaign," Lowell added, "I thought, what a great year to be the Ambassador. It really is my dream come true!"
-=-=-=-=-=-=-=-=-=-=-=-=-=-=-
RELATED LINKS:
Read more about the Year of a Million Dreams here: http://allears.net/tp/yomd.htm
-o-o-o-o-o-o-o-o-o-o-o-
Editor's Note: This story/information was accurate when it was published. Please be sure to confirm all current rates, information and other details before planning your trip.