Freeform is already well into their 31 Nights of Halloween programming. Now, ABC is getting in on the Halloween action with a "Spooktacular" October planned!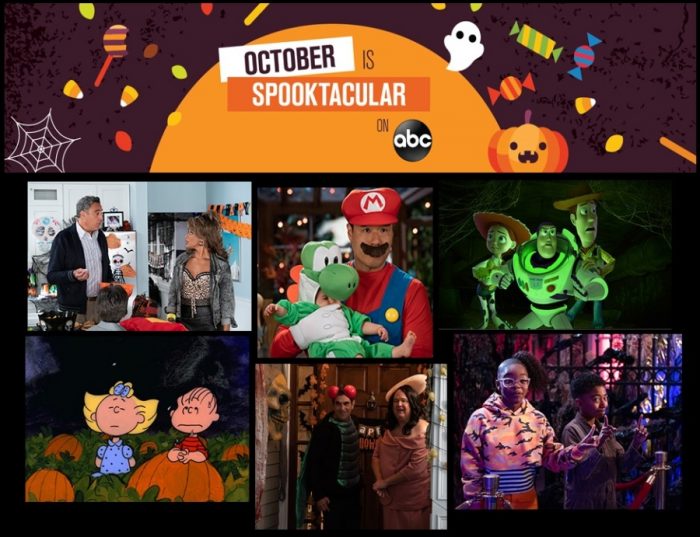 Get your calendars out and be ready to mark down these dates!
THURSDAY, OCT. 18
"It's the Great Pumpkin, Charlie Brown" 
The PEANUTS gang celebrates Halloween with Linus hoping that, finally, he will be visited by The Great Pumpkin, while Charlie Brown is invited to a Halloween party.  (8:00–8:30 p.m.)
"Toy Story OF TERROR!"
A spooky tale featuring all of your favorite characters from the "Toy Story" films. What starts out as a fun road trip for the "Toy Story" gang takes an unexpected turn for the worse when the trip detours to a roadside motel. After one of the toys goes missing, the others find themselves caught up in a mysterious sequence of events that must be solved before they all suffer the same fate in this "Toy Story OF TERROR!" (8:30-9:00 p.m.)
FRIDAY, OCT. 19
"Fresh Off the Boat"
"Workin' the 'Ween" – Honey and Marvin ask Jessica and Louis to be baby Maria's godparents, and Jessica offers to babysit her on Halloween night. But the Huangs are in for a spooky evening when they agree to help wean the baby off of her pacifier. Meanwhile, Eddie is hired by mattress store owner Harv (George Wendt, "Cheers") for a job to make some extra money so that he can buy himself a car and ends up having to work in the creepy store all by himself on Halloween. (8:00–8:30 p.m.)
"Speechless"
"I-N– INTO THE W-O– WOODS" – Maya's Halloween becomes truly terrifying when JJ attends a rave in the woods. Ray joins Dylan's Halloween heist determined to prove he's more than a do-gooder. Meanwhile, Jimmy and Kenneth turn the DiMeo home into the neighborhood's haunted house. (8:30–9:00 p.m.)
WEDNESDAY, OCT. 24
"The Goldbergs"
"Mister Knifey-Hands" – Despite Beverly's wishes, Jackie's parents allow Adam to watch "A Nightmare on Elm Street" and a disagreement between the families ensues.  But Beverly dreams of facing off with horror icon Freddy Krueger (guest star Robert Englund), which teaches her an important lesson about her son's relationship with Jackie.  Meanwhile, Erica realizes she's not as popular as she once was as she starts hanging out at William Penn Academy despite the fact she's no longer a student there. (8:00–8:30 p.m.)
"American Housewife"
"Trust Me" – When Taylor decides she wants to go to a Halloween party, Greg and Katie disagree on whether or not Taylor can be trusted. Oliver and Cooper anxiously try to prepare for playing a game of "seven minutes in heaven" with their dates at a separate Halloween event. A pregnant Viv (Leslie Bibb) follows Katie around trying to get help preparing for her baby's arrival. (8:30-9:00 p.m.)
"Modern Family"
"Good Grief" – It's another epic Halloween full of costumes, tricks and treats for the Dunphy-Pritchett-Tucker clan as they deal with huge, unexpected news. (9:00-9:31 p.m.)
"Single Parents"
"Politician, Freemason, Scientist, Humorist and Diplomat, Ben Franklin" – Will is crushed when Sophie wants to tone down Halloween and invites a boy over. Poppy and the twins attempt to convince a reluctant Douglas to wear a silly costume; after he finally puts it on, he meets the woman of his dreams, who he now is sure will not take him seriously. Meanwhile, Angie struggles to tell her boss that she needs to leave work to be with her son on Halloween, leaving Graham's costume in limbo. (9:31-10:00 p.m.)
FRIDAY, OCT. 26
"It's the Great Pumpkin, Charlie Brown" and "You're Not Elected, Charlie Brown"
This full-length version of the classic animated PEANUTS special "It's the Great Pumpkin, Charlie Brown" includes the bonus cartoon, "You're Not Elected, Charlie Brown," in which Linus runs for class president. with Lucy and Charlie Brown managing his campaign. (8:00-9:00 p.m.)
SUNDAY, OCT. 28
 "America's Funniest Home Videos"
"2905" – AFV celebrates Halloween with people being scared by Halloween costumes, costume malfunctions and a music montage featuring pumpkin mishaps on an all-new episode. (7:00-8:00 p.m.)
 "Dancing with the Stars: Juniors"
"Halloween Night" – The remaining celebrity kids are donning their scariest costumes as they prepare to treat the viewers to some spooky dances, as Halloween night comes to "Dancing with the Stars: Juniors." (8:00-9:00 p.m.)
 WEEK OF OCT. 29
"General Hospital"
Halloween haunts Port Charles when the Fall Festival becomes the scene of a startling murder. (weekdays, 2:00-3:00 p.m. EDT; check local listings)
MONDAY, OCT. 29
"Dancing with the Stars"
"Halloween Night" – The remaining couples will treat viewers to some terrifying thrills as Halloween Night comes to "Dancing with the Stars." (8:00-10:00 p.m.)
TUESDAY, OCT. 30
"The Conners"
"There Won't Be Blood" – It's Halloween, the favorite time of year for the Conners, but an email from the school banning certain costumes, including Mark's, sets off an argument between Dan and Darlene. Jackie introduces someone new (guest star Steve Zahn) to the family at the Halloween party and insists that Dan vet him, only to immediately wish that she hadn't. (8:00-8:31 p.m.)
"black-ish"
"Scarred for Life" – The twins opt out of the family Halloween costume for fear it will hurt their social status in middle school. Dre and Bow take it upon themselves to protect them from bullies by putting together the best haunted house and invite the whole seventh grade. Meanwhile, Junior starts spending time with a girl from Ruby's choir and Ruby doesn't know how to feel about it. (9:00–9:30 p.m.)
"Splitting Up Together"
"Freaks & Creaks" – Lena decides to call Martin's bluff on selling the house but is surprised when he actually begins making necessary repairs to get the house ready to be sold. The realtor, Jeannie (guest star Angela Kinsey) sends over Vlad (guest star Costa Ronin), a contractor, to deal with the structural issues she discovered in the house. Meanwhile, upset that Mae is not enjoying her sophomore year of high school, Lena invites Emma-Rebecca (guest star Milly Shapiro, "Hereditary"), Mae's friend from camp, to visit; yet she seemingly brings a trail of bizarre and supernatural events along with her. Elsewhere, Maya finally tells Frank she is pregnant and is surprised by his reaction. (9:30-10:00 p.m.)
 WEDNESDAY, OCT. 31
"Jimmy Kimmel Live!"
Jimmy, Guillermo, Dicky, Cleto and the Cletones, and all of the show's guest will be dressed for the occasion on an all-new episode of "Jimmy Kimmel Live!" The 13th Annual Half & Half Halloween Costume Pageant will be part of the evening's festivities, where the show takes half of one costume and half of another, weaving them together to form one amazing hybrid costume. Past creations include Trumpty Dumpty, EmoJesus, and The Walking Bed, to name a few. Kimmel will also ask parents to join in on the YouTube Challenge"'I Told My Kids I Ate All Their Halloween Candy," one of the show's signature holiday traditions with over 329 million combined views on YouTube. (11:35 p.m.)
All times are EDT.
Will you be watching any of these Halloween specials? We'll be sure not to miss "The Great Pumpkin" and "Toy Story of TERROR" — classics!