Love is in the Air: A Magical Proposal
by Dan Cunningham
AllEars® Guest Columnist
Feature Article
This article appeared in the February 14, 2017 Issue #908 of ALL EARS® (ISSN: 1533-0753)
Editor's Note: This story/information was accurate when it was published. Please be sure to confirm all current rates, information and other details before planning your trip.
Proposing to my future wife was by far one of the most exciting and joyful memories that I will ever have. I did it at Walt Disney World, and you would think that it would be one of the easiest places in the world to do so. But for me, it was quite the challenge. Although it will always be a cherished memory, I will also always remember how it was one of the scariest and most nerve-wracking things I've ever done in my life.
There are so many great options and so many different routes you can take when planning a proposal at Disney. There are hundreds of ideas on the internet, from something simple and intimate such as a romantic dinner, to a very elaborate flash mob. On top of that, Disney offers special ideas to make that proposal extra magical. Since it's Valentine's Day, I wanted to share the story of my fiancee and me.
Our story began back in the summer of 2013. We are from Canada and both of us had been accepted to work for Walt Disney World on the International College Program. Yes, we met working at The Most Magical Place on Earth. She worked Merchandise in Fantasyland at the Magic Kingdom. As for myself, I spent the most amazing summer working in Custodial at what was then called Downtown Disney. We started talking before the program officially began and got along right from the start, and then began dating within our first few weeks in Florida. There is no better place in the world to begin a relationship, in my opinion, because there are so many romantic dates you can go on there. I was lucky enough to find the perfect girl who loved and appreciated Disney as much as I did.
Once the summer was over, we didn't know how our story would continue. She lived near Montreal in Quebec, and I lived in St. Catharines in Ontario — a six-hour drive. We made it work, visiting at least once every month. It was obvious we would apply for the program once again for the summer of 2014, and again we both were accepted. We actually asked for the same location and role this time, and were approved, so we spent another magical summer together.
We both finished school and continued to take trips to Walt Disney World, and we finally moved in together. I knew she was the girl for me, and before our most recent trip, in October 2016, I started planning how I would ask her to marry me. Walt Disney World was the obvious location for the proposal, but the issue was where to do it. Trying to decide how to propose was one of the toughest decisions of my entire life. I didn't even have that planned until the week we left. Because we are both former cast members, we had plenty of friends, current and former cast members, who I could turn to for help. I spent many nights reading other people's stories online, watching YouTube videos and asking people for advice. I checked through the many options that can be found on the Disney website. They had amazing ideas and different prices for all types of engagements, from A Royal Engagement (at Cinderella's Royal Table you can have a glass slipper brought to the table with the ring) to other options, like having flowers and wine sent to your room. I even contacted someone from Disney to speak about some of the options, but I realized I wanted to do something more personal and meaningful to us as a couple.
I began writing down all of our favorite places in Walt Disney World. After spending two summers together there, the list was getting long. I had to narrow it down; we had so many places that meant so much to us. I started from the beginning and thought of our very first date at Downtown Disney. I had taken her on Characters in Flight (the tethered balloon ride) and then to dinner at Splitsville. I was a little afraid of heights, but thought doing it again wouldn't be so bad. I then pictured myself, or my fiancee, dropping the ring and it falling 400 feet into the water below! At least I was getting somewhere by eliminating some of the ideas. I then thought of what she would want most. She wouldn't want something too big to bring attention to her, so I thought about her favorite park, Magic Kingdom. I thought of the ever-classic in front of the castle or the Cinderella's Wishing Well and getting a PhotoPass photographer to capture our moment. However, I knew she already had a sneaking suspicion that a proposal was in the works, so I didn't want to make it too predictable. I knew if she saw me talking to a cast member from PhotoPass she might expect it.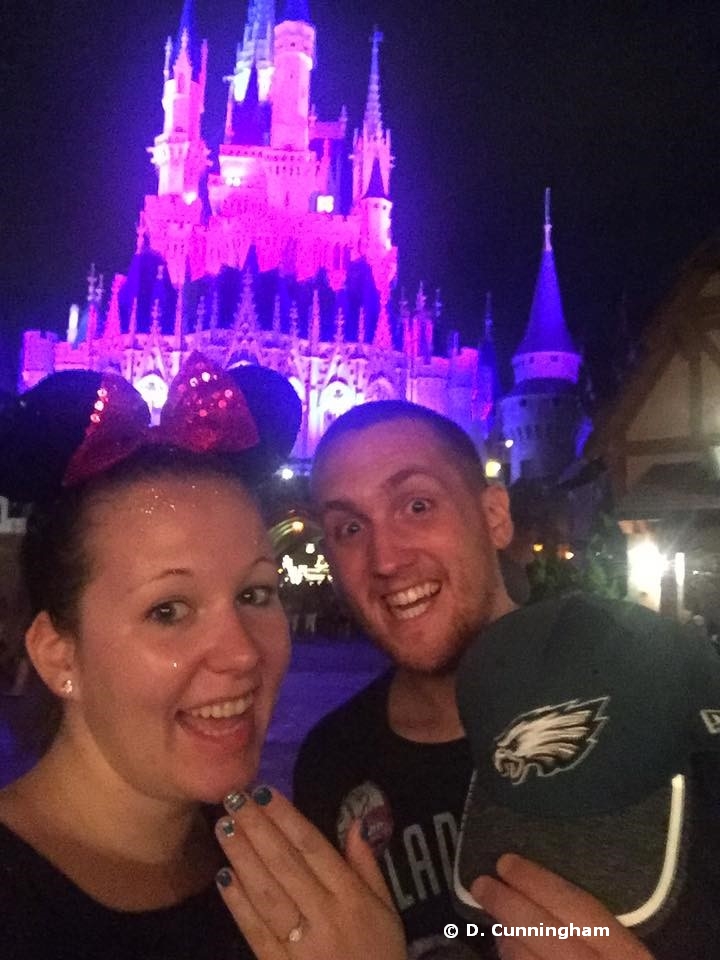 I then thought of the first day we met, where we spent the night at the Polynesian Resort and watched Wishes from the beach. Since our first time meeting, we have always spent our first night of our trips watching the fireworks show from across the lagoon. Then I got worried about the weather and the issue of rain on the night I planned to propose. At this point the trip was only a couple weeks away, so I had to figure something out. I thought I could just wing the proposal when it felt right, but then it finally hit me. My new plan had all the criteria I was looking for: unique, not too over-the-top, and very meaningful to us.
I still can remember everything as if it were yesterday. It was a few days into our trip, but our first day at Magic Kingdom. I woke up early, took the ring out of the bulky box and placed it in a plastic bag inside my wallet. Of course, of all days, she asked me to keep her stuff in my wallet, so I had to move the ring to my pocket as soon as we arrived at the park. From the moment I moved the ring to my pocket, I don't think my hand left it. I was terrified that something would happen and it would fall out! I also did my best to keep her on the opposite side of the ring so I could hold it the whole time. My planned spot involved going to Fantasyland, but I didn't want to make it too obvious. I wanted her to just naturally go there.
After using our FastPasses in Tomorrowland, we finally made our way over to Fantasyland. I remember shaking once we got there — it was by far the most nervous that I had been in my entire life. As we were walking around Fantasyland I knew she would want to go to see friends she used to work with. So we went into her favorite store, Castle Couture. This was her favorite spot to work while she was a cast member. It was her favorite because when working there, merchandise cast members sprinkle pixie dust over guests to make their wishes come true. (For those who don't know, you can go to either Castle Couture or Sir Mickey's behind Cinderella Castle and ask a cast member for some pixie dust, free of charge!) Every trip, and even every day spent at Magic Kingdom during our summer programs, she needed to get some pixie dust! As soon as we walked into the store, she asked the cast member for some pixie dust. At this point my heart was beating a million times per minute. She closed her eyes as the cast member started saying the magic words, "With a little bit of faith, trust and pixie dust, all of your dreams can come true." As she opened her eyes, she saw that I was down on one knee. She immediately started crying as I asked her to marry me and make me the happiest man in what is truly The Most Magical Place on Earth.
I sincerely believe anywhere in Walt Disney World is a perfect proposal location. There are thousands of options and after doing my research, I realized I was not alone in wanting the perfect Disney proposal. I would recommend to anyone considering it, do as much research as you can and try to find something truly special to you and your partner. But by all means if you are a Disney fan thinking of proposing there, do it!
As Walt famously said, "It was all started by a mouse" — and that includes countless love stories such as mine.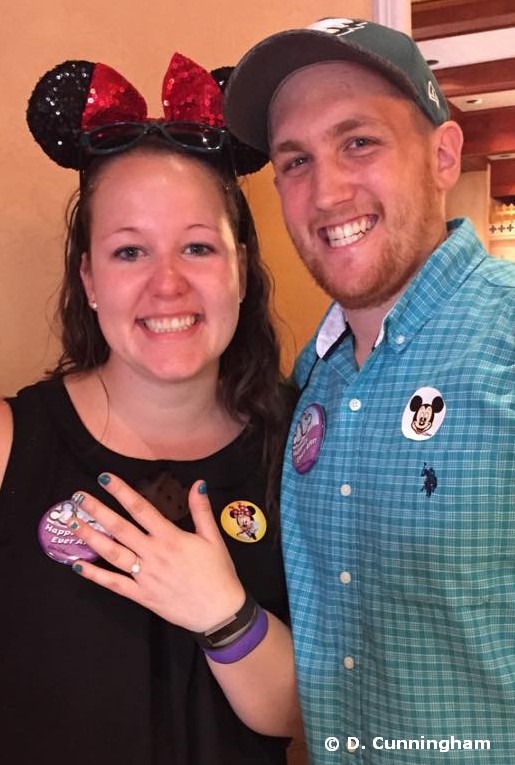 = = = = = = = = = = = = =
RELATED LINKS
= = = = = = = = = = = = =
For Whom the Bells Toll: Weddings at WDW
25 Years of Disney's Fairy Tale Weddings and Honeymoons
Fairy Tale Weddings at the Magic Kingdom
Relaxing, Romantic Disneyland Honeymoon
= = = = = = = = = = = = =
ABOUT THE AUTHOR = = = = = = = = = = = = =
Dan Cunningham is a former two-time participant in Walt Disney World's International College Program. He and his fiancee Christeen Daoust live in Ontario, Canada, and are busy planning their upcoming nuptials — no date yet, but they're hoping to make it a Disney wedding, too!
-o-o-o-o-o-o-o-o-o-o-o-
Editor's Note: This story/information was accurate when it was published. Please be sure to confirm all current rates, information and other details before planning your trip.