It's a New Year — Let the Planning Begin!
by Susan Mitchell
AllEars® Guest Columnist
Feature Article
This article appeared in the January 7, 2014 Issue #746 of ALL EARS® (ISSN: 1533-0753)
Editor's Note: This story/information was accurate when it was published. Please be sure to confirm all current rates, information and other details before planning your trip.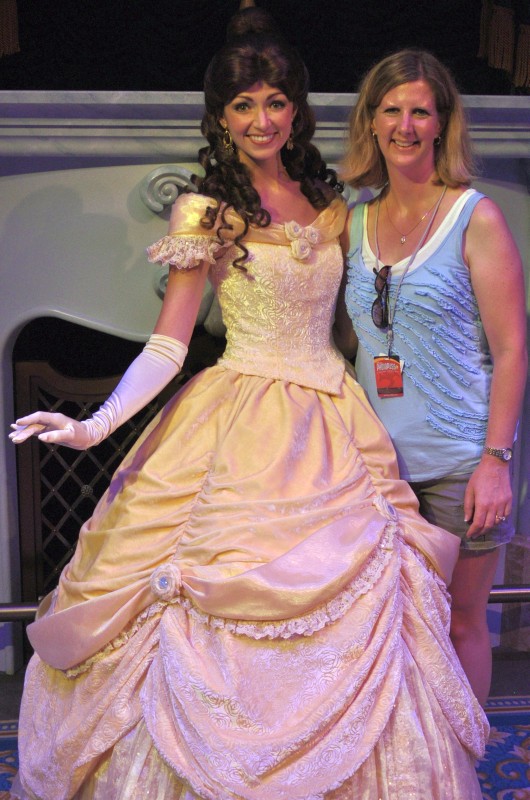 I love Disney World!
My husband, myself, and our two kids (boy, age 9; girl, age 6) vacation there every year (except twice, when we decided to take Disney cruises). My sister and her family (girls, age 8, 6, and 1) join us every other year. This past summer, my parents decided to join us, as well as my youngest sister (age 21). That made 12 of us!
It is wonderful to be able to vacation together at the most magical place ever! There is so much excitement leading up to the vacation, and that is what we would talk about constantly, starting in about December. If you think that you might want to take a trip to Walt Disney World with a large group as we did, now would be the time to start planning.
How did we go about it?
My relatives all live in Illinois, while we are in Virginia, so, planning was done by phone and email, between my sister and me. Of course, I referred her to AllEars.Net, and she and I used our previous visits (two previous visits for her, 14 for me, plus the few times that we went as kids) as our guide.
The planning was fun and exciting! I took the lead, because of my experience. I am a big believer in taking advantage of the offers that Disney provides (staying on property, dining plan, reserve meals six months ahead, Extra Magic Hours [EMH], and Fastpasses [FP]). Also, my husband is active duty military, so we receive a discount on park tickets, and we are Disney Vacation Club members.
We decided to go in late June for one week. I purchased all the tickets at our local military installation. We used our DVC points for three rooms in Disney's Villas at Wilderness Lodge, and signed up for the basic dining plan. Since everyone had been to Disney before, we all had our favorite restaurants. We all had also read reviews on various places to dine. My sister and I had to eat at Le Cellier. The kids wanted to see the show at Hoop De Doo Revue, and the men wanted to eat at 'Ohana for dinner. This was a slight challenge to fit everything in with our dining plan, but we did it. We only ended up paying out of pocket for one table service meal.
On our first day of vacation, before we checked into Disney, we picked up some items at the grocery store, went out to lunch off-property, settled in to our hotel, swam, and went to dinner at 'Ohana. (No park tickets were needed for that day.)
We spent three days at Magic Kingdom, one at Animal Kingdom, one at Disney's Hollywood Studios and one at Epcot. We didn't have time to see the nighttime parade or any fireworks. We did see the Electrical Water Pageant because it went right by our hotel. We also spent one day at the beach. On beach day, we ate breakfast at Chef Mickey's (no park ticket needed that day either), then drove to the beach. We wanted to go to Universal Studios, but we couldn't fit it into our schedule. We also couldn't fit in miniature golf or a water park or even Downtown Disney. We couldn't do everything we wanted in seven days, but we were satisfied with our decisions. Our kids go to bed early, and we were up by 5:30 every morning to eat breakfast and get to whatever park we were going for EMH or opening. Because we wanted to be together, we did not want to do something without the entire party (except for when napping or seeing princesses required it). We wanted to swim in the late afternoon, eat at our hotel, and swim some more. We didn't cook in our villa. My theory is that I am on vacation, and I don't want to cook!
We took full advantage of the Extra Magic Hours, standing at the park entrance waiting patiently for the opening of that particular park. We ate breakfast in our hotel, put coffee in travel mugs, and we headed out for the day, getting to the bus stop early. We always decided what our first three attractions would be, so we didn't spend time inside the park staring at the map. Extra Magic Hours were a key to our success, and we were sometimes able to do half of our park goals in that first hour, before the large crowds arrived.
We always used Fastpasses, whenever available, and my husband, superhero that he is, would take all of our entrance tickets and go to the first FP attraction on our list. I would move the remainder of the group to a different, non-FP attraction. He would meet us at the pre-designated spot. We saved a lot of time doing this. If the 1-year old couldn't ride the attraction, my sister, or another adult, would sit and wait for the rest of us. No big deal.
But, when it came to the FP attractions, everyone wanted to ride! The 6-year olds were finally tall enough to ride Splash Mountain, Space Mountain, Tower of Terror, Soarin,' and Test Track. Not to mention that Big Thunder Mountain Railroad is everyone's favorite! My sister used the parent-swap Fastpasses for these attractions, which allowed three others to ride with her, after the rest of the group rode it first. By some miracle, she was lucky enough that one of the four youngest kids was always swayed by something, so there wasn't a huge fight every time, when she used the parent-swap. Sometimes, I helped with the promise of a treat (luckily, those ice cream carts were always right where I needed them).
However, some things hindered our progress. Moving through a park with so many people is not fast. Someone always had to use the restroom, needed a cup of coffee or a snack, dropped something, needed to wash their hands, or was sidetracked by a different attraction from the one we were headed to. Also, my dad injured his back two days before our vacation, so he required an electric scooter. Stubborn as he is, he only wanted a scooter inside each park, not at the hotel. So, each morning, as soon as we gained entrance to the park, my sister made a detour to rent a scooter for him. I mentioned the 1-year old in our party — stroller-bound. For every attraction, the stroller would have to be parked and my young niece scooped out of her carriage. Since the kids were usually waiting by the stroller, that prompted the, "I need a drink of water, a snack, or hand sanitizer, or my toy" conversation. Another adult would run ahead and ask an attendant about the scooter: could it be brought on the ride, taken through the line, or was it easiest to park and have my dad go through the line with us? (Remember, I told you he was stubborn, so he preferred to walk, but it was painful for him.)
Since we were very successful riding/seeing the attractions we wanted, we left the parks each day late afternoon, usually 4 or 5 p.m. The kids were aching to swim in the pool. My parents and my brother-in-law (with the baby) left earlier than we did to take naps (yes, naps for my parents!). One afternoon, the girls wanted to see princesses at the Magic Kingdom. My son said, "No way," so my husband took him back to the hotel to swim. For that afternoon, my sisters and our daughters enjoyed our favorite Disney treat — Dole Whips! Well worth the wait in that long line! Luckily, the girls had those awesome spray bottle fans to soak themselves, while the adults waited in line! After our return to the hotel, we would eat a quick service meal, and then head to the pool.
With a large group, finding a large enough table is tough for a restaurant to do. We were lucky to sit together at 'Ohana and Chef Mickey's. We sat at two separate tables for Hoop-De-Doo, Liberty Tree Tavern, Le Cellier, and Sci-Fi Dine-In. We ate our big meals at lunch to regroup, enjoy some air conditioning, and plan the rest of our afternoon.
So, what is my point about my family's "grand gathering?" (I know Disney doesn't call them that any longer, but that's what it was to us!) It is all about togetherness. The cousins can play together, the adults can enjoy some beverages together, and we can just be together. Yes, there are some slight downfalls, as I described above. It's hard for a large group to eat together in a sit-down restaurant. Moving through the parks, especially if someone in the party uses a stroller or a scooter, is definitely slower than if everyone can walk. Someone will usually end up not going on the attraction for any number of reasons (baby, child deciding they don't want to go, mobility issues).
Still, we can't wait for our vacation next June, though it will just be my family of four. I already have a list of what we want to do and where we want to dine. We are going to try to go to a Disney water park on one of our days, since we have never been to one, and the kids have been begging. Also, for our 2014 trip, my son wants to try to do/see everything in the Magic Kingdom in one full day. My daughter wants to see the parades and the show in front of the castle (we never seem to see that show in its entirety). It will definitely have to be an Extra Magic Hour morning!
So… as the year is off to a fresh start it's time to say, "Let the planning begin!"
(EDITOR'S NOTE: This article is accurate as of the time of publication, but be forewarned that traditional Fastpasses, as described here, are eventually going to be replaced by the new Fastpass+. Other changes will also be forthcoming as My Disney Experience and Magic Bands become fully operational throughout Walt Disney World. Stay current with all the changes happening around the World with AllEars.Net!)
=-=-=-=-=-=-=-=-=-=-=-=-=
ABOUT THE AUTHOR:
Sue Mitchell and her husband have vacationed annually at Walt Disney World since their engagement in 1996. They have also visited Disneyland Paris twice and cruised with Disney twice. Before 1996, Sue went to WDW as a kid with her parents and siblings five or six times, but only to Magic Kingdom. Her mom always packed apples and sodas in her purse because her dad refused to pay for any other food besides lunch! Walt Disney World is Sue's only vacation destination.
= = = = = = = = = = = = =
RELATED LINKS
Planning a Trip for a Large Group:
http://allears.net/ae/issue256.htm
Perils, Pitfalls and Practical Advice for Traveling with a Group:
http://allears.net/ae/issue109.htm
Advance Dining Reservations
http://allears.net/din/reserv.htm
-o-o-o-o-o-o-o-o-o-o-o-
Editor's Note: This story/information was accurate when it was published. Please be sure to confirm all current rates, information and other details before planning your trip.