Extended Family Values: Planning for Intergenerational Travel to WDW
by Alice McNutt Miller
AllEars® Feature Writer
Feature Article
This article appeared in the October 7, 2014 Issue #785 of ALL EARS® (ISSN: 1533-0753)
Editor's Note: This story/information was accurate when it was published. Please be sure to confirm all current rates, information and other details before planning your trip.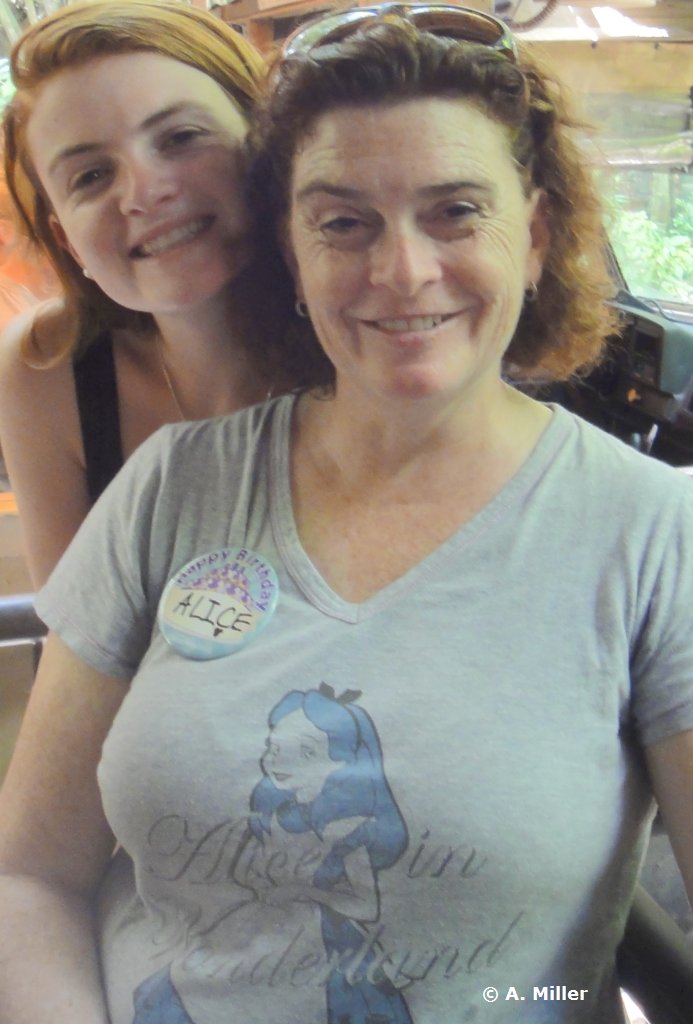 There were two cupcakes involved. One looked rather normal, yellow cake with chocolate frosting, I think. The other was white cake with a fluffy swirl of shockingly blue sweet gooiness. My father-in-law matter-of-factly dispensed with the first, and my daughter, wooed by the sublime sight of the blue frosting, but uninterested in its too-sweet flavor, scraped the frosting unceremoniously into the plastic box it had previously been housed in, and wolfed down the cupcake. We were standing on a corner of Main Street U.S.A., and a passing character or an errant balloon momentarily distracted me. When I looked back down, the plastic container was empty, and Grandpa had a telltale fleck of blue on his chin and a smile on his still-smacking lips. This is one of the many small memories that I have of the several trips that we have taken to Disney World with my husband's parents. Since we live so far from them, the times we have had together, all in one place, are treasured. I can't think of a better place for families with multiple generations to spend time together. After all, Walt Disney did say that his reason for building Disneyland was "… to create a place where parents and children could have fun together."
Such trips are not without their challenges, however. Whether you are parents of young children inviting the grandparents to tag along, or a doting great-aunt looking forward to taking young ones for their first visits, here a few items that may help you in planning a get away that will be enjoyable for everyone.
1. Make plans well in advance. On the occasions that we have asked my in-laws to join us on vacations, we have invited them up to a year in advance. Some of you might think that this is overkill, but we wanted to make sure that the event would be on everyone's calendars ("What, you want us to go to Disney World with you at Thanksgiving? We already told Aunt Beth that we would drive out to the old farm for next Thanksgiving."), so that cheap airfares can be shopped for, reservations for two-bedroom Disney Vacation Club villas can be secured, and everyone has enough time to save some extra cash for the trip, so that there won't be constant complaining about how expensive everything is (if you are lucky).
2. Try to choose accommodations that will provide you with a communal place to "hang out" together. Nothing is more uncomfortable than trying to figure out a place to perch in your in-law's hotel room while trying to gather everyone together before the evening's activities or just to relax after a long day. We like to have grown-ups in their own separate bedrooms, with kids bunking wherever there is space, such as on a foldout sofa in a living area. Since we are DVC members, two-bedroom villas have worked very well for us, providing enough space for some privacy, but a living area where we can all sit and just be together. I normally like to advise folks to stay in on-site accommodations, but in the case of extended families with multiple generations traveling together, vacation home rentals might also be a great option. Many have multiple bedrooms, and might even have a pool.
3. Don't eat out at every meal. This is something of a corollary to point #2, above, but it is great to have a kitchen — or at least a mini-fridge and microwave oven — so that not all of your meals need to be eaten in restaurants. Breakfast in the room will allow everyone to sleep in a little longer, and get themselves together for the day, and may also save everyone some cash. This approach will also reduce the "everything is so expensive" comments from your spouse or family members (although I have never heard that phrase come out of my children's mouths).
4. Plan ADRs taking into account your extended family's preferences and dietary restrictions. You and your family might have your Disney restaurant favorites, but these may not jibe with those of the in-laws, and could lead to mealtime friction. If you really like Mexican, but know that either Grandma or your five-year-old niece won't touch it with a ten foot pole, you might want to skip Hacienda San Angel on this trip, and try something else. Also, make sure that everyone in the group is comfortable with the price range of the restaurants that you are suggesting. Once you have a plan together, send it to Grandma and Grandpa, and make sure that they are ok with it. Don't be afraid to suggest new experiences, however. On one trip, we got approval from my in-laws for dinner at Marrakesh in the Morocco Pavilion at Epcot. I was a little nervous that they would not like it, but that dinner was a huge hit, with everyone enjoying their food — and the belly dancer! Oh, and once you have made your ADRs, contact the restaurant with any special dietary needs. Disney does do a great job of trying to accommodate its guests. As always, check AllEar's dining pages for menus, pricing, discounts and other information http://allears.net/dining/.
5. Get everyone signed up for MyMagic+. If your guests are not used to doing the kind of planning that you are, don't try to force them into it, but do take the initiative to get everyone signed up for MyMagic+/My Disney Experience on the Disney World website. This will be useful for sharing information about resort and dining reservations, and will be critical for making Magical Express reservations, and for securing FastPass+ reservations for everyone in your party. While we have not used MyMagic+ for an extended family trip, I have heard that all of the kinks are not yet worked out when linking reservations and inviting friends from your Friends and Family List to share in your plans. Be prepared to get on the phone with a cast member to ensure that everything is linking appropriately.
6. Slow down (or speed up). Take into consideration the fact that you might need to either slow down or speed up your family's normal park touring pace. If your family is like mine and likes to get in as many rides as possible before 10 a.m., zipping from one place to another with practiced efficiency, you may need to slow down to accommodate Grandma and Grandpa's slower pace. Or you may need to take into account young parents' need for additional time in the morning just to gather all of their baby gear together. Take stock of your traveling companions' abilities and desires, realize that as a die-hard Disney fan you will probably be back to do another trip your way, and adjust accordingly. Reset the alarm clock, extend or shorten naptime, plan to eat dinner at 6 p.m. rather than 8:30, etc. Try to plan FastPass+ reservations with your expected touring speed in mind.
7. Gear up. Are there items you can obtain to make the vacation more comfortable for everyone? If Mom or Dad has mobility issues, consider renting a wheelchair or ECV. If this will only help in the parks, they can be rented there on a daily basis. Other services will deliver an ECV to your accommodations for your entire length-of-stay. Just make sure that Uncle Orville knows how to operate the contraption BEFORE setting off into the crowds. Rent a crib, stroller, baby-proofing kit or other helpful gear for the little ones. Take stock of the baby gear that is already provided in your accommodations. On one trip, the vacation home we rented was stocked with multiple cribs, high chairs, and even strollers that we could use for our trips into the parks. Check out AllEars.Net Tips Archives for lots of helpful tips and tricks for getting, and getting the most out of, gear and gear rentals.
8. Think hard about transportation. If your traveling companions have some mobility issues, don't need a wheelchair or ECV, but would like to conserve steps, AND you have a car, consider driving to the parks, and dropping off everyone in your party near the park entrance. You can then park and meet up somewhere inside the park. Keep in mind that parking is free for guests of the Disney hotels. This also works well for the family with lots of baby gear. If you have rented an ECV for the duration of your stay, Disney transportation handles them beautifully. Just remember, if you have a large party, you may need to split up into smaller groups when using the buses or monorail. Again, have a plan for meeting up when you get to your destination.
9. Shorter is sometimes better. Because traveling in larger groups, and with extended family, can sometimes be stressful, you may wish to consider making the trip with your in-laws or adult children a long four-day weekend rather than a two-week extravaganza. 'Nough said.
10. Holiday travel. Intergenerational travel on holidays can reduce the stress of cooking, entertaining, etc., and of course holidays are a GREAT time to visit Walt Disney World, but they can also be emotionally difficult and draining, especially for older or younger family members who are very attached to certain family rituals during holiday times. In order to maintain some equilibrium try to retain and/or recreate some family traditions while you are on vacation. If you are staying in accommodations with a kitchen, prepare some traditional family meals. If you are at Walt Disney World ON Christmas morning, bring the presents along (or send them ahead), and set them up under a makeshift tree. Make dinner reservations for a restaurant that will be serving turkey with all of the fixin's on Thanksgiving. Seek out religious services. In short, try to bring a bit of home with you to the World. On the other hand, don't forget why you have come to Disney World during the holidays to begin with. Seek out the special holiday offerings at the parks, do some resort hopping to see the decorations, and start some NEW holiday traditions with your extended family.
11. Patience IS a virtue. Take a deep breath, walk down to the pool and back, and try to let it all go. Many immediate families fall into a familiar and comfortable travel groove after a while. You know when everyone will need to stop, take a rest, eat, sleep, wake up and get moving. Adding extended family to the mix is highly likely to disrupt your rhythm. The key to not losing your cool, and saying something highly inappropriate to Uncle Orville because he is half an hour late for the ADR for twelve people, is to consciously try to just go with the flow. My junior high school band conductor taught us a breathing exercise to help the band relax before a concert, which basically involved envisioning drawing the sides of a triangle, taking a deep breath in on the first side, a deep breath out on the second, and several regular breaths on the third. I have had relatively good success with using this calming exercise ever since junior high, although I cannot guarantee that it will work for everyone. Try it! In any case, use whatever tricks you have to maintain a calm demeanor. My family will tell you that I am in fact not very good at doing this, but you should try it anyway.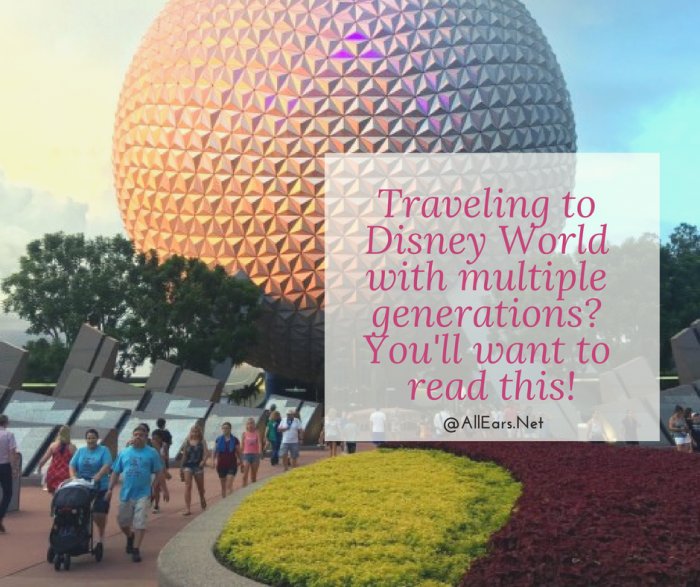 = = = = = = = = = = = = = =
RELATED LINKS
= = = = = = = = = = = = = =
See some of enthusiastic planner Alice's other features for AllEars®:
The Miller Family Four-Park Challenge
The Tyranny of the Spreadsheet
Planning a Trip Using My Disney Experience
Planning a Trip with Grade-School-Age Children
Planning a Trip with Babies and Toddlers
-=-=-=-=-=-=-=-=-=-=-
ABOUT THE AUTHOR:
Alice McNutt Miller is a lifelong Disney fan whose fondest childhood memories include "The Wonderful World of Disney" on Sunday nights and her first trip to Disneyland when she was 10 years old. Alice and her family are Disney Vacation Club members, and have now visited every one of the Disney parks throughout the world. They live in Vienna, Virginia.
-o-o-o-o-o-o-o-o-o-o-o-
Editor's Note: This story/information was accurate when it was published. Please be sure to confirm all current rates, information and other details before planning your trip.