Italy vs. "Italy"
by Emily Owens Pickle
AllEars® Guest Columnist
Feature Article
This article appeared in the August 3, 2010 Issue #567 of ALL EARS® (ISSN: 1533-0753)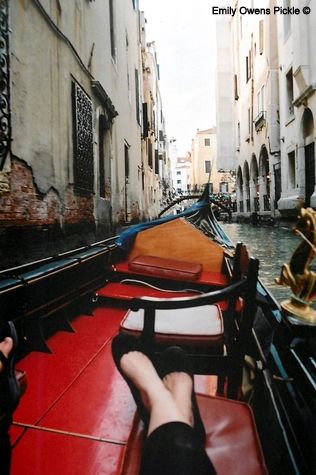 This summer I was lucky enough to spend eight days in Europe. My final stop was the famous water-wrapped city of Venice, Italy. I am a Disney fan(atic) and immediately wondered how Disney's version of Italy would compare to the real thing.
The Italy Pavilion is one of the original nine countries featured in the World Showcase. This pavilion opened on October 1, 1982, along with Future World and its eight World Showcase neighbors, namely: Mexico, China, Germany, 'The American Adventure', Japan, France, the United Kingdom and Canada. Many ideas for other pavilions were left at various stages of planning, including Australia, Russia, Spain, Venezuela, United Arab Emirates, Israel and an African pavilion that reached late stages of planning but was abandoned as the Animal Kingdom park took shape. On October 1, 1984 the Morocco pavilion debuted and on July 1, 1988 Norway opened its doors to the Disney public.
The World Showcase is a special place to explore again and again while visiting Walt Disney World. Italy is sometimes lamented by Disney fans as being underdeveloped, though I think the typical Disney attention to detail and subsequent authenticity make this a fantastic Epcot pavilion.
The original conceptualization for the Italy pavilion included a nighttime gondola ride, which would end at a replica of Roman ruins, all located within the back of the current pavilion space. Due to the massive expenditures made during the construction of Epcot, it was decided that the Italy pavilion would undergo a second phase after the initial park opening. The expansion, planned to open in 1983, was to include the additional attractions and another restaurant. Clearly, this second phase never became a reality and until recently, all of these additions had been abandoned. There are still no dedicated attractions at the Italy pavilion, though a remnant of the idea can be found in some of the theming of this area. Despite the lack of attractions, not all of the original planning has been forgotten -- a brand new pizzeria, Via Napoli, is opening soon, which I will talk about a little later.
Campanile di San Marco and the Guardians of Venice

In Venice, if you are walking towards St. Mark's Square with the Doge's Palace on your right, you will first encounter the two columns where the guardians of Venice stand watch, namely St. Mark's Lion and the statue of St. Theodore. Walking around these statues (Note: not through -- keep reading!) you find yourself standing in the legendary Piazza San Marco or St. Mark's Square.

Towering over the piazza is the red-bricked Campanile di San Marco (or St. Mark's Campanile), more commonly known as St Mark's bell tower, which rises 384 feet above the city of Venice. Epcot boasts an impressive 83-foot high replica of this famous tower. Below you'll see the real thing from Venice on the left, and Epcot's reproduction, taken recently by AllEars® Senior Editor Deb Koma, on the right.
| | |
| --- | --- |
| | |
Disney took a few liberties in the placement of the famous towers of Venice. The columns at Epcot are on the opposite sides from their placement in Venice (the column of St. Theodore is on the right side at Epcot and on the left side in Venice, and the bell tower sits beside Doge's Palace in Epcot instead of across the piazza as it does in Venice). However, perhaps Disney did this for guest courtesy and safety. I mentioned you might want to walk around these landmarks, as it is supposed bad luck to walk between these towers. Historically, the area between these two sentries was used as the locale for executions.
Rising above the square to the right of the bell tower is the Doges Palace, or Palazzo Ducale. It is breath-taking -- the intricate stone work and architecture of this landmark are amazing. Disney clearly labored over the replication of this building at the Italy pavilion.


Lining every waterfront in Venice are black gondolas bobbing up and down in the water. Their owners flag you down for rides, which are expensive but a necessity for first-time Venetian-visitor and maybe even some veterans. Though the gondola attraction was left at the drawing board, I'll keep my fingers crossed for the future. For now you can find, gently falling and rising in the World Showcase Lagoon, the quintessential Venetian mode of transportation.
| | |
| --- | --- |
| | |


For those already making plans for a spring trip to the World, it is certainly worth noting that the annual Flower and Garden Show is a wonderful time to visit this pavilion as extra touches are added.

Via Napoli

Disney is undergoing many expansions over the next several years -- new cruise ships, a resort completed, major park expansions... I can hardly keep up, and that is awesome! One of their expansions includes Via Napoli, a brand-new pizzeria that will be located at the Italy pavilion. The 300-seat restaurant will open officially in September of this year and features (what else?) a Venetian design. Thirty years in the making! Here's hoping Disney is going to have another great dining option at Epcot. For a "pre-opening" menu with item descriptions and prices: http://allears.net/menu/menu_vianap.htm

The structures and ambiance Disney has imported into the Italy pavilion is impressive. The Imagineers have beautifully captured the essence of Venice, in my opinion. It would be nice to see other Italian regions and cities represented throughout this pavilion, and with the flurry of recent expansions, who knows?

Not only does Italy have a special place in Walt Disney World, but clearly the reach goes both ways over 'the Pond'. Walking through the shopping district near the Rialto, I was pleasantly surprised to see a Disney Store on the corner. I strolled in and picked up some Venezia/Disney buttons and wandered next door. Through that shop window I saw a great friend from home -- a banner with Mickey in Venice as a gondolier.
Enjoy the Epcot Italy pavilion next time you visit the World -- ciao!
EDITOR'S NOTE: To see an online version of this article with more photos comparing the REAL Venice with Epcot's version, visit: http://allears.net/tp/ep/italy_vs_italy.htm
=-=-=-=-=-=-=-=-=-=-=
About the Author:

At age 5, author Emily Pickle first visited the Magic Kingdom. She ran straight to Cinderella Castle and never looked back. A Florida native, she is privileged to frequently spend time at the most Magical Place on Earth with her husband and young daughter.
-o-o-o-o-o-o-o-o-o-o-o-
Editor's Note: This story/information was accurate when it was published. Please be sure to confirm all current rates, information and other details before planning your trip.