I'm with the Band... and the Orchestra
... and the Choir...
by Debra Martin Koma
AllEars® Senior Editor
Feature Article
This article appeared in the May 4, 2010 Issue #554 of ALL EARS® (ISSN: 1533-0753)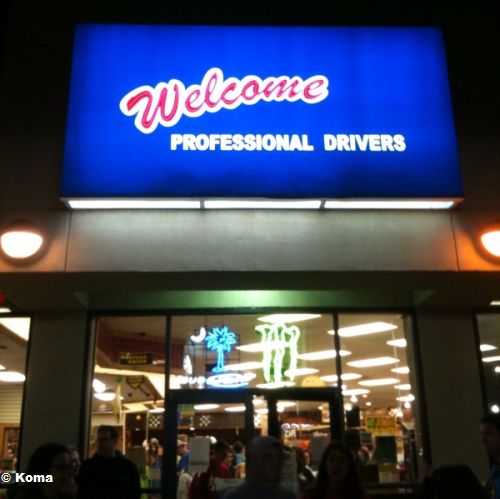 You may recall that I wrote about chaperoning my son's school orchestra's trip to Walt Disney World a few years ago. It was fun (if you can call 15 hours in a bus there and back "fun") but very hectic, and I vowed I would never do it again (mostly because of the 15 hours on the bus there and back).

But guess what? My son is a senior now and I just got back from chaperoning another school trip -- this time the school orchestra, choir and band combined!

It all started back in September when I got a call from Alex's new orchestra director. "Alex tells me you would be the right person to help us plan a trip to Disney World," she said. At the time, I was standing in the middle of the Anaheim Convention Center during the D23 Expo. "Um, yeah," I replied, "I guess I would be a good person to help out with that." Ha.

So... many meetings and seven months later I found myself, where? On a "luxury" bus for 15 hours en route to Orlando from Washington DC, for my swan song -- chaperoning my last school trip, ever. This time, however, things were a little different. Instead of members from just the high school orchestra and choir, this trip we also included the band -- the school's entire music department. We had 136 students plus 20 or so chaperones -- a lot of people to keep track of for the four-night trip, only two of which would be spent on the bus, the other two in a hotel on Disney property.

There was a lot of planning beforehand, and we fortunately had the benefit of an extremely organized band mom who took care of many of the details -- thanks, Ellen!

Since some of you may be parents of kids who will eventually need to be chaperoned on a similar trip to Disney World, whether it's for a Magic Music Days program, or a cheerleading event, or some youth sports program, I thought you might be interested to read what went into it, both before and during.

We decided early on that this would be a spring adventure, taken near the school's break in April. The date was finally decided on based on the teachers' various schedules. The first thing we needed to do was get approval from the school administration, including our Risk Management team, which required a rough itinerary -- which was hard to develop, since we didn't know exactly where or when our workshops would be held at that point. Since I've been to WDW frequently, I sketched out a plan that I thought would work -- depart on a Thursday night, travel overnight, arrive about 11 a.m. Friday morning and go straight to Disney's Hollywood Studios -- a smaller park, that would appeal to the kids and yet hopefully not overwhelm them with size -- then visit Epcot and Magic Kingdom on subsequent days.

We also had to come up with a "guesstimate" as to what the per-student cost would be. We made calls to Disney's Youth Programs to get prices on accommodations (we requested All Star Music since this was a music department trip), special youth group tickets, and special group meal vouchers, as well as to a local bus company. Once we gathered all the info, we approximated the cost at $600-$650 per student for the four nights, which would include transportation, park tickets, the workshop, and most meals. We required a $200 deposit from each student by early December so that we could estimate how many attendees we'd have, and then things kicked into gear -- groups selling candy bars, poinsettias, and more, and phone calls and meetings to nail down the details.

The program we were traveling to WDW for fell under the Magic Music Days umbrella, and even though we decided early on that we wouldn't be performing, only attending workshops, we still needed to send Disney an audition tape for each group at least eight weeks before we planned to arrive. We coordinated the tapings to be done at each group's winter concert, and those were shipped off in plenty of time.

After that, we had other decisions to make, like how many meals did we really want vouchers for? Did we want to do any group activities? Because the vouchers were such a good value (about $7 for a breakfast voucher; $9 for a lunch/dinner voucher), and would eliminate the need for the kids to carry much cash, we decided to get them for all the meals except while we were traveling, and for the two dinners that we decided on doing as a group. Research revealed that there is a whole list of special "Youth Group Dining" options, ranging from a Fantasia Gardens Dance Party at the miniature golf course near the Swan and Dolphin to a Starlight Country Cookout at Fort Wilderness to an IllumiNations Dinner Party, with a variety of buffet menus -- which was our choice. We also decided on a group meal for our last evening at the Rainforest Cafe at Animal Kingdom. From there we figured we'd just pile on the buses and head for home.

Before we knew it, all the details were finalized, and it was D (for Departure) Day. We actually loaded our buses and were on the road by 8 p.m. that Thursday evening, right on schedule. MANY Disney movies, several rest stops, and a stiff neck and back later we arrived at Disney's Hollywood Studios, again pretty much as planned. The kids went forth and rode all the rides to their hearts' content.

Due to restrictions that required the bus drivers to have at least 10 hours of downtime between when they dropped us off at the park and when they could drive again, we opted to have chaperones gather up their assigned groups and travel to the All Star Music by Disney bus, planning to arrive to the hotel no later than 7 p.m. for group check-in. (Yes, that means we didn't get to change or shower for about 24 hours, but hey, what's a little sweat and grime among friends?)

That went smoothly, and we were able to distribute room keys/assignments in the lobby of this expansive resort hotel fairly quickly. We then walked en masse to our assigned building, Broadway 7, where the buses were waiting in the parking lot so that we could off-load and get into our rooms. This timing allowed the kids to get dinner at the food court if they hadn't eaten yet, and even have a bit of pool time before our 10 p.m. room check and lights out at 11 p.m.


The next day involved a lot of shuffling of students -- each group had its workshop at a different time and in different locations. I had suggested that should be Epcot day, and this turned out to be a good choice. The band went to its workshop (at the Disney Event Building, a 15-minute drive from Epcot) first thing, and by the time they came back it was the orchestra's turn to leave. Unfortunately, the choir's workshop wasn't slated until 6 p.m., but it was held just outside of Epcot -- somewhere behind the Italy pavilion, actually -- which worked out since that's where our IllumiNations Dinner was being held as well.

About the orchestra's workshop -- it was conducted by a Disney musician, Chad Shoopman, who is lead trumpet for the Main Street Philharmonic in the Magic Kingdom, as well as a conductor for the Candlelight Processional each year in Epcot. He was, in a word, phenomenal, striking up an instant rapport with the orchestra kids -- who, let's face it, weren't in the best frame of mind. They'd been pulled from all the fun of Epcot, plus it was lunchtime. But though they could have been surly, Shoopman cajoled them out of it, making the 2-1/2 hour program fly by. Best part of it is, I think they learned something! They improved so much from the first piece they played to the final piece, the main theme from Beauty and the Beast. A nice touch -- they set the orchestra's recording to an animated clip and made a nice souvenir DVD, complete with candid shots of the kids taken before the program began. (For the record, the band and choir had similar outstanding experiences at their workshops -- the band's was led by Shoopman as well.)

The IllumiNations Dinner Party was a fun event, too -- we had the big area located right on the water in front of the Italy pavilion in World Showcase. You couldn't ask for a better view of the fireworks and the food wasn't bad either (the "Cookout Menu," which included macaroni and cheese, hamburgers and hot dogs, and barbecue chicken for about $41.50 a person).
The next day, we checked out, but not too early, and then the groups had a free day in the Magic Kingdom. Luckily we got to the park early enough that lines were short -- walk-ons to all the Mountains and Buzz Lightyear -- although by lunchtime it was a different story. Still, I think everyone got to ride and see and do as much as they wanted, so that when the time came to gather at the park entrance then schlep over to the Ticket and Transportation Center for the buses, we were all tired and ready for our final meal over at the Rainforest Cafe.
Obviously Rainforest Cafe does this sort of thing routinely. They were a machine, getting all 150+ of us in, fed, and out again in a little over an hour -- and we were on the road for that 15-hour return trip in no time.
Imagine that -- we hadn't even lost anyone! All in all, it was hectic, as my trip several years ago was, but still a very enjoyable experience... not just for the kids, but for the adults as well.
For a veteran Disney-goer like myself, you'd think a trip like this would hold no surprises, but the truth is I learned a lot. Going with my family is way different from traveling with a group this size, as you can imagine. And what I learned could most definitely make any group trip to Disney World more pleasant.

-- The First Aid Station is your friend. We had a master list of all of our children's medical emergency forms -- you know, if they had allergies or other special conditions, who to contact in an emergency, that sort of thing. For 136 kids, those forms filled a binder. Instead of carrying it around with us all day, we could leave it at the parks' First Aid Stations. They also gave us a number we could call periodically to find out if any of our students had paid them a visit.

-- Plan at least one meal as a group. Once your students get in the parks, they splinter into small groups with their friends, and may not ever realize that they are really part of a group trip. The IllumiNations Dinner Party we planned brought everyone, even all the chaperones, together and made for a shared experience that was memorable.

-- Plan some down time. With a group of teenagers this size, it might be easy to forget to stop and smell the roses. But we found that pool time the first night was almost as much fun for everyone as visiting the parks had been.

-- Check on your group's tax-exempt status! Luckily for us, the band mom in charge thought to ask if we could get a break on the tax, since our school's activity "booster" groups were set up as 501(3)(c) tax-exempt organizations. Voila! We didn't have to pay tax on accommodations or tickets, saving us a huge amount of money, in turn allowing us to do a few other fun things (like the IllumiNations Dinner).


-- Photocopy the back of those tickets! You may have read that tip before, and never is that more important than when traveling with a large group of people. Things happen -- tickets fall out of pockets and hip-packs unnoticed, or they get left back in the hotel in yesterday's jeans' pockets. Save yourself a lot of time and hassle by photocopying the back of every ticket and recording the person's name next to the image. When the inevitable happens all you have to do is pay a visit to Guest Relations instead of running aaaallll the way back to the hotel, or just as bad, having to fork out additional dollars for a new ticket. With that photocopy it's easy for the Guest Relations cast member to cancel the lost/forgotten ticket and issue a new one.

To a parent or school administrator, a trip to Walt Disney World with a music or sports group may sound like the ultimate boondoggle, but after having done such a trip twice I would argue against that. I really felt this trip especially had value -- not only did the groups get to have fun, I think they actually learned in the workshops. And more than that, for the younger musicians, they had a chance to bond with others they'll be spending the rest of their high school careers with during a trip at the Most Magical Place in the World.

Watching them have that experience, seeing Walt Disney World through THEIR eyes, as a chaperone... I would recommend THAT to everyone.
=-=-=-=-=-=-=-=-=-=-=-=-=-=-=-=-=
RELATED LINKS:

Magic Music Daze (AllEars® Issue #396, 4/24/07): http://allears.net/ae/issue396.htm

Disney's Youth Programs: http://disneyyouthgroups.com

=-=-=-=-=-=-=-=-=-=-=-=-=-=-=-=-=

ABOUT THE AUTHOR:

Debra Martin Koma, AllEars.Net's Senior Editor, fell in love with Walt Disney World on her first visit there -- when she was 34! She's lost count of how often she's returned to her Laughing Place in the ensuing (16!) years, but knows that she still isn't tired of it. (And doubts she ever will be.) Read more of her writing for AllEars® here: http://allears.net/btp/dkoma.htm
-o-o-o-o-o-o-o-o-o-o-o-
Editor's Note: This story/information was accurate when it was published. Please be sure to confirm all current rates, information and other details before planning your trip.