The Big Picture: An Update
by Josh Olive
AllEars® Guest Columnist
Feature Article
This article appeared in the December 1, 2009 Issue #532 of ALL EARS® (ISSN: 1533-0753)
Why do we keep going back to Walt Disney World? We get that question all the time, and it's sometimes hard to explain. This year, on our most recent visit to the World, I heard something that helped sum it up for me. It was our last day at the Magic Kingdom -- we were on our way out of the park as a lot of folks were coming in for Mickey's Not So Scary Halloween Party. I made a quick detour over by the Fire Station on Town Square, and I heard the following exchange between a little boy, no more than three years old, and his father:
Son: "Dad, is Mickey Mouse really here?"
Dad, after a thoughtful pause: "He sure is, son. He sure is."
That's why we go back over and over again. At Walt Disney World, we really can enter a world where anything is possible, where a mouse can be the head of the parade, and where magic happens every day. Maybe Mickey Mouse is just a cartoon or a fanciful waffle the rest of the year, but at Disney World, he's real, and it's OK for everyone, no matter how big or small, young or old, to be excited about it.
Speaking of Walt Disney World, we just returned from a wonderful autumn week at the World, with full summer heat and humidity thrown in for free! Temperatures in the mid-90s and humidity at 80 percent to 85 percent made for a hot, uncomfortable time in the parks, but we were at Walt Disney World, so we still had a wonderful time. How could we not? We were there at arguably the absolute best time of year, regardless of the temperature, with Mickey's Not So Scary Halloween Party and the Epcot International Food and Wine Festival to enjoy.
I'm a big guy -- 6'6" and hovering in the 400-lb. range -- and I always keep a look out for how well rides, shows, attractions, and the World in general are set up for larger folks. I know a lot of people worry about their size and if they're going to really be able to enjoy themselves at WDW, and I really enjoy letting people know that, yes, they absolutely can go and have a great time -- without needing to feel excluded from anything.
Previous Big Picture reports have detailed how some of the rides and attractions fit me and other big/tall people in general. This visit, I found out a few new things about some old rides and I got to experience a new show, albeit in a refurbished setting.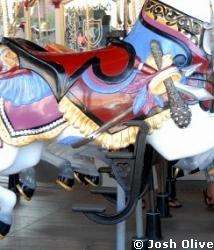 For starters, let's head over to the Magic Kingdom for a ride on one of Fantasyland's signature attractions (and one of my wife's favorites): Cinderella's Golden Carrousel. Now, you might not think that a guy my size belongs on a ride like that, and you might be right. Clearly, based on the size of the metal stirrups attached to each horse, size 15EEEE feet were not considered. Going into this visit, that was the biggest reason I usually opted to stand outside the ride and take pictures -- trying to get my foot into that stirrup so I could hop in the saddle of my noble steed was a painful, and somewhat dodgy, proposition. I decided to pass on it the second time we approached the carrousel.
While waiting for my wife to make the circle so I could snap the perfect picture this time around, I noticed something I'd never seen before. I don't know how long they've been there, but one small section of horses features a two-tiered step rather than the metal stirrup. Now you're talking! This simple difference is great for people with big feet, giving us a place to gain a toehold for a bit more graceful equestrian experience.
Over at Epcot, Spaceship Earth has long been a favorite of mine, much to my knees' objections. Like many other attractions across WDW, this ride vehicle is made for people who are a bit shorter, and it's extremely uncomfortable for taller folk. Somehow or other, all these years, I've consistently made a mistake: I've been sitting in the front seat of the two-seat vehicles. A very helpful cast member told me, after watching me painfully extract myself from the ride vehicle, that I should try sitting in the back next time, as they have slightly more leg room. On our next ride through, we put his theory to the test. He was right! It's not much, but that half-inch makes a world of difference, and my knees were highly appreciative of that insight.
At Disney's Hollywood Studios, the new American Idol Experience was... interesting. The set does indeed look just like the "real thing," and while the show was entertaining enough, the seats were a bit smaller than I would've liked. This theater has been host to a couple of different attractions over the years; unfortunately, when they updated the sets and all the lighting rigs to create this new American Idol Theater, they didn't widen the seats any. It was a bit of a tight squeeze. It was all right -- I wasn't miserable the whole time or anything (it's not Sounds Dangerous, after all) -- but it certainly wasn't what I would call comfortable. The usual trick of sitting on the edge of the seat and then sliding back worked to some degree, but the arms of the seat just made for a poor fit for me.
As for the show itself, we got to hear three singers, and they were a real mixed bag of talent. One of them clearly got in on personality alone -- seemed like a nice enough guy -- but he had no voice at all. And the judges? Seriously? The best they can do is lousy impressions of Randy, Paula, and Simon? I would really much prefer to have judges with their own personalities, offering their own opinions, rather than that odd hodge-podge of wannabe wisdom with little or no connection to the performances we just heard. The Simon Cowell knock-off was particularly poorly done.
Leaving the parks and heading to our resort, I encountered a surprise Big Picture observation. We stayed at Port Orleans French Quarter this year. We've wanted to try this resort for a while, but it's always been booked up when we've attempted to schedule our trip. This time, we booked very early, and we have found a new home resort! We made sure our request for a King room was put in early and often, and we got what has to be one of the best rooms at the resort (#5301). The room was great, the location was phenomenal, the resort was incredible, Mousekeeping was fantastic, and the beignets were ridiculous (they're HUGE!). We will definitely be staying there again.
One of the things they offer at the Port Orleans resort(s) is carriage rides. My wife is an equestrian (hunter/jumper and dressage), and she loves just about everything to do with horses, so I figured it would be a nice, romantic surprise to take her on a carriage ride.
Two things to note:

1. French Quarter advertises that carriage rides are available there, but they're not really. All rides start and stop at Riverside. Thankfully we checked that out before time, so we just caught a bus from Disney's Hollywood Studios to Riverside rather than French Quarter and managed to show up on time at the right place.

2. Here's my surprise observation: If you're tall, the carriage ride may not offer much for you. They had the top up on our carriage (the driver said it had to remain that way, despite the perfect weather), and I couldn't really see much of anything. The top was very low, blocking my view of just about everything. My wife, being much shorter, thoroughly enjoyed the ride through Port Orleans Riverside, and that was the main point, but it's definitely something to consider if you're a taller individual.
==========================
ADDITIONAL INFO
==========================
Not really part of the Big Picture update, but this year, we managed to squeeze our trip into the Free Dining window, so we got to try out the Disney Dining Plan for the first time. The plan isn't always the money-saver it looks like it might be, even when it's free (because you have to pay full rack rates for rooms that might otherwise be discounted), but the math definitely worked out very well for us on this visit, so we opted to try it, and I'm glad we did.
We read up on the Dining Plan a lot, and we noticed many people report having to buy a lot of candy and the like in their resort gift shop on the last day of their trip in order to utilize all their snack credits. There's no need for that if you travel to WDW during the International Food and Wine Festival! We enjoyed two incredible meals at the Food and Wine Festival, using only our snack credits at the kiosks. Almost every item we saw at the kiosks (except for alcohol) was listed as a snack credit, and we took full advantage of that. It was convenient, and it was a wonderful way to enjoy a meal without "wasting" our counter-service meal credits.
And the food at the Food and Wine Festival, while always good, was even better this time around than it has been in recent years. More dishes were being prepared in the kiosks this year, and that really seemed to make a significant difference. This event is one of our absolute favorites, and it's a great reason to go to WDW in the fall.
-=-=-=-=-=-=-=-=-=-=-=-=-=-=-=-=-
Guest Columnist Joshua Olive, 35, is 6'6" and hovers around the 400-lb. mark. He's been a BIG fan of Walt Disney World since his first visit in 1979 and he just keeps on coming back. A proposal writer for a government contractor by day, Josh is a musician, an actor, a photographer, and a comic book store owner the rest of the time. He served as a peer reviewer for PassPorter's Open Mouse, a Disney guidebook for people with any type of special needs, written by Allears.net's Deb Wills and Debra Martin Koma.
-=-=-=-=-=-=-=-=-=-=-=-=-=-=-=-=-
Related Links:
Read Josh Olive's other articles, including his first look at The Big Picture, at http://allears.net/btp/josho.htm
Our "WDW at Large" section has trip reports and individual attraction notes, as well as attraction seating photos:
http://allears.net/tp/ridsiAK.htm
-o-o-o-o-o-o-o-o-o-o-o-
Editor's Note: This story/information was accurate when it was published. Please be sure to confirm all current rates, information and other details before planning your trip.