WDW Chronicles: The Story Behind the Country Bears
by Jim Korkis
Disney Historian
Feature Article
This article appeared in the November 20, 2012 Issue #687 of ALL EARS® (ISSN: 1533-0753)
Editor's Note: This story/information was accurate when it was published. Please be sure to confirm all current rates, information and other details before planning your trip.
The Country Bear Jamboree in the Magic Kingdom's Frontierland was closed for changes from the end of August until the end of October. Now, Disney guests can experience a refurbished, if somewhat shorter, version of this audience-favorite attraction.
Country Bear Jamboree was one of a small handful of Florida-only attractions that opened with the Magic Kingdom on October 1, 1971. In a beautifully ornate proscenium theater, a variety of audio-animatronics bears, along with a handful of other woodland animals, perform a series of musical numbers with a country and western theme. However, Grizzly Hall may not always have been the friendly home that guests assume it is, as the second floor has bear skins displayed, nailed to the exterior wall.
The concept art for this lively show was some of the last artwork ever seen by Walt Disney himself and it gave him a good laugh shortly before his untimely passing. Designed by Imagineer Marc Davis and Al Bertino (the physical inspiration for the "Big Al" character), the Country Bear Jamboree was originally intended to be an indoor evening attraction at the Bear Band Restaurant in Disney's planned Mineral King Ski Resort, which was to be built in California in the 1960s.
As Imagineer Wathel Rogers recalled, "After the Mineral King contract had been signed, Walt had an idea for entertainment after people had been skiing. Walt said, 'What we are going to do is have a bear band and have them perform two or three programs of entertainment. We'll say that the bears had come out of the sequoias and we trained them to be entertainers'."
The Mineral King project fell through, and with a few changes, the show premiered opening day at the Magic Kingdom in Florida, where it was so popular that a replica was built in 1972 at Disneyland in California with two theaters to accommodate the expected huge crowds.
"The drawings that Walt saw had all kinds of bears, not just a country band but a jazz band, a circus band. A lot of choices. I had a one-bear band in a red outfit with all these instruments he was playing," revealed Marc Davis when I interviewed him in 1998.
When it was decided that the attraction was going to be Florida-specific, it was natural that, since country music was so popular in that part of the country, when the Floridian bears came together to make music it would be country-western.
Henry and Wendell were based on a comedic musical country-western act known as Homer and Jethro. Just like Henry and Wendell, Homer played guitar and Jethro played the mandolin. Davis playfully based Wendell's appearance on fellow Imagineer Harper Goff, who played the banjo in the musical group The Firehouse Five Plus Two. Homer and Jethro wrote "Fractured Folk Song" and "Mama Don't Whoop Little Buford," which Henry and Wendell sing in the show.
Jethro wrote the lyrics to the song "Mama, Don't Whoop Little Buford" sung to the tune "Beautiful, Beautiful Brown Eyes," written by Arthur Smith in the late 1940s, but popularized by both Jimmy Wakely and Rosemary Clooney in 1951. The song's original lyrics feature the refrain "I'll never love blue eyes again" in place of the words "I think you should shoot him instead."
As the years have progressed and the world has changed, more and more things in Disney animated cartoons -- from smoking to making fun of women drivers to humor in the theme park shows -- were no longer considered appropriate for today's audiences. In particular, the "Mama Don't Whoop Little Buford" segment reportedly concerned some WDW guests that it was promoting child abuse. Audiences 40 years ago laughed at the idea of corporal punishment, having sometimes been the victim of it themselves by strict parents or teachers.
There exists a concept sketch by Imagineer Sam McKim that would have originally showcased the Country Bears outdoors in Frontierland in a series of waterfalls (acting as living curtains) with different level rock outcroppings featuring the bruins. It was probably not a great idea to expose audio-animatronics to the Florida heat and humidity and also put the delicate electronics so close to running water. Fortunately, these musical bruins ended up safe and air-conditioned in the Grizzy Hall Theater (with bear claw scratches on the floor of the pre-show area).
Since this was a Florida-only attraction when it opened, the bears all had biographies that emphasized their Southern roots. For instance, Liver Lips McGrowl was the "Miami Serenader", Trixie was known as "The Tampa Temptation" and Big Al grew up around the swamps that became Walt Disney World.
The back story for the attraction was that Ursus H. Bear, after a restful hibernation, rounded up his musically inclined kinfolk and friends to put on a down-home celebration. As guests, we've been invited to join in on the fun as the show continues to celebrate that first performance so many years ago.
There were official biographies for each of the characters, but once the attraction opened on the West Coast, Disney didn't actively publicize the back stories. The company wanted those bears to be from the North Woods to better fit into the theme of the North Woods of Bear Country, and later, Critter Country. But here are the brief backgrounds of the bears:
Henry -- Henry, master of ceremonies at the Country Bear Jamboree, stands six feet tall in his stocking paws. He is another famous football player who entered show business. Henry was formerly with the Goose Creek Bruins. One day they tried a hidden ball play, and Henry hid the ball so well he couldn't find it. This hastened his transfer to music. For a while, he had trouble finding a melody, too.
Gomer -- Gomer is the piano player, but he didn't always play country and western music. His training was classical. He began pawing the ivories while a cub and practiced days and nights for many years. Finally, he went to New York, much to the relief of his neighbors. There he studied Bearlioz, and his favorite composition was "Night on Bear Mountain". When he heard himself referred to as the "lard of Juilliard", he quit the concert stage and went home to the hills. He is highly regarded by the other musicians because he can play in a key other than C.
Five Bear Rugs -- The Five Bear Rugs began playing music together when they were in first grade. Fifteen years later they were still playing -- in fourth grade! Zeke plays the banjo and wears glasses -- he's the only one who can read music. Fred plays the mouth harp and carries the tune (his wife says Fred is lazy, and a tune is the only thing he carries). Ted blows the white lightning jug, and Tennessee plays the one-stringed thing (he hopes one day to add more strings). Zeb plays fiddle, and Zeb's son Oscar accompanies his father on concert tours because Zeb's wife works (she models fur coats -- always the same one -- at a nearby boutique).
Wendell -- Wendell is a frustrated basketball player. He quit the game when in the team photograph, he discovered he came up to the other players' knees. He then turned to baseball, but three people stepped on him (they thought he was second base). He went from baseball to football, until two quarterbacks threw him for touchdowns. It was after his gridiron career that he latched onto Henry.
Liver-Lips -- Liver-Lips McGrowl is a homebody who is never home. His career has spanned the entertainment world, and he is equally famous in radio, TV, nightclubs and the circus. His throaty growl has captivated audiences everywhere, and he had played return engagements in such famous towns as Paris (Kentucky), Rome (Tennessee), Berlin (Wisconsin), Athens (Georgia), Cairo (Illinois) and Stuttgart (Arkansas). But his heart is always at home, where the Miami Serenader can guzzle home cookin' and catch up on his whittlin'. He has whittled a rain barrel, a bathtub, a pig trough and a sump pump.
Trixie -- Trixie is an old trouper, a veteran performer. There is nary a sourdough or grubstaker who doesn't recall her singing and dancing in the rip-roaring music halls of the western frontier. She has been known variously as The Calgary Charmer, Alaska Allurer, Vancouver Vamp, Bewitcher of British Columbia, and Tacoma Temptress. As did so many folks with good sense, she visited Florida and decided to stay. She is now known as The Tampa Temptation. She spends her spare hours thumbing through the pages of her scrapbook and is planning to write a book, I Bearly Remember.
Terrence -- Terrence is better known as the "Vibrating Wreck from Nashville Tech." His stay at Nashville was short -- the roar of the greasepaint called to him, and he became an actor. He performed often with the Bearrymores. He was known throughout the Ozarks and as far north as Joplin for his tent-show rendition of Cyrano de Beargerac (he was one of the few actors who could play the role without a false nose). A fall from the balcony in "Romeo and Juliet" literally brought down the house. It ended his acting career (and the stage) and he turned in his tights for a guitar.
The Sun Bonnets -- The Sun Bonnets (Bunny, Bubbles, and Beulah) are the babies of the Country Bear Jamboree. They began singing in Public School 821 in Clint, Texas, in Miss Grizzly's class. From there they appeared five weeks running on Major Bear's Amateur Hour and were booked into Walt Disney World. Backstage they study their lessons (all the cast helps them with their homework, but they get good grades anyway). In their spare time they are all knitting a scarf for Big Albert, which they hope to have finished for Christmas -- three years from now!
Ernest -- Ernest the Dude is a modern Beau Brummell, the well-dressed bear-about-town. He carries his wardrobe with him wherever he goes, which is difficult (not many motorists will pick up a bear hitchhiker with 17 trunks of clothes). He has 30 coats and 40 slacks (some of which fit), 60 shirts, 47 shoes, 20 hats and a pair and a half of underwear. Each year, when the Ten Best Dressed are announced, Ernest the Dude is there (wondering why he isn't on the list).
Teddi Barra -- Teddi Barra was discovered sitting on a soda fountain stool in an ice cream parlor three miles from Gentry, Arkansas. From there, her rise in show biz was meteoric, and the ravishing beauty is known as The Jewel of the Dakotas. Though she has always wanted to perform serious drama, her fans have never let her forget her feather boa and her parasol, both of which have been promised to the Daughters of Benton County Western Museum when they wear out.
Big Albert -- Big Albert says, "I was born in a cave near the Princess Theater in Pocatello, Idaho." There was music in his blood, and he's been playing his guitar since he was a child. It's become more difficult -- Big Al has grown, and the guitar hasn't. He loves to sit in front of his cave and sing. He was the first to practice ecology; he didn't litter his cave with tin cans and paper cartons -- he ate 'em. He was resident bard and balladeer in the swamp before Walt Disney World was built (and three badgers and an alligator have expressed great joy that he is now singing for people). This is Big Albert's 10th farewell appearance.
After a nearly two-month hibernation, Walt Disney World guests can once again join in the fun with these "bear necessities". So as Henry says, "Clap your hands and stomp your feet and try to keep right with 'em. One sure thing the Bear Band's got is real ol' country rhythm"... Florida style.
===============
RELATED LINKS
===============
Country Bear Jamboree Reopens After Rehab:
http://land.allears.net/blogs/debwills/2012/10/the_country_bear_jamboree_is_b.html
Jack Spence's In-Depth Look at the Country Bears:
http://land.allears.net/blogs/jackspence/2010/10/country_bear_jamboree_part_one_1.html
http://land.allears.net/blogs/jackspence/2010/10/country_bear_jamboree_part_two.html
Other features from the Walt Disney World Chronicles series by Jim Korkis can be found in the AllEars® Archives:
http://allears.net/ae/archives.htm

=-=-=-=-=-=-=-=-=-=-=-=-=
ABOUT THE AUTHOR: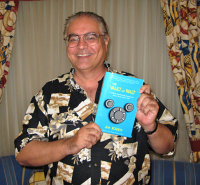 Jim Korkis is an internationally respected Disney Historian who has written hundreds of articles about all things Disney for more than three decades. He is the author of the book The Vault of Walt, which contains nearly 40 chapters of untold Disney stories. As a former Walt Disney World cast member, his skills and historical knowledge were utilized by Disney Entertainment, Imagineering, Disney Design Group, Yellow Shoes Marketing, Disney Cruise Line, Disney Feature Animation Florida, Disney Institute, WDW Travel Company, Disney Vacation Club and many other departments.

Read more about The Vault of Walt: http://astore.amazon.com/debsunoffiwaltdi/detail/0615402429
-o-o-o-o-o-o-o-o-o-o-o-
Editor's Note: This story/information was accurate when it was published. Please be sure to confirm all current rates, information and other details before planning your trip.