The (Disney) Wonders of Alaska
by Michael Walsh
AllEars® Guest Columnist
Feature Article
This article appeared in the October 14, 2014 Issue #786 of ALL EARS® (ISSN: 1533-0753)
Editor's Note: This story/information was accurate when it was published. Please be sure to confirm all current rates, information and other details before planning your trip.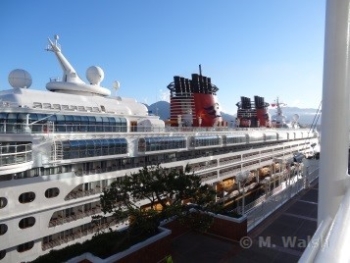 I never really got the dirt and mud obsession that many young boys seem to have. I was always happy keeping myself tucked away with a good book or with a vacation-planning guide (it started early!). Maybe that is why, as I drove my mother through the Alaskan countryside in a Tomcar in Ketchikan, she seemed to get twice as muddy as I did.
But I am getting ahead of myself…
My family has difficulty taking just one vacation at a time. Since June 2012, five of our seven family vacations, including our epic "Six Parks, One Day" trip (detailed in AllEars® Newsletter #720), have included at least one flight in the middle. Twice, we have moved from Disney World to Disneyland, and twice from either Disney World or Disneyland to (and from) a Disney Cruise. Our June 2014 vacation is the exception.
On June 6, we picked my brother up from school and traveled north to Cleveland to fly to our first vacation destination, San Francisco. Our travel plan included spending Friday and Saturday nights in San Francisco, which I will not delve into now, aside from saying that the Walt Disney Family Museum is just as awesome as everyone says. We then flew north to Vancouver on Sunday night and boarded the Disney Wonder on Monday.
For our night in Vancouver we stayed at the Pan Pacific, located directly above the cruise terminal at Canada Place. (The picture of the ship above was taken from the hotel lobby.) It was a great hotel, though the double bed made me miss the larger pull-outs in DVC studios. We awoke around 7 a.m., gave our bags to a bellman, who took them all the way to the ship for us. After a good breakfast, we got to the cruise terminal by 9 a.m., 90 minutes prior to the security checkpoint opening. At least we were first in line!
You may wonder why we were rushing to be first in line. This was our first time sailing as Platinum cruisers, so we did not have to worry about check-in lines or boarding quickly. Honestly, we were hoping to get an upgrade. We had gotten a great deal on a balcony upgrade in 2012 when we sailed to Alaska from Seattle on Disney, and had hoped for the same. Alas, the ship was full, and we kept our inside stateroom. By rushing, however, we were the third family on the ship, and I was the first person to eat at Beach Blanket Buffet on our voyage. Ah, the small victories…
We boarded the ship at about 11:45 and immediately ate lunch, scoring a window seat. We walked around deck for a bit, shivering at the 50-degree temperature that we were unprepared for. When the staterooms opened at 1:30, we went in to warm up and move in, though our bags did not get to us until after the muster drill.
Sail away from Vancouver is absolutely beautiful. As we pushed back, we watched as seaplanes took off from the bay, trying to beat us out of the harbor. We then made our way towards the Strait of Georgia, passing beautiful Stanley Park and sailing under the Lions Gate Bridge. During the sail away, Captain Guus sounded the Mickey Whistle around six times, in addition to the standard one-tone horn once. As we sailed under the bridge, a seaplane took advantage of the unique situation and flew above the bridge, which I am sure was not quite as awesome for the people on the bridge as it was for us.
The great thing about sailing from Vancouver, as opposed to Seattle, was getting to sail the Canadian Inside Passage to and from Alaska. Rather than the open ocean route from Seattle, we sailed north between islands, through straits less than a quarter-mile wide. It was absolutely stunning. During the voyage north and south, we saw several whales, a pod of porpoises jumping out of the water, and an orca.
On Wednesday, we were scheduled to go to Tracy Arm Fjord. We had been told several times that neither of Disney's previous sailings that year had made it into Tracy Arm; both had to divert to slightly less stunning Endicott Arm. We were lucky, and we started into the fjord. Last time, we had watched from our balcony, trying to avoid the masses upstairs. This year, without a balcony to use, we resorted to the Promenade Deck, which was blissfully quiet. As we got close to the glacier, we found three huge icebergs (pictured) that the ship somehow navigated around. South Sawyer Glacier was just as beautiful as we remembered, but it was noticeably smaller than it had been two years prior. Another thing missing were the abundant seals. Though we still saw some, there were noticeably fewer than during our last visit. The fjord was nonetheless beautiful. We spent about an hour at South Sawyer Glacier, and then began to navigate out. It took about an hour for the ship to get back past the icebergs. (I did wonder what the protocol would be if we were trapped by the icebergs back there.)
The next day, we docked in Skagway. In 2012, we had done a sled dog summer camp tour in Juneau in pouring rain and 40-degree temperatures, so we were excited to find sunny skies and temperatures in the 60s for our sled dog summer camp tour here. We boarded a bus at 8 a.m., 20 minutes after clearance was given, and took a 40-minute drive around the northern reaches of the Lynn Canal to the sled dog base camp. We were then loaded into a World War II Mercedes-Benz Unimog for the trip up the mountain to the upper sled dog camp. Once there, we were strapped into a cart and taken on a mile-long sled dog ride, before getting to meet the sled dogs, who were adorable and very sweet.
After giving the sled dogs belly-rubs, we returned to the Unimog for the ride back down to the base camp, where we were shown some Iditarod gear before being led to the puppies. The puppies we got to meet were two weeks old, and had just been started on kibble. Sadly, the one I got to hold was not quite ready for solid food, but at least my waterproof jacket passed its first test. Also at the base camp was a pen for older puppies of about seven to eight months. In this pen was a 6-foot tall hamster wheel that the dogs used for exercise.
We returned to Skagway and walked leisurely through town down Broadway Street back to the ship, about a three-quarter mile walk from where the bus driver dropped us off.
The ship arrived the next day bright and early into Juneau. Our tour did not leave until noon, so we decided to take advantage of the decent weather (overcast, but a limited chance of rain) to visit Juneau. We took the free shuttle bus provided by Disney into town — there is also a mile-long walkway — and were dropped off at the Mt. Roberts Tramway, something that I had wanted to do, but that my parents were hesitant about given my dad's fear of heights and my mom's dislike of suspended vehicles.
The view was gorgeous. There is no need to book this through Disney, as the cost is the same if you buy the tickets, which are good for unlimited rides all day, at the tram station. It is recommended to go early to buy the ticket, something vouched for by the man buying his ticket a few people in front of us, Captain Guus. The view from both the tram and the mountain were breathtaking, and the trails on the mountain seemed well-maintained. They also have an eagle viewing area that does not open until 10 a.m.
After we got some great pictures, we returned to the city to look around the shops. We only made it out to the library (not into the rest of downtown), but most of the stores seemed to be the same tourist shops that are at all three ports. To their credit, there was only one store that seemed to be a high-pressure location, though I hope it would be better had we not been the only people in the store. We then hopped onto a shuttle bus (they are very well marked, you will not miss it), and returned to the ship.
Our excursion later was the very descriptively named "Enchanted Taku Glacier Lodge Flight & 5-Glacier Seaplane Discovery." We were taken off of the ship and handed over to a Wings Airways guide. The seaplane terminal was on the other side of the cruise ship dock area, a five-minute ride.
Once we got onboard our plane, we took off and flew out over the Juneau Ice Field and the five glaciers that flow from it into the Taku River. The flight was absolutely breathtaking, and the narration provided by the airline was great as well. We also had a very nice (and skilled) captain, who took advantage of a brief break in the narration to reassure us once we hit turbulence. We landed at the lodge after about 30 minutes, finding everyone from the last tour waiting at the dock to get back on the planes. After debarking the plane, we quickly found out why — there were mosquitoes everywhere. Aside from them, the lodge was beautiful, located just across the river from the Hole-In-The-Wall Glacier. After lunch, we embarked on a short hike, which probably would have been better had we not had to keep our heads down to avoid the mosquitoes. To the lodge's credit, they did provide free bug spray, though it did have D.E.E.T. in it. Once the mosquitoes move on, which we were told is by August, it would have been much more difficult to leave the lodge.
One of the big selling points is that 75 percent of people see bears while there. We beat the odds!
The flight back was slightly shorter, but just as cool, as we flew a different way toward town. I highly recommend sitting on the left side of the plane, as we seemed to get a far better view on both flights. Aside from the mosquitoes, the tour was awesome. I thought the flight itself was worth the money, and I would do only the flight next time. (Disney offers the tour with and without the stop. Guests who do not have the stop just fly a roundtrip, a 50-minute flight.)
I noticed in Juneau that things seemed a bit unorganized. We met for the tour in Wavebands, and instead of each tour being walked down individually, three different tours walked down together, making it very confusing and difficult to follow our lone Disney guide. Aside from that, people from a different tour ended up on our bus, which would have gone unnoticed until we were at the plane dock had the number of guests not been screwed up. Upon our return to Juneau, we walked back up the dock and happened to hear someone tell someone else that the bus was where we were dropped off. Had someone not gotten this information, it would have been easy for our bus driver to leave someone behind. All aboard was less than 30 minutes away at this point, so had someone been left behind, they may not have gotten back onboard. I hate to criticize, but these mistakes were very un-Disney-like. Our vacation was not negatively affected by the confusion, but I could clearly see it might have been if something had gone slightly differently.
The next day in Ketchikan, we decided to do something a bit crazy. As I said at the outset, I was never really one for getting dirty, which is why finding myself on the way out to the Adventure Kart excursion was so weird. This excursion was absolutely fantastic. Basically, you are taken out by motor coach — off-roading in a bus! — to an old logging road. Once there, you are given raingear (think of what is worn by the deckhands on " Deadliest Catch") and taught how to drive a Tomcar, which is basically an ATV crossed with a go-kart. (They were designed for the Israeli Military.) The Tomcars were automatic (they had three gears — forward, neutral and reverse), but lacked power steering. They turned very well, though. You are then led out onto an old logging road up a mountain to the limits of the Tongass National Forest. If you go in expecting to get muddy and wet, you will have a fantastic time. That's all I am going to say. Just go and do it, you will not regret it. We returned to Ketchikan and extended our time in Alaska briefly by walking around town before boarding the ship for the last time this cruise.
On Monday, June 16, we arrived back into Vancouver and made our way home via Vancouver Airport (which, I should mention, is the nicest airport I have ever been in, by a long shot).
It is very odd returning home from vacation, and feeling very warm walking off of the aircraft. We went from 50s and 60s in the Pacific Northwest to some of the hottest days of the year in Northeast Ohio. As my family drove home, we started to think about what our favorite parts of the trip were, and I realized that I had a much easier time listing the negatives than I did the positives. Not because the trip was bad, but rather because there were so many good moments, that there were really only two things, flight delays and mosquitoes, that could not be considered a favorite thing. This is not how I like to look at vacations, but when it is so simple to say, "I could have done without these two things that, in the end, really did not affect the trip," you know just about everything went perfectly. Sure, we did not get the balcony we hoped for, but we did not need it.
This trip was unique for me because, for the first time since we joined DVC, there is no guarantee of another summer trip being planned. Sadly, next summer may not include a family trip, but that is OK. This allowed our family, and me, to approach this trip differently. We approached it as a once-in-a-lifetime trip, and that mentality took us on a floatplane, that mentality took us adventure karting. It was a fantastic adventure that I would recommend for anyone.
(Oh, one last thing. On the first day of the cruise, Disney offered everyone a free 50MB Data package, which we immediately got, along with a 1000MB (1GB) Data package — $60 or $80, cannot remember which. We used much of it, but everyone was able to use the internet in the same way as we do at home. It was fast, too, even in the cabin.)
(Photos were taken by my family, except for the Adventure Kart photo, which was taken by an Adventure Kart staff member and is used with permission.)
= = = = = = = = = = = = = =
RELATED LINKS
= = = = = = = = = = = = = =
AllEars.Net's 2011 Alaska Cruise
The Disney Wonder will be sailing Alaska again in 2015. Visit our travel sponsor MouseFanTravel.com for details and itineraries.
Read Michael Walsh's six-parks-in-one-day adventure in the AllEars® archives:
http://allears.net/ae/issue720.htm
-=-=-=-=-=-=-=-=-=-=-
ABOUT THE AUTHOR:
Michael A. Walsh, 19, has grown up a Disney fanatic. With more than 30 trips to Walt Disney World, six to Disneyland, 11 Disney Cruises, and a trip to the Walt Disney Family Museum in San Francisco under his belt, he has seen and experienced much of what Disney has to offer. In 2013, Michael celebrated his 18th birthday on Castaway Cay, his high school graduation by visiting all six Disney theme parks in the United States in one day, and Christmas aboard the Disney Magic. Michael is a junior at the University of Akron, where he studies political science and is a member of the marching band. Go Zips!
-o-o-o-o-o-o-o-o-o-o-o-
Editor's Note: This story/information was accurate when it was published. Please be sure to confirm all current rates, information and other details before planning your trip.