RADP V Scrapbook Villains Dinner
Villains Dinner
1900 Park Fare
December 7, 2000
RADP V Scrapbook

The first "official event" I attended was Thursday night's Villains
dinner at 1900 Park Fare. Our hosts were Linda Bell and Sorcerer
Rob.
I arrived
early and found a group of folks in Mizner's Lounge on the 2nd floor.
Jennifer and Dave (Passporter WDW) had sponsored a Photo Treasure Hunt
on the Seven Seas — A joint RADP/PassPorter community event. They began
in the Magic Kingdom at 3:30 pm for a wild and wacky photo treasure hunt
encompassing the Magic Kingdom and the monorail resorts, ending at the
Grand Floridian. The winners were in the lounge enjoing the spoils of
victory!
"We
finally went in, and I saw that the Queen of Hearts gave me a look of
recognition and bowed her head a bit to me. As it should be. We had a
room in the back so that we did not have to mingle too much with the lesser
beings. I sat at one of the heads of the table–that Jenn person had the
utter gall to sit at the other end of the table. I broke her ankle at
Splash Mountain–hope she learned her lesson. I did manage to get Jack
and his wife, what's-her-name, at my table, but she sat between us! Cunning
broad. I saw some of my colleagues, Ratcliffe, Captain Hook…..they appeared
to have had their spirits broken! Not evil at all. They seemed rather
embarrassed in my presence, in fact–pretended I was not there. "
Paragon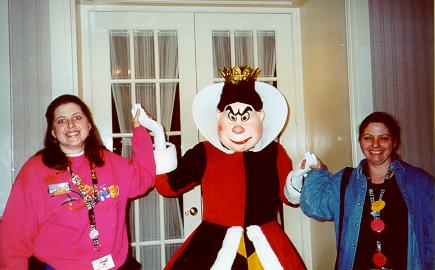 Susan, the Queen of Hearts and Jenn Bookbabe.
"Thanks to the hosts for an enjoyable time. We were in a proper frame
of mind when we arrived, Laurie was giving me evil looks on a regular
basis because we were late. No worries, mate, show up with a group of
more than 15 at the Park Faire and you'll have time to count the ornaments
on the second best looking Christmas tree at Disney. The wait was enjoyable,
though, thanks in part to the presence of people who have evolved past
my tentative approach to introductions, like Mac(hi-I'm-Mac-who-are-you)Flash88
and Deb Wills."Don
Jennings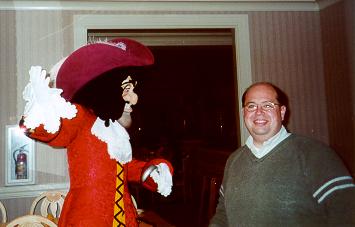 "I
was disappointed in the dinner- the Villains part. Except for the Queen
of Hearts (who scared Rachel to the point she found another door to use
so as not to have to pass her:-)), there were no female Villains. I was
SO looking forward to seeing Cruella!! I hoped for Ursula and the Evil
Queen or the Hag as well. All we had was Prince John, Gov. Ratcliffe,
and Captain Hook. I had written a poem for the lady villains, too! Sigh-
they walked around and Captain Hook scratched a few people on the head
with his hook." Mickeymom
Captain
Hook tries to get Deb to walk the plank. Deb uttered a low… arrrgh…to
no avail! Everyone else in the room just laughed!
I
finally get to meet Mac and Jack! What a great couple! Mac always sends
me great emails and it was great to meet in person!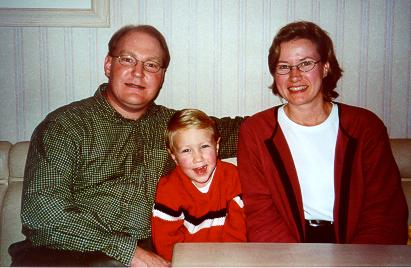 Despite having
to wait close to an hour to be seated, most everyone had a nice evening.
Some folks were unable to sit in the alcove room with us and were at other
tables in the main part of the dining hall. This wasn't much fun but it
seemed as though everyone took it in stride.
Here is Robert
Brooks and his family. Robert gave me a couple Disney music CDs which
are just wonderful (Thank you!)
Prologue
and Cinderella's Breakfast
Villains Dinner – 12/7/00 – You Are Here!
Kilimanjaro Safari – 12/8/00
Donald's Breakfastsaurus – 12/8/00
Kali River Rapids – 12/8/00
Ohana's Meet the Authors Dinner and MVMCP –
12/8/00
Big Meet and Greet Page 1 of 3 – 12/9/00
Big Meet and Greet Page 2 of 3 – 12/9/00
Big Meet and Greet Page 3 of 3 – 12/9/00
Crew Cup Lounge – 12/9/00
Magic Kingdom Day Splash and BTMRR – 12/10/00

Buzz Lightyear – 12/10/00
TOT and Rock n Roller Coaster – 12/11/00
Hunchback of Notre Dame – 12/11/00