Pleasure Island FAQ Archives
IN JUNE 2008, Disney announced that is was going to "re-imagine" Pleasure Island, and change its focus and direction. To make way for the new offerings, all of the clubs on Pleasure Island closed September 27, 2008. Other locations on Pleasure Island, including Raglan Road, Fuego by Sosa Cigars, Curl by Sammy Duval, Orlando Harley-Davidson and outdoor food and beverage locations, remain open during the transition.

This page is an archive of Pleasure Island information as of 9/08.

---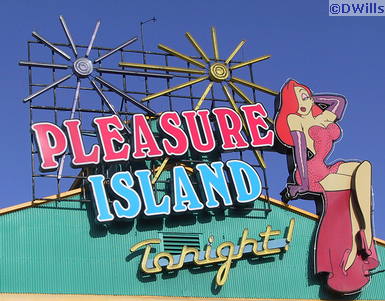 Pleasure Island is the night-time entertainment district at Downtown Disney. It consists of themed nightclubs, restaurants and shops.
HOURS – Pleasure Island is open 7 p.m. until 2 a.m.
As of August 15, 2004, Pleasure Island extended its "open gate" policy, which means that entry to the island is free — you only have to pay if you wish to enter one of the nightclubs.
NOTE: If you wish to dine at one of the restaurants on Pleasure Island and not go into the clubs, you do not have to pay admission.
Age Requirements: As of January 1, 2007, you must be 21 or older to enter BET Soundstage, 8TRAX, Mannequins Dance Palace, Motion and Rock 'n' Roll Beach Club. Those under 18 will no longer be admitted to these clubs. The Adventurers Club and The Comedy Warehouse continue to be open to everyone, but children under the age of 18 must be accompanied by an adult.
ADMISSION TICKETS – Current prices are (as of 1/07):
MULTI-CLUB admission is now $23.38 (includes tax) — unlimited admission to all the clubs on Pleasure Island for one night. (Both children and adults.)

SINGLE CLUB admission $11.66 (includes tax) — admission to only ONE club on Pleasure Island. (Both children and adults.)

NOTE: The Single Club Ticket is ONLY good for: Rock 'n' Roll Beach Club, BET SoundStage Club, Mannequins Dance Palace, Motion or 8TRAX. This EXCLUDES the Comedy Club and the Adventurers Club. You can only purchase Single Club Tickets at Pleasure Island or Downtown Disney Guest Services.

The Pleasure Island Annual Pass is now $59.59 (includes tax) and renewals are $45.95 plus tax ($48.94).

A new Pleasure Island Annual Pass Plus Guest allows a Pleasure Island Annual Passholder to bring one guest. Price of this Annual Pass is $99 plus tax ($105.44). The renewal price is $84 plus tax ($89.46).

Pleasure Island admission is included with Magic Your Way Tickets that include "plus options."

Upon paying admission, you will be given a wristband that indicates paid admission and therefore club entry.

5 for 5 Special: Offered seasonally — You can convert one night's Single-Day Ticket into 5 more consecutive nights for $5!

Discounts are available for holders of Annual Passes and the Disney Dining Experience Card.
DINE AND DANCE – Offered Seasonally: Guests who dine at a full-service restaurant at Downtown Disney may present their receipt at a Pleasure Island Ticket Booth for a 20% discount off that night's admission.
PLEASURE ISLAND ANNUAL PASSHOLDER BONUSES – Bring a guest for FREE every Friday night before 9pm.

Disney Dining Experience Card holders may purchase Pleasure Island admission at a discount.
Military personnel may purchase tickets in advance at Shades of Green for a discount.

Cast Members – Sunday through Thursday nights are free for you, just show your valid ID.
Pleasure Island has these clubs: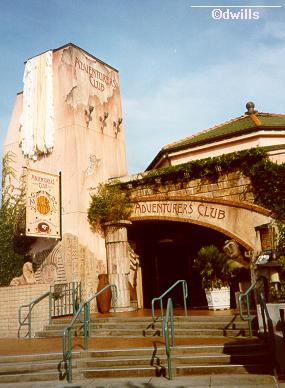 The Adventurers Club — A 1930s explorers' club, this is certainly the most Disney nightspot on Pleasure Island. The club is decorated with many "treasures and artifacts" brought back from far off expeditions. Many of the artifacts are not as inanimate as they seem and often come to life throughout the evening. Official club officers and members make the rounds to regale you with their stories and introduce you to the club's customs and activities. Check out the Adventurers Club FAQ for more info.
Comedy Warehouse — The Comedy Warehouse features "The Who, What and Warehouse Improv Company." Each show is an improvisation, where the players take audience suggestions to create jokes and skits right on the spot. No two shows are ever the same and are guaranteed for a good laugh, especially for those seated next to the telephones! And if you ever wondered whatever happened to all the old Disney World/Disneyland signs, you'll love the decor here!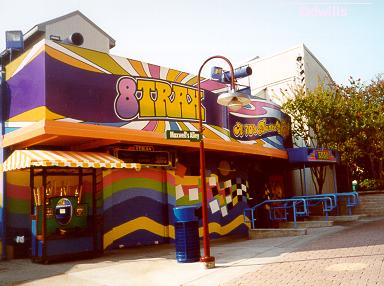 8-Trax — Complete with disco ball, '70s decor and (eek!) fashions, you'll think you stepped into a time warp. This club is a haven for the disco freak as the DJ spins popular tunes from the era of Saturday Night Fever, the Village People, and very large shirt collars. Seventies line dances such as the Hustle are the norm here, finally culminating at 12:30 a.m. with the Village People's "YMCA." Be sure to check out the wall displays of 1970s memorabilia.
Raglan Road Irish Pub and Restaurantopened in October 2005. (Click HERE for more photos!) The new venue, located on the site of the former Pleasure Island Jazz Company, will offer traditional Irish fare prepared with a "modern flair." Menu items will include: rack of lamb on Irish stew consommé, Sea Leek (oven-baked fillet of sea bass served on a fondue of leeks), and Kevin's Kudos (oven-roasted loin of bacon served with braised cabbage and creamed potato). The restaurant, which will hold 600, is decorated with custom furnishings designed and built in Ireland by Irish craftspeople, as well as with Irish antiques and "bric-a-brac." Pleasure Island club admission will not be required for entrance to Raglan Road. Located where the Pleasure Island Jazz Company used to be.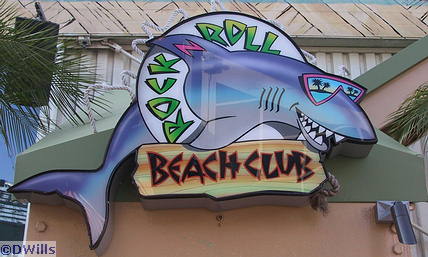 Rock 'n' Roll Beach Club CLOSED FEBRUARY 3, 2008! No future plans for the location have been announced as yet..
Classic rock 'n' roll that plays to the beat of the past and produces images of sand and surf at the Rock 'n Roll Beach Club. The stage is set for the best hits of yesterday to the top recordings of today. Live bands bring back the classic hits — the illusions are as real as the memories. The club features three levels of entertainment and a large dance floor. (Usually opens at 8 p.m.)

Mannequins Dance Palace – opens at 9 p.m.
From a WDW Press Release: "Mannequins Dance Palace With Bold New Look — High-tech lighting and a state-of-the-art sound system pumping out the hottest techno and progressive beats await guests at Mannequins Dance Palace. One of the premier nightclubs in the U.S., this award-winning nightclub has proven to be THE place to go in Central Florida. Slick and stylish have new meaning on the revolving dance floor when DJ's play the latest modern dance music accompanied by state of the art lighting effects."
BET Soundstage Club – Dance in a one-of-a-kind nightclub featuring the best in high-energy Hip-Hop, Reggae, Old School and R&B dance music! (Usually opens at 9 p.m.)
Motion — Nonstop energy of youth and put it to the beat of Top 40 music. (Usually opens at 9 p.m.)
Pleasure Island clubs open and close on a staggered basis.
Adventurers Club show times Tuesday-Sunday 7 p.m. – 1 a.m.; Monday 9 p.m. – 1 a.m.
Rock 'n' Roll Beach Club opens 8 p.m.
Comedy Warehouse show times: Sun-Wed at 8, 9:05, 10:15 p.m. & 11:45 p.m.;
Thurs-Sat at 8, 9:05, 10:15 p.m., 11:45 p.m. & 12:45 a.m.
8-Trax Opens 8 p.m.
Mannequins Dance Palace 9 p.m. – 2 a.m.
Motion opens 9 p.m.
The times above are subject to change. Frequently clubs open later because of private functions that are taking place.
Pleasure Island features a variety of street entertainment. Starting at 7 p.m., PI Live begins its broadcasting night. Live DJs spin tunes and music videos all night.
What shops are on Pleasure Island?
Pleasure Island is undergoing a series of renovations, starting in March 2006.
Harley-Davidson merchandise shop opened in late March 2005 — now located adjacent to Raglan Road.

Fuego by Sosa Cigars — opend June 2007: Cigar connoisseurs can now savor a smoke and enjoy other tobacco products in an intimate lounge setting. Premium wine, beer and spirits, plus specialty coffees and other non-alcoholic beverages are served daily from 11 a.m. to 2 a.m. The new lounge is a tribute to four generations of the Sosa family with pictures of family members decorating the walls. The gathering place blends contemporary furnishings and high-tech with old-world charm. Pendant-style light fixtures adorn the room while a hand-crafted glass bar top resembles a floating block of ice. The back bar is illuminated with silhouettes of tobacco leaves and is backlit with images of fire. Custom-designed, hand-crafted wooden humidors hold more than 100 facings of hand-rolled premium cigars — from the legendary Fuente Fuente Opus X to the highly rated house-branded Sosa cigars. An expanded terrace offers guests outdoor seating as well.

Changing Attitudes – was trendy clothing and accessories. Closed April 1, 2006.
DTV – was the official Disney shop on Pleasure Island. Closed March 19, 2006.
Reel Finds – Closed April 1, 2006.
Zen Zone – Closed March 19, 2006.
Is there any place to eat on Pleasure Island itself?
Raglan Road, the new Irish pub that opened in October 2005, serves a full menu of sandwiches and other pub fare. There is also an outside window, Cooke's of Dublin, that serves carry-out fish and chips.

The Missing Link Sausage Company Closed March 19, 2006.

On the Marketplace side of the island are Portobello Yacht Club, now renamed Portobello Country Italian Trattoria and Fulton's Crab House. On the West Side end is Planet Hollywood.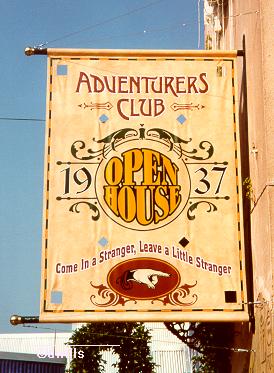 What's the most popular club?
The answer depends on who you talk to. Mannequins Dance Palace is the busiest club on the island and a favorite of many of the local Orlando residents. There is usually a line waiting for entrance. For those who like comedy, Comedy Warehouse is very popular. It's a good idea to get in line for a Comedy Warehouse show at least a half-hour before show time. The Adventurers Club is also very popular for those who just want to sit and bask in the uniqueness of the club and its entertainment.
When are the busiest times?
If you can get to Pleasure Island before 8:30, you'll probably be able to club hop fairly early. Things really start to pick up after 9:30 p.m.
Thursday nights are always crowded on Pleasure Island. This is Cast Night, when Disney employees come out in full force. 8-Trax becomes '80s Trax where the club relives the music and fashion of the 1980s. Be prepared to party hard on Thursdays, but also be prepared for the crowd crunch.
Are there ever waits to get in?
The biggest lines occur at the Comedy Warehouse and sometimes Mannequins.
At Mannequins lines tend to form quickly and last quite a while due to limited space in the entrance elevator. At Comedy Warehouse, lines for the next show begin forming as soon as the previous show begins.

At the other clubs, you can pretty much come and go as you please, but it may be very crowded inside. The Adventurers Club and the Rock 'n' Roll Beach Club can hold a good number of people comfortably because of their multi-level setup. 8-Trax can become very packed.
Where can I see live bands?
Live bands play at the Rock 'n' Roll Beach Club.
What kind of transportation options are there?
Disney World Bus: From any Disney resort, take the bus marked Downtown Disney. From Fort Wilderness, the Downtown Disney bus operates from the Outpost Depot. There is no direct bus transportation serving Downtown Disney from any theme park or from the Transportation and Ticket Center. Check at your resort to see what time the bus for Downtown Disney operates. In general, the buses stop running one hour after closing time at Downtown Disney, which for most of the clubs on Pleasure Island is 2 a.m.

By Boat: If you're at Old Key West or Port Orleans, you have the option of taking the boat route to the Pleasure Island/Marketplace area. (Be sure to check times of the last boat back to your hotel, sometimes these end early.)

On Foot: Only the resorts in the Downtown Disney area and Saratoga Springs are close enough for a reasonable walk.

By Car: Pleasure Island is located on Buena Vista Drive, not far from I-4. From the Magic Kingdom Resorts: Follow World Drive south to Epcot Center Dr. Heading east on Epcot Center drive, follow it to Buena Vista Drive and head east. You'll pass Typhoon Lagoon and Pleasure Island will be on the left. From the Epcot Resorts: Exit your resort onto Buena Vista Drive and head east.
What about Parking?
Pleasure Island has a large parking lot adjacent to the grounds. Parking is free. (There is no longer valet parking service.) You could also park in the Downtown Disney Marketplace lot and walk over to Pleasure Island. Parking can be very difficult in the evenings.
Is Pleasure Island Wheelchair Accessible?
All areas are wheelchair accessible and all clubs have elevators. Wheelchairs can be rented at Guest Services at the Downtown Disney Marketplace or West Side. See our Wheelchair/ECV FAQ for rates and details.
Is There an ATM (Automated Teller Machine)?
For some quick cash, you can find an ATM under the stairway to the Rock 'n' Roll Beach Club.
What is the smoking policy?
All clubs are now NONsmoking! Smoking is allowed in the open areas throughout Pleasure Island.
What are the "not to be missed" events at the Clubs?
Do not miss the Adventurers Club — you never really know what will come your way (unless you read the FAQ!). And try to see at least one show at the Comedy Warehouse — sit by the phone if you dare! Note that the later shows tend to be more adult humor than the earlier shows.
Anything else I should know?
PI used to have a "Designated Driver program." It has been discontinued.