Las Vegas Nevada RADP Meet Report – August 1998

Las Vegas Nevada RADP Meet Report

August 1998

Well I just got back from the RADP/ADD Las Vegas Meet. I'm sure
others will be posting their reports as well. For what it's worth,
here's my impressions of the trip/meet.

Arrived in Las Vegas at 8:30 am. via Southwest Airlines on Thursday
August 13th. Waited to meet Beth's (from Washington) plane at 9:30
am. Even though Beth and I had only talked online we had no trouble spotting each other. We collected her luggage (ask Beth about her light packing 😉 ) and then took a shuttle to National Car Rental.

Beth had planned to rent the car and drop it off in Ontario as some of the others meeting us were going to drive with her on Sunday to Disneyland. The car was not in very good shape but National had no others to rent. Oh well. In the car we go and are off to our hotel (Fitzgerald's in Downtown Las Vegas)

We arrived at the hotel about 11:30 am. The front desk told us our
room would not be ready for a couple of hours, so we decided to wait a while at the bar. We were supposed to meet up with Bill (Swiller on MIRC) at the Luxor at 1:00 pm, but Beth and I wanted to get our room first). We tried calling Bill, but kept playing telephone tag. To fill the time Beth decided to try her hand at video poker. Wow! She started winning right away. I'm not a gambler (had allotted $30 to gamble with for the trip) and immediately lost $10 in the slots.

We checked back at 1:30 and our room still wasn't ready so the Front Desk assigned us another room. Big mistake. It was a room for smokers and you could really smell the smoke in the room. It was really gross. I didn't say anything though and just tried to make the best of it. I am a non-smoker and I had a hard time with all the cigarette smoke. That's something to consider if planning on a trip to Las Vegas.

Beth and I finally met up with Bill in the afternoon. Bill took us
over to his hotel (the Luxor) to check out the "Inclinator" the
elevator that goes up and sideways to the rooms. What a weird
sensation! After checking out the view from his room, Bill and I
wanted to go see the World of Coke and M & M World at the Showcase Mall. Beth decided to stay at the Luxor and do some more gambling.

I had been given an assignment by a co-worker to try and find as many beanies as I could, including the M & M beanies. She didn't think I would be very successful. Well, as soon as I got on the 2nd floor of M & M World, low and behold a rack full of the M & M beanies!! There are two kinds. Those with arms and legs and those without. There are four colors: green, red, blue and yellow. She wanted a set of each. Unfortunately those were the only beanies I was able to find. All of the others beanies she wanted (the Ty ones) were way overpriced.

For those interested in M & Ms I would highly recommend this store. The 1st floor is for Ethel M Chocolates – the gourmet branch of the chocolate production. The 2nd floor is M & M World. It is full of things to buy. In the center of the store is a stand that sells designer colors of M & Ms that are made only for this store. The colors were unbelievable! Rose, Teal, Black and Gray to name just a few. The 3rd floor was not yet open. It is scheduled to open in the Fall. The 4th floor is devoted to the Ethel M Ice Cream Shop. Yum! Bill and I were being good, however, and didn't have any ice cream 🙁

Right next door to M & M World is the World of Coke. If you are a
Coca-Cola fan this is the place to come. For $2 you can sample all
the flavors of soft drinks that Coca-Cola sells around the world.
They had about 15-20 different flavors of drinks, plus the ones they sell here in the US. Including Tab! I immediately thought of Joe Hurley when I saw the Tab machine 🙂 The coke dispenser was very interesting. You put your glass under the dispensing machine and this "fountain" of coke shoots up from the back. It looks like this "spray" of coke is going into the top of the machine and filling your cup. Lots of fun! I believe Ice Station Cool at Epcot has some of the flavors that you can also try here. I was able to sample the infamous "Beverly" from Italy that was mentioned here in RADP earlier. All I will say is that what everyone said about it is true! Bill and I had great fun tasting all the different flavors.

After we finished, we walked back to the Luxor to get Beth. Bill and Beth decided to ride the roller coaster at the New York, New York Casino. Let me tell you – that thing is huge!!! I am a big chicken and generously offered to hold the packages while Bill and Beth rode the coaster. Wasn't that generous of me? 😉 Beth thought the ride was a little rough. Bill enjoyed it.

I really liked the themeing at this casino. They had lots of food
courts for informal dining with all different types of food. They
even had authentic NY pizza. Bill said so and he lives in NY 🙂

We decided to have dinner here and guess what we had? Pizza!
Beth and I were going to pick up another RADPer at the airport later that evening (Rob on MIRC) and realized that we didn't know what flight or airline he was coming in on. Doh!! Beth had thought to email Rob just before she left and we were hoping he had called our hotel with his flight info. Luckily Bill had brought his laptop with him. While Beth did some gambling, Bill and I went up to his room to see if we could find the flight info online. We knew what time he was arriving and from where. We thought we might be able to find it. I decided to call our hotel first, in case Rob had left a message. Luckily he had. It was a good thing, too. We tried to find the info online with no success.

Since we had a little time Bill and I went
into #radp-friends on MIrc to try for a little live trip reporting.
At first no one was there. We couldn't believe it. It was about 9:00 PDT. What? No one on RADP? Oh no!!!! Well we waited in the room for a couple of minutes and miss- came in followed soon after by Kenny. A few minutes later filminfo came in, too. We chatted with them for a little while and tried to make them feel really bad that they weren't in Las Vegas with us 🙂

Bill decided to go to the airport with Beth and me to pick up Rob. We got the arrival gate number online from the TWA site and headed that way. Rob was due in about 12:15 am. When we got to that section of the airport we couldn't access the gates. Everything was closed off. We thought maybe only arriving passengers would be allowed to walk down from that section and we would have to wait outside the security checkpoint. I decided to ask someone and found out we were waiting in wrong area! We hustled ourselves over to the right section and got there just as Rob walked out of the plane. What good timing.

Bill dropped Beth, me and Rob off at our hotel and headed back to his. We made plans to meet with him on Friday morning for a trip to Hoover Dam and Valley of Fire State Park. After Rob checked in, he and Beth decided to do some gambling. I headed up to the room and to bed.

Bill picked us up the next morning and off we went to Hoover Dam. I forgot to mention earlier how hot it was. Well, it was hot. It was nice in the car because it was air conditioned, but when we got to Hoover Dam and got out of the car – Wham!!! It hits you. Heat! Lots of it. It's a "dry" heat they say. Not like Florida with the humidity. Yeah, right. All I know is that my hair was soaking wet from sweating.

Anyway, it was still early. We were able to get on the 10:15 am tour of Hoover Dam. It was really enjoyable. They have a visitor center there with lots of interactive exhibits. There is also a theater that shows 3 films, where, you guessed it, the audience moves! Hints of Carousel of Progress. The movies were outstanding. The first was a history of the Colorado River before the dam was built. The second was the story of the building of the dam. What an engineering wonder. The third was about how the water is used. We were sure thirsty after we saw the films!

We headed back up to the car, where Bill had conveniently left it parked in the sun. Remember how hot it was? I think it was about 200 degrees in the car. Just kidding.

Right next to the garage was a cart that was selling ice cold water. We all bought some except for Rob. I guess he's just used to heat since he lives in Florida.

After we left Hoover Dam we headed out to the Valley of Fire State
Park. The name should have been a warning. This park is in a desert area that is closed to camping in the summer because of the high temperatures. There is a visitors center and some sites are open for day use. There really are no words that can describe the rock formations and their colors. It is simply spectacular. Deep reds, oranges, browns, yellows. The park is truly beautiful. We stopped in a day use area that had some beautiful rock formations. Bill and Rob got out to take pictures. I got out and looked around a little. Beth decided to stay in the car. It was REALLY hot outside the car.

Rob was climbing around on the rocks and broke off a section as he was grabbing for a handhold. I started lecturing him about messing around with stuff that took Mother Nature thousands of years to build. He assured me that Mother Nature had planned to break that little piece of rock within the next day or so. Sure, Rob. We then drove over to the visitors center and looked around inside. I bought a t-shirt and a book about the park. Rob bought some pins and I think Bill bought a couple of maps.

We then decided to head back to Las Vegas as we had reservations for a bar-b-cue for that evening. I was sitting in the back seat with Beth. Bill and Rob were sitting in the front. I have a tendency to get car sick on winding or bumpy roads if I sit in the back. You guessed it. I was starting to feel really bad. I didn't want to say anything, cause I didn't want to spoil anyone else's fun. Beth finally asked me if I was okay. I think I was green at this point 🙂 She suggested that Rob and I switch places, which we did. By this time, though, the damage was done. I managed to keep everything down, but I sure didn't
feel very good.

We made it back to Las Vegas around 5:00 pm and made plans to meet at 7:30 for the bar-b-cue. Bill went back to his hotel and Rob and Beth did some gambling. I went up to the room to lay down. About 7:00 pm I noticed some flashes of light and got up to look out the window. Our room was on the 26th floor and overlooked the mountains. I saw the most fantastic lightening storm building up and heading our way. I watched the storm for about 45 minutes and finally went down to tell the others about it. Bill had seen it driving back over to our hotel. The others went out to look, too. The bar-b-cue was being held
outside and the hotel was concerned about the oncoming storm.

The storm held out long enough for us to eat. The food was really
good. There were various salads, breads, meats and desserts.
Everything was very well done. There was live entertainment (country western). There was supposed to be a light show later (the Fremont Street Experience), but lightening had struck one of the structures and the system wasn't working. Instead Beth, Bill, Rob and I got a behind the scenes tour of the hotel. It was really interesting. It definitely made up for no light show. After the tour we had tickets to see "Cirque de Soleil – Mystere". This was the most awesome show I had every seen. We had great seats, too, thanks to Bill. What a guy!

All I can say is WOW! Great show. The tickets were expensive, but I thought they were well worth the price ($69/person). After the show, Bill drove us all back to our hotel. Bill's wife, Diane was flying in that night and he wanted to get back to make sure she got in okay. We made plans to meet at 11:00 am the next morning to go on the Star Trek Adventure at the Las Vegas Hilton.

I went up to the room while Beth and Rob stayed down at the Casino to do some gambling. Beth didn't get in until 5:00 am. I guess she was winning! I was up bright and early at 6:30 am and out the door by 7:00 to get breakfast. I left a note for Beth telling her that I would catch a cab to the Hilton. Since I was up so early I didn't want to wake her 🙂

I had breakfast at the Fremont Casino where they had a nice buffet.
Custom made omelets and plenty of fruit, plus the traditional stuff. What I found interesting about this buffet was that they had a section of food called "Pacific Rim". I did recognize the rice but not much else. Very interesting.

After breakfast I took a cab to Hilton and explored the shops and area there. I was always on the lookout for beanies for my friend, but the ones she wanted were priced very high. I bought a paper and relaxed for an hour or so. I read in the paper that the a bolt of lightening from the storm the night before had actually struck a motorcyclist as he was riding on I-15. He was in critical condition. Hope he makes it okay. The storm had also blown the Las Vegas boat dock on Lake Mead from its moorings. The only way for the people to get to their boats were by boat. Hmmmm. We had passed that boat dock on the way
to the Valley of Fire the day before.

After reading the paper I walked back to the area where Star Trek was and there was a long line for tickets. I decided to get in line and buy the tickets so the others wouldn't have to wait. I really debated about buying Beth's and Rob's since I wasn't sure if Beth would be up in time. I didn't know if Rob had a late night, either. I decided to take a chance and buy tickets for everyone. I had just bought the tickets when Bill and Diane showed up. I had met Diane a few months ago when she came out to the Bay Area on a business trip. It was great to see her again. We hugged and chatted a bit. Diane was flying in just as the lightening storm was going on the night before. I guess it was a rough flight. A few minutes later Beth and Rob showed up. I was really surprised to see them, cause I thought for sure Beth would sleep in! I learned never to underestimate a determined RADPper 🙂

We got in line for the Star Trek ride. The pre-show is really great. The line has great themeing and exhibits throughout. Lots of clips from all the Star Trek series and a time line calendar that is very interesting. As a Star Trek fan, I found the whole thing "fascinating" 😉

There were two Ferengis walking around and interacting with the crowd. They liked to see all the people as it was good for "business". I don't want to tell any spoilers here, but there was a nice effect when we were being "transported" to the bridge of the Enterprise. I really liked the way the Cast Members stayed in character and interacted with the crowd. We were hustled over to Cargo Bay 2 where we were to catch a shuttle ride home. We all get in and buckle up and the ride starts….no sound. The doors re-open a Cast Member comes in and, still in character, tells us that there has been a malfunction in
the shuttle and they must try and correct it. We wait a few more
minutes……nothing. The cast member comes back and tells us we have to move to Cargo Bay 4 and try another shuttle craft. This one works just fine 🙂 This part of the ride is a motion simulator similar to Star Tours. I had to close my eyes alot to avoid getting motion sickness (remember the car ride?). Is it better than Star Tours? I know there's been a discussion lately about that. I liked the pre-show stuff better on Star Trek. I really liked all the Cast Member interaction. The simulator itself, I think I prefer Star Tours. Just my opinion.

After Star Trek it was getting close to the time for what we were
really there for. The RADP/ADD meet! We wandered over to the Disney Store at the Forum at Cesar's Palace. We were all wearing our RADP buttons except for Rob. Of course he had to be different and wear his ADDW and Save Toad button. Leave it to Rob 🙂

I immediately headed over to the pin collection. I had promised Deb Wills that I would buy her any pins that were themed exclusively for Las Vegas. Success Deb! The pins from the SF Disney Store and the Las Vegas store will soon be on their way.

Earlier in the day, Bill had noticed that I was wearing a musical
Mickey watch. He was hoping to buy one for Diane. We huddled up to plan our strategy to surprise Diane while he was buying the watch. I went over to distract her when I was approached buy another RADP/ADDer. Alan Kim a Las Vegas local showed up for the meet. We were expecting a couple of others so waited around a while for them.

Some of you might remember Alan from mIrc. He is a1……(with a
bunch of other numbers and letters that he STILL won't explain 😉 ) Hmmm….we have ways of making you talk, Alan.

Anyway, Alan fit right in and we were all chatting about our Disney
plans. He will be going to the annual RADP meet in December! Woo hoo Alan!!! We waited for a little longer and didn't see anyone else so decided to ride the "Race for Atlantis" ride. This is another simulator ride, but it is 3d and on a huge IMAX screen. You wear special headgear that has sound built in and special lenses for the 3D effect. Very impressive. This was another ride that I had to close my eyes alot on. Rob was in the last row and said he got tossed around a lot. He loved it! That guy is a glutton for punishment.

This is a picture of the whole group just after we got off the "Adventure to Atlantis" ride. The group from left to right is: Bill and Diane Abrams, Judy Lewandowski, Rob Olsan, Beth Eloheimo and AlanKim.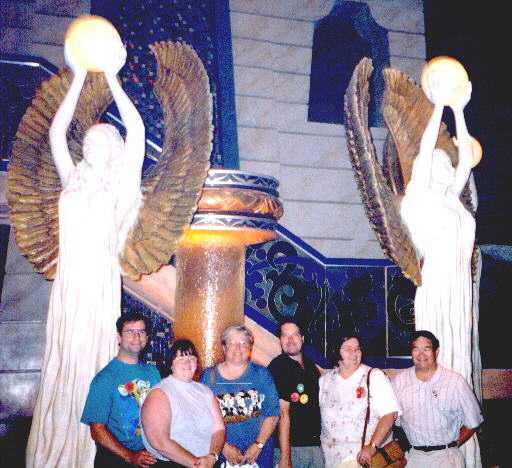 Bill and I were telling Diane and Rob about the World of Coca-Cola and M & M World. They were both interested in seeing the stores. Beth stayed behind to do some more gambling. It turns out that Alan works for Ethel M chocolates. He bought chocolates for Diane and me. What a nice guy.

Rob was fascinated by the "squirting" Coca-Cola dispensers and was
trying to figure out how they worked. He is very easily entertained 🙂 Well of course, we all had to do some more sampling. Bill and I encouraged everyone to try the "Beverly" from Italy 😉

After looking around the two stores for a while, we all headed back to Bill and Diane's room. We wanted Rob and Alan to see the
"Inclinator". We went up to their room and chatted a while. Beth was going to meet us later. We decided to all go to dinner at the Sea Food restaurant at the Luxor. I can't remember the name of it but I'm sure someone else will report it. Rob, Bill and Alan had blackened fish of some kind (sorry I don't remember what kind). Beth had the Lobster Tail Pasta, Diane had chicken and I had the stuffed prawns. Yummy!! The group then shared a cream boulaise (sp?) for dessert. Alan and I didn't try any, but everyone else said it was very good.

Alan had a bicycle ride he had to go on the next day, so after dinner we parted ways. He is training for a big charity ride in September that will be going through the Valley of Fire. Remember the heat? This proves that Alan is a nut just like the rest us.

After Alan left Bill, Diane, Rob and Beth were making plans for their Disney trip on Sunday. Unfortunately I wasn't able to make that trip, so the others will have to report on that. They had all planned to drive together from Las Vegas to Anaheim, but I guess after our trip to the Valley of Fire they decided to rethink it. We all went up to Bill and Diane's room to go online to see if there were airline seats available. Yep. So driving plans were cancelled and everyone decided to fly instead. We all made plans to meet at the airport car rental place at 7:30 the next morning to return the car and then catch our respective flights. I don't know what I was thinking, but I thought
my flight was leaving at 9:15 am on Sunday, while the others were
leaving at 8:30 am. When I checked my tickets early Sunday morning I discovered my flight was leaving at 7:50! Ack! I ran and told Beth I couldn't wait and had to take a taxi out to airport. I was so disappointed that I didn't get a chance to say good-bye to everyone.

So, trip highlights: Meeting all those great people from RADP/ADD.
Bill and Diane Abrams, Beth Eloheimo, Rob Olsan and Alan Kim. What
great people! I can hardly wait for December to see them all again. Luckily, Diane and Bill will be coming out here in September so I will get to see them sooner. I miss everyone already and I've only been home a few hours!

Oh one more thing, Rob wanted to get a picture of him and Beth and me in front of a wedding chapel. Sure Rob……NOT!!! LOL. You've gotta watch that guy 🙂

I sure hope this trip report wasn't too long and boring.

It was a great trip and it was great fun.

Judy Lewandowski