AllEars® Newsletter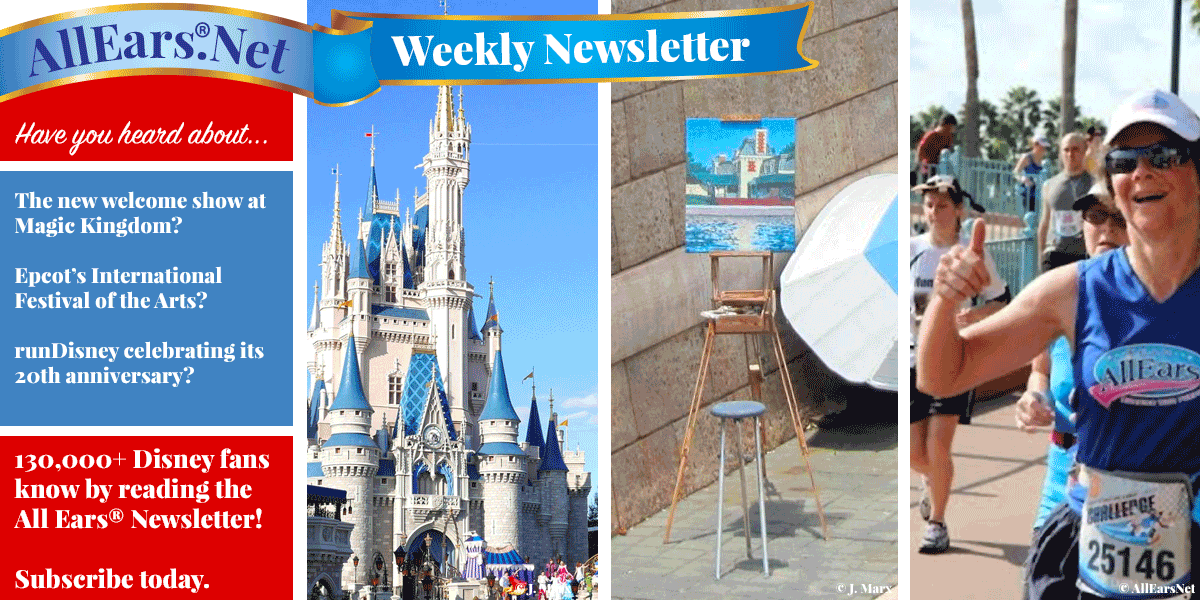 AllEars® is delivered FREE each week to about 124,000 subscribers who share an interest in the Walt Disney World resort in Orlando, Florida. You should be one of them! Sign up today!
Click here to start receiving AllEars®, the FREE weekly electronic newsletter with the most current, accurate and comprehensive information for folks interested in Walt Disney World. Each AllEars® newsletter is chock full of facts, helpful tips and, of course, the latest Walt Disney World news, as well as restaurant and resort reviews, previews, interviews, snippets of timely information and insightful, entertaining guest columns.
Once you've subscribed, don't forget to set your preferences to receive our special promotional mailing called EARS THE DEAL™. A few times each month, we'll send you a bonus email with money-saving offers and promotions for Walt Disney World and the Orlando area, exclusive to you, our AllEars® subscribers! (Click HERE for instructions on subscribing to Ears the Deal™!)
WELCOME TO THE HOME OF
an unofficial electronic newsletter about The Walt Disney World Resort in Orlando, Florida, published weekly in conjunction with AllEars.Net.
Established September 1999
Library of Congress ISSN:1533-0753
To get a taste of what AllEars® has to offer each and every week, click on the links below — these tidbits are from our July 2018 "WDW Bits and Bites" issue:
---
STEP BACK IN TIME
by Joan L. Feder
AllEars® Staff Writer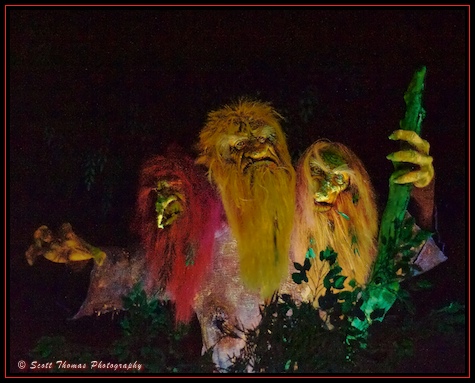 We hunt through our archives for this monthly featurette, which looks at the history of Walt Disney World and The Walt Disney Company. This month we go back "over the falls" to the opening of Maelstrom in Epcot's World Showcase.
From the beginning, Imagineers planned a thrilling boat ride for Epcot's Norway Pavilion. Originally, guests would be given rain slickers to protect them while they braved a violent storm crossing the North Sea. That idea was quickly deemed impractical, so instead they decided to build a ride about trolls. This made the corporate sponsors of the pavilion unhappy, because they wanted the ride to showcase Norway's culture and history. To get the necessary financing, they required that the attraction include specific topics like Vikings, polar bears and an oil rig. Finally, everyone agreed on a time travel theme, starting with Vikings and progressing to the present.
Disney announced that its newest attraction "SeaVenture" would open in 1986. That's right, SeaVenture; that was the name posted on the construction site until just before opening. The Norway Pavilion opened on June 3, 1988. The Crown Prince and Princess (now King and Queen) of Norway attended the premiere, but Maelstrom was not ready. It did not debut until July 5, 1988, but it was worth the wait.
The adventure began in the waiting area, dominated by a giant mural that foreshadowed the voyage ahead. Riders boarded their Viking ships and headed into a dark tunnel, up a steep hill. A beacon of light shone on the boat, and a voice assured travelers that: "You are not the first to pass this way. Nor shall you be the last. Those who seek the spirit of Norway face peril and adventure — but more often, find beauty and charm." The ship floated past Vikings, into a swampy marsh. There an angry three-headed troll loomed over the ship, banishing the boat "Back! Back! Over the falls!" They cast a swirling fiber-optic spell over the vessel, which sped backward. After passing polar bears and enchanted trees, the back of the boat jutted out through the facade of the attraction, hovering at the edge of a waterfall. A friendly troll saved the ship, shifting it to the right. The boat plummeted 28 feet into the North Sea, barely missing an oil rig, and docking in a quiet fishing village. After getting off the boat, and a short (though seemingly eternal) wait, guests could watch a five-minute film about the Spirit of Norway.
Maelstrom made history when it opened. It was the first thrill ride at Epcot, and it was the first flume ride that went both forward and backward. Many people loved it and were unhappy when Disney announced that Maelstrom would become an attraction based on the blockbuster film, Frozen. Die-hard fans felt that an attraction set in an imaginary country conflicted with World Showcase's theme and purpose. Despite the outcry, Maelstrom closed forever on October 5, 2014, and we now can enjoy Frozen, ever after.
RELATED LINKS
Walt Disney World Chronicles: The History of the Norway Pavilion
---
MAGICAL MOMENTS
Each month, we like to share a few heart-warming Magical Moments brought to us by the amazing Disney cast members!
Kathi F.: Recently, I was on a hunt for the Passholder Party for the Planet T-shirt at Animal Kingdom. I first inquired at Discovery Trading Co. A cast member checked in the back. She was informed that all remaining stock went to Island Merchantile. She introduced me to Wayne, who offered to accompany me. We dodged a few raindrops, running to the shop where Wayne disappeared to a back room. He emerged, having been told all their merchandise was returned to Discovery Trading Co! We ran back where Wayne checked again. He resurfaced with 10 shirts — two of each size, not knowing how many I wanted! I burst into tears. I explained to Wayne that this was a very emotional weekend for me… my first Mother's Day without my mom who passed away five months prior, and my birthday was the next day. I wondered out loud if it gets any easier. Wayne replied, "NO! It's my 8th without my mom and it's still so hard." We swapped "Mom" stories, a few laughs, a few tears and a fierce hug. It meant so much to me that Wayne cared enough to take the time to share something special with me. He made a difficult day a little bit brighter.
Melanie G.: I need to give recognition to the cast member that sprinkled some pixie dust on my family's vacation. Spring break of 2018 my husband and I surprised our two daughters with a trip to our second home — Walt Disney World. Our family has been fortunate enough to visit the Most Magical Place on Earth faithfully twice a year. However, 2017 proved to be a year of hardship for us… Finally being able to go back to Disney World was going to be the perfect way to bring a rainbow to the end of our storm. We booked five nights at the Pop Century and anticipated the surprise with much excitement. Upon check-in a cast member by the name of Anthony asked if we were celebrating anything during our visit. After a minute of thinking about the past year's events I told him we were celebrating life. I shared our story with him and he told me that he thought Mickey would like to show some gratitude to my husband (a police detective) for protecting the citizens of our community and putting his life on the line. He upgraded us to a newly refurbished preferred room, which was a pleasant surprise and greatly appreciated. However, his next act was a bit more meaningful. He asked where my husband was while I was checking in… Anthony came from around the counter approached my husband and personally thanked him for his service. His gesture of kindness and relatability is the epitome of Disney service. He truly made it a memorable vacation for my family. We will forever be grateful. This is why we love our Disney!
-=-=-=-=-=–=-=-=-=-=-=-=-=-=-=
We just bet you have a story to tell about an unforgettable moment during your Disney vacation! Please send your favorite memory for inclusion in a future AllEars® to our Contact Us page.
Thank you all for sharing!
---
ARCHIVES
Feature Archives
Missed the last issue of AllEars®? Or just want to re-read that feature on cruises again? You'll find a listing of past AllEars® newsletter features here.
Tips Archives
We have a searchable database of all the tips that appear in our newsletters. Take a look at the archive of our helpful ideas here!

If you want to receive the rest of the AllEars® news and other juicy bits of timely WDW information, you must be a subscriber! Why not sign up now?
---
Copyright – Disclaimer – Reprint – Contact
©1999-2018, All Rights Reserved. AllEarsNet LLC.
AllEarsNet LLC owns and operates AllEars.Net (allears.net), the AllEars® weekly newsletter and its promotional newsletter Ears the Deal™. AllEars.Net, AllEars® and Ears the Deal™ are not affiliated with, authorized or endorsed by, or in any way officially connected with, The Walt Disney Company, Disney Enterprises, Inc., or any of their affiliates. For official Disney information, visit http://www.disney.com
For prompt replies to questions or comments about this newsletter or info that appears on AllEars.Net, send a query using our feedback form.
NOTE: No parts of this newsletter may be reprinted without prior written permission from AllEarsNet LLC and AllEars.Net.
Advertisements appearing in AllEars® are paid advertisements and are not meant as an endorsement by AllEarsNet LLC, AllEars® or AllEars.Net.
---
READER FEEDBACK
We are nothing without our readers! Please drop us a line and let us know what you're thinking! We can't wait to hear from you. Use our handy Feedback Form to reach us. See what others are saying about us here!
Want to write for us? Please take a minute to read our Writer's Guidelines!
-o-o-o-o-o-o-o-o-o-o-o-
Editor's Note: This story/information was accurate when it was published. Please be sure to confirm all current rates, information and other details before planning your trip.