2nd Annual Holiday RADP Meet Weekend December 6-7 1997

2nd Annual Holiday RADP Meet Weekend

December 6-7 1997
Sunday December 7
Magic Kingdom Toad-In


Sunday 12/7 at noon, folks attended the first of 2 Toad-Ins at the Magic Kingdom. JT Toad, [email protected], creator of the Save Mr. Toad website and organizer of the Magic Kingdom Toad-In filed this report on the rec.arts.disney.parks newsgroup….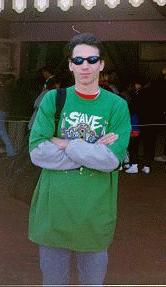 When my friend and I arrived Mr. Toad's Wild Ride at a little before noon, a couple things were disturbing. One, no other Toad fans were there. Two, there was an AWFUL lot of Disney security people there. Eventually, some other Toad supporters showed up and things began to look up. (Still no reporters or photographers.)

As we were hanging around, we spotted at least three groups of
trenchcoated, earpiece-wearing security personnel, as well as several plain-clothes security and some security disguised as janitorial personnel. Plus some more security.

A few people were coming up to us and we were explaining why we there and what was going on and nearly everyone we spoke to was very supportive. We got a lot of thumbs-up and the like. We were also cheered by a group of people from the rec.arts.disney.parks newsgroup, but they were in line and didn't stop by to chat.

MELI Writes:
I could not believe the number of suits we saw as well
as "undercover" security. When was the last time you saw someone on the custodial staff with an ear piece? There was a guy sitting at the tables directly across from Toad Hall taking pictures…of us. No one was fooled. One maintenance guy went by with, I guess, a "picker" — it looked like the sort of thing you would use to change a high light bulb or grab something off the top shelf — and we joked that it was an electric prod.

As we got closer to the front, the Fantasyland Babe CM ride operator had a suit with her, and seemed to be on the
podium phone an awful lot! The first car had JT, J, a virgin Toad-rider RADper and the very nice reporter. The second car had Hubbly, me and the other RADper. I'm sorry that I didn't get the chance to ride with JT –it would have been a blast. We had a lovely ride to nowhere in particular and then met up with the others to ride the other side (as you know, it's two, two, two rides in one! Each side is different). We found out that they were letting us jump the line so we didn't have to wait again (and I'd like to point out that it was a 25 minute wait. Are
you listening Disney suits?). We had the same line up in the cars…the other folks went, and the car that was supposed to be ours had a bit of a protein spill. Even though they wiped it up, we asked to wait for the next car, which was Toady. After our second ride to nowhere in particular, we all joined up again, and one of the CMs told us that they thought perhaps we were going to lay down on the tracks! The reporter left and one of the RADpers went on their merry way. The rest of us kept separating and bumping back in to each other, finally leaving JT and J by City Hall.

Meli, John, JT and other ToadIn Supporters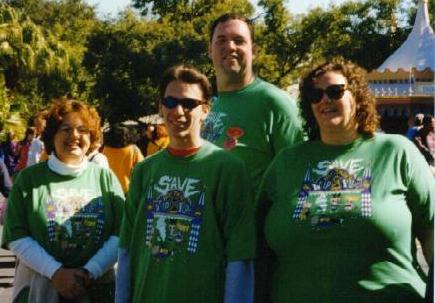 The reporter (Liz Langley) replied that Disney didn't return any of her calls and some more discussion occurred while I was talking to another park guest, but the manager pretty much left Liz alone once she explained that she had paid for her ticket to get into this park and she just wanted to ask us a few questions and take a few pictures.

As we were talking, my friend tried to hand out one of our postcards with Judson Green's address on them. The manager (Camille) explained that we couldn't pass out materials. My friend explained that she was merely providing information that this person had ASKED for (the web address is printed on the cards), but Camille was pretty firm on the matter. Anyway,
I told Camille that we wouldn't distribute the cards and crisis was
averted.
One of our plain-clothesed Toad spies had told us earlier that he'd overheard a security guard saying that they were going to give us ten minutes and then disperse us. It is our belief that Liz saved our butts by being there as a representative of the press. The last thing Disney wants is pictures of security guards dragging fans of one of their own rides down the streets of Fantasyland splashed on the front page of the paper.

We then decided to actually go on The Ride, which one of the members of our group had amazingly NEVER been on. We talked to a lot more people waiting in line about the ride.

Anyway, we finally got up to the cars and security was watching us from everywhere. There was a woman on the phone the whole time we were on the ride, probably poised to call for backup immediately.

Of course, we just rode the ride without any more fuss than the usual screaming about our imminent doom as we crashed through Toad Hall, the town square, Winky's Pub (featuring Rapunzel the naked lady) and into an oncoming locomotive.

When we got off, the Disney officials looked so relieved and genuinely pleased that we hadn't done anything violent that they actually let us bypass the line for a ride on the second side. We enjoyed the pigs, chickens and weasels immensely.

Afterwards a Mr. Toad ride operator told us she was glad we didn't lay down on the tracks or something, and assured us that she wouldn't have run us over.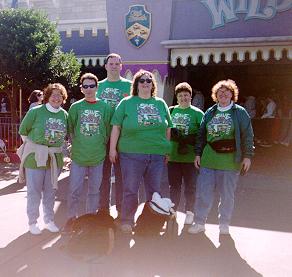 We said our goodbyes to Camille the Fantasyland manager (who I must say was very nice, considering the circumstances) and went about our own ways in the park.

As we visited City Hall to file our support for Mr. Toad, we were cheered by several employees who liked our shirts. My friend asked if a memo had been passed out about us and the guy said, "Memo? You were on TV!"

We walked around Walt Disney World all day and got quite a lot of support from employees, most of whom had heard of us. One employee told us that they were talking about us in the break room and that they all agreed that Mr. Toad should stay open.

The one thing that was really missing was some mainstream press. I
finally found out why there wasn't any yesterday. I talked to a
representative of Orlando's Channel 9 who said that Disney wouldn't let them inside the park. They had a team out there for 3 hours, but they never saw us because we were INSIDE the Magic Kingdom.
Thanks to everyone who came out on Sunday and everyone who will come out this Sunday and very special thanks to Liz Langley.

JT Toad
Toadi Acceleratio

Save Mr. Toad's Wild Ride! http://www.geocities.com/Hollywood/Set/7073