Walt Disney World Chronicles: The Walt Disney World That Never Was
by
Jim Korkis
Disney Historian
Feature Article
This article appeared in the May 7, 2019 Issue #1024 of ALL EARS® (ISSN: 1533-0753)
Editor's Note: This story/information was accurate when it was published. Please be sure to confirm all current rates, information and other details before planning your trip.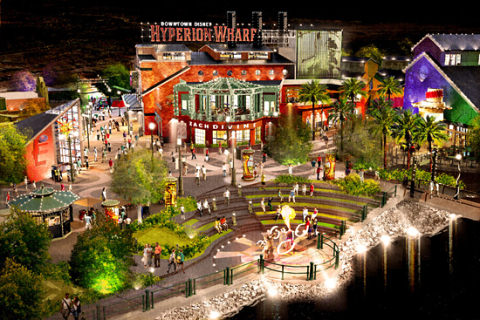 Walt Disney World fans like myself have always had a fascination with projects that were announced, often with elaborate concept art and detailed descriptions, but for a variety of reasons, usually financial, were never built.
Even in recent years, there have been many abandoned projects that were announced with much fanfare but disappeared and were never talked about again.
In 2010, Disney Wordl fans were teased with the prospects of Hyperion Wharf, "a nostalgic yet modern take on an early 20th century port city and amusement pier" that at night would be an "electrical wonderland." The new wharf was to have taken over the old Downtown Disney Pleasure Island location. Some of those elements were later adapted into the revised proposal for Disney Springs, but no public reason was ever given for why Hyperion Wharf as a whole was shelved.
In 2009, a new Fantasyland concept at the Magic Kingdom was presented at the D23 Expo that would have had a variety of elaborate Disney Princess meet-and-greet opportunities located within individual princess cottages, including ones for Cinderella and Briar Rose (Sleeping Beauty). Also included in that proposal was a large Disney Fairies area dubbed Pixie Hollow to be completed as the expansion's last phase.
Cinderella's country chateau would have been where she lived with her stepmother and stepsisters in a forest setting. At the chateau, guests would have observed the Fairy Godmother magically preparing Cinderella for the royal ball and then had the chance to share a dance. At the Sleeping Beauty cottage, participants would have helped celebrate Briar Rose's surprise sweet 16 birthday party with the help of the good fairies Flora, Fauna and Merryweather. Among other things guests would have made birthday cards for the princess and then greet her with a big surprise. Tinker Bell and her fairy friends were to reside in Pixie Hollow, where guests would have shrunk to the size of a pixie and played among towering blades of grass and flowers just like in the Disneyland version outside of Tomorrowland.
When the plans were significantly changed for Fantasyland, there were discussions, according to The Orlando Sentinel newspaper, to move Pixie Hollow over to Epcot as part of the Flower and Garden Festival or to find a more permanent home at Disney's Hollywood Studios to tie-in to the Tinker Bell animated films. Concerns from fans that the additions were too girl-centric resulted in Disney making some changes while retaining some of the originally announced items.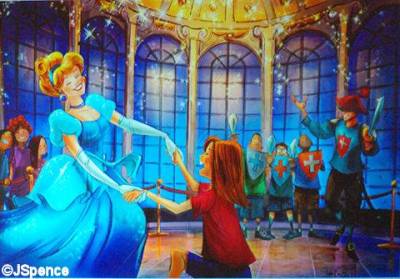 In addition to a project getting tabled, it's also not uncommon for a project to be relocated. For example, the huge show building in the Japan pavilion at the back of the Mitsukoshi store was meant to house an audio-animatronics attraction called Meet the World. Today that building is used for carpentry, painting and storage instead.
Konosuke Matsushita, the founder of the Matsushita Electric Industrial Company, had a strong interest in Japanese history and a fondness for Disney World's Hall of Presidents. When he was approached to sponsor a pavilion at the forthcoming Tokyo Disneyland, he agreed as long as there was an attraction that matched his interest in re-creating real historical figures as audio-animatronics. Imagineer Claude Coats had been working on a theater attraction for Epcot's Japan pavilion called "The Winds of Change" that would incorporate the history of Japan and use audio-animatronics of important figures of the past. As a cost -saving measure the already-built attraction was sent to Tokyo Disneyland along with the Magic Kingdom's Mickey Mouse Revue and the new Dumbo attraction that had originally been built for Fantasyland. In so doing, it helped lower the budget and the time necessary to open Tokyo Disneyland.
With the 20th anniversary of Disney's Animal Kingdom, it is important to remember that the park was supposed to have looked much different. Most Disney fans know that Pandora: The World of Avatar ousted Camp Mickey-Minnie. However, some fans don't realize that Camp Mickey-Minnie was a last-minute "placeholder" for a land just as exotic as Pandora.
Guests would have crossed a bridge into a land called Beastly Kingdom. With cost overruns due to underestimating the cost of caring and housing live animals, Disney decided to put the land on "hold" and then build it in a few years once the park was successful. Later surveys showed that while guests were excited about the new addition, it would not have significantly increased attendance.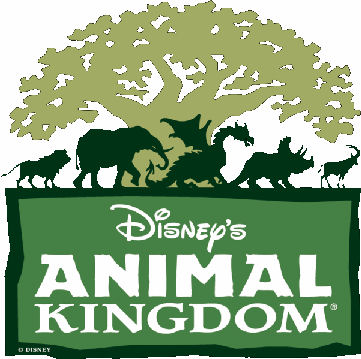 In the good realm of this never-built land there would have been the following attractions:
Fantasia Gardens would have been a musical boat ride inspired by the Disney animated feature film Fantasia (1940) and similar Disney family-inclusive theme park rides like "it's a small world." The boats would have sailed past classic Greek architecture like temples and Mount Olympus, and floated beneath a brightly colored rainbow archway. Beautiful gardens and fountains would have decorated the landscape.
According to the Disney press release, "both the crocodiles and hippos from Dance of the Hours and the pegasus, fauns and centaurs from Beethoven's Pastoral" would have been found there.
By the way, the Fantasia animated segment alluded to in the press release didn't feature crocodiles. It had alligators. Comical alligators later showed up as mascots for the Typhoon Lagoon and Blizzard Beach water parks.
Quest of the Unicorn was to be an interactive walk-through that challenged guests to find and awaken five golden idols scattered through a garden maze. Each idol would have provided part of the code necessary for unlocking the far end of the maze where there would have been a rare encounter with an audio-animatronics unicorn in a secluded grotto with crystal waterfalls and more. The clues would have been simple enough for children to decipher. Throughout the maze there would have additional magical mythological creatures like a griffin.
In the bad realm of the land, there would have been the following attractions:
Loch Ness Terrace would have been a waterfront eatery that included periodic visits outside from the legendary sea serpent-like creature. This was not the silly sea serpent of Disney animated cartoons but a threatening, large monster. This eatery would have been in a humble hamlet in the shadow of the nearby castle.
Dragon's Tower was to be the land's looming major icon just like the castles in other Disney theme parks. This thrill-ride roller coaster was to be housed in a tall, charred and ruined castle. After a fearsome battle that devastated the original inhabitants, it had been taken over by a massive dragon as its new home.
The jewel-encrusted dragon was very much inspired by the villainous Smaug in Tolkien's The Hobbit. Both greedy dragons guarded a vast hoard of untold treasures.
The dragon figure was to be the largest and most sophisticated audio-animatronics creature ever built up to that time. Inhabiting the nearby caves would have been a colony of bats. These clever thieves, hanging overhead as the guests entered the queue, would convince guests to help them in their plans to rob some of the dragon's riches.
Guests would have been strapped into a suspended, inverted roller coaster to create the sensation of flying along with the bats on this ill-advised caper in a wild chase through the dark caverns, collapsing ancient castle corridors and even the fabled gold lair. The climax would have been a confrontation with the fire-breathing dragon who was not pleased at the attempt to rob him.
The winged dragon would have been the major character icon of the park. Animal Kingdom's logo even features front and center the silhouette of a winged dragon marching along with the other animals. McDonald's released a Happy Meal toy of a purple-winged dragon when the park opened. Even a ticket kiosk at the entrance of the park has the head of a dragon.
Walt Disney World is the home to many such abandoned concepts that would have made the experience very much different than it is today. For every one of these projects that never was, though, there is a gondola skyway or a Star Wars: Galaxy's Edge that no one ever imagined would be built.
============
RELATED LINKS
============
Other features from the Walt Disney World Chronicles series by Jim Korkis can be found in the AllEars® Archives.
= = = = = = = = = = = = =
ABOUT THE AUTHOR
= = = = = = = = = = = = =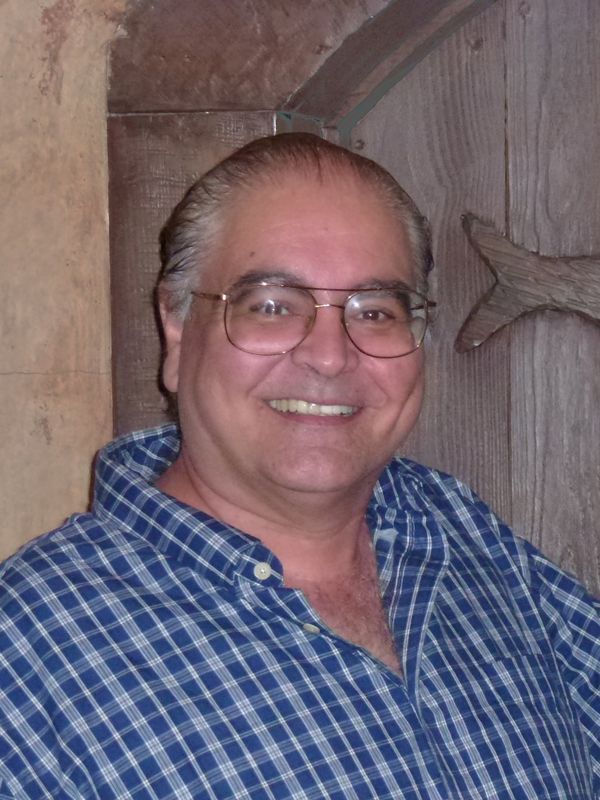 Disney Historian and regular AllEars® Columnist Jim Korkis has written hundreds of articles about all things Disney for more than three decades. As a former Walt Disney World cast member, Korkis has used his skills and historical knowledge with Disney Entertainment, Imagineering, Disney Design Group, Yellow Shoes Marketing, Disney Cruise Line, Disney Feature Animation Florida, Disney Institute, WDW Travel Company, Disney Vacation Club and many other departments.
He is the author of several books, including his latest, The Unofficial Walt Disney World 1971 Companion, covering the development of Walt Disney World from 1958 when Walt commissioned the first studies through the opening fiscal year 1971-72. Filled with lots of anecdotes from the folks who worked on the project, the book includes a foreword by Tom Nabbe and an afterword by Sully Sullivan. You can order this book, and Jim's others, on Amazon.com.