Walt Disney World Chronicles: Market House Phones
by Jim Korkis
Disney Historian
Feature Article
This article appeared in the September 16, 2014 Issue #782 of ALL EARS® (ISSN: 1533-0753)
Editor's Note: This story/information was accurate when it was published. Please be sure to confirm all current rates, information and other details before planning your trip.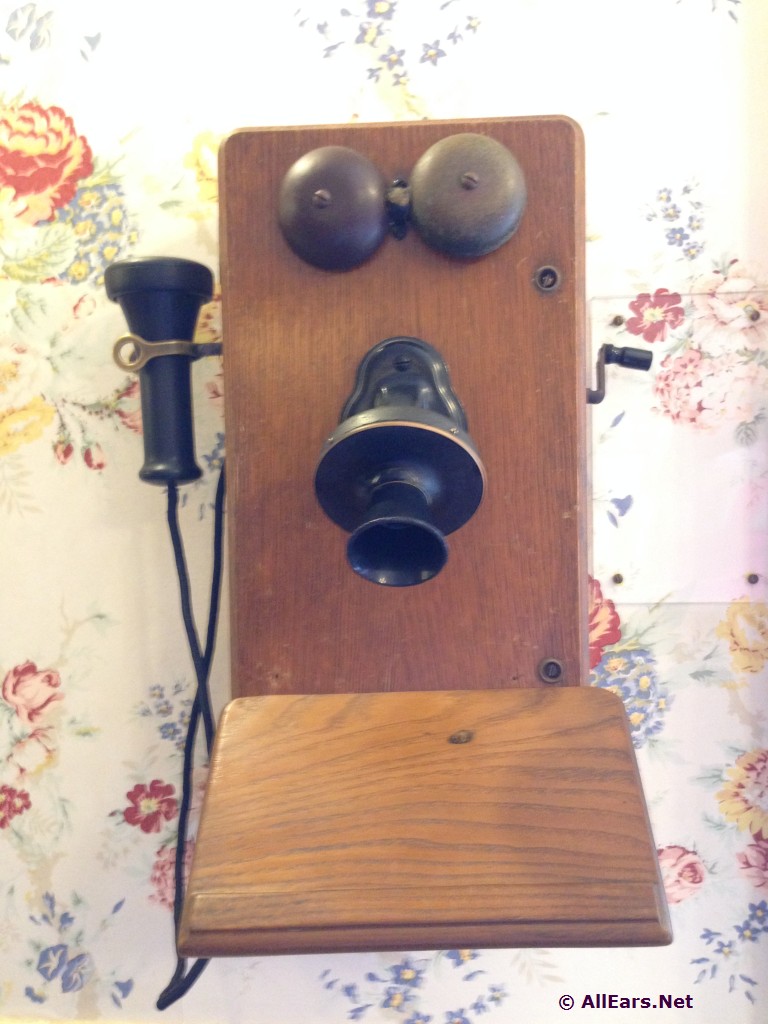 When Disneyland opened in 1955, Walt Disney intended Main Street, U.S.A. to represent America at the turn of the century, specifically 1890-1910. All of the stores were to recall the type of shops that might appear on such a street and bring back fond memories to grandparents who would enlighten their children and grandchildren about the good old days.
Sponsored by Swift's Premium Foods (also known as Swift and Company), the Market House on the corner of Main Street and Center Street was designed like an old fashioned grocery store.
Along the shelves would be the traditional large glass jars along with some products from the time period. There were cracker and pickle barrels on the floor, as well as a pot-bellied stove, with a checkerboard on top of a barrel and even sawdust on the floor.
"The company's purpose in creating this old market is to remind Americans of the progress that been made by the food industry in the past half century," stated the July 1955 edition of Swift News, a newsletter for Swift employees. The Swift organization also sponsored the Red Wagon Inn restaurant at the end of Main Street, which was one of Walt Disney's favorite places to eat in the park. Swift's sponsorship at Disneyland ended in 1962.
The Market House also sold many real products over the decades from Disney-blend coffee to candies to kitchenware.
It was natural that when Walt Disney World was built, there would also be a Market House on the corner of Main Street and Center Street. It was very similar to the one at Disneyland.
At the turn of the century, when telephones were still new to the American way of life, it was not unusual for four or five households to share a common telephone line, or "party line." Eavesdropping, the act of listening to someone else's telephone conversation, soon became a favorite pastime.
A party line was particularly popular in rural areas where costs could be shared by the "shared phone lines" loop. They were offered beginning in the late 1800s and died out after World War II when people opted for private lines.
Disney Imagineers installed phones that featured pre-recorded conversations in the Market House both at Disneyland and Walt Disney World. These hidden treasures were not advertised, but were discovered accidentally by delighted guests who passed on the information, like a party line, to other Disney fans.
Imagineers used to call these types of items an "Ah Ha!" Basically, once discovered, the item engendered an immediate and involuntary response of "Ah Ha!" An example of this type of item is the heart in the sidewalk outside of Tony's Restaurant, inspired by the eatery in the animated feature "Lady and the Tramp" (1955) in Town Square. Inside the heart are two sets of dog paws just like in the film. To the left of the restaurant is a sign for The Chapeau hat shop. It's of an open hat box that looks exactly like the one that held baby Lady in the animated feature. When guests see these references and make the connections, they say or think, "Ah Ha!"
The Market House shop on Main Street, U.S.A. in the Magic Kingdom closed by 2007 and was converted into a new Arribas Brothers store. Thankfully, one of the phones was rescued and installed in The Chapeau hat shop. It is located at the far entrance of the shop, just to the right when a guest enters. It hangs innocently on the wall with many guests just mistaking it for another little attention to detail to immerse people into the spirit of the turn of the previous century. However, for curious guests who pick up the receiver and put it to their ears, they find themselves on a party line in the middle of a three-and-a-half minute conversation with a concerned mother and her lackadaisical young daughter Annie who is at Mr. Dinglinger's General Store.
The Market House had a second phone with a conversation between an Irish police Sergeant and Hezekiah Bird, Proprietor of a Bird Seed and Feed Company. The conversation concerned using Hezekiah's barn to fix the fender on the new paddy wagon after it ran into an oak tree. The two men also had to deal with an old town gossip who kept eavesdropping on them, Mrs. Gertrude Anderson. Later in the conversation, Quentin Spoon, City Postmaster and City Fire Chief, dealt with a distraught Thelma, whose barn was burning.
The mother and daughter conversation has remained the same at Walt Disney World since it first opened in 1971. I shudder at how close we came to losing this little hidden treasure of Disney history not too many years ago.
So, for the AllEars® readers who have never heard the conversation or only part of the conversation, as well as for any future Disney history researchers, I took the time to transcribe the entire conversation for your enjoyment.
Imagine yourself standing in the old Market House or today in The Chapeau hat shop and lifting up the receiver:
(Sound of hand-crank phone ringing. One long. Three short. Numerous clicks on line.)
Mother: All right, now the rest of you on this party line, you can all hang up now. I'm only calling Dinglinger's Store and there won't be anything you can gossip about at all.
(Sound of numerous hang-up clicks on line.)
Mother: Hello? Mr. Dinglinger?
Mr. Dinglinger: Yep.
Mother: This is me. Is my daughter Annie got to your place yet? If she has, put her on, will you? And tell her to hurry, because my preserves is about to cook over. (pause) Hello, Annie?
Annie: Yes, this is me, Mama.
Mother: Will you ask Mr. Dingliner if… uh, wait a minute. Just hold the wire. Miss Flump? Auralee Flump? Will you please get off this line? Now, I know you're there 'cause I can hear your clock tickin', and it sounds like it's slow, too.
(Sound of hang up click.)
Mother: Hello, Annie?
Annie: Yes, I'm here. What did you want?
Mother: Ask Mr. Dingliner what his steak is worth today.
Annie: I already asked him, Mama. Eleven cents a pound.
Mother: Eleven cents! Who does he think he is? Jesse James? Jing, this family's going to break us yet. Your father paying three dollars for a hundred cigars! There goes a whole week's pay up in smoke! And what did he do last year? Went out and paid seven dollars and eighty cents for a suit of clothes, and now he wants steak at eleven cents a pound. I think he's lost his mind!
Annie: But, Mama, I asked about the ham and it's nine cents a pound.
Mother: Nine cents a pou… ! I don't know how he expects me to make ends meet on our budget with things so high. Annie girl, you mark my words: Don't you ever get yourself married unless you find a man who's got three hundred dollars saved and makes a steady eight dollars a week.
Annie: I promise, Mama.
Mother: Say, uh, ask Mr. Dinglinger if he's got them fancy, new… uh… wait a minute. Miss Flump. Hoo-hoo! Miss Flump, would you please hang up your phone again? I know you're on the line 'cause I can hear you breathing. Still got that chest cold, ain't ya? If you'd put a fried onion poultice on like I told you, you wouldn't be wheezing that way. Now, go on, hang up, like I asked you.
(Sound of hang up click.)
Mother: OK, Annie?
Annie: Yes, Mama. I'm here.
Mother: Will you, uh, ask… uh… (lowers voice) will you ask Mr. Dinglinger if he's got any of them newfangled ladies' union suits like I read about in The Saturday Blade?
(Korkis note: The Saturday Blade was a newspaper in Chicago that was published from 1887 to roughly 1919. The reference is a very nice little oddball detail that most guests never get. A "union suit" was a one-piece, red flannel undergarment designed for women around 1868. It had long sleeves and legs and buttoned up the front. In the rear, it had a drop flap. The union suit later found favor with men as well.)
Annie: He's got them, Mama. Eighty-nine cents a pair. Shall I get the…
Mother: Shhh! No, no. Just tell him to put away a size forty-two for me and keep his mouth shut. I don't want this all over town. Getting up at 4 a.m., cooking six hours a day, cutting wood, carrying out ashes, churning butter, hauling in water, a woman's got to have something substantial on her back.
Annie: Anything else, Mama?
Mother: Nooo, I guess not, but mind what I told you, Annie. Marry somebody who's making a steady eight dollars a week! And you'll have to pretty up to catch one doing that good. Do like I did: Put them cucumber slices on your face to bloom up your complexion. Rub a little kerosene on your hair to make it shine. A girl's gotta pretty up to grab a man these days. Now, hurry on home. And, uh, better bring a ham, even if it is nine cents a pound, or you father'll hit the ceiling. Good-bye.
Annie: 'Bye, Mama. Be right home.
(Sound of hang up clicks.)
Voice: The conversation you just heard was not exaggerated, but was typical of the 1890s. Most of us take our present-day conveniences for granted, but next time you shop, think of the miracle of the modern food store.
This little conversation always brings a smile to my face. By the way, the Disneyland Market House became a Starbucks location in 2013.
= = = = = = = = = = = = = =
RELATED LINKS
= = = = = = = = = = = = = =
Other features from the Walt Disney World Chronicles series by Jim Korkis can be found in the AllEars® Archives:

http://allears.net/ae/archives.htm
Jim also writes for the AllEars® Guest Blog every other week, contributing entries under the heading of "Jim's Attic." Find his latest entry here:
http://land.allears.net/blogs/guestblog/guest_bloggers/jim_korkis/

-=-=-=-=-=-=-=-=-=-=-

ABOUT THE AUTHOR:
Disney Historian and regular AllEars® Columnist Jim Korkis has written hundreds of articles about all things Disney for more than three decades. As a former Walt Disney World cast member, his skills and historical knowledge were utilized by Disney Entertainment, Imagineering, Disney Design Group, Yellow Shoes Marketing, Disney Cruise Line, Disney Feature Animation Florida, Disney Institute, WDW Travel Company, Disney Vacation Club and many other departments.
He is the author of several books, available in both paperback and Kindle versions. You can purchase them via our AllEars.Net Amazon.com store HERE.
-o-o-o-o-o-o-o-o-o-o-o-
Editor's Note: This story/information was accurate when it was published. Please be sure to confirm all current rates, information and other details before planning your trip.