Walt Disney World Chronicles: Hidden Treasure Don "Ducky" Williams
by
Jim Korkis
Disney Historian
Feature Article
This article appeared in the July 2, 2019 Issue #1032 of ALL EARS® (ISSN: 1533-0753)
Editor's Note: This story/information was accurate when it was published. Please be sure to confirm all current rates, information and other details before planning your trip.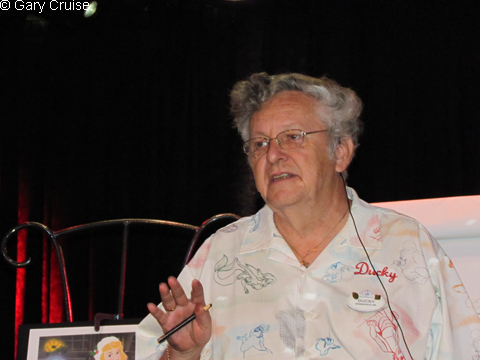 "There Can Be Only One" is a phrase associated with the popular Highlander (1986) film about an immortal Scottish swordsman that spawned five movie sequels. However, that phrase also reminds me of another Scotsman who devoted nearly 40 years to working for Walt Disney World and wielded a paintbrush as deftly as anyone ever used a sword.
I first met artist Don "Ducky" Williams nearly a quarter of a century ago. At that time, Ducky had been whittled down to a department of just one person hidden in a small, cramped, windowless office hidden on an upper floor of a building in the city of Celebration. He was doing all sorts of art projects, including limited edition lithographs for cast members, Disney Vacation Club and Disney Cruise Line among others. he was working on an animation desk he had purchased from Disney that once belonged to Disney Legend Frank Thomas, one of the fabled Nine Old Men of animators.
Ducky told me, "My heritage is Scottish and I'm nearly as passionate about Scotland as I am about Disney. Even when I worked at Walt Disney World for nearly four decades I would come over to Scotland several times a year. I have five kilts."
His official status was Senior Character Artist for Walt Disney Parks and Resorts. Very quietly at the end of last year, he was pushed to "retire" without training any successors. He now divides his time between Florida and Scotland with Disney occasionally hiring him as an outside contractor to still produce some specialty artwork.
Everyone reading this article who has ever been to Walt Disney World in the last almost 40 years has experienced the magic of Ducky's artwork, from signage to magazine advertisements to brochures to physical locations in the parks… to so much more. Like most of the artists who did work for The Mouse he has remained largely anonymous to the general public.
The World Chapter of the Disneyana Fan Club will be throwing a special retirement party to honor Ducky on August 11 in Kissimmee with Disney artists who knew him. There will also be an auction of artwork with proceeds going to Ducky's favorite charity. I am honored that I have been asked to host and moderate the event, because I feel Ducky deserves some long overdue recognition.
"I wear an official Disney Cast Member nametag that says 'Ducky' even though official Disney policy is no nicknames," Ducky told me when I first met him. "It was a nickname my mother called me because she loved Donald Duck comic books. When I was working at Walt Disney World as an artist, she came by to visit and called me that and my boss and mentor, artist Ralph Kent, got such a kick out of it that he had the nametag made up for me to wear.
"I know that Clarence Nash's nickname was also 'Ducky'. In 1984, I met Clarence Nash in person. Along with Bill Justice and artist Russell Schroeder, we were to tour the country as part of the publicity campaign for Donald Duck's 50th birthday. Clarence and I became friends and I have photos and things signed by him, 'To Ducky from Ducky'. Thank heavens he had no problem letting me keep the nickname."
Ducky Williams grew up in Springfield, Massachusetts, "dirt poor" during the 1950s. His single mother struggled to raise eight children including him.
He wrote his first letter to Walt Disney at age 10 asking for a job as an artist.
"Yes, that story is true," he said. "I even got a letter back from Walt himself that I still have! It is one of the treasures in my collection. It basically said that he had no openings for a 10-year-old artist at the time, but to keep drawing!"
Ducky's desire to be a Disney artist intensified as he grew up, but had to be put on hold while he spent four years in the U.S. Navy. After his tour of duty, he returned to Massachusetts and became employed at a local savings bank, eventually becoming the manager. He still yearned to be with Disney and spent much of his spare time drawing and painting the Disney characters every day for hours.
He sent 100 drawings a week, every week, for two years to Disney. He worked from 7 o'clock in the evening until 2 o'clock in the morning. He was told there were no openings for artists in California, but there might be a possibility if he moved to Orlando. He left the bank even though he was up for the job of vice president, cashed in his pension, and moved his family to Florida.
His first job was doing portraits in chalk of guests in the park at the Fantasyland Art Festival building in the Magic Kingdom. Finally there was a temporary opening in the art department for only 30 days but Ducky took it without hesitation.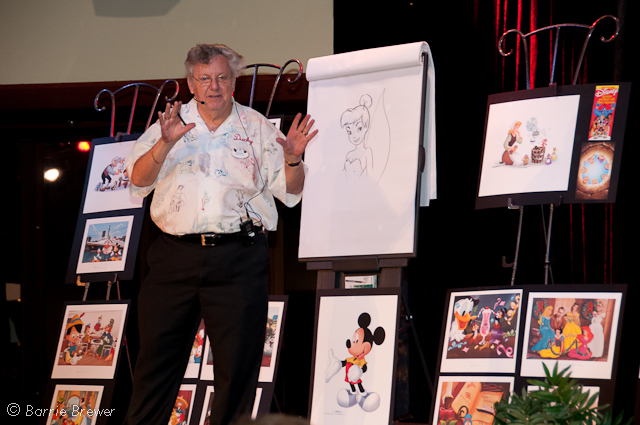 "On the last day, I was working all day, figuring somebody would come by and say something. It was 5:30 p.m. and everyone was gone and hadn't said anything. I just decided to come back the next day until they told me not to. I've been working there for decades," laughed Ducky.
At the time, Ralph Kent was in charge of Resort Design and Advertising with a staff of 16 artists. Over the decades, Disney did not replace any artists who left, so Ducky found himself alone doing all the Disney Cruise Line brochures, mailers, billboards, lithographs and pretty much the same for Disney Vacation Club as well, in addition to several special projects.
When it came time to build Mickey Mouse's house in Mickey's Birthday Land in 1988, Disney came to Don and Russell Schroeder.
"We were amazed that they knew nothing about Mickey. They asked, 'What does his house look like inside?' Just look at the cartoons! That's what the inside of Mickey's house looks like. Russell and I designed all the furniture. We went to Home Depot to pick out carpeting and wallpaper. Mickey had a den and they had no props so I brought in my own: a snow globe of Disney World, my Disneyland records, Disney books, etc. When they changed it over to sports stuff, they removed all that stuff and I never got it back. I wonder where it is today?" pondered Don.
Tony's Town Square Restaurant on Main Street U.S.A. at the Magic Kingdom is an unknown artistic tribute to Don "Ducky" Williams.
"I did the artwork for all the china, signage, menus, etc. In fact, when it first opened, it had plates, saucers, creamers and more with my Lady and the Tramp artwork on it. They found the guests loved it so much that they kept stealing it, so they replaced them with regular china. The remainder they had they sold at Disneyana conventions.
"Do you see all those framed paintings on the wall? There are 12 of them and I did them all. Those are the original paintings framed under glass, not prints or reproductions. If they ever change out that place, I would love to have those back to put up in my house," said Don with justifiable pride.
The entrance archways to Walt Disney World have images of Mickey and Minnie that always spark a smile. Michael Ovitz, who was hired as Disney president in 1995, had a wife named Judy who complained that she couldn't tell where Disney property actually began. It all just seemed disorienting and frustrating rather than an intriguing adventure. Ovitz approached then-CEO Michael Eisner with the complaint and, as a gesture to show his willingness to work with the new president of the company, Eisner authorized the building of three gateways on the perimeter of Walt Disney World property.
Groundbreaking ceremonies were in April 1996 for three large colorful gateways that would define when guests had arrived on Disney property. One gateway was planned for World Drive, another for Epcot Drive, and the final one at the beginning of Hotel Plaza Boulevard. Ovitz had suggested that they be decorated by huge iconic smiling figures of Mickey and Minnie, because the primary audience was families with children and Mickey, of course, was the well-known symbol of the Disney organization. They would also be instantly recognized by international visitors.
I confirmed those images were the work of Ducky when I talked with him last year.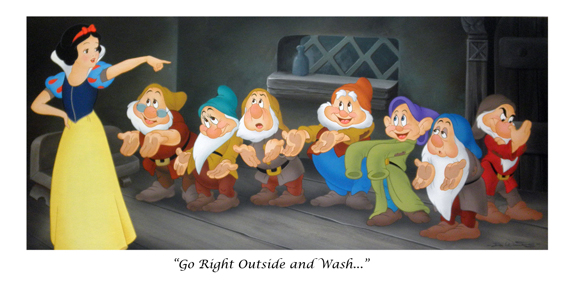 "Yes, that is my artwork of Mickey and Minnie but I didn't do it specifically for those entranceways. I did a lot of work of the Disney characters in poses that could be used on material and it was in the Disney Design Group files," he said. "Imagineering just took it, which they often did, and never told me. That was not a problem. It was part of my job to do things like that. I had to smile when I first saw it and recognized it as something I had done."
The entranceways were officially completed in September 1996 and were each similar, but with slight variations in size and positioning. Each gateway was roughly 30 feet high with 16-foot-high characters and a purposely bright color palette of red, yellow, purple and green to match already existing property signage. Arches with colorful flags adorned the World Drive and Epcot Drive entrances, but there was no arch on the one at Hotel Plaza Boulevard, because it might limit the height of trucks making deliveries.
In addition to his other work, Don illustrated 200 different Disney children's books. The first one was Mickey's Prince and the Pauper (Little Golden Book, December 1990).
I am constantly running across new items that Ducky illustrated. Just recently I found a limited edition lithograph done as a giveaway for Blockbuster video stores (remember them?) for the opening of Walt Disney World's Splash Mountain.
The true magic of Walt Disney World is not just a happy accident or a sprinkling of pixie dust. It is the hard work and warm hearts of so many people who work there without ever receiving any recognition for their efforts to keep Walt Disney's dream alive for all of us.
EDITOR'S NOTE: The World Chapter of the Disneyana Fan Club is throwing a Retirement Party/Roast Celebration for Ducky Williams on Sunday, August 11, 2019. The cost of the event is $60 per person. If you're interested contact World Chapter President Arlen Miller at [email protected].
============
RELATED LINKS
============
Other features from the Walt Disney World Chronicles series by Jim Korkis can be found in the AllEars® Archives.
= = = = = = = = = = = = =
ABOUT THE AUTHOR
= = = = = = = = = = = = =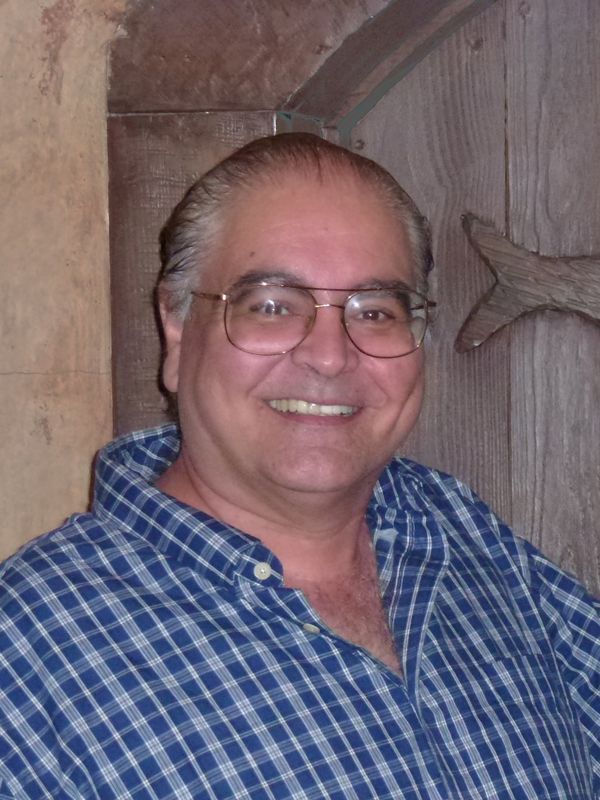 Disney Historian and regular AllEars® Columnist Jim Korkis has written hundreds of articles about all things Disney for more than three decades. As a former Walt Disney World cast member, Korkis has used his skills and historical knowledge with Disney Entertainment, Imagineering, Disney Design Group, Yellow Shoes Marketing, Disney Cruise Line, Disney Feature Animation Florida, Disney Institute, WDW Travel Company, Disney Vacation Club and many other departments.
He is the author of several books, including his latest, The Unofficial Walt Disney World 1971 Companion, covering the development of Walt Disney World from 1958 when Walt commissioned the first studies through the opening fiscal year 1971-72. Filled with lots of anecdotes from the folks who worked on the project, the book includes a foreword by Tom Nabbe and an afterword by Sully Sullivan. You can order this book, and Jim's others, on Amazon.com.