Walt Disney World Chronicles: Farewell to Walt Disney World's Main Street Electrical Parade
by Jim Korkis
Disney Historian
Feature Article
This article appeared in the October 4, 2016 Issue #889 of ALL EARS® (ISSN: 1533-0753)
Editor's Note: This story/information was accurate when it was published. Please be sure to confirm all current rates, information and other details before planning your trip.
The iconic Main Street Electrical Parade (MSEP) will once again be "glowing away" from Walt Disney World on October 9, 2016.
No longer will Walt Disney World guests hear the familiar: "Ladies and gentlemen, boys and girls, Walt Disney World proudly presents our spectacular festival pageant of nighttime magic and imagination in thousands of sparkling lights and electro-syntho-magnetic musical sounds… the Main Street Electrical Parade!"
Yet again, The Walt Disney Company has assured guests that this time the departure will be permanent. After a limited farewell engagement run at Disneyland the well-loved parade with its now outdated technology will be retired forever, after having appeared in some form at four different Disney theme parks worldwide.
The Main Street Electrical Parade was created as a nighttime experience for Disneyland in 1972 and then cloned for Walt Disney World. It debuted there on June 11, 1977.
After that date, however, the WDW version of the Main Street Electrical Parade had a pretty convoluted history. It had 15 successful seasons; its final show at the Magic Kingdom was on September 14, 1992. That version of the parade was then shipped to Disneyland Paris.
After closing at Disneyland in 1996 (and being replaced by Light Magic in 1997), the Disneyland version of the parade, known as the "crown jewel of summer," underwent a dazzling makeover. It received 575,000 glittering new lights and was sent on a 2,400-mile transcontinental journey to appear at WDW.
In May 1999, the parade returned to Walt Disney World as part of the Millennium Celebration, where it continued to entertain guests until it closed once again after more than 500 performances on April 1, 2001. The parade went to Disney California Adventure to try to brighten that struggling park's attendance, and Walt Disney World re-introduced SpectroMagic as the nighttime parade.
On June 6, 2010, MSEP once again returned to the Magic Kingdom for a supposedly limited engagement just that summer as part of the "Summer Nightastic!" promotion event.
"The return of Disney's Main Street Electrical Parade to the Magic Kingdom has been an overwhelming success," said Magic Kingdom Vice President Phil Holmes in July 2010 when announcing the parade would have an "open-ended" run. "Guests begin cheering as soon as they hear the opening fanfare and see those fantastic floats covered in lights. The parade is a magical part of a visit to the Walt Disney World Resort, so we're thrilled to be announcing we're leaving the lights on."
But now, six years after that announcement, WDW's Main Street Electrical Parade is having its plug pulled once again. The Main Street Electrical Parade has been around for 45 years in one form or another, so for many people it is difficult to imagine when no such parade ever existed.
When Walt Disney World opened in 1971, the Seven Seas Lagoon was dark and forbidding at night — it was like looking into a black abyss. To lighten things up, the Electrical Water Pageant was created as a temporary solution.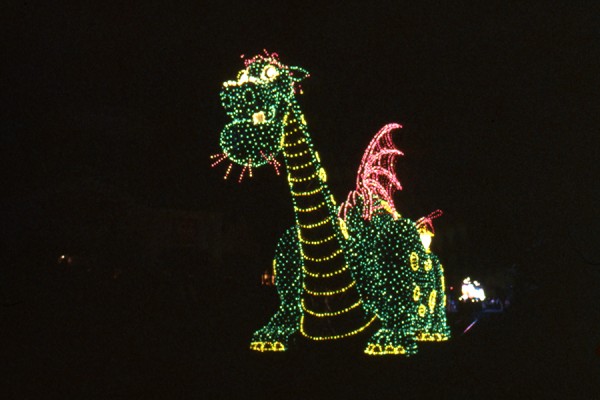 It was a reasonably simple and inexpensive option. Several floating barges were pulled across the lagoon by a boat. On each barge was a flat, framed, 25-foot tall, wire screen decorated with Christmas tree lights, powered by a noisy generator that couldn't be heard out on the water in the distance. A sea serpent, a whale, jumping dolphins, seahorses and even King Neptune frolicked on the man-made body of water. A special version of Gershon Kingsley and Jean-Jacques Perrey's 1967 composition "Baroque Hoedown" was created specifically for the Electrical Water Pageant. (It was then later adapted for the MSEP).
The water pageant premiered "officially" at a nighttime press event luau on the shore of the Polynesian Village Resort on October 24, 1971, as part of the three-day weekend dedication festivities of Walt Disney World. This "temporary" addition on the Seven Seas Lagoon still operates today, although it too has undergone some enhancements.
Guests' delight at the Electrical Water Pageant actually inspired the original MSEP. With all The Walt Disney Company emphasis on Walt Disney World, Disneyland was being neglected. Company President Card Walker wanted something to entice guests to stay later in the park and buy more souvenirs and food. The fireworks no longer held the staying appeal they once had when they had been introduced well over a decade earlier.
Ron Miziker, then director of Entertainment and Show Development, had done some research into nighttime parades that were being held on local Main Streets around the United States using strings of lights stretched over the street. Since Disneyland had its own turn of the century Main Street, a parade with lights seemed a natural. The continuing success of the Electrical Water Pageant showed how the parade could be accomplished. Basically, it was felt all they needed to do was put wheels on the barges. However, it was not that simple, and the parade evolved into something much more elaborate and innovative.
Officially, planning for the parade began in January 1972 for a June debut. Vice President of Disney Parks Dick Nunis was against the expenditure for the parade, feeling that the forthcoming opening of the Country Bear Jamboree attraction at Disneyland would solve the attendance problem. He was overruled by Walker.
Bob Jani and Ron Miziker are given the official credit for being the creators and producers of the original MSEP. Jani had supervised the creation of the Electrical Water Pageant.
The first floats were flat, two-dimensional screens with simple lights, as in the water pageant. A few dimensional floats were included, like the Casey Jr. Train, Mickey Mouse's massive drum, and the whirly bugs, because they pre-existed for parades and were just fitted with lights.
For MSEP, Disney engineers created the first show-control system with multiple radio-activated "trigger zones" so that the appropriate music would play for the appropriate float.
The floats were powered by the then-new technology of powerful NiCad (nickel-cadmium) batteries. Unlike the Electrical Water Pageant, the power source had to accomplish three different tasks simultaneously: light the bulbs to illuminate the images, power the unit itself, and provide power for the sound system. These batteries allowed the parade to run in one direction, recharge backstage and then run the parade back in the opposite direction for a second showing.
The Silvestri Lights Company in Chicago, a company known for its holiday light displays along Michigan Avenue in Chicago, supplied the colorful Christmas lights. They only made clear lights, though. For specific colors, each light had to be hand-dipped. (By contrast, today the parade features approximately 575,000 LED lights in six colors — amber, blue, chartreuse, green, pink, and red — plus clear. The most used color is amber, with 152,000 lights.)
Originally, Silvestri was also going to build the floats starting in March, but they were much too slow and were falling behind schedule, so the partially completed units were shipped to Disneyland in Anaheim in 14 moving vans, where they were completed under huge circus tents set up backstage.
Rehearsals for the parade were a disaster. The units blew out power. Floats fell apart, including the lighted canopy on Cinderella's coach. Horses couldn't carry the weight of the lighted banners and collapsed. Nothing seemed to work as it should. Dozens of electricians were still frantically working away at solving problems up to the very minute the parade debuted on June 17, 1972.
Jack "Voice of Disneyland" Wagner (who was also the voice of the MSEP) found the musical selections for the parade, including an electronic musical version of "Baroque Hoedown" that could be looped in a minute-and-three-second portion throughout the parade, tying it all together as a cohesive whole. Wagner's suggestions were reviewed by Jani (who wanted calliope music but was overruled) and Jim Christensen, a Disney parks music director and band leader. Christensen fitted the familiar Disney melodies into the same format of "Baroque Hoedown." Some of those original tracks are still used in the parade today.
After the summer of 1974, MSEP was put on hiatus and replaced with America on Parade (with calliope music) to celebrate the Bicentennial of the United States. Don Dorsey was brought in to work on the parade and remained to contribute to MSEP, including developing a way to perform automatic synchronized introductions that is still used in Disney parades today.
In 1977, "Baroque Hoedown" was updated and arranged by electronic music artist Dorsey and Jack Wagner at Jack Wagner Studio, and that version was used until January 2009. It was also in 1977 that the flat screens were replaced by three-dimensional floats.
The first time that some of the MSEP floats were seen outside of a Disney Park was in November 1977 at the New York City premiere of Disney's feature film Pete's Dragon at Radio City Music Hall. For this event, Elliott, the dragon from the film, became the newest MSEP float. It proved so popular that it became a permanent addition to the parade.
The street lights, amazingly, were turned off on 6th Avenue for the parade. This version of the parade was presented during the halftime show of the Orange Bowl college football game in January 1978.
On June 14, 1997, for the opening of the New Amsterdam Theater in New York, as well as the premiere of the Disney animated feature Hercules, the parade returned to New York and was temporarily dubbed "The Hercules Electrical Parade." Lights were turned off for about eight blocks on Broadway leading right up to the theater.
Not surprisingly, only the Warner Brothers store located on the corner of 42nd Street and Broadway refused to turn off its lights.
Over the decades, many units have come and gone, including ones that showcased Disney films like Bedknobs and Broomsticks (the Briny Deep) and The Fox and the Hound. A Mickey Mouse 60th birthday float was added briefly in 1988, but the next new float was not introduced until 2008: Tinker Bell.
Main Street Electrical Parade has been a guest favorite for more than four decades and has gone through many journeys and variations. The Disney theme parks are constantly changing as we all know, but it is always sad when an old friend leaves the party.
= = = = = = = = = = = = =
RELATED LINKS
= = = = = = = = = = = = =
VIDEO: Main Street Electrical Parade 2010
The Music of Main Street Electrical Parade
Disney's Electrical Parade – Disney's California
Summer Nightastic at Walt Disney World
Other features from the Walt Disney World Chronicles series by Jim Korkis can be found in the AllEars® Archives.
Jim also writes occasionally for the AllEars® Guest Blog, contributing entries under the heading of "Jim's Attic."
ABOUT THE AUTHOR:
Disney Historian and regular AllEars® Columnist Jim Korkis has written hundreds of articles about all things Disney for more than three decades. As a former Walt Disney World cast member, Korkis has used his skills and historical knowledge with Disney Entertainment, Imagineering, Disney Design Group, Yellow Shoes Marketing, Disney Cruise Line, Disney Feature Animation Florida, Disney Institute, WDW Travel Company, Disney Vacation Club and many other departments.
He is the author of several books, available in both paperback and Kindle versions. You can purchase them via our AllEars.Net Amazon.com store HERE. His newest book is The Unofficial Disneyland 1955 Companion. It includes snippets of interviews with cast members who worked at Disneyland in 1955, along with additional explanatory material (including the first complete listing of every attraction, shop and restaurant that was there during the first six months) and much more.
-o-o-o-o-o-o-o-o-o-o-o-
Editor's Note: This story/information was accurate when it was published. Please be sure to confirm all current rates, information and other details before planning your trip.