May 2019 Walt Disney World Bits and Bites
Feature Article
This article appeared in the April 30, 2019 Issue #1023 of ALL EARS® (ISSN: 1533-0753)
Editor's Note: This story/information was accurate when it was published. Please be sure to confirm all current rates, information and other details before planning your trip.
= = = = = = = = = = = = = = = = =



STEP BACK IN TIME
= = = = = = = = = = = = = = = = =
by Joan L. Feder
AllEars® Staff Writer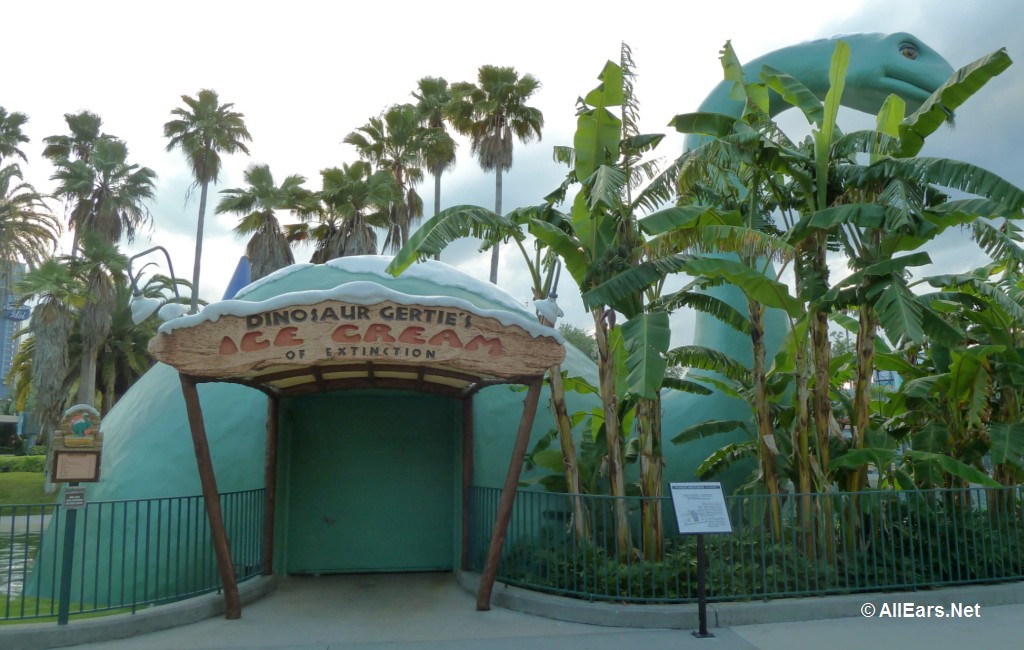 Join us on our monthly journey into the past as we step back and explore the history of Walt Disney World and the Walt Disney Company. Hollywood Studios turns 30 tomorrow, May 1, so let's take a closer look at Dinosaur Gertie's Ice Cream of Extinction, which has been there since opening day.
Gertie is part of a famous cartoon, but guess what? She is NOT a Disney character. She was created in 1914, by newspaper cartoonist and animator Winsor McCay, as part of a vaudeville act. McCay appeared on stage while his animated short, Gertie the Dinosaur, was projected behind him. Gertie appeared to interact with McCay, responding to his commands by performing a variety of tricks like rolling over or catching pumpkins. Brought to life by more than 10,000 individually hand-drawn illustrations, Gertie was full of personality and mischief. This cartoon had a huge impact on its audience and future generations of animators, including Walt Disney.
In 1955, Walt shared Gertie the Dinosaur with his television audience. In an episode of Disneyland entitled "The Story of the Animated Drawing", Walt discussed Gertie's historical significance. He explained that Gertie's charm peaked the public's interest in cartoons, which helped turn the new medium of animation into a thriving industry. Viewers then got to watch Gertie perform in an accurate recreation of the original vaudeville act.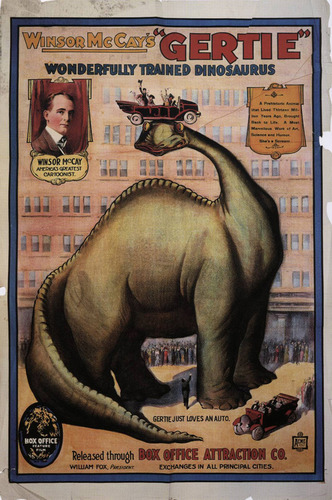 Gertie took on a new role in 1989, when she became an ice cream stand at Disney/MGM Studios (now Hollywood Studios). The six lands of this park were originally based on actual neighborhoods in Los Angeles, including Echo Lake. As an homage to the area, Imagineers wanted to include an example of California Crazy architecture. These roadside buildings were designed to grab the attention of passing travelers. They were shaped as larger than life versions of everything from giant hats (the original Brown Derby), to donuts or even dinosaurs. Gertie was a perfect choice. She would be a terrific landmark that was also a nod to the history of entertainment.
On opening day, Dinosaur Gertie's Ice Cream of Extinction looked very much like it does now, except Gertie used to have the snow covered words "Ice Cream" across her back. In 2017, she got a fresh coat of paint when the Echo Lake area was refurbished. Since then, every December she becomes part of the Studios' holiday decorations, by wearing a Santa hat and holding a giant red ornament.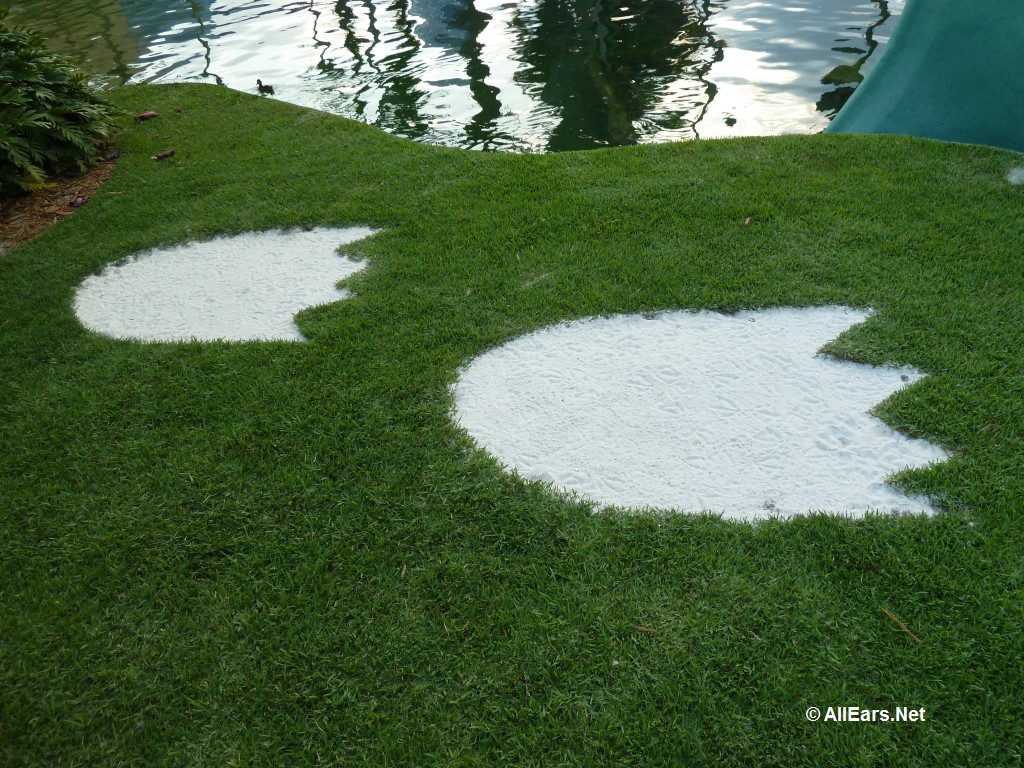 Gertie's menu has changed over the years, but it is still all ice cream, all the time. Soft-serve cups and waffle cones are available as are fan-favorite Mickey's Premium Ice Cream Bars. Unfortunately, Gertie's does not have a regular schedule and may not be open when you visit. But, even if she is closed, you can still have some Gertie fun that many Disney visitors miss. Want to know how Gertie got to her Hollywood location? Look down! You can follow her giant footprints right to her home in Echo Lake.
RELATED LINKS
Dino Gertie's Ice Cream of Extinction Menu
Jim's Attic: Gertie the Dinosaur
8 Things You'll Miss in Disney World If You Don't Look Down
= = = = = = = = = = = = = = = = =



HIDDEN MICKEYS ALERT
= = = = = = = = = = = = = = = = =
Steve Barrett, author of the Hidden Mickeys Field Guide books and webmaster of HiddenMickeyGuy.com, highlights three Hidden Mickeys from around Walt Disney World.
1.Disney's Hollywood Studios, Mama Melrose's Ristorante Italiano. The leaf Hidden Mickey has returned! At least, the Cast Members in the restaurant will point out this leaf as the Hidden Mickey leaf. (The original leaf had disappeared for a while). Search for this deep green leaf in the waiting area to the right of the check-in podium, almost halfway up the left side of the window trellis with grape leaves, near some dark purple hanging grapes. (Thanks to Stan Solo.)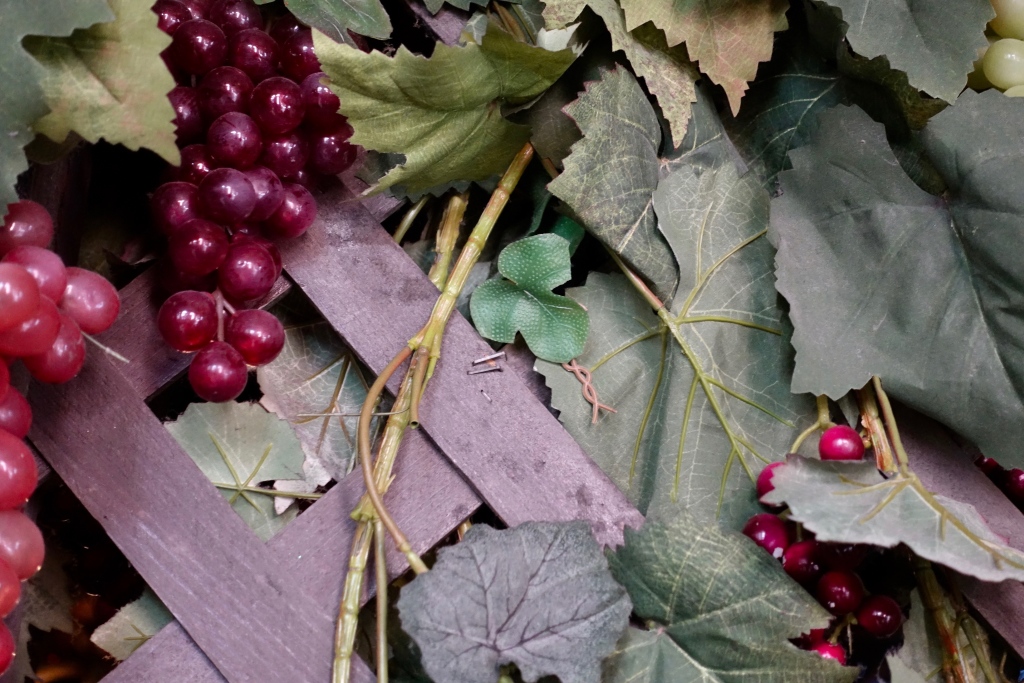 2. Disney's Hollywood Studios, Mama Melrose's Ristorante Italiano. Other classic Hidden Mickeys are appearing along with the red one that has been in place for a while. Look for several black Hidden Mickeys, one large and several that are tiny, associated with names written on the exposed brick wall behind the check-in podium. Another faint red Hidden Mickey is at the bottom right of the photo. I expect that Hidden Mickeys will remain on the wall, but they may change over time.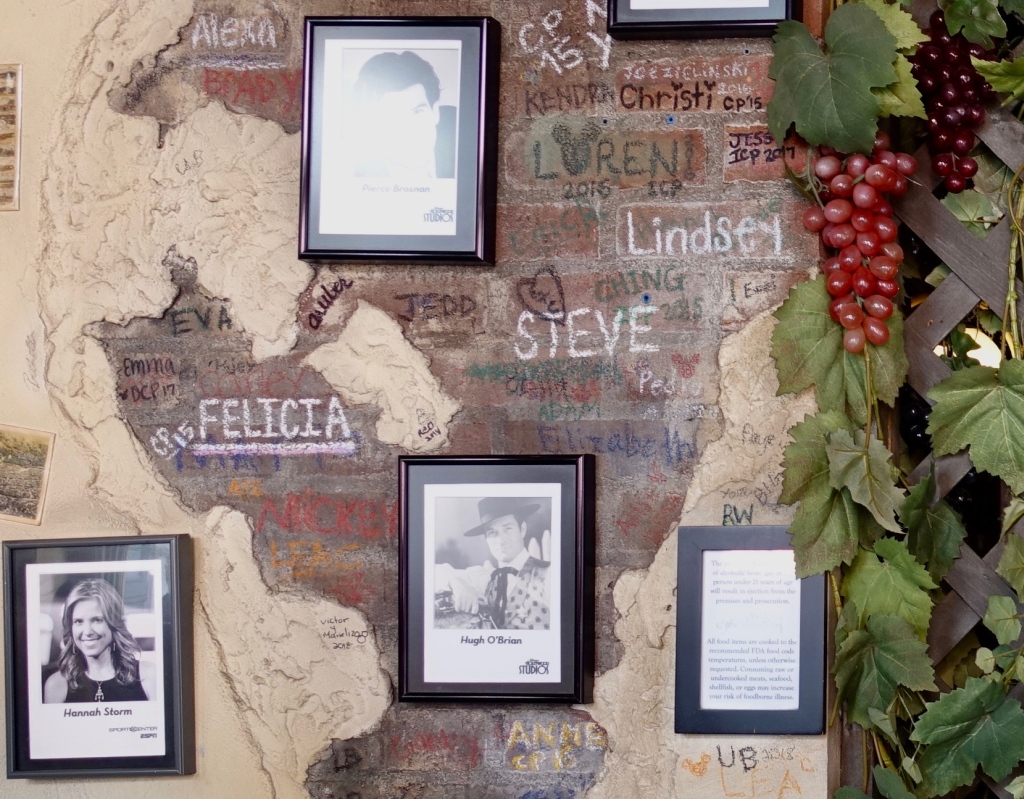 3. Epcot, The American Adventure. In the "American Indian Art" exhibit in the Gallery room inside the pavilion, a perfect classic Mickey copper bead or button is on the back of a white dress. Look for the "Ancient Resonance Dress." (Thanks to Debbie Anschuetz.)
=-=-=-=-=-=-=-=-=-=-=-=-=-=-=-=
You can find an archive of past Hidden Mickey Alerts HERE.
And don't miss our YouTube videos, searching for Hidden Mickeys with Steve!
= = = = = = = = = = = = = = = = =



MONTHLY REMIND-EARS
= = = = = = = = = = = = = = = = =
May 1: Disney's Hollywood Studios Turns 30!
Through Sept. 30: 90 Years of Mickey Mouse — "The World's Biggest Mouse Party" is a celebration at Disney parks and resorts around the world, with commemorative merchandise, photo locations and more.
Through June 3: The 2019 Epcot International Flower and Garden Festival. In conjunction with this festival, the Garden Rocks Concert Series will take place nightly at the America Gardens Theatre in Epcot's World Showcase.
Check our Events page for a full schedule of upcoming events.
-=-=-=-=-=-=-=-=-=-=-=-=-=-=-=-=-=-=-
Resort-Wide
Disney Skyliner construction:
Walt Disney World is in the process of creating a new transportation system, Disney Skyliner, which will give you a bird's-eye view of the resort while traveling via gondolas. During this time, testing and construction noise will be seen and heard throughout the resort, but noise should not be heard from Disney hotel rooms between dusk and 9 a.m. Skyliner will open in Fall 2019.

The Walt Disney World Monorail system is undergoing ongoing refurbishment. As a result, normal service and/or routes may be modified. Alternative transportation options will be available during this time.
Rafiki's Planet Watch temporarily closed on October 20, 2018. It will reopen in Summer 2019.
Star Wars: Galaxy's Edge —
Work is underway on the 14-acre Star Wars-themed land at Disney's Hollywood Studios that was announced during the 2015 D23 EXPO. Galaxy's Edge will open at Walt Disney World on August 29, 2019.
Walt Disney World Railroad closed December 3, to make way for construction of the new TRON attraction.

Tomorrowland Speedway closed in January 2019, also as part of the TRON construction. It will reopen later this year.
Animal Kingdom Lodge – Jambo House
Rooms are undergoing refurbishment through Fall 2019.
Art of Animation Resort is currently undergoing some general refurbishment projects. During this time, the resort will be in full operation with all amenities available, including dining, merchandise and recreation locations. It is possible that construction may be seen or heard, but noise should not be heard from guest rooms between dusk and 9 a.m. No end date for these projects has been announced as yet.
The new 15-story Gran Destino tower will open at Disney's Coronado Springs resort on July 9, 2019. The rooftop restaurant, Toledo, will also open on that date.
Disney's Old Key West Resort is undergoing a wholesale refurbishment, which is expected to be completed in 2019. You can see some photos of refurbished rooms HERE.
The Walt Disney World Swan and Dolphin
A new tower to be called The Cove is under construction. It will be located on the site of the Swan's tennis courts, adjacent to Fantasia Mini-Golf.
NBA Experience at Walt Disney World Resort will be a one-of-a-kind basketball-themed experience featuring hands-on activities that put guests of all ages right in the middle of NBA game action. There will be immersive NBA video productions and numerous interactive experiences and an exciting retail store that will offer something for all NBA fans worldwide. The NBA Experience opens August 12, 2019.

City Works Eatery and Pour House, a restaurant and bar known for craft beers from local breweries and around the world, plans to open its eighth location in Disney Springs West Side in Summer 2019.
-=-=-=-=-=-=-=-=-=-
A complete list of known rehabs can be found HERE.
= = = = = = = = = = = = = = = = =



MAGICAL MOMENTS
= = = = = = = = = = = = = = = = =
Each month, we like to share a few heart-warming Magical Moments brought to us by the amazing Disney cast members.
Heather J.: We experienced the "Disney Magic" this past week. My son built his own lightsaber two years ago at Hollywood Studios. Needless to say, in two years it has won many battles, lost a few, and eventually the 'blade' part of the saber broke. (We told him that he couldn't make a new one this year because we still have about five that work.) In the Star Wars store at Disney Springs, after he traded pins with a cast member he asked her how much it would cost him to just buy a replacement blade since his broke. "I have my own money and everything!" She asked what color he needed, told him to turn around, and put the blade right into his backpack. She told him that The Force must have put it there! My husband and I were very surprised, and my child was ecstatic! Disney Magic at work.
Kerry A.: My husband and I experienced a wonderful magical moment on our recent trip at the Boardwalk Inn. We stayed there to celebrate our 47th wedding anniversary. We were staying on the Military Salute discount. We checked in very early, naturally our room was not ready, so we were enjoying chatting with the cast in the lounge. We had just gotten to our room, when there was a knock on the door. There stood Nancy, a Guest Service Manager for the hotel and a front desk cast member. They had balloons and a poster of Mickey dressed in a military uniform thanking my husband for his service. This was signed by many of the cast at the BWI. There was also a beautiful silver frame for our anniversary. I was brought to tears by this wonderful gesture. Especially the thanks to my husband. He is a Vietnam vet and is 100 percent disabled. This meant so much to the both of us. Just another reason we love Disney and the cast of the Boardwalk Inn.
Katie M.: A magical moment for our family was during our trip in November 2015. We had a delicious dinner at Boma and enjoyed wandering the Animal Kingdom Lodge afterward, we hadn't ever been before. Before we knew it, it was past 9 o'clock and our three boys were getting pretty tired. There weren't Minnie Vans yet, nor could we Uber without car seats, so we were stuck waiting for a bus to Disney Springs to transfer back to Caribbean Beach. We waited about 15 minutes and hadn't seen a single bus when one finally pulled up, but its signs were dark. The driver and his trainee hopped off, chatted a bit, then approached us and asked where we were headed. We explained our plans and they invited us to hop on! We got a private, express Disney bus ride straight back to Caribbean Beach, right to our stop! They really saved the night. We made it back without any tired kid meltdowns, and we will forever be grateful for that ride!
-=-=-=-=-=–=-=-=-=-=-=-=-=-=-=
EDITOR'S NOTE: We just bet you have a story to tell about an unforgettable moment during your Disney vacation! Please send your favorite memory for inclusion in a future AllEars® via our Contact Us page. Thank you all for sharing!