July 2019 Walt Disney World Bits and Bites
Feature Article
This article appeared in the June 25, 2019 Issue #1031 of ALL EARS® (ISSN: 1533-0753)
Editor's Note: This story/information was accurate when it was published. Please be sure to confirm all current rates, information and other details before planning your trip.
= = = = = = = = = = = = = = = = =



STEP BACK IN TIME
= = = = = = = = = = = = = = = = =
by Joan L. Feder
AllEars® Staff Writer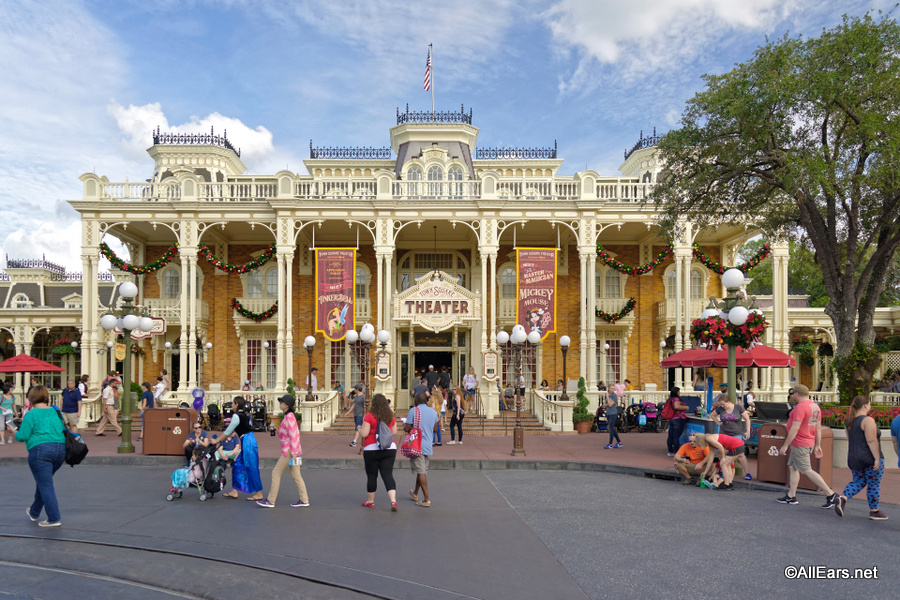 Join us on our monthly journey into the past as we explore the history of Walt Disney World and the Walt Disney Company. This time we look back at the evolution of Tony's Town Square Cafe, which opened in July 1989.
Tony's corner of Disney World's Main Street has always been an eatery. The original plans for the Magic Kingdom listed it as the Coffee Mill Restaurant. When the coffee company sponsor backed out, the plans changed. It opened in October 1971 as the Town Square Cafe. Breakfast, lunch and dinner were served in an elegant Victorian setting. Later that year, Oscar Mayer took over as sponsor. The company spokesman, Little Oscar, met with guests and gave hot dog whistles to the kids. The menu was somewhat upscale and featured a Monte Cristo sandwich.
In 1981, Hormel became the restaurant's new sponsor. The ever-popular Monte Cristo remained a staple. The menu was a four-page newspaper called the Town Square Times. It featured an in-depth back story, including advertisements for some of the businesses that lined Main Street such as the Bakeshop, Crystal Arts and the Walt Disney Story. Waitresses wore green, floor length dresses with full skirts and lace trim. The waiters wore matching green vests and jackets, with black pants and white shirts. In 1989, when Hormel ended its contract, Disney decided it was time for a major renovation.
Tony's Town Square Cafe opened on July 24, 1989. The restaurant was transformed into a turn-of-the-century trattoria.The theme is based on the 1955 Disney classic Lady and the Tramp. If you've watched the movie (and even if you haven't) you probably remember the scene where the two stars of the film share their first kiss over a plate of spaghetti. This special meal was provided by Tony from his Italian restaurant. Now guests at the Magic Kingdom could eat there, too.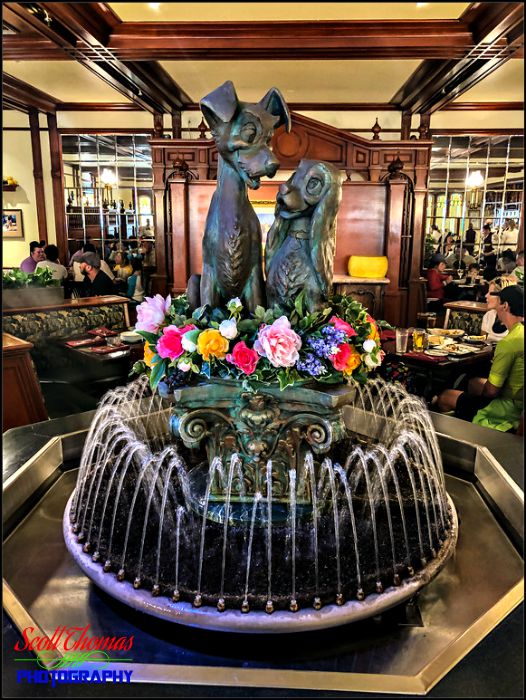 Today, Tony's features hearty Italian cuisine and desserts, as well as beer and wine. There are three different seating areas. Two are indoors and heavily themed, including a central fountain featuring Lady and the Tramp. If you prefer to dine al fresco, the patio overlooks Main Street. It is a great spot for people- and parade-watching while you dine. Another interesting site is The Chapeau shop's sign across the way. Its hat box shape is an homage to both Disney history and Lady and the Tramp. In the movie, Lady first appears as a gift popping out of an identical box. What many don't know is that this was based on a true story. Years before, Walt Disney gave his wife, Lillian, a chow puppy wrapped in a hat box!
Tony's is a table service credit on Disney Dining plans. Advanced dining reservations are recommended. For an additional charge, you can choose to pair your lunch with a VIP viewing of the Disney Festival of Fantasy Parade. While the food has gotten mixed reviews over the years, for theming and location Tony's Town Square can not be beat.
RELATED LINKS
Tony's Town Square Lunch/Dinner Menu
Rate and Review Tony's Town Square – or read what others think!
Recipe: Tony's Town Square Lasagna
= = = = = = = = = = = = = = = = =



MONTHLY REMIND-EARS
= = = = = = = = = = = = = = = = =
July 4: Fourth of July celebrations around Walt Disney World Resort.
July 9: Gran Destino Tower opens at Coronado Springs Resort! Along with the tower, a new restaurant, Toledo – Tapas, Steak and Seafood will also open. AllEars.net will be at the Grand Opening, so watch for a full report!
July 11: Rafiki's Planet Watch reopens with a new interactive animation experience.
Check our Events page for a full schedule of upcoming events.
-=-=-=-=-=-=-=-=-=-=-=-=-=-=-=-=-=-=-
Resort-Wide
Disney Skyliner construction:
Walt Disney World is in the process of creating a new transportation system, Disney Skyliner, which will give you a bird's-eye view of the resort while traveling via gondolas. During this time, testing and construction noise will be seen and heard throughout the resort, but noise should not be heard from Disney hotel rooms between dusk and 9 a.m. Skyliner will open in Fall 2019.

The Walt Disney World Monorail system is undergoing ongoing refurbishment. As a result, normal service and/or routes may be modified. Alternative transportation options will be available during this time.
Rafiki's Planet Watch temporarily closed on October 20, 2018. It will reopen on July 11 with a new interactive animation experience.
Star Wars: Galaxy's Edge —
Work is underway on the 14-acre Star Wars-themed land at Disney's Hollywood Studios that was announced during the 2015 D23 EXPO. Galaxy's Edge will open at Walt Disney World on August 29, 2019.
Epcot Main Entrance Transformation – The Leave A Legacy photos have been removed from the right side of the entrance plaza. They are going to be moved into a setting just outside the park's gateway as the entrance undergoes a significant transformation.

France Pavilion — A new French creperie is under construction and will be opening in 2021, near the new Remy's Ratatouille Adventures, which will also open in time for the 50th anniversary of Walt Disney World Resort in 2021. sounds and smells of Gusteau's legendary Parisian restaurant.

Future World East — Guardians of the Galaxy themed coaster will be one of the longest enclosed roller coasters in the world and feature a brand-new ride system. Opening in 2021.

Japan Pavilion — Signature restaurant Takumi- Tei is set to open Summer 2019.

Mission: Space — A Space Restaurant is being built in a newly developed area located between Epcot's Mission: SPACE and Test Track. Once completed, the restaurant will invite guests to travel to space for a dining experience in the stars. The new restaurant will be operated by the Patina Restaurant Group, which also operates Tutto Italia and Via Napoli at Epcot.

Wonders of Life Pavilion is being reimagined into the Play Pavilion, and will feature first-of-their-kind experiences devoted to playful fun. The Play Pavilion will take guests into an innovative, interactive city bursting with games and hands-on activities.
Walt Disney World Railroad closed December 3, to make way for construction of the new TRON attraction.
Animal Kingdom Lodge – Jambo House
Rooms are undergoing refurbishment through Fall 2019.
Art of Animation Resort is currently undergoing some general refurbishment projects. During this time, the resort will be in full operation with all amenities available, including dining, merchandise and recreation locations. It is possible that construction may be seen or heard, but noise should not be heard from guest rooms between dusk and 9 a.m. No end date for these projects has been announced as yet.
The new 15-story Gran Destino tower will open at Disney's Coronado Springs resort on July 9, 2019. The rooftop restaurant, Toledo, will also open on that date.
Grand Floridian Resort and Spa
Mizner's Lounge is being expanded and will be re-themed to a Beauty and the Beast inspired location. It is set to reopen in Fall 2019.
Disney's Old Key West Resort is undergoing a wholesale refurbishment, which is expected to be completed in 2019. You can see some photos of refurbished rooms HERE.
The Walt Disney World Swan and Dolphin
A new tower to be called The Cove is under construction. It will be located on the site of the Swan's tennis courts, adjacent to Fantasia Mini-Golf.

The Swan's Coffee Bar and Lobby Spaces are
undergoing a $3 million transformation. It's projected completion is sometime in Summer 2019.
NBA Experience at Walt Disney World Resort will be a one-of-a-kind basketball-themed experience featuring hands-on activities that put guests of all ages right in the middle of NBA game action. There will be immersive NBA video productions and numerous interactive experiences and an exciting retail store that will offer something for all NBA fans worldwide. The NBA Experience opens August 12, 2019. AllEars.net will be on hand for this opening, so be sure to watch for a full report.

City Works Eatery and Pour House, a restaurant and bar known for craft beers from local breweries and around the world, plans to open its eighth location in Disney Springs West Side in Summer 2019.
-=-=-=-=-=-=-=-=-=-
A complete list of known rehabs can be found HERE.
= = = = = = = = = = = = = = = = =



MAGICAL MOMENTS
= = = = = = = = = = = = = = = = =
Each month, we like to share a few heart-warming Magical Moments brought to us by the amazing Disney cast members.
Dr. Ron: My Magical Moment just occurred. My wife and I were planning a trip to Walt Disney World this September with our son and his family. We made plans last October, but in January my wife was diagnosed with kidney cancer. We kept on planning the trip thinking we could still go. In fact I renewed her annual pass in April. Unfortunately things went bad and my wife of 43 years passed away in May. I called Disney to see if they would allow me to transfer the money I paid on my wife's annual pass and apply it to paying some of the cost of four-day park hopper passes for my son, daughter-in-law, and two grandchildren. The cast member not only refunded the cost of the annual pass, but comped my son's family tickets. I was overcome by their generosity and had trouble thanking her through my tears since my wife's funeral was only three days before and my emotions were running high. Our trip will be to have an enjoyable time, but also honor my late wife. She loved WDW as much as me. Disney is magical!
Kala M.: My husband and I went on a solo trip in November, 2018. 'Ohana is a must for us every trip. It's our favorite. Our reservation time coincided with the Castle fireworks. When we checked in, I asked the CM, Robin, if it was possible to get a table by the window so we could see the fireworks. They were very busy, and she advised that would not be likely due to the wait. In a few minutes, our buzzer went off and we went to the podium. Imagine our surprise when Robin was there to greet us. She said she wanted to be the one to escort us to the best table in the restaurant. We had a table for 2 with the ultimate view of both the Electrical Parade and the fireworks. I gave her a hug when she seated us. I looked for her after our dinner to thank her again, but they couldn't find her. It was truly "magical."
-=-=-=-=-=–=-=-=-=-=-=-=-=-=-=
EDITOR'S NOTE: We just bet you have a story to tell about an unforgettable moment during your Disney vacation! Please send your favorite memory for inclusion in a future AllEars® via our Contact Us page. Thank you all for sharing!