I've Heard That Voice Before: Bill Farmer, the Voice of Goofy
by
Joan Feder
AllEars® Staff Writer
Feature Article
This article appeared in the May 21, 2019 Issue #1026 of ALL EARS® (ISSN: 1533-0753)
Editor's Note: This story/information was accurate when it was published. Please be sure to confirm all current rates, information and other details before planning your trip.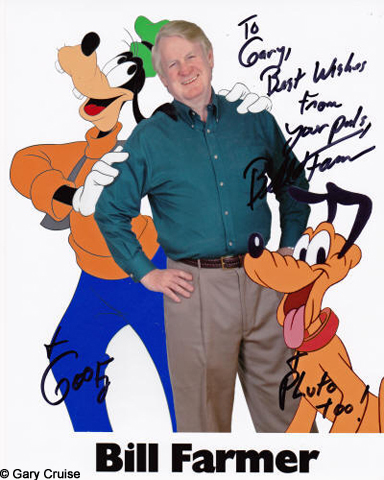 Bill Farmer has starred in everything from feature films to television series. He has been a Disney cast member for decades. You may not know his name, but Gawrsh! You sure do know his work. That's right, he's the voice of everyone's favorite optimist, Goofy!
William Robert "Bill" Farmer was born in Pratt, Kansas, on November 14, 1952. According to him, it was a quiet town so he spent a good deal of his time at the movies. He enjoyed live action films, but really loved cartoons. He soon realized that he had a talent for imitating the voices of his favorite actors, including John Wayne and Walter Brennan. As a teen, he amused himself and his friends by ordering at the drive thru using different famous voices. When he went to college, it seemed only natural to major in broadcast journalism at the University of Kansas. He worked in TV and radio throughout his college career. He continued to work on his different voices and soon could perform more than 100 incredibly accurate celebrity impressions.
After graduating, Bill Farmer went to work at an electronics company in Dallas, Texas. But he realized that he missed show business. So, on March 16, 1982, he went to an open mike night at the local comedy club, the Comedy Corner. He went back every week to polish his act. Farmer has said this was where he learned the basics of comedic timing and bringing a script to life. Within six months, he was successful enough as an impressionist to make it his career.
It was four years later, in 1986, when Farmer's agent suggested that he take his voices on the road and move to Hollywood. It was not an easy decision. Bill had just gotten married. He and his wife decided she would stay in Dallas while he commuted and gave California a try. It was four months later that their life changed; Bill got his very first audition for voice over work. It was at the Disney Studio — they were looking for someone to play Goofy.
Farmer prepared for the audition by studying the classic Goofy shorts of the 1930s. Goofy's original voice actor, Disney Legend Pinto Colvig, had left some big shoes to fill. Bill focused on mastering the Goof's distinctive laugh, and the particular way he said "gawrsh." But the hardest thing to learn, according to Farmer, was the "ya-ha-hooooooiieewe" holler that Goofy yells whenever he takes a fall. He must've done something right because he got the job! Since then, Bill Farmer has been THE voice of Goofy, giving life to him in everything from his films to his theme park appearances.
Bill Farmer has also had the opportunity to create voices for characters. For example, he originated the voice of Horace Horsecollar for the Disney version of The Prince and the Pauper. When asked how he comes up with original voices, Farmer has said some of them are "bad" impressions. For example, his voice for Mayor McBeagle, in Mickey and the Roadster Racers, is based on character actor Frank Morgan. Popular in the 1930s and '40s, Morgan is best remembered as The Wizard of Oz, a film he appeared in with a young Judy Garland.
Farmer has performed countless other voices for Disney, including Pluto, Sleepy and Practical Pig. He played characters in A Bug's Life, Monsters, Inc., and Cars for Pixar. He also acted in Beauty and the Beast, The Hunchback of Notre Dame, Hercules, Brother Bear, and Monsters University, among many others.
His work for Disney can also be seen on the small screen. He has performed the Sheriff of Nottingham in House of Mouse, as well as Mr. Bigby and Mayor McBeagle in Mickey and the Roadster Racers. Farmer also worked on The 7D television series, which was a prequel to Snow White and the Seven Dwarfs, playing the role of Doc. Video games are also part of his legacy. Farmer has done voices for Kingdom Hearts, Star Wars: Rebel Assault, and even the Emperor's New Groove video games.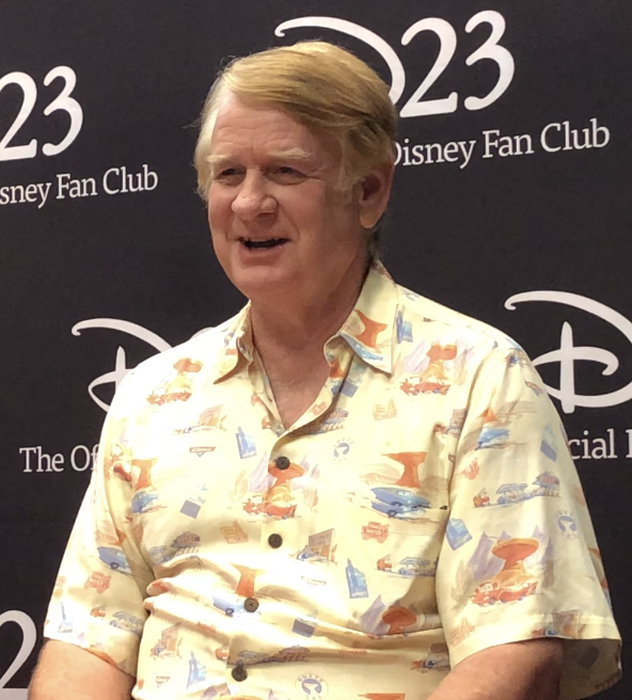 Bill Farmer has also performed classic character voices for other studios. In Space Jam, he got to play Warner Brothers' Foghorn Leghorn, Yosemite Sam and Sylvester. He voiced icons Bugs Bunny and Daffy Duck in Robot Chicken. He was also heard on Cartoon Network's the Grim Adventures of Billy & Mandy, and as Secret Squirrel on Harvey Birdman: Attorney at Law. For Nickelodeon, he appeared in the Adventures of Jimmy Neutron: Boy Genius. At one point, he even got to play the President of the United States, doing the voice of George Bush on a 1991 episode of the sitcom Murphy Brown.
Farmer takes bringing cartoons to life very seriously. His emphasis is not on doing funny voices, but on the acting. He learned this from his mentor, Daws Butler, the voice behind many Hanna-Barbera characters, including Yogi Bear and Huckleberry Hound. In order to get a great performance, Farmer believes you have to think like the character that you are performing. As he has said about Goofy, "Doing the voice of Goofy has become second nature to me. In the beginning, I had to stop and think what his motivation was, but now he lives inside me."
Bill's years of work have not gone unrecognized. He has received several prestigious awards. In September 2009, he became a Disney Legend, along with Tony Anselmo, who is the voice of Donald Duck. In 2011 he was the first voice actor to get the Friz Freleng Lifetime Achievement Award for Excellence in Animation. He also won an Annie Award in 2015 for playing both Goofy and his grandmother in the Micky Mouse short, Goofy's Grandma.
Bill's favorite classic Goofy cartoons include Goofy and Wilbur, which was the Goof's first starring role. He also enjoys Lonesome Ghosts, where Goofy co-stars as a ghost hunter along with Mickey and Donald. The Art of Skiing, one of the entries in Goofy's popular "How To" series of films, is another of Farmer's front-runners.
Over the years, Farmer has been involved in thousands of projects playing a multitude of characters. But to Bill his first is still the best. Why? It is due to Goofy's sweet innocence and unfailing optimism. In short, it is the same reason we all love Goofy. He is a genuinely nice guy. Gawrsh.
============
RELATED LINKS
============
Also by Joan Feder for AllEars®:
I've Heard That Voice Before: Corey Burton
I've Heard That Voice Before: Paul Winchell
I've Heard That Voice Before: June Foray
Taking a Spa Break
Another World: Disney's Hilton Head Island
What's Disneyland Paris Got That We Don't?
= = = = = = = = = = = = =
ABOUT THE AUTHOR
= = = = = = = = = = = = =
Joan Feder is a lifelong Disney lover and aficionado. She is a writer who loves to cook, read and travel. Her favorite spot to visit is Walt Disney World, where you can find her several times a year drinking a Dorma Nesmond at the Hollywood Brown Derby.