Epcot International Festival of the Arts – 2019 Food Studios with Prices!
Epcot International Festival of the Arts – Combining visual, culinary and performing arts from around the world, the festival will create a global masterpiece. The festival is included with regular Epcot admission.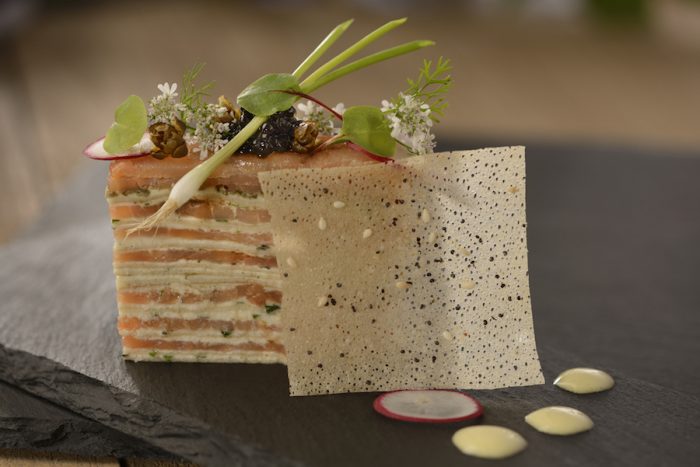 Most Marketplace food items are one snack credit on the Disney Dining Plan.
Most of the Marketplace Kiosks will offer Dasani Bottled Water $3.50
Food Studios will showcase culinary creations so delicious and intricate, guests may not know if the menus are for admiring or eating. Disney chefs will surely encourage guests it's the latter. While the Epcot International Flower & Garden Festival strives for seasonal flavors, and the Epcot International Food & Wine Festival is all about global cuisine, the Epcot International Festival of the Arts is all about works of art on a plate (Instagram-worthy, for sure!). At many of the Food Studios, guests will be able to watch the chefs plating and see the creative process as the dish comes to life.
Food studios open from 11 a.m. to 9 p.m.
Epcot admission required
Alcohol will only be served to Guests 21 and older
(GF) = Gluten-Friendly
(V) = Vegetarian
The Deconstructed Dish
Food:
Deconstructed Reuben with Shredded Corned Beef, Thousand Island Dressing, Pickled Red Cabbage and a Rye Curl  $6.50

Deconstructed Strawberry Cheesecake: Whipped, New York Style Cheesecake with Fresh Florida Strawberries and Sugar Cookies with Micro-basil $6.25
Beverages:
Deconstructed Breakfast: Twinings® Spiced Apple Chai Tea Shake with Maple Bourbon Cream, a Waffle Crisp and Candied Bacon $10.50
Deconstructed Breakfast: Twinings® Spiced Apple Chai Tea Shake with Maple Syrup, a Waffle Crisp and Candied Bacon (non-alcoholic) $4.50
Imagery Sauvignon Blanc, California $6.00
Mad Genius Red Blend, California $5.00
Cuisine Classique
Food:
Beverages:
Angry Orchard Rosé Hard Cider, Walden, NY $4.50
Concrete Beach Brewery Rosé Ale, Miami, FL $4.50
Frosé $6.00
Campo Viejo Rioja Reserva Art Series, Logrono, Spain $5.50
Domaine Savary Chablis, Burgundy $7.00
A Play on Rosé Flight $10.00
The Artist's Table
Food:
Beverages:
Sipping Chocolate Flight: White, Milk and Dark (non-alcoholic) $8.00
Saugatuck Brewing Co. Neapolitan Milk Stout, Douglas, MI $4.50
Lexington Brewing Company Kentucky Vanilla Barrel Cream Ale, Lexington, KY $4.50
Lindemans Framboise Lambic, Belgium $4.50
Barrymore Rosé, Monterey County, CA $5.00
Carmel Road Drew's Blend Pinot Noir, Monterey County, CA $7.00
Symphony in Chocolate Flight: Mozart Cream Liqueurs paired with Sipping Chocolates $12.50
Chocolate and Beer Pairing Flight $12.00
The Painter's Palate
Food:
Smoked Salmon and Cream Gâteau with Egg Yolk Cream, Paddlefish Caviar, and Micro-herbs $7.00
Trio of Savory Croissant Doughnuts:
Whipped Boursin® Garlic and Fine Herbs Cheese with Fresh Herbs (V); Chicken Salad with Shaved Fennel and Fresh Herbs; Spicy Tuna with Wasabi and Seaweed Salad $9.50
Gallery Bites: A Trio of Hors d'Oeuvres:  Chilled Shrimp with Cucumber Cream Cheese on a Crostini; Traditional Deviled Egg with Candied Bacon; Crispy Truffled Risotto Ball with Truffle Aïoli (V) $7.50
Pop't Art: Abstract Designed Sugar Cookie with Strawberry Filling (V) $4.50
White Chocolate Figment Puzzle on an Artist Palette $6.50
Mickey and Pluto White Chocolate Painting with Chocolate Easel (GF) (V) $7.00
Festival of the Arts White Chocolate Painting with Chocolate Easel (GF) (V) $7.00
Beverages:
North Coast Brewing Co. Scrimshaw Pilsner Style Beer, Fort Bragg, CA $4.50
M.I.A. Beer Company Jazz IPA, Doral, FL $4.50
Central 28 Beer Company Miss Mary Brown Oatmeal Brown Ale, DeBary, FL $4.50
Popcorn Pairing Flight $11.00
Pop Eats!
Food:
Beverages:
Blue Sky Black Cherry Boba Freeze (non-alcoholic) $4.25
#RainbowSherbertGlitterDreamAle by Playalinda Brewing Co., Titusville, FL $4.50
Popping Bubbles Cocktail $10.00
Decadent Delights
Food:
Beverages:
3 Daughters Strawberry Blonde Nitro, St. Petersburg, FL $4.50
Breckenridge Nitro Vanilla Porter, Breckenridge, CO $4.50
Young's Double Chocolate Stout, England $4.50
Biagio Moscato d'Asti, Piedmont $5.00
Florida Orange Groves Winery Black and Blue Port, St. Petersburg, FL $8.00
Cold Fashioned Coffee Cocktail $9.50
Neapolitan Beer Flight $9.50
The Masterpiece Kitchen
Food:
Charcuterie Palette with Artisan Cured Meats and Cheeses featuring Nueske's ® Applewood Smoked Beef $14.00
Wild Mushroom Risotto, Aged Parmesan, Truffle Shavings and Zinfandel Reduction (V) $9.25
Vanilla, Rose Water and Pistachio Panna Cotta $8.00
Beverages:
Weihenstephaner Original Lager, Freising, Germany $4.50
Perrier-Jouët Belle Époque Brut Champagne $29.00
The Meeker Vineyard Winemakers' Handprint Merlot, Sonoma County, CA $10.00
Pinord La Dama Reserva Familiar Brut, Spain $9.00
Pinord La Dama Reserva Familiar Brut Rosé, Spain $9.00
Classic Sidecar with a Chocolate Twist $9.25
Takumi Table – Japan Pavilion
Food:
Taiyaki: Fish-shaped Japanese Sweet Stuffed Pastry with Red Bean Paste and topped with Whipped Cream and Sesame Custard $5.50
Sushi Donut: Donut-shaped Sushi featuring Salmon, Tuna, Shrimp, Avocado and Masago accented with Citrus-soy Gelée and Wasabi on the side $7.50
Beverages:
Sapporo Draft Beer $4.25
Masu Sake in a Traditional Personalized Wooden Cup $10.00
Melting Snow Cocktail: Sake, Peach Schnapps, Cranberry Juice, and Japanese Calpico $7.50
El Arista Hambriento (The Hungry Artist)
Food:
Sopes de Chilorio: Slow-braised Pork marinated in Ancho Chili Paste served on Fried Corn Dough with Black Beans, Queso Oaxaca, Crema Mexicana and Salsa Verde $6.95
Callo de Hacha en Salsa de Jengibre y Habanero: Two Seared Scallops with Ginger-habanero Sauce atop Yucca Purée $8.25
Chocoflan: Creamy Mexican Custard and Chocolate Sponge Cake topped with Cajeta and Hazelnuts $4.50
Beverages:
Allende Mexican Craft Beer $4.75
Frida Lychee Margarita: El Velo Blanco Tequila, Lychee Purée, Botran Rum, and Fresh Lime Juice $13.75
Diego Dragon Fruit Margarita: Bruxo Mezcal, Dragon Fruit Purée, Ginger Cordial, and Guanábana Liqueur $14.25
The Painted Panda – China
Food:
L'Art du Cuisine Francaise – France
Food:
Crème de Brie en Petit Pain: Warm Creamy Brie in a House-made Bread Bowl $7.75
Dariole de Saumon à la Provencale, Sauce Beurre Blanc, Fleuron: Salmon Terrine with Zucchini and Tomato, Beurre Blanc Sauce, Puff Pastry Fleuron $10.00
Moelleux Aux Chocolats Valrhona: Molten Chocolate Cake with Pure Origin Valrhona Chocolates $6.75
Beverages:
Frosé: Frozen Côtes de Provence Rosé Wine with Grey Goose Vodka and Peach Purée $12.50
Crémant de Bourgogne Veuve d'Ambal Expression: French Sparkling Burgundy Wine $10.50
Alsace, Riesling Reserve Willm $9.50
Bordeaux, Château Prignac, Medoc, 2014 $8.00
Mosaic Canteen – Morocco
Food:
Spiced Beef with Pine Nuts and Dried Cherries, Hummus and Pita Chips $8.00
Mediterranean Flatbread with Zaatar, Olive Oil Artichoke, Olives, Mozzarella and Feta Cheese $8.00
Chebbakia: Hand-twisted Strips of Fried Dough coated with Honey, Rosewater and Sesame Seeds $7.00
Beverages:
Casa Beer $4.50
Bonassia Red, Meknès, Morocco $6.00
Embrace the Arak: Massaya Arak, Grapefruit Juice and Grenadine $8.00
L'Arte di Mangiare – Italy
Food:
Barbabietole Dolci, Caprino Fritto: Roasted Candied Beet Salad with Goat Cheese Fritters $9.00
Costine di Maiale Aceto Balsamico: Sweet & Sour Balsamic-glazed Pork Ribs $11.00
Spuma al Miele d'Arancio: Orange Honey Mousse with Peaches and Mint Marjoram Cream $8.00
Beverages:
Peroni Nastro Azzurro Pilsner $5.50
Moretti La Rossa Double Malt Beer $5.50
Prosecco, Villa Sandi $10.00
Moscato Fior d'Arancio, Montegrande $10.00
Corbinello, Montegrande $10.00
Pinot Grigio, Bosco del Merlo $9.00
Merlot, Montegrande $9.00
Amaretto Bellini: Amaretto, White Peach Purée and Prosecco $13.00
Vodka Rossini: Vodka, Strawberry Purée and Prosecco $13.00
Additional Festival Locations
In addition to the Food Studios, other locations around Epcot will have special Festival-themed menu items.
Taste Track – Future World East
Food:
Lobster Bacon Macaroni & Cheese served in a Warm Bread Cone $8.00
Paintbrush Churros: Cinnamon Sugar Churros Dipped in Colorful White Chocolate $6.25
Beverages:
Fife & Drum
Food:
Musical Float: Layered Strawberry, Lemonade and Blue Raspberry Slushy with Vanilla Ice Cream and White Chocolate $6.25
Funnel Cakes – The American Adventure
Food:
Salted Caramel Funnel Cake $9.50
Block & Hans – The American Adventure
Beverages:
Ciderboys Grand Mimosa Apple Orange Hard Cider, Stevens Point, WI
Karbach Brewing Co. Love Street Kölsch-style Blonde, Houston, TX
Full Sail Brewing Co. Blood Orange Wheat Ale, Hood River, OR
Dogfish Head Brewery 60 Minute IPA, Milton, DE
Big Top Brewing Co. Hawaiian Lion Coconut Coffee Porter, Sarasota, FL
Refreshment Outpost
Food:
Chilled Shrimp, Quinoa, Layered Vegetables, Spiced Yogurt and Red Pepper Coulis $5.99
Refreshment Port
Food:
Lobster Chips: House-made Chips, Lobster, Lobster Bisque Cheese Sauce, Pickled Jalapeños and Citrus Cream $8.99
Beverages:
Glazed Pork Belly Bloody Mary: Classic Bloody Mary with Absolut Vodka garnished with Maple IPA Glazed Pork Belly, Pickled Carrots, Celery, Stuffed Olives and Cherry Tomato $12.75
Joffrey's Coffee & Tea Company
Beverages:
All Festival specialty drinks served hot or cold.
Beverages:
All Festival specialty drinks served hot or cold.
Canada: Starry Night Latte: A delicious shot of Joffrey's Italian Espresso mixed with Creamy Godiva Chocolate Liqueur, topped with Steamed Milk and Whipped Cream $9.99
Disney Traders: Surreal Cinnamon Latte;
A shot of Joffrey's Italian Espresso mixed with RumChata and Cinnamon Whisky, blended with Steamed Milk and Whipped Cream. $9.99
Future World East: Espresso-nist Latte: A shot of Joffrey's Italian Espresso mixed with rich Baileys Espresso Crème Liqueur, topped with Steamed Milk and Whipped Cream. $9.99
The American Adventure: Bourbon Brushstroke Latte: A shot of Italian Espresso mixed with Bourbon Whiskey Cream liqueur, blended with Steamed Milk and Whipped Cream. $9.99