Pixar Play Parade Disney California Adventure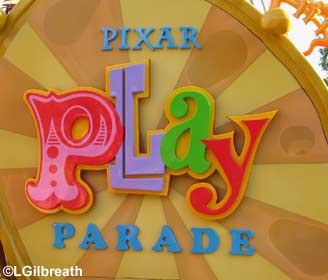 Introduction | Attraction | Touring Tips | Kids/Characters | Interesting Facts
INTRODUCTION
The Pixar Play Parade was introduced in March 2008 as part of the Disneyland Resort's Year of a Million Dreams celebration. The parade features characters from all of the Disney-Pixar movies, many of them aboard playful floats outfitted with a number of surprises to delight and entertain guests. The talents of dancers, stilt walkers, acrobats, puppeteers and bungee-jumpers are also featured.
ATTRACTION
THE PIXAR PLAY PARADE route runs from the gates next to the Tower of Terror down Hollywood Boulevard, then past the Carthay Circle Restaurant, the Golden Vine Winery, and Ariel's Undersea Adventure before ending near Silly Symphony Swings in the Paradise Pier area.
Lightning McQueen from Cars leads out the parade accompanied by a cadre of car wash attendants wielding spray bottles.
Monsters, University. leads out the parade – a group of monsters, is followed by wisecracking Roz, who serves as the parade's drum major, complete with twirling baton. Sulley provides the Monster Power as he "pedals" the first float with an audio-animatronic Mike, providing parade commentary, perched on the back. Members of the Child Detection Squad bring up the rear, ready to spray anyone who might have become contaminated.
The Incredibles segment starts when Mr. Incredible, Elastigirl and Frozone zoom into view riding their own individual hovercrafts. The huge, two-story Omnidroid follows, with baby Jack-Jack perched on top. As an added surprise, Jack-Jack exhibits his superhero talent by periodically bursting into flames.
Heimlich from "a bug's life", followed by his individual caterpillar segments (which seem to have a mind of their own!) precede the garden float where Flik and Atta sway on their flower swing. Behind them a couple of bugs swing two large daisies from side-to-side – which spray water on unsuspecting guests beside the parade route. Colorful bug dancers accompany the float and a stilt-walking stick bug brings up the rear.
Nemo, Marlin, and Dory, performed by playful puppeteers, just keep swimming along. Crush and Squirt float gracefully along in a bubbly underwater world accompanied by jellyfish dancers and a bicycling blowfish.
Toy Story and Toy Story 2 are well-represented, starting off with the Green Army Men and a space ship filled with Little Green Aliens wielding water guns. Buzz Lightyear follows in his rocket ship. A group of Toy Story characters, including Mr. Potato Head and Bo Peep, precede the actual Toy Story float, which appears to be pulled by Hamm. Aboard this large and colorful float, Woody and Jessie sit on a Tinker Toy teeter-totter equipped with water cannons that they spray at the audience while acrobatic cowboys and cowgirls flip and somersault around the bar Rex holds in his mouth. Slinky Dog follows along at the "tail" end.
Lightning McQueen and Mater from Cars closes out the parade, followed by the "Pit Crew" and an army of custodians sweeping the route clean of water, soapsuds, and other slippery substances.
TOURING TIPS
The Pixar Play Parade is about 20 minutes long and takes about 50 minutes to complete the entire parade route. It is performed once a day, starting in the late afternoon.
Viewing locations: Since this parade has no performance stops, good viewing is available anywhere along the parade route. To have a better chance of seeing the acrobatics and the flaming Jack-Jack, try watching the parade near the entrance to "a bug's land" or from the Paradise Pier area. The viewing areas are most crowded on Buena Vista Street – if you watch from an area closer to the end of the parade route you can usually get a front-row spot just before the parade begins.
There are benches available in front of the Wine Country Trattoria and in the Paradise Pier area that also provide good viewing.
Be aware that all of the floats in the parade, and some of the characters too, spray water. Cast Members will walk the parade route before the parade warning guests that they will get wet. While nothing is drenching, water effects range from light misting to large drops to a stream of water, so be aware of that if you are planning to use a camera. On cooler days the water effects are cut back or minimized to simply blowing bubbles.
KIDS AND CHARACTERS
There are many walk-around characters who will stop and greet guests along the parade route, and some people may receive special attention from the characters armed with water, such as the Child Detection Agency squad, the Little Green Aliens, and Woody and Jessie.
INTERESTING FACTS
The parade officially premiered on March 14, 2008.
There are 10 floats, some of them two stories tall, and almost 100 people in the cast and crew, including dancers, acrobats, puppeteers, and stilt walkers and stilt jumpers.
Many of the popular Pixar characters appear, including Woody, Jessie, Buzz Lightyear, Mr. Potato Head and Little Bo Peep from Toy Story, Roz, Mike, and Sulley from Monsters, Inc., Flik, Atta, and Slim from "a bug's life", Frozone and Mr. and Mrs. Incredible from The Incredibles, and Crush from Finding Nemo.
The original parade included a Ratatouille unit; it was retired in 2010.
Creative forces behind the scenes include Emmy-nominated director Fred Tallaksen, puppet designer Michael Curry (The Lion King on Broadway), costume designer Mirena Rada, and composers Matthew Girard and Robbie Nevil (High School Musical).
New music for the parade includes the Countdown to Fun! and The Party's On themes.
If you have comments or tips to share with others about touring Disney California Adventure, please email us. Thank you.