Mission Tortilla Factory Tour Hosted by Mission Foods® Pacific Wharf Disney's California Adventure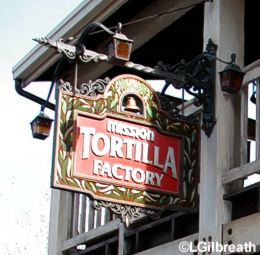 Introduction | Attraction | Touring Tips | Dining>
INTRODUCTION
This walk-through tour presents the history of the tortilla and passes through an automated tortilleria where visitors can see how corn and flour tortillas are made.
ATTRACTION
The tour begins with a video pre-show featuring children in an interesting and entertaining presentation on the history of the tortilla. Colorful murals adorn the walls. The doors open automatically and the next room contains dioramas and video displays which illustrate the labor-intensive process of making tortillas by hand. Finally visitors enter a modern tortilla factory, where behind glass walls the entire automated tortilla-making process can be viewed. Corn tortillas are produced on the left, and flour tortillas on the right. Cooking demonstrations take place in the demo kitchen located at the end of the tour.
TOURING TIPS
A Cast Member passes out fresh tortillas, just off the production line, at the end of the tour.
On your birthday, receive a one dozen package of tortillas free!
There's no line for this attraction, but there may be a short wait outside while the previous group views the introductory video. Once inside the tortilleria the tour is self-guided, with signs describing the process.
The tour is completely accessible for wheelchairs and ECVs.
Assistive listening devices may be used. Captioning is available for the pre-show video – contact a Cast Member for assistance.
Recipe cards featuring recipes which use tortillas as an ingredient, are usually available at the demo kitchen.
DINING
Cocina Cucamonga, which is just behind the tortilla factory, uses the tortillas made in the tortilla factory in their tacos and burritos.
Restaurants At A Glance
Menus from the Disneyland Resort
If you have comments or tips to share with others about touring Disney's California Adventure, please email us. Thank you.