Mickey's Soundsational Parade Disneyland
Introduction | Attraction | Touring Tips | Kids and Characters | Interesting Facts
INTRODUCTION
Mickey's Soundsational Parade is a celebration of music and color. The floats represent classic Disney movies and feature musical styles from all around the world, from New Orleans jazz to African drums and Latin rhythms. Beautifully costumed dancers, musicians, and stiltwalkers, as well as many Disney characters, accompany the float elements.
Watch the parade here:
THE PARADE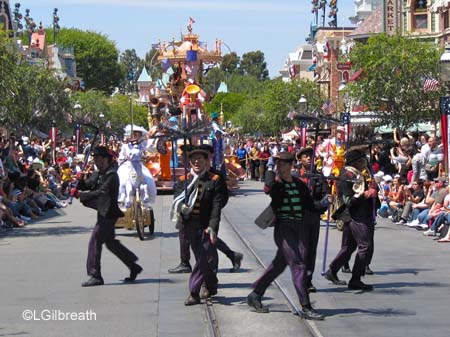 Mickey's Soundsational Parade — The parade starts at "it's a small world" and ends at Town Square – when there is a second parade the route is reversed and the later parade starts at Town Square and ends at "small world".
The parade features more than 90 performers, including dancers, drummers, musicians, and puppeteers, as well as many Disney characters. The floats are very detailed and incorporate musical instruments into their design, some subtle, such as Tinker Bell's mushroom drums, and some more obvious, like Aladdin's brass gong. The larger floats have a number of moving elements to them, adding to the complexity and visual interest. And there's a lot of pure whimsy and fun, like the octopus displaying the advantage of being eight-armed by playing multiple instruments.
Each element has its own music, and each has its own version of the "Soundsational" parade theme in a musical style appropriate to the float's theme.
The parade begins with a drum line – six drummers raise the energy level as they lead out the first float, which features a huge stylized Mickey Mouse drum set. Mickey himself is on board with his own drum set, which he plays as he travels down the parade route. Watch his face – this is one of the articulated Mickeys and his eyes blink and his mouth moves when he speaks. Minnie is on the front of the float, wearing an elaborate piano key skirt. The music includes an upbeat arrangement of the Mickey Mouse Club March as well as the Soundsational theme.
Behind Mickey's float, Chip and Dale provide chipmunk power to push along the large "Celebration Cake", a new addition to the parade in 2019.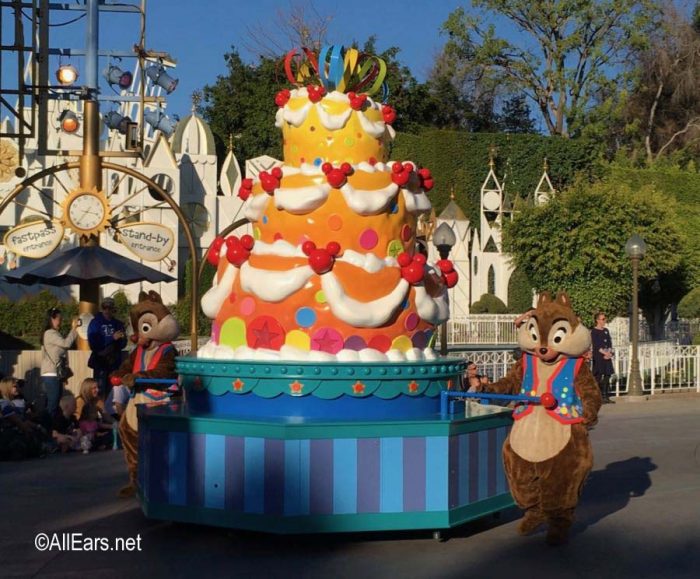 Another new addition is an oversized classic Mickey pull toy.  Goofy pulls the "string" of the 19′ tall toy.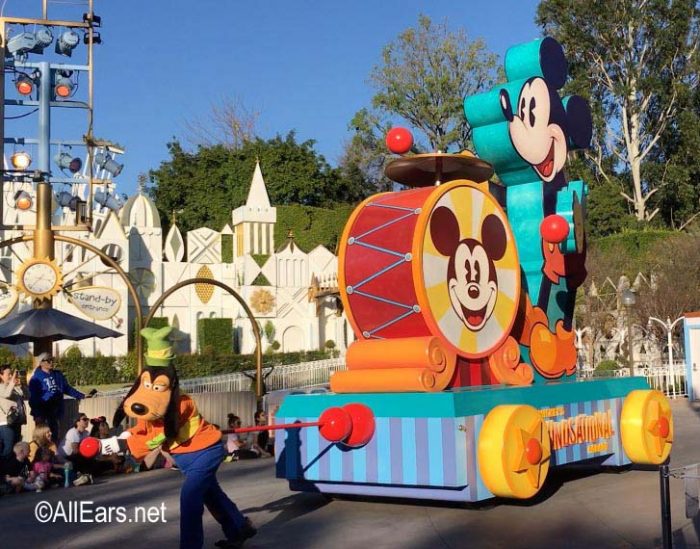 The Genie becomes a drum major as he leads out the Aladdin element, accompanied by harem dancers with cymbals. Aladdin rides on top of a large drum and bangs the gong behind him. Musical selections are "Friend Like Me", "Prince Ali", and "Arabian Nights". A cymbal-clashing Abu follows.
The Little Mermaid takes us "Under the Sea" with Sebastian and Ariel and a huge percussion-playing octopus. The dancers accompanying this float are especially colorful and elaborately costumed. This float is large and incredibly detailed with a lot of motion – all in time with that Caribbean beat.
A spinning hermit crab shaking his shell maracas brings up the rear.
The Three Caballeros float features the rhythms of Latin America. Panchito Pistoles, Jose Carioca and costumed dancers precede Donald Duck on top of his drum float. A large pinata dangles from the top. The music includes the "Three Cabelleros Theme", "Tico Tico" and "Saludos Amigos".
Rapunzel's Tower stands atop a float featuring some of the Disney heroines – Rapunzel, Snow White, Aurora, Belle, and Cinderella. The music includes arrangements of each heroine's theme: "I See the Light" from Tangled, "Some Day My Prince Will Come", "Once Upon a Dream", "A Dream is a Wish Your Heart Makes", and "Tale as Old as Time".
African drum beats herald the arrival of the "Jungle" unit. King Louie, Terk and the monkey dancers accompany Simba, who is standing on a large drum float in front of a golden sun bearing Mufasa's face. Simba's roars accompany music like "I Wanna Be Like You" and "Circle of Life". Stiltwalkers follow the float.
The Princess and the Frog float is modeled after something that really DOES float – a Mississippi river boat. Tiana rides in front in a rowboat with Ray the firefly – look for a small green frog on one of the oars. And of course that trumpet-playing alligator Louis is giving it his best as they "Dig a Little Deeper" as they are "Going Down the Bayou". This is another really detailed float – notice that the smokestacks are clarinets, the paddlewheel is a tambourine and the driveshafts are slide trombones.
It's off to Never Land with Peter Pan, Captain Hook, and Mr. Smee. The mushrooms in Tinker Bell's flower garden are drums that she plays. The musical theme is rollicking sea chantey versions of "You Can Fly", "A Pirate's Life is a Wonderful Life", and "Yo-ho, Yo-ho, A Pirate's Life for Me".
The final parade element is a tribute to Mary Poppins. The chimney sweeps start it all off as they "Step in Time" and beat their brooms in time to the music. Then it's a jolly holiday for Mary Poppins and Bert as they follow on their fanciful carousel horses.
The float itself features a whimsical carousel with tuxedoed penguin riders pulled by a red-coated huntsman on a large old-fashioned bicycle. There are chimney sweeps on the rooftops of London at the back. Musical selections include "Step in Time", "Supercalifragilisticexpialidocious" and "A Spoonful of Sugar".
TOURING TIPS
The parade takes about 50 minutes from start to finish – about 20 minutes to pass any particular spot.
There are good viewing opportunities all along the parade route. The terraced area along Small World Way will give you some additional height and it's often possible to secure a spot there within 10 minutes of the start of the parade. This parade is continuously moving and does not have any "show" stops, so any spot along the parade route offers the same viewing.
KIDS AND CHARACTERS
Mickey's Soundsational Parade features many Disney characters as well as other performers. Guests are not allowed onto the parade route, but the walk-around characters and especially the drummers and chimney sweeps will interact with guests as the opportunity permits. (After all, "good luck will rub off" when shaking hands with a chimney sweep!)
INTERESTING FACTS
Mickey's Soundsational Parade officially debuted on May 27, 2011.  It went on hiatus in November, 2017, and returned with two new elements on January 25, 2019.
The parade was designed to look like a child's pop-up book and paper artists Kevin Kidney and Jody Dailey did the original designs.
There are 11 different floats.
The musical score was composed and arranged by Mark Hammond, who also wrote the score for World of Color.
The parade's tempo is 132 beats per minute, the fastest that Disney has ever done.
The cake and Mickey pull toy floats replaced another parade element where Chip and Dale pushed the large  bass drum and cymbals that Goofy was playing.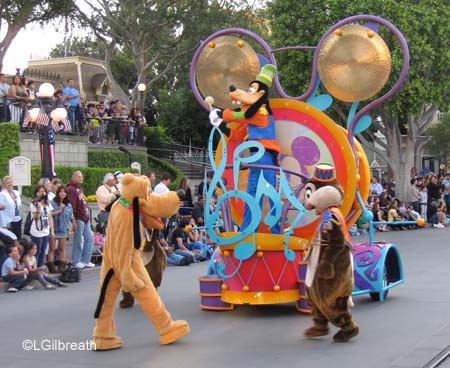 If you have comments or tips to share with others about touring Disneyland, please email us. Thank you.