Lunar New Year Celebration – Disney California Adventure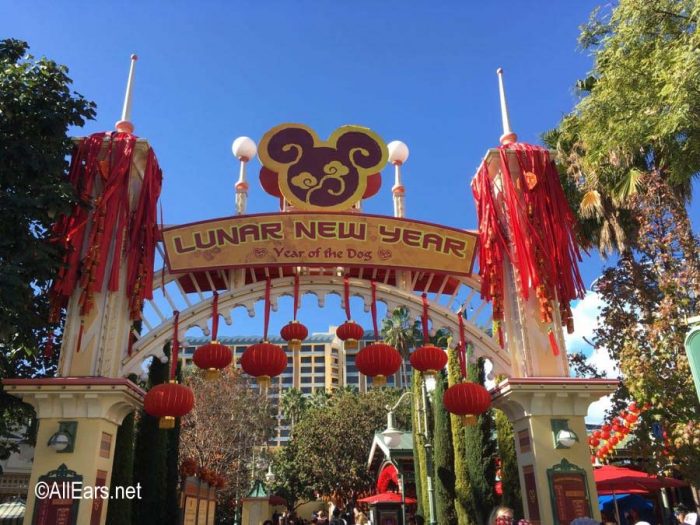 In January and February each year, Disney California Adventure celebrates the Lunar New Year.  Traditionally observed within Chinese, Korean and Vietnamese cultures, Lunar New Year commemorates the moment when both the sun and the moon begin their journey for another year.  In 2019 Disney California Adventure will celebrate the Year of the Pig over 24 days, from January 25 – February 17, 2019.
Events take place in the Paradise Gardens area of the park and include:
Special Food and Beverages
Four food marketplaces featuring food and beverages inspired by Chinese, Korean, and Vietnamese culture
The Paradise Garden Grill restaurant will offer a special Lunar New Year menu offering traditional Asian cuisine
Food and Beverage cart at Paradise Gardens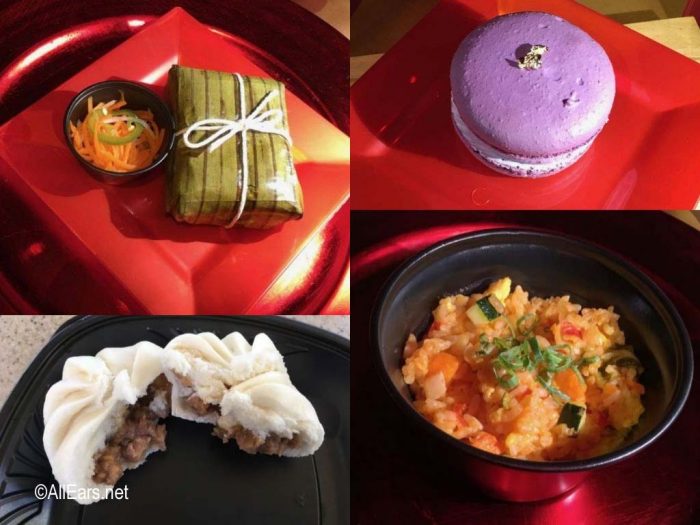 Lunar New Year Entertainment
Mulan's Lunar New Year Procession – A colorful and celebratory parade featuring Mulan and Mushu along with beautifully costumed Chinese dancers, dragon dancers, martial artists and drummers.  In honor of the Year of the Pig, the Three Little Pigs (Fiddler, Fifer, and Practical) will appear in their holiday attire.  Chip and Dale also join the parade and Goofy appears as the "god of Good Fortune."  The procession follows a longer route this year, from Pixar Pier to Paradise Gardens Park (in front of Ariel's Undersea Adventure), where the performances will take place.

Mickey, Minnie, Pluto, Mulan, and Mushu  don their Lunar New Year best and greet guests at Paradise Gardens.
The Melody of China musicians are new this year.  This trio performs on the yangqin (Chinese dulcimer), pipa (Chinese lute), and erhu (Chinese fiddle).
Returning artist Dat Nguyen plays a variety of instruments including guitar, lute, flute and melodica.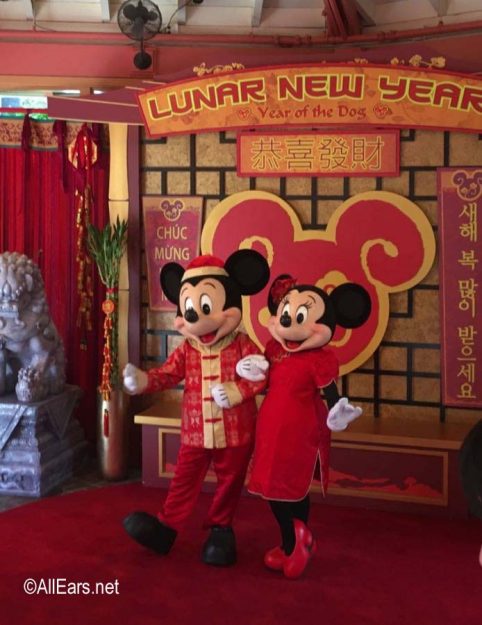 Other Activities
Complimentary arts and crafts, including paper lantern making and face painting
Chinese calligraphy with local artists
Lucky Wishing Wall – guests can write their own wishes for the new year and place them on the wall.
Beautiful Lunar New Year displays, including information on the holiday as celebrated in Chinese, Korean, and Vietnamese cultures.
Disneyland Annual Passholders can visit the  AP Corner at Paradise Gardens Park during scheduled hours for exclusive offerings including a special photo op.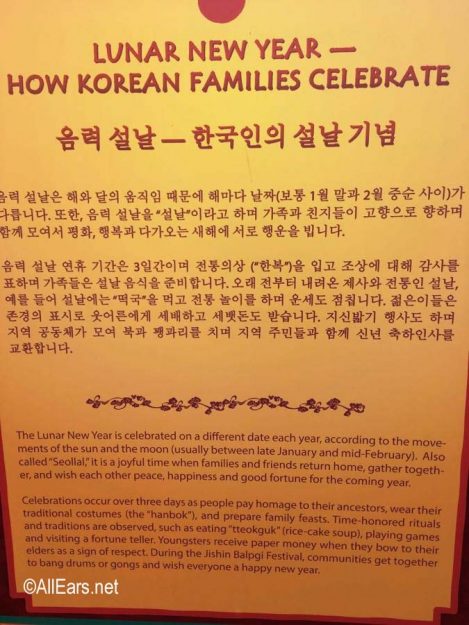 Lunar New Year Merchandise
Items from Shanghai Disney Resort will be available such as ear headbands, lantern glow wands, and red envelopes used for traditional gift giving.
New merchandise with Lunar New Year designs, including t-shirts and pins.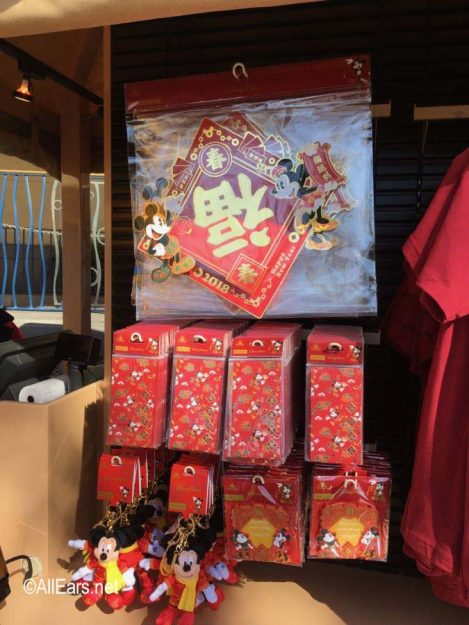 Lunar New Year Marketplace Menus
Lucky 8 Lantern
Prosperity Bao & Buns
Longevity Noodle Co.
Red Dragon Spice Traders
Paradise Gardens Food Cart
Gochujang Chicken Wings – Baked Korean-inspired chicken wings with spiced sauce – $8.50
Mini Almond Cookies – $4.75
Paradise Garden Grill
Vegan Orange Tempeh – with stir-fried vegetables and steamed rice – $12.49
Korean Grilled Chicken – with sweet chili glaze, kimchi and steamed rice – $12.99
Banh Mi – grilled pork belly with pickled daikon, carrots, cucumber, jalapeno, cilantro and seasoned mayonnaise on a baguette – $11.99
Whole Deep-fried Tilapia – with citrus-chili vinaigrette.  Served family style for two with house-made soup, vegetables, and steamed rice.  $24.99
Mango Mousse – mango-glazed passion fruit – $4.49
Almond Milk Iced Tea – $5.00
Almond Milk Iced Tea with Boba Popping Pearls – $5.50
Tsingtao beer – $9.50
A Sip and Savor Pass is available.  Guests can purchase this lanyard for $39; Annual Passholders can purchase it at a discounted price (Annual Passport and photo ID required for purchase).  It has six tabs that can be redeemed for food or non-alcoholic beverage item at the marketplaces, Paradise Garden Grill or the Food and Beverage Cart.  When used to purchase the more expensive items it can offer a significant savings.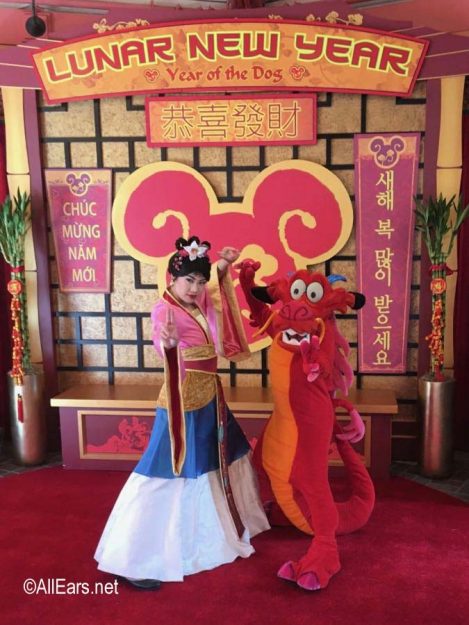 If you have comments or tips to share with others about touring the Disneyland Resort, please email us. Thank you.