Innoventions Tomorrowland Disneyland
Introduction | Attraction | Touring Tips | Kids/Characters | Dining | Shopping | Interesting Facts
INTRODUCTION
Innoventions opened in 1998 as part of Disneyland's "New Tomorrowland". It's located in the Carousel Theater, which was the home of the former Carousel of Progress and America Sings attractions. Disney has partnered with a variety of vendors to showcase the latest in cutting edge technology — including advances in health, entertainment, transportation, and of course interesting gadgets.
ATTRACTION
The entrance to Innoventions is at the top of a long ramp located between the Carousel Theater and Autopia. Once at the top you'll see that the theater is rotating, and you will be held there by a Cast Member until the next entry point approaches, at which point you'll step onto the moving platform.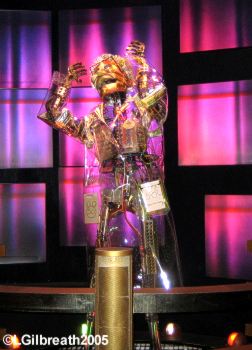 On the monitors above the entrance the audio-animatronic Tom Morrow welcomes you to "his" land — Tom Morrow Land — and shows you some footage of technology over the years. When the doors open go ahead and step inside, and there is the full-sized Tom in all his audio-animatronic glory. He'll chat a little bit more and then sing the "It's a Great Big Beautiful Tomorrow" song before he rotates by.
There are five different entry points to Innoventions, and depending on where you enter, you'll see a different interactive demonstration of state-of-the-art technology in the area of either Entertainment, Home, Sports and Recreation, Transportation, or Workplace.
After the presentation step off the rotating platform into the central area, where a selection of multi-media games and technology demonstrations await you. Innoventions has two levels – the lower level features several different areas with a variety of computer games and entertainment, and the upper level, accessible by stairs or elevator, allows you to participate in hands-on displays, games, and interactive presentations of the latest technology.
Exhibits on the lower level include:
Video game consoles featuring Stitch and other PlayStation-type games.
Virtual Magic Kingdom playing centers
Send a D-Card
Design and view your own fireworks show
On the upper level you'll find:
Stitch's Picture Phone – interact with Stitch in Hawaii via a "satellite videophone" – he'll talk to you and answer your questions! At the end they'll take a picture of you and give you the web site address so you can find your photo on the web.
Honda ASIMO Theater – "Say 'Hello' to Honda's ASIMO" is a 15-minute presentation on the ASIMO (Advanced Step in Innovative Mobility) robot. ASIMO is a humanoid robot that can walk forward and backward, climb up and down stairs, and even dance.
Virtual Resort – Play games, feed virtual fish, and take a peek at the advanced car audio and video components they have in a vintage 50s automobile.
St. Joseph's Medical Center – Hands-on exhibits let you take a health/lifestyle quiz, compute your BMI, and take a virtual bike ride. You can also get a glimpse into the future and take a picture of yourself and age it up to 50 years.
Dance Dance Revolution stations
Disney Interactive and ESPN video games – build your own roller coaster, play basketball, etc.
Read about the Walt Disney World version of Innoventions HERE.
TOURING TIPS
Innoventions can be a nice place to go to get away from the crowds and get into some air-conditioning. There is not very much seating inside, though.
Getting out of Innoventions can be a challenge. The exit is on the upper level and can be a little difficult to find. For all the high-tech that surrounds it, it's a very low-tech solution — just a set of regular double doors. Once outside, walk down the long ramp back into Tomorrowland.
There are NO restrooms in Innoventions. The closest restrooms are in the base of Innoventions, behind the Hatmosphere shop, or at the exit of Space Mountain, behind Starcade.
Innoventions is open as long as the park is open, but some of the special presentations, like "Say 'Hello' to Asimo" and "Stitch's Picture Phone" have limited hours of operation.
To see "Say 'Hello' to Asimo" you'll need to get a ticket from the Cast Member outside the small theater. The tickets are for specific performance times, and you may end up with a fairly long wait. For "Stitch's Picture Phone", sign up with a Cast Member and wait your turn.
When you first enter Innoventions, if you do not wish to see the "Technology" demonstration, simply allow other guests to precede you to the "show" area and then step into the center area to bypass it.
Wheelchair/ECV users enter Innoventions via the regular queue. There is an elevator inside to transport guests up to the second level. To experience some exhibits they may need to transfer out. To exit the building, wheelchair/ECV users should return to the first floor and go to the "Wheelchair exit" sign.
KIDS AND CHARACTERS
Most kids enjoy the opportunity to play with the free video games. They may also enjoy interacting with Stitch and trying out Dance Dance Revolution.
There are no Disney character meet-and-greet opportunities in Innoventions. See your daily Times Guide for the times and locations of Disney character greetings.
DINING
Redd Rockett's, serving pizza, pasta, and salads, is located next to Innoventions' exit.
Tomorrowland Terrace, offering burgers, sandwiches, and snacks, is located across from Innoventions.
Disneyland Restaurants at a Glance
SHOPPING
There is no Innoventions-specific merchandise, but the nearby Star Trader offers a wide selection of Disneyland souvenirs, including t-shirts, hats, postcards, and plush.
INTERESTING FACTS
The outside wall of Innoventions features a very colorful mural. Among the things pictured are some old Tomorrowland attractions, like the House of the Future, the Moonliner, and the original monorails.
The Tom Morrow audio-animatronic continues to move around, swing his arms, etc. after his presentation as he waits for the next group to arrive.
The Innoventions building has two floors, but only the outside of the bottom floor rotates. It revolves at a rate of 1 mile/hour, and makes a full revolution every 17 minutes, 40 seconds.
The Tom Morrow audio-animatronic design can also be seen as the Timekeeper in Walt Disney World's Magic Kingdom and Disneyland Paris.
Nathan Lane provides the voice of Tom Morrow.
The Carousel Theater was the home of the Carousel of Progress from 1967 to 1973, and America Sings from 1974-1988. The song Tom Morrow sings: "It's a Great Big Beautiful Tomorrow", was the theme for the Carousel of Progress attraction.
"Stitch's Picture Phone" and its use of voice-activated animation technology (which is also used in Turtle Talk With Crush), won a Thea Award (Themed Entertainment Association) in 2003.
In honor of Disneyland's 50th anniversary, one of the 50 "Hidden Mickeys" has been placed outside one of Innoventions' entrances.
If you have comments or tips to share with others about touring Innoventions, please email us. Thank you.