Playhouse Disney Live! Animation Courtyard Disney's Hollywood Studios Archives
"Disney Junior – Live on Stage" is a new show set to replace the current "Playhouse Disney – Live on Stage!" at Disney's Hollywood Studios on March 4, 2011. The show will debut with new characters, some new adventures and a new marquee. The new production brings back three audience favorites (Mickey Mouse Clubhouse, Handy Manny and Little Einsteins) and also introduces a brand new segment based on Disney Junior's newest series that will debut in February 2011, "Jake and the Never Land Pirates." "Jake and the Never Land Pirates" will air on Disney Junior in February 2011 and will share the magical and adventurous world of Never Land with preschoolers. "Jake and the Never Land Pirates" will come to life with colorful, puppet versions of some of the most popular Disney Junior characters, bright visuals, whimsical scenery that fills the stage, catchy songs and interactive moments.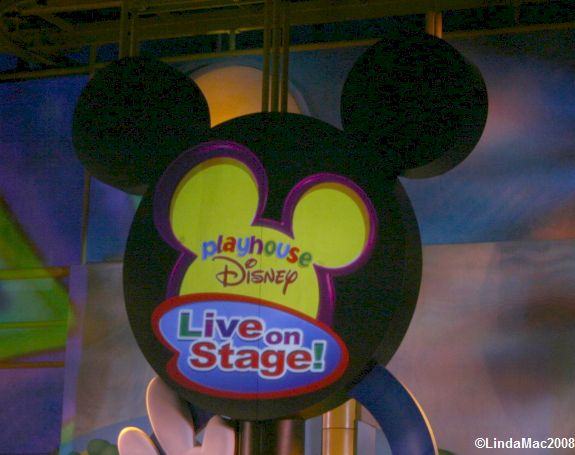 INTRODUCTION
Playhouse Disney-Live on Stage! brings the stars of the Disney Channel's Playhouse Disney television shows, geared to preschoolers, together to entertain Walt Disney World guests with music, songs and stories of friendship. This attraction is housed in Soundstage 5 in the Animation Courtyard.
ATTRACTION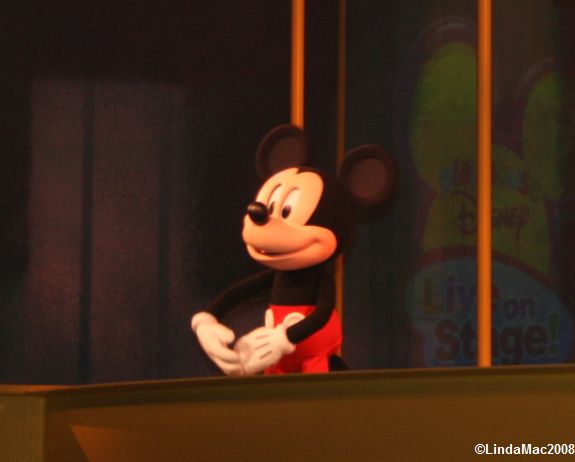 PLAYHOUSE DISNEY LIVE! is one of the live entertainment attractions introduced at Walt Disney World during the 100 Years of Magic celebration. Stars of the Disney Channel's popular "Playhouse Disney" programming block, geared to preschool audiences, take the stage in this fun-filled show, with sing-alongs and dance activities.
Since the rehab in early 2008, performers featured come from the following shows: Handy Manny; My Friends Tigger and Pooh; Mickey Mouse Clubhouse; and Little Einsteins.
The 22-minute stage show features visits to characters of each of the shows, hosted by a live cast member, Casey. The scene starts in Mickey's colorful clubhouse, and continues with the characters trying to make the best birthday party ever for Minnie Mouse. In addition to the fun special effects, youngsters in the audience join the gang in singing along with catchy tunes and dancing.
TOURING TIPS
Playhouse Disney Live! is definitely geared to the preschool set, although young school-age children (and their grown-up escorts) will find it a pleasant show.
Guests are seated on the floor during this show, although there is a line of benches at the very rear of the soundstage.
To be seated near the stage, arrive at the Soundstage at least 10-15 minutes prior to showtime.
This show is approximately 22 minutes long.
This attraction is wheelchair/ECV accessible.
Assistive Listening Devices from Guest Services Can Be Used Here.
KIDS AND CHARACTERS
The Playhouse Disney Live! Characters are not available for Meet and Greet opportunities, but many can be seen in the daily Stars and Motor Cars Parade in Disney's Hollywood Studios. There are other Character Meet and Greet opportunities in the nearby Animation Courtyard. Check your daily Times Guide for times and locations.
DINING
There is no place to dine in the immediate vicinity of this show.
Disney's Hollywood Studios Restaurants At A Glance
Menus From Around the World
Vegetarian and Other Special Diets
SHOPPING
Immediately upon exiting the Soundstage, there is an outdoor stand selling related Playhouse Disney merchandise. The Animation Courtyard Shops and the Animation Gallery are located across the Courtyard from the Soundstage.
INTERESTING FACTS
Playhouse Disney Live! "soft opened" on September 24, 2001. The official opening of this show was October 1, 2001. It replaced the Bear in the Big Blue House stage show, which closed August 4, 2001. The NEW version of Playhouse Disney Live! opened in January 2008, with new characters.
If you have comments or tips to share with others about touring Disney's Hollywood Studios, please email us. Thank you.