Disney's Hollywood Studios Archives Disney's Doug Live!
Introduction | Attraction | Touring Tips | Kids and Characters | Dining | Shopping | Interesting Facts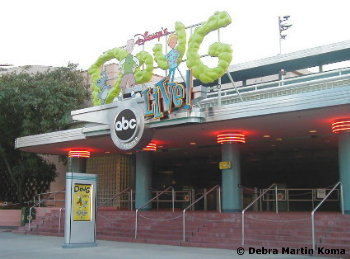 NOTE: The last performance of Disney's Doug Live! was May 12, 2001.
INTRODUCTION
You don't need to be familiar with the cartoon series "Doug", featured on ABC's "One Saturday Morning" to enjoy Disney's Doug Live!, a 30-minute musical stage show that debuted March 15, 1999. This show is housed in the ABC-TV Theater to the left of the Chinese Theater and across from Echo Lake.
ATTRACTION
Pre-Show: Before entering the theater, which holds just under 1,000, a video plays on overhead monitors featuring an interview with Doug creator Jim Jinkins. About 15 to 20 minutes prior to the beginning of the show, guests are permitted to enter the theater and while waiting, are quizzed about the Doug cartoon and its characters by a brightly costumed Cast Member (we've seen Sassafras and Nancy Ancy), who eventually chooses the audience members who will participate in the show.
Disney's Doug Live! was developed specifically for the Disney's Hollywood Studios and combines both live action and animation. Featuring the characters from the popular cartoon Doug, the show follows Doug Funnie as he tries to win the heart of his dream girl Patti Mayonnaise. After winning tickets to see his favorite band in concert, with the help of his dog Porkchop and best friend Skeeter Valentine, Doug is thwarted in his attempts to ask Patti to be his date by the class bully Roger Klotz. Lucky audience members are chosen to play small parts in each performance – four adults have the chance to play in the imaginary rock band "The Beets", while one child is given the opportunity to help Doug's superhero, Quailman, battle the Evil Dr. Rubbersuit in a fantasy sequence. Be forewarned, though — if you're selected to be Quailkid, you have to dress like Quailman, which means wearing underwear on the outside of your pants!
Mini-Review: Despite the cartoon's popularity among the pre-teen set, the show Doug Live! should appeal to a wide audience. Even younger children and those unfamiliar with the cartoon will still appreciate the engaging music and colorful sets, as well as the fantasy/action sequence involving Quailman and the triumph of good over evil. In my opinion, this show is highly entertaining!
For current show times and information on other Disney's Hollywood Studios Live Entertainment, visit Steve Soares' WDW Entertainment Website.
TOURING TIPS
Doug Live! is performed at least 5 times each day, with the first show usually starting around 10 a.m. Check your park guide map to find actual show times.
Volunteers from the audience are selected during the pre-show. If you like to ham it up, raise your hand to be cast as part of the imaginary band, The Beets, or to help Quailman. Be sure to be in the theater at least 10 minutes before show time, though, if you want a chance at being selected.
The pre-show entertainer begins performing 15-20 minutes before the show begins, then chooses members from the audience to participate in the show.
Guests using wheelchairs or ECVs may remain in them for this show.
Assistive Listening Devices from Guest Services Can Be Used Here.
Reflective Captioning Available.
Restrooms and telephones are located right around the corner from Disney's Doug Live!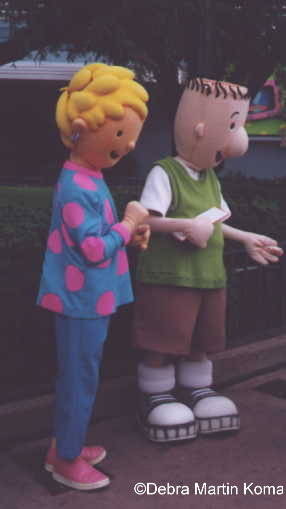 KIDS AND CHARACTERS
During the performance, several characters from the show come down from the stage to sit in the front row of the theater – if you sit near the front, you'll feel like part of the show, too!
Doug Funnie and Patti Mayonnaise have both been spotted occasionally walking around the Studios for character Meet and Greet opportunities. Check your guide map or ask a Cast Member if and when they'll be appearing during your visit. Check your daily Guide Map for times and locations of other Character Meet and Greet chances.
DINING
Doug Live! is just across from Echo Lake, which is home to Min and Bill's Dockside Diner featuring dessert waffles and specialty shakes. For more substantial fare, make a left as you exit the theater and walk back to Commissary Lane, where you'll find the ABC Commissary and Sci-Fi Dine In Theater Restaurant.
SHOPPING
Golden Age Souvenirs featuring Walt Disney World logo merchandise is located just to the left of the theater.
INTERESTING FACTS
The story of Doug Live! was created specifically for this Disney's Hollywood Studios show, based on characters by cartoon creator Jim Jinkins.
The cartoon Doug originally aired on Nickelodeon before becoming part of ABC's One Saturday Morning line-up a few years ago.
Disney's Doug Live! replaced the SuperStar Television attraction, which closed Sept. 26, 1998.