A Cruiser's Dilemma: Eastern Caribbean Vs. Western Caribbean Part I
by Mike Dion
AllEars® Guest Columnist
Feature Article
This article appeared in the August 17, 2010 Issue #569 of ALL EARS® (ISSN: 1533-0753)
When it comes to sailing the Caribbean aboard Disney Cruise Line (DCL), cruisers are faced with a difficult decision: Eastern Caribbean or Western Caribbean. Having had the opportunity to experience both of these incredible itineraries, I hope to shine some light on the differences between them, and what you can expect from the ports of call. Part I of my two-part series focuses on the Western Caribbean cruise.
======================
THE ITINERARIES
======================
Through the end of 2011, 7-night Caribbean cruises (with the exception of two 7-night cruises in December) take place on the Disney Magic.
7-night Disney Cruise Line Caribbean Cruise Itineraries

Day of Week

Western Caribbean

Eastern Caribbean

Saturday

Port Canaveral, FL

Port Canaveral, FL

Sunday

Key West, FL

Day at Sea

Monday

Day at Sea

Day at Sea

Tuesday

Grand Cayman, CI

St. Maarten, NA

Wednesday

Cozumel, Mexico

St. Thomas, USVI

Thursday

Day at Sea

Day at Sea

Friday

Castaway Cay, Bahamas

Castaway Cay, Bahamas

Saturday

Port Canaveral, FL

Port Canaveral, FL

=====================
WESTERN CARIBBEAN PORTS
======================
The Western Caribbean is a land of sun and sea. The flat, palm tree-lined islands of the west offer some of the best beaches and snorkeling in the world, as well as the chance to experience historical sites and ruins of the Mayan Empire. Western Caribbean cruises offer four unique ports, as well as two days at sea to relax and enjoy all the ship has to offer. Something I have always enjoyed about the Western Caribbean is the incredible diversity of the ports. Key West is a colorful town unlike any other place you will ever visit, Cozumel lets you experience the fantastic sights and sounds of Mexico, and Grand Cayman is the perfect Caribbean getaway. I have not found a better way to have so many unique experiences in seven days.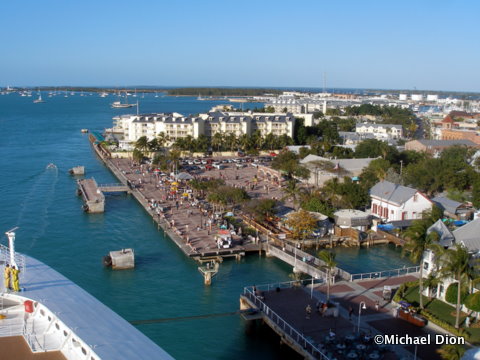 Key West, FL: Made famous by the likes of Ernest Hemingway and Jimmy Buffet, Key West is a laid-back island town waiting to be explored. The ship docks just a short walk away from Mallory Square (famous for its nightly sunset celebration), old town Key West, and the bars of Duval Street. Key West is an island full of character, offering a ton to explore. Check out the southernmost point in the continental United States, Ernest Hemingway's house, Jimmy Buffet's recording studio, and much more. While you're at it, stop and have some chocolate dipped key lime pie on a stick and some conch (konk) fritters. This is island life the way it was meant to be.
The first time we visited Key West we did the GPS walking tour, which is no longer offered by DCL (it had way too many built-in ads). On our most recent visit, we took the Conch Train Tour, which is discussed below, and spent the rest of our time exploring. If you like seafood and/or junk food, you will love this island. We ate at the Conch Factory right on the harbor, and had some of the best fish and chips ever. One of my favorite memories was sitting out on my stateroom verandah watching the Key West sunset as sailboats crossed the ocean. It was so beautiful; it was hard to believe it was real.
Sample DCL Port Adventures:
Conch Train Tour: Explore Key West via mini trains conducted by island locals. This 90-minute round trip tour offers a great overview of the island as well as a fascinating look at the history of Key West and its most notable citizens. This tour is perfect for families, or those looking to get a quick glimpse of the island and then explore on their own. My family and I took this tour on our second visit to Key West. We missed a lot of the island the first time, and this really helped us see a lot more of the island. I always love learning the history of places I visit, and Key West has one of the wackiest and most interesting histories I have ever heard. We took the tour in the early afternoon (the tour is taken at your convenience) and then spent the rest of the day exploring and eating. A perfect day in Key West!
Champagne Sunset Cruise: Board a state-of-the-art catamaran for a front row seat of the world famous Key West sunset. This two-hour cruise includes snacks and beverages and offers a relaxing end to your day in Key West.
Grand Cayman, Cayman Islands: Take a moment and picture a perfect Caribbean island with white sand beaches, crystal clear water, and palm trees as far as the eye can see. You are probably picturing a place like Grand Cayman. From this tropical paradise, experience coral reefs, 7 Mile Beach, Stingray City, and the Cayman Turtle farm. Grand Cayman also offers fantastic duty-free shopping in its capital of Georgetown, as well as a chance to visit Hell, and see the rare Blue Iguana. Sit back, relax, and enjoy the Caribbean at its finest.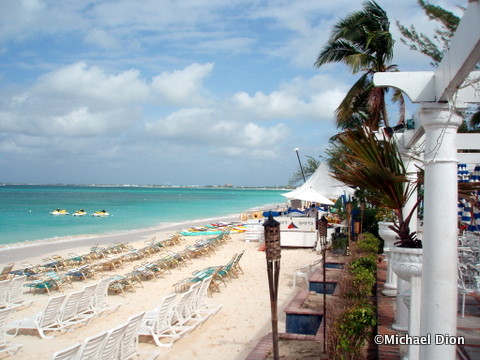 Since my family and I are not big beach people, we have sought out other adventures on Grand Cayman. On our first trip, we took a Jeep Adventure, which included a guided island tour and some time at Seven-Mile Beach. We visited Hell (an odd geological formation and a gift shop), the national park and its beautiful beaches, and the north end of the island where Stingray City boats depart from. This excursion is not available through DCL, but can be booked on your own. On more recent trips, we explored Georgetown and found some great restaurants to try. Be careful, the prices are in Cayman Dollars, which are currently worth about 1.25 US Dollars. Grand Cayman is a very beautiful and very safe island. If you like beaches or shopping, this island is yours. If you don't (like me), take a Jeep adventure, try SNUBA, or head out to Stingray City and swim with the rays.
Sample DCL Port Adventures:
Aquaboat and Snorkel Adventure: During this three-hour excursion, tour the coast of Grand Cayman from your own two-person boat. You will visit the desert-like Sandy Cay and Smith's Cove before snorkeling at a shipwreck site. This tour is perfect for those seeking a little bit of adventure in their day.
Rum Point Beach Adventure and Stingray City Snorkel: Experience the beautiful beaches of Grand Cayman from Rum Point. After enjoying the beach, board a glass bottom boat for a view of the coral reefs surrounding the island before stopping at Stingray City to swim and snorkel with the stingrays. This is a perfect tour for everyone in your party to enjoy together.
Cozumel, Mexico: Cozumel offers a taste of Mexican culture alongside some of the most beautiful coral reefs in the world. Located within walking distance of the pier, the town of San Miguel offers fantastic shopping and dining. From Cozumel, explore the Mayan ruins of the Yucatan peninsula located just a short ferry ride away. Or, check out the underwater world of Cozumel Reefs National Marine Park, representing 20 miles of coral reefs, and offering incredible snorkeling and scuba opportunities. If that isn't enough, Cozumel also features incredible beaches and some Mayan ruins of its own.
My family and I have been extremely adventurous during our three visits to Cozumel. On our first visit we took an ATV excursion through the jungle to Mayan ruins. In other words, we rode down the bumpiest trails in the world to look at a pile of "really important" rocks. It was quite an adventure, but I hesitate to recommend it. On our second visit we rented a car – in Mexico! Everyone will tell you not to do this, but we actually had a fantastic time and didn't have any problems. We drove to San Gervasio, the main Mayan ruin site on Cozumel, and spent some time exploring before taking a grand circle tour of the island. This was a fantastic day that I would do again in a heartbeat. If you choose to rent a car, use a reputable dealer, and BUY INSURANCE! On our third visit we took the Tulum Ruins excursion discussed below. Between Cozumel and the nearby mainland, the options are nearly endless for both beach-goers and adventure seekers.
Sample DCL Port Adventures: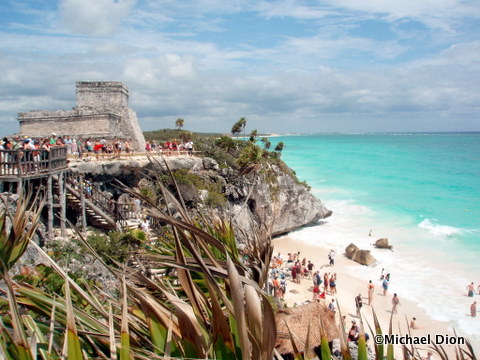 Tulum Ruins: The Tulum Tour is approximately seven hours long and involves taking a ferry to the mainland. The ferry departs from and returns to the pier where the Magic is docked and takes about 45 minutes to cross to the mainland. Upon arrival you meet your tour guides and take about a ten-minute walk to your bus. During the hour bus ride, your guides (ours were both of Mayan descent) tell you the history of Tulum and the Mayans. Upon arrival at Tulum, you board a tram for a five-minute ride to the walled city of Tulum. As you pass through the wall, the city, and the ocean below, unfolds before you. It was unlike anything I had ever seen before. A good portion of the city, including the main temple, is still intact. Our guides took us on a tour of the city, and then gave us an hour and a half of free time to explore. We all met up back at the bus where our Mexican lunch (aka Subway sandwiches) was waiting for us. During the drive, everyone took a Mexican Siesta, and then we headed back for the ship. This is a fantastic and well-run excursion that I highly recommend.
Three Reef Snorkel: On this 4-hour excursion, experience 30 minutes of snorkeling at three separate reefs, chosen each day by the captain of the tour to ensure the best experience. There is no better way to get a taste of the underwater world of Cozumel.
EDITOR'S NOTE: Be sure to catch Part II of Mike's "Eastern Caribbean vs Western Caribbean" overview, with his thoughts on the Eastern Caribbean itinerary and its ports of call, as well as Disney's private island, Castaway Cay.
===================
RELATED LINKS: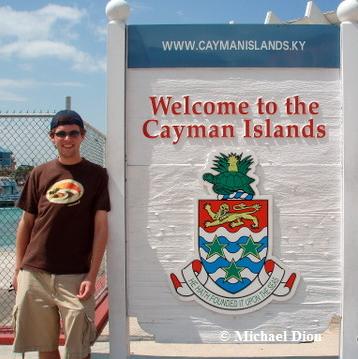 Mike Dion has written other articles about Disney Cruise Line for AllEars.Net:
The Suite Life:
http://land.allears.net/blogs/guestblog/2010/02/the_suite_life_staying_in_styl_1.html
Castaway Cay Enhancements:
http://land.allears.net/blogs/guestblog/2009/12/castaway_cay_enhancements_prep_1.html
Disney Cruise Line for the College-Age Crowd:
http://allears.net/cruise/issue547.htm
You can Rate and Review your cruise experiences, or read about others', here:
http://land.allears.net/reviewpost/showcat.php?cat=73
===================
ABOUT THE AUTHOR:
Mike Dion is a junior at the University of Florida (UF) pursuing a bachelor's degree in Finance. Born in Grand Rapids, Michigan, he fell in love with Walt Disney World on his family's many trips to Orlando. In 2002, he and his family moved to Orlando and have been WDW annual passholders ever since. Mike took his first cruise on the Disney Wonder in 2006 and has since taken 14 cruises, 10 on Disney Cruise Line. During the school year Mike performs improv comedy at UF.