Rivers of Light Animal Kingdom
Individual Attraction Selection
Rivers of Light was discontinued in July 2020.
INTRODUCTION
Rivers of Light is a timeless show that celebrates the beauty of all living things. Watch as the fusion of water, sound and light combine to a majestic show.
"Disney's Animal Kingdom is built around the lives of animals, built around the rules of nature, and those rules dictate that as you move between day and night everything changes…and you're going to want to see that," said Joe Rohde, Creative Executive, Walt Disney Imagineering. "It all really is summed up by Rivers of Light. In the show, we take this combination of light and water which create life, and out of that comes this fantastically rich explosion of animal life that ultimately rises up and joins the stars."
The 5,000 seat amphitheatre located in Asia, near Expedition Everest and across from the Tree of Life, is home to Rivers of Light. The 15 minute show takes place once or twice an evening after dark and is rich in symbolism and storytelling.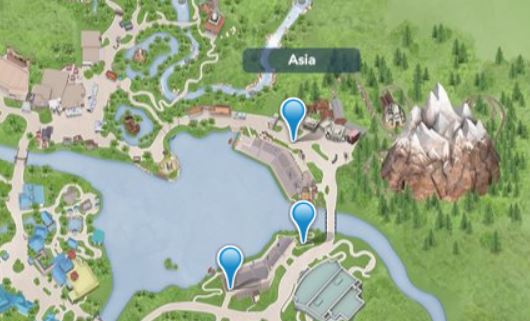 The ceremony begins with a stirring musical overture signaling the arrival of a pair of mystical Storytellers, two complementary forces who come to the river bearing gifts of light. They set out from the shore aboard elaborate lantern vessels. Adorned in intricately designed costumes, the hosts engage in a dramatic dance of water and light to summon the animal spirits – an Asian Tiger, Tropical Turtle, African Elephant and Great Horned Owl – and take guests on a wondrous journey across Asian jungles and African savannahs.
"At the show's finale, we hope guests will feel like they have been on a tremendous ceremonial and visual journey," said Michael Jung, Walt Disney Imagineering creative director. "Rivers of Light really provides an affirmation of life and reminds us of the beauty and fragility of the natural world we all share – with animals and one another."
Rivers of Light is a gentle show with visuals to compliment the music. Keep in mind because this takes place in Animal Kingdom it is not a bang bang fireworks show!
We HIGHLY recommend you get a FastPass+ for Rivers of Light for optimal seating. The dining package also offers great reserved seating.
If you are unable to get a FastPass+ for Rivers of Light, your next best bet may be to purchase a Dining Package for either Tiffins or Tusker House. Both come with reserved seating for the show.
Signage will direct you to your entrance location: FastPass+, Dining Package, Standby.
Know that you can take food and beverages into the amphitheater, but they do not sell them inside (at least not on the night we were there). There are some cute Lotus Flower light-up food and beverage items sold at nearby stands. Look for a Glowing Lotus Blossom Bucket served with flavored chips; a Glowing Stein or Lantern served with a fountain beverage; and a Lotus Flower Glow Cube for drinks.
The seats are HARD concrete! Try to bring a sitting cushion/pad with you for extra comfort.
About 15 minutes prior to the official start of the show, the floats begin to enter the Discovery River, the Tree of Life begins to glimmer with fireflies and shadows of animals and birds can be seen off in the distance.
Rivers of Light Officially Opened February 17, 2017
The 11 show floats are independent of each other and programmed to follow a choreographed "dance" across the lagoon.
More than 50,000 programmable, color-changing LED lights are found in the four Animal Spirit Guide floats alone.
Each Lotus float produces its own water screen.
Costumes for the storytellers and their acolytes include fabrics using 5,000-year-old dye and weaving techniques.
The musical score was created by songwriter and composer Don L. Harper and recorded at the renowned Abbey Road Studio in London. The signature song "We Are One" was written by Mark Mancina, who created the score and was a key collaborator on the music for Disney's hit animated feature film "Moana."