Are you on your honeymoon? Or celebrating an anniversary? Or maybe just on a super-awesome couple's trip to the Most Magical Place on Earth?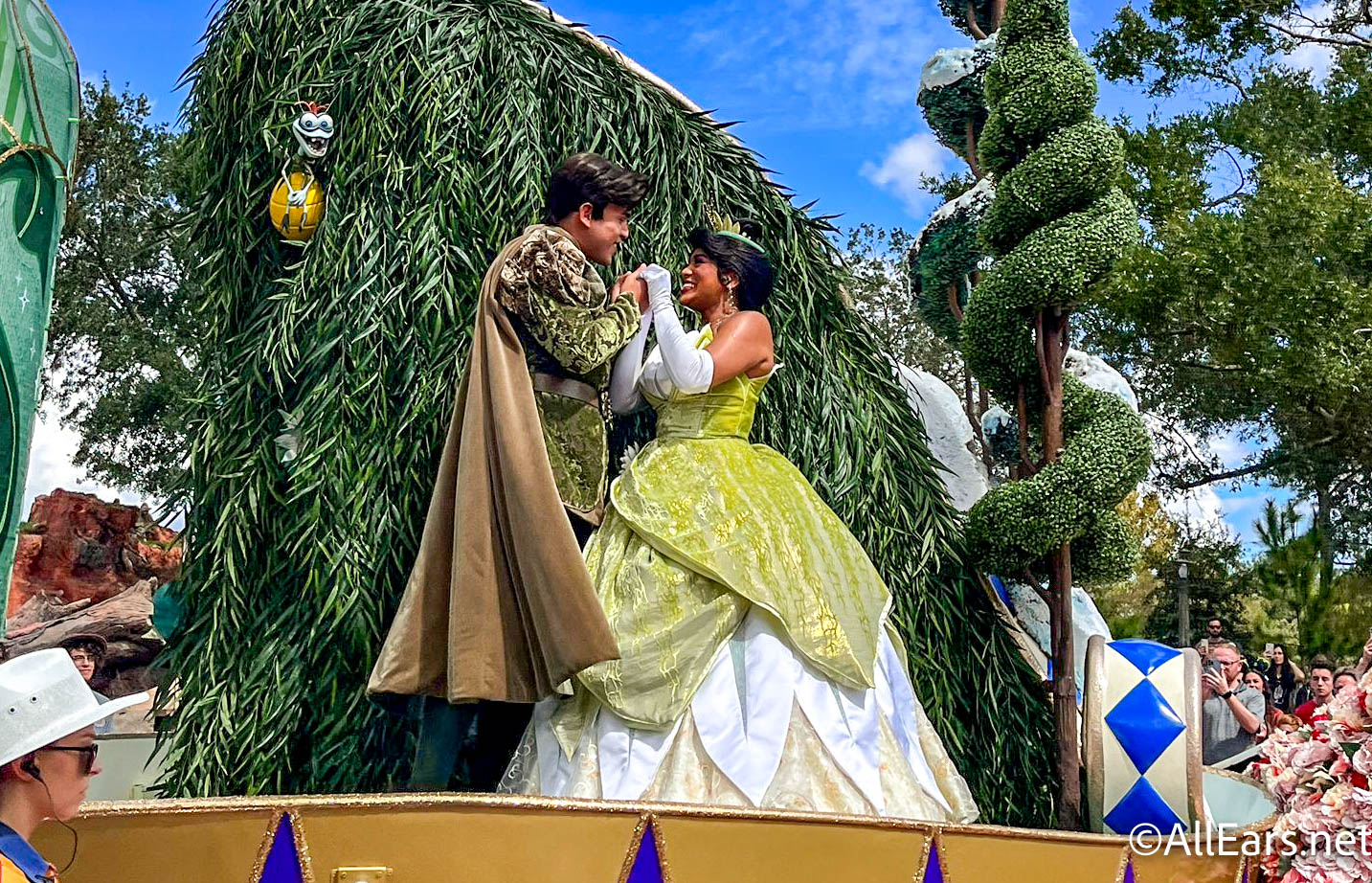 What's a Disney story without a "happily ever after" situation, anyway? So, we're gonna dissect the parks to find your "happily ever" must-dos!
There's a lot to cover at each of the four Disney World parks. But we're going to go through each park to give you an idea of the best restaurants, attractions, and shows that you might consider checking out. While you may not get to everything on each itinerary, it will definitely help get your plans in motion!
There are some decisions you'll need to make before you skip down Main Street, U.S.A., like whether or not you plan to use Disney's Genie+ planning tool or are willing to purchase Individual Lightning Lanes for those high-demand attractions. Your budget and your priorities will be the ultimate deciding factor in whether or not this tool will work for you. The two parks we think you can get the most value out of the Genie+, and Individual Lightning Lane options are in Magic Kingdom and Hollywood Studios, which are both heavy hitters in terms of attractions.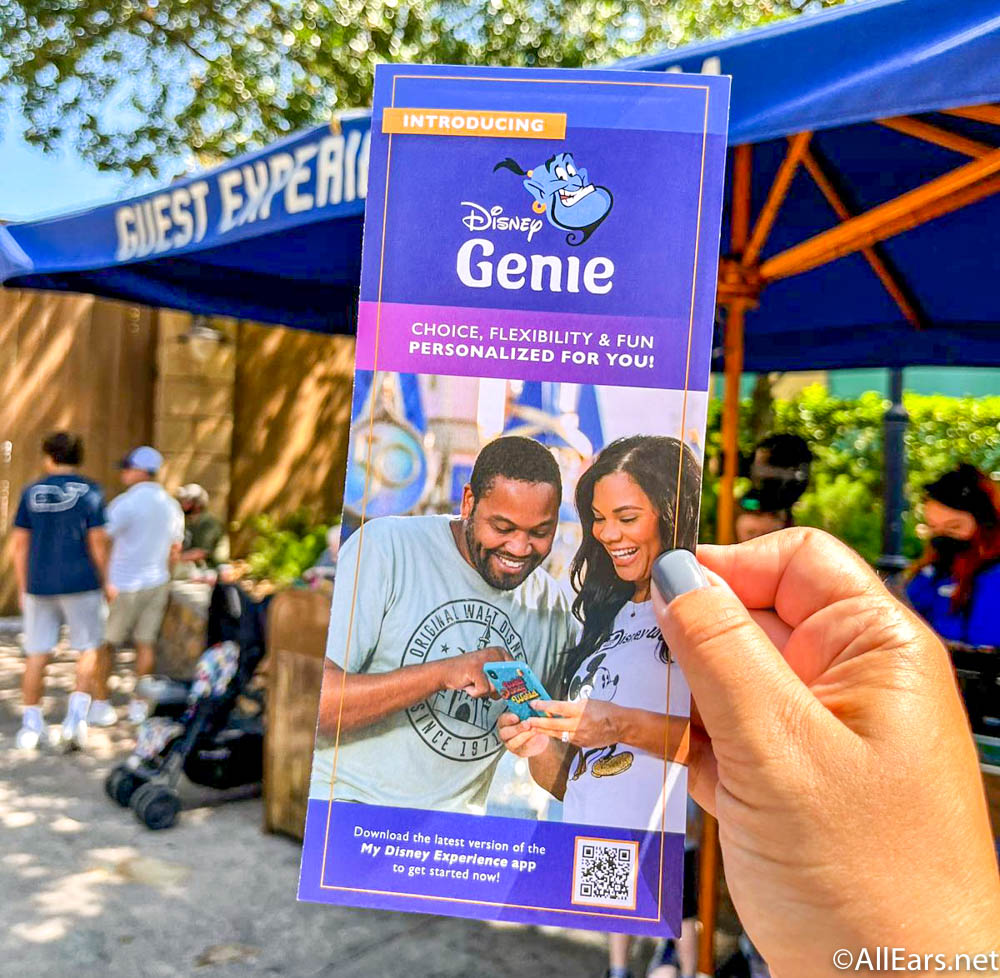 Though, you can still get a lot accomplished without it, if your goal is complete as much as each park has to offer, you'll want to take advantage of Early Theme Park Entry and Extended Evening Hours if you can.
You'll also want to preplan any table service meals you plan to enjoy during your Disney World vacation. Advanced Dining Reservations for Disney World table service restaurants open up 60 days prior to your vacation, and the most popular dining locations books up quickly!!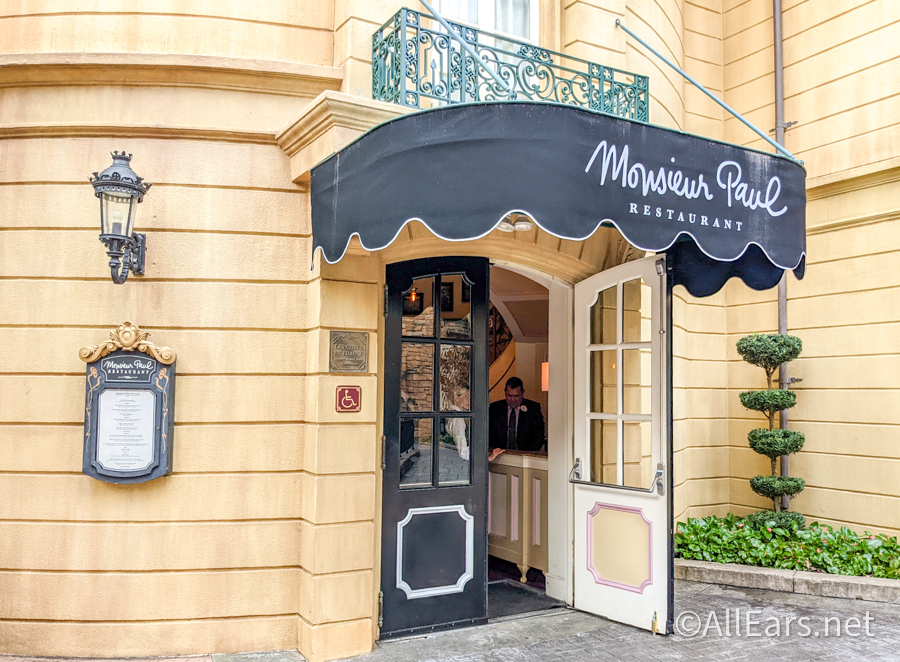 So, that means not only do you want to figure out which spot you want to eat as early as you can, but you may also want to set an alarm on your calendar to book those reservations as early as 6AM EST on that 60-day mark!
Magic Kingdom is where you'll find classic Disney attractions, iconic snacks, and loads of Disney characters.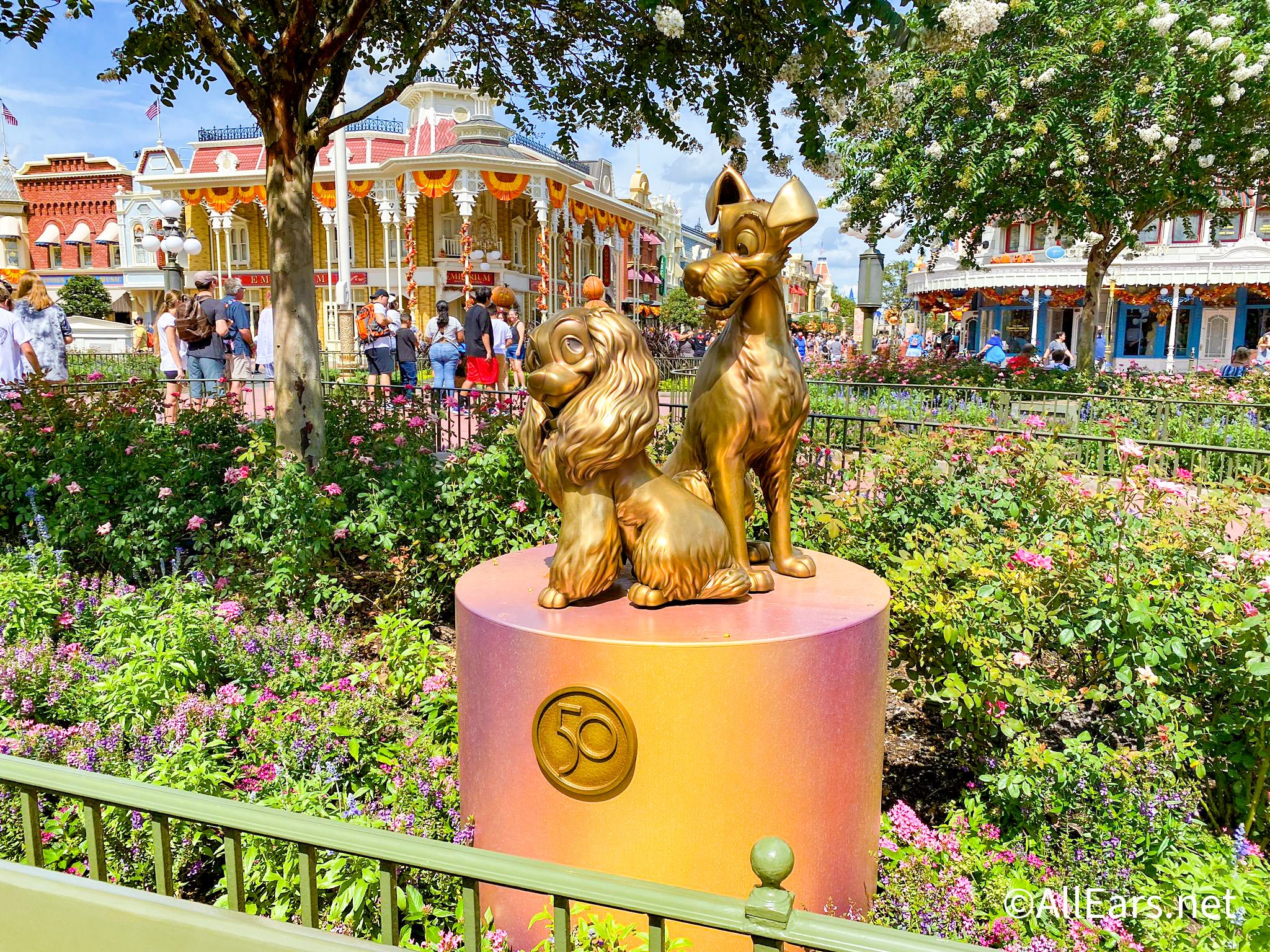 For many guests, this is the most magical theme park at Disney World! This park has the most attractions, so if you only have one day to spend here, it might be worthwhile to splurge on getting Genie+ to make the most of your time here. And you'll also want to make sure you get here as early as you can!
Though Magic Kingdom isn't necessarily known for its big thrills, here are some of our favorite must-do's you'll want to plan for.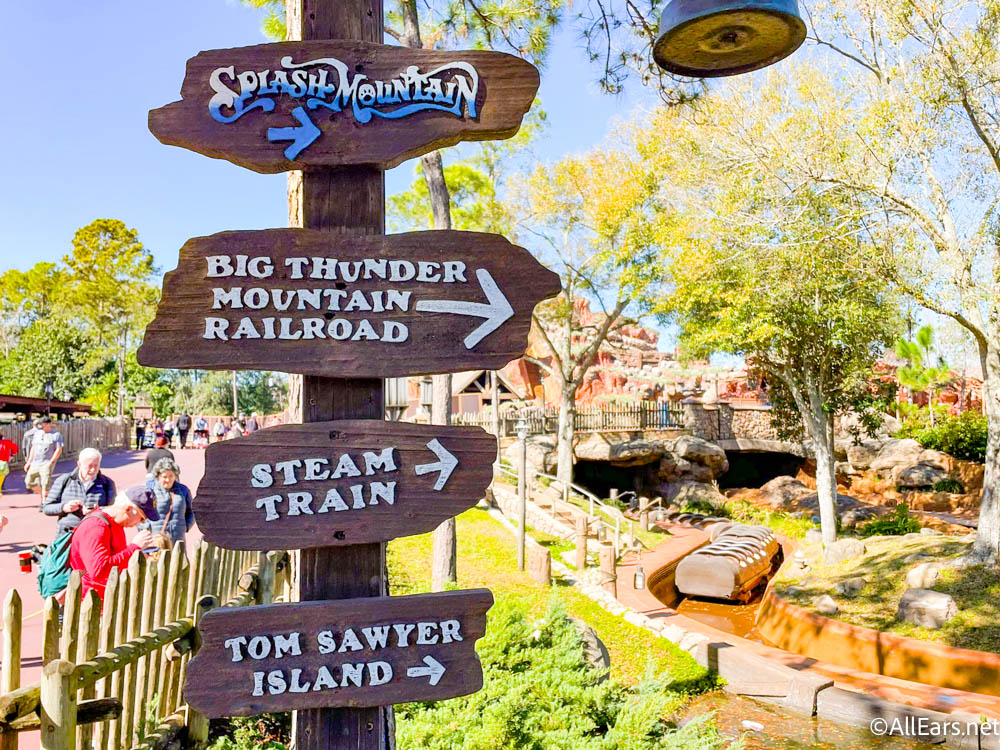 Now, we're not going to list every, single attraction in Magic Kingdom, though we certainly love them all for different reasons. Here's a quick overview of the ones we think you should prioritize, and of course, your mileage may vary based on your desired thrill level and potential restrictions.
The most popular are the more "thrilling" rides:
Once you've mastered those big hitters, then you'll want to fit in some of those classic Disney rides:
If you're going to opt into the Genie+, then these attractions are the ones you'll want to plan for.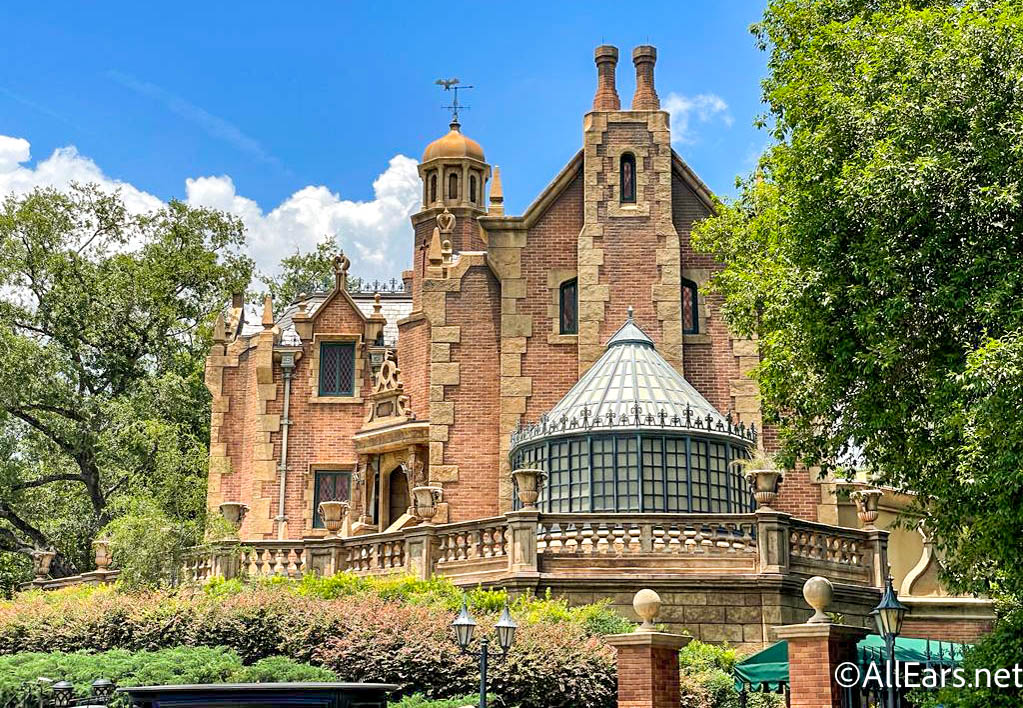 There are some other attractions that are more geared to the child visitors of the Disney parks, but if you want that full Magic Kingdom experience, you can always grab a Genie+ Lightning Lane for those. And you can snuggle up close to your special someone on one of those classic boat rides or in your own private doom buggy!!
Once you've marked all of these iconic rides off your list, there are other "filler" attractions or shows that you can work into your day. In our opinion, the PeopleMover is a MUST.
If it's a hot day, you may especially want to plan for a show or two, so you can get some much-needed air conditioning and time off your feet. We highly recommend Mickey's Philharmagic and Carousel of Progress!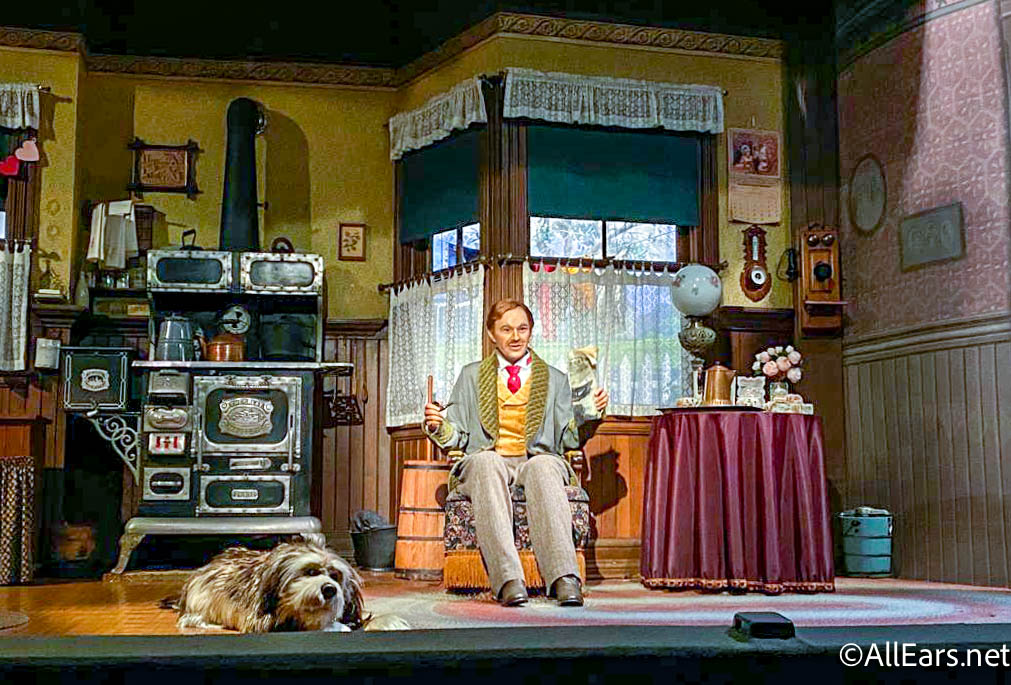 The usual run time for those shows is usually between 18-25 minutes, so if you want to maximize rides and character experiences, you might want to limit your show intake. But if you like the slower pace of your park tour, need a cool spot to rest your weary bones, and don't need to rush to the next attraction or Princesses meet-and-greet, then sit back, relax, and enjoy the show(s)!! And what's more romantic than watching John & Sarah's relationship span a whole century on a continuous loop in Carousel of Progress?
You've grown up with some of these Disney friends, so high-fiving and hugging aren't restricted to just the kiddos. And you can meet some of Disney power couples and maybe get some romantic tips from them!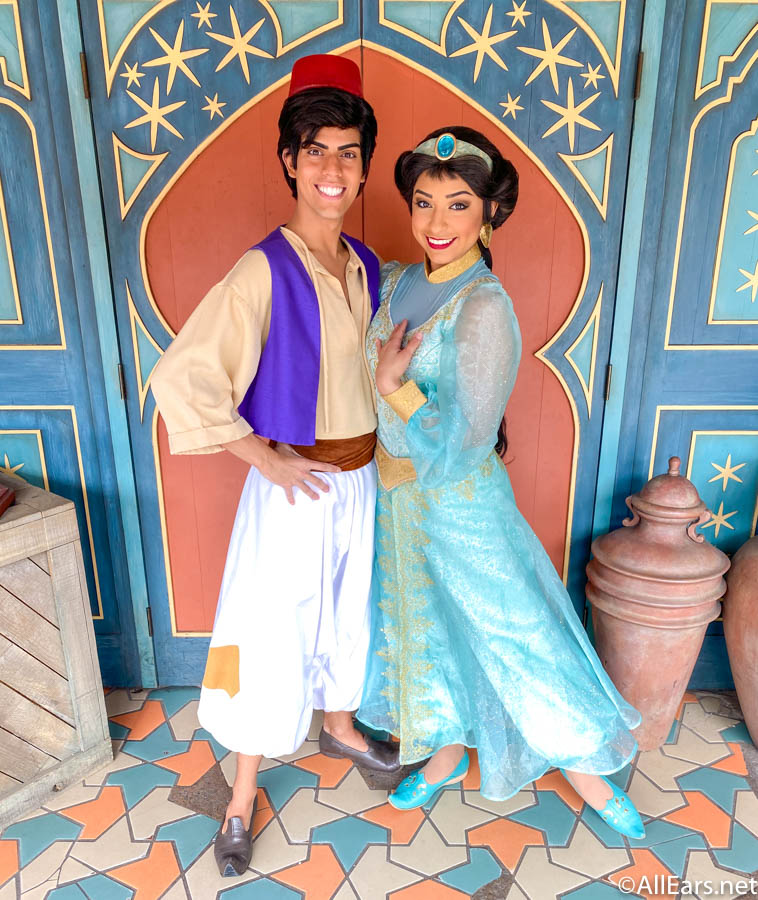 You can sometimes find other characters roaming the park, like spotting Peter Pan near his attraction, Pooh & Tigger near The Many Adventures of Winnie the Pooh, and Aladdin & Jasmine in Adventureland, so keep your eyes out or check My Disney Experience App for who you might see!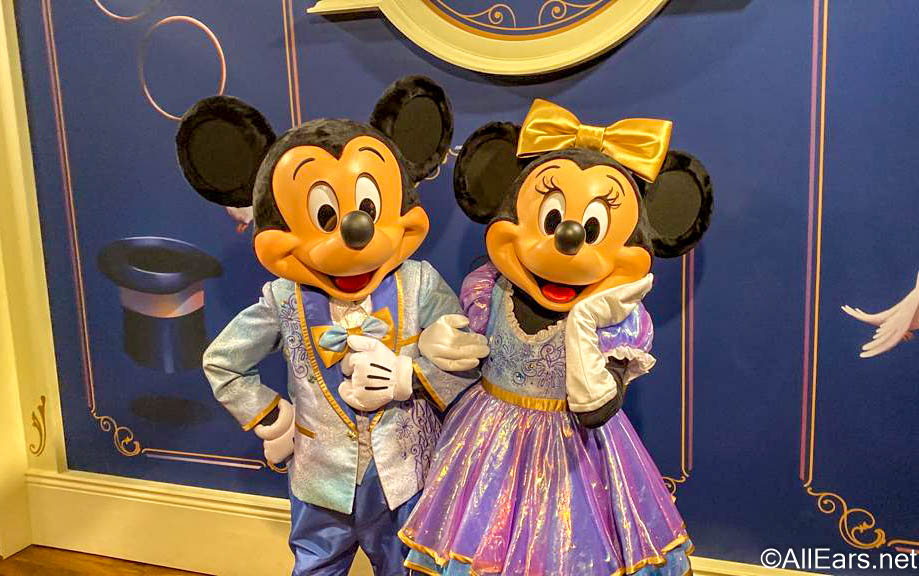 If you don't want to wait in line, you can always wave at characters as they pass by in cavalcades or the Festival of Fantasy Parade.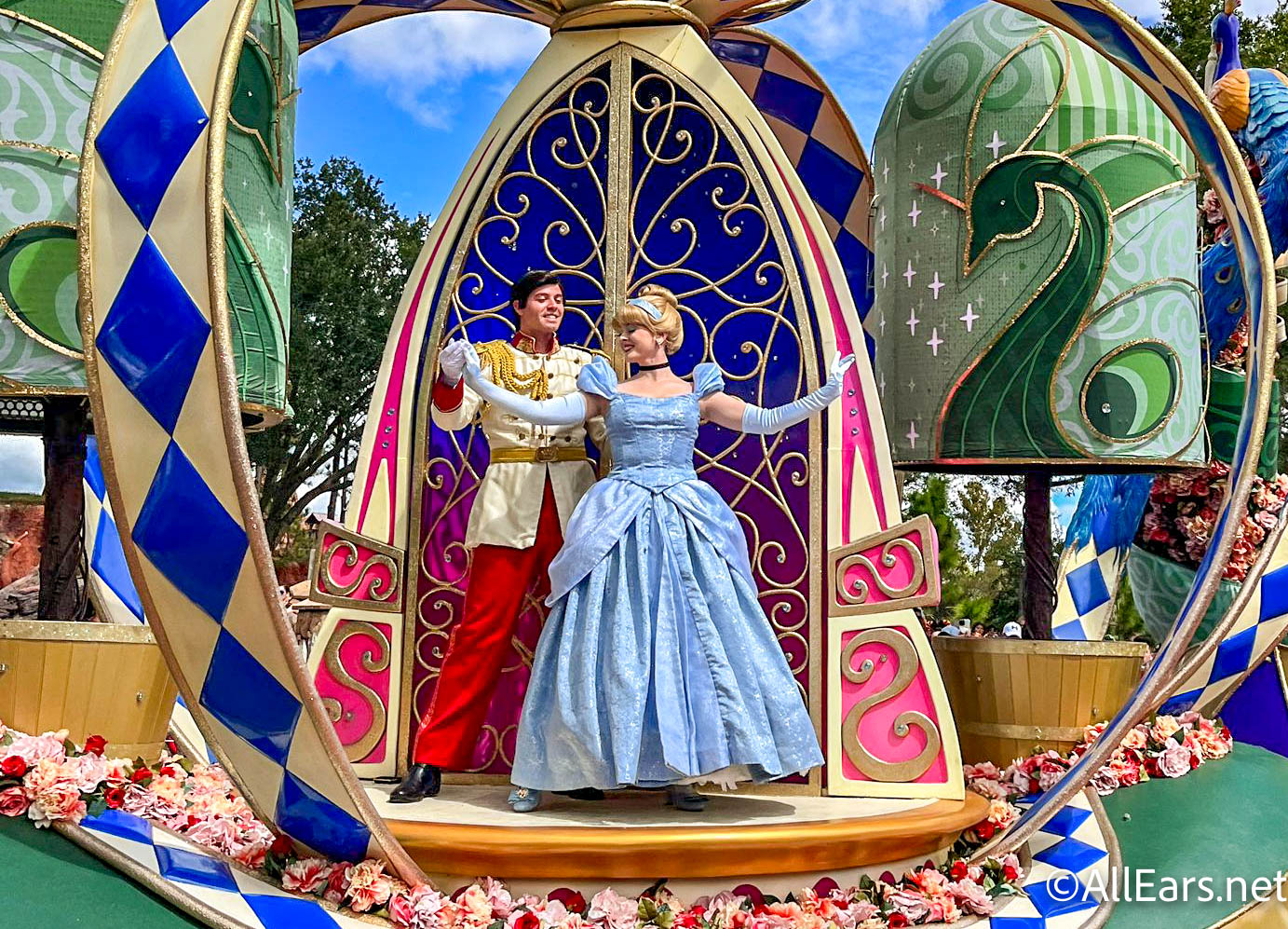 Now that we've addressed all of the attractions you need to prioritize and some of the characters you might want to see and where to find them let's talk about FOOD!
Magic Kingdom is full of bright colors, life-size characters, and yes that notorious seas of strollers around the carrousel in FantasyLand.  It may seem like the only dining options here will be burgers and chicken nuggets (which are delicious but not always romantic). So, where can you find an atmospheric meal in Magic Kingdom? Believe it or not, there are a couple of impressive options! If you're dying for a date night inside a castle (perfect for a Disney marriage proposal *wink, wink*), then you'll want to make sure you earmark your 60-day window to book reservations at either Be Our Guest (dining in the Beast's Castle) or Cinderella's Royal Table (inside THE Cinderella Castle)!
Some other table service restaurants we enjoy (dare we say even more!) are Skipper Canteen for something more unique or Tony's Town Square Restaurant to channel those Lady and the Tramp vibes over a plate of spaghetti.
If you don't want to spend your precious park hours sitting at a table service and are looking more for a meal on the go, there are some great quick service options that keep us coming back time after time! We love having a cinnamon roll for breakfast at Gaston's Tavern, some delicious corn dog nuggets from Casey's Corner, or the scrumptious Nutella Fruit Waffle from Sleepy Hollow Refreshments.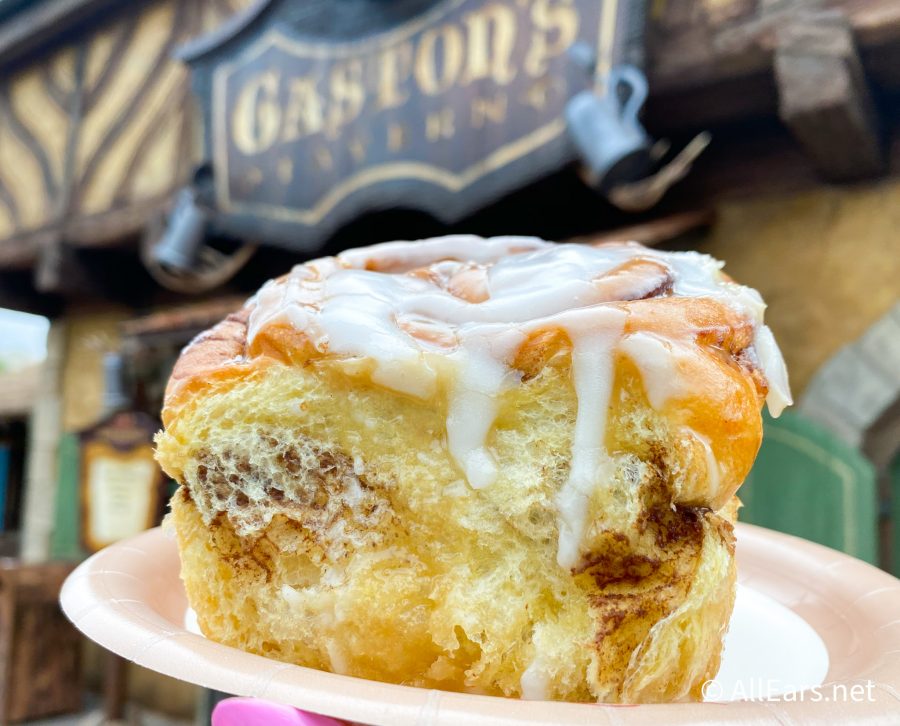 But some other quality eats can be found at Columbia Harbour House, if your looking for a nice salad or some fish and chips options. Pecos Bill always delivers if you want something to fill that Tex-Mex craving, Cosmic Ray's has those theme staples of burgers, fries, and chicken nuggets.
Night-Time Shows
Since you don't have a bedtime, stay late and close the park down in style with a dazzling fireworks show!  Disney Enchantment is currently dazzling the Magic Kingdom sky, but we recently learned that a reimagined Happily Ever After will soon be returning!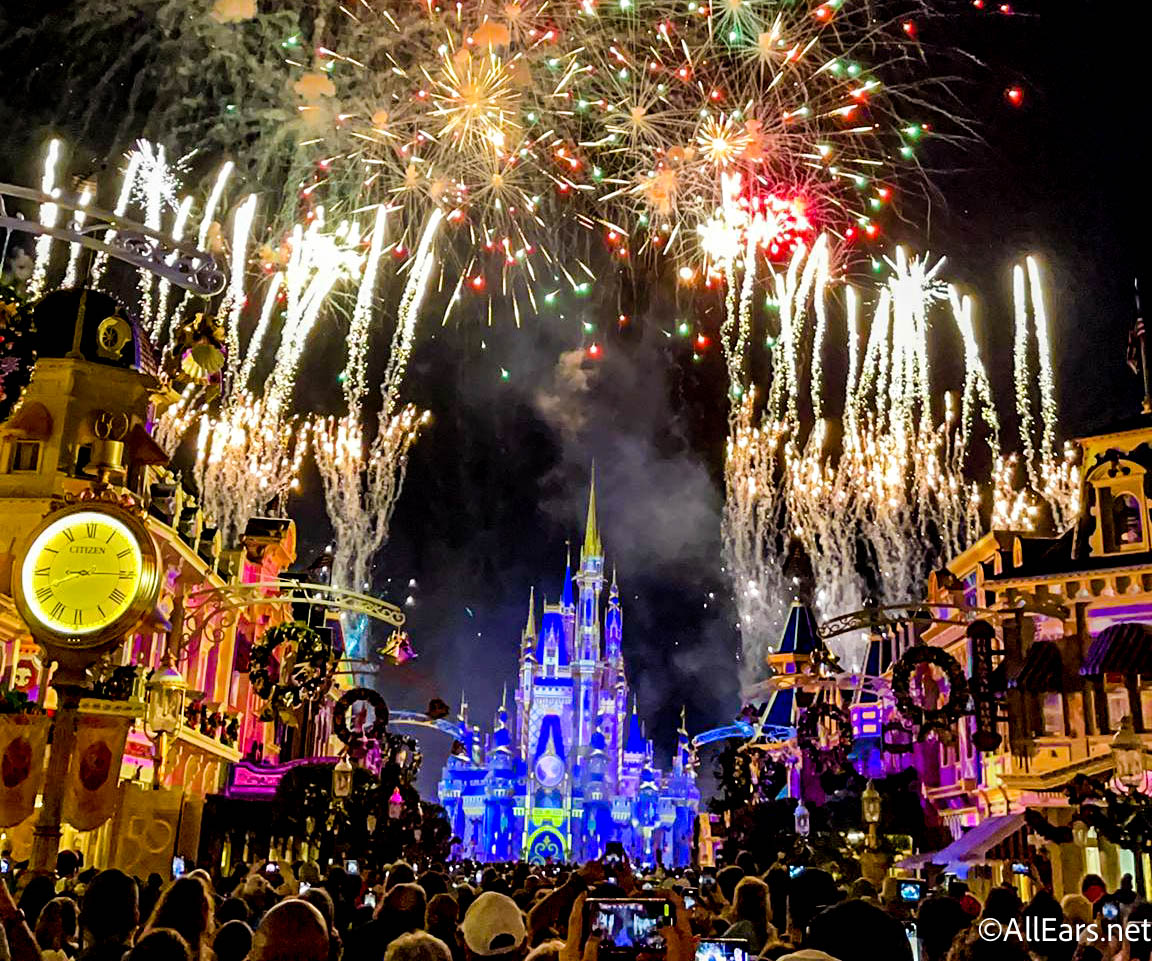 If you're a firework fan and want the best view of the show, you'll want to stake out a spot on Main Street, U.S.A., at least 30 minutes before the show starts. If you enjoy fireworks, but not crowds, then you might want to squeak around to the back of Cinderella Castle for the show. You'll miss out on the projections, but have A LOT more elbow room to enjoy the show in the sky. P.S. This is another great option for poppin' that question.
A Little Something Extra
If you have the time in your trip and the funds in your account, consider booking an extra event, like a Capture Your Moment photo session with just you, your sweetheart, and a dedicated Disney Photopass Photographer, $100 for a 20-minute session. Or a Keys to the Kingdom Tour for a 5-hour guided tour of all the details and Magic of the Magic Kingdom for $114 per person.
Adult day at Magic Kingdom park is in the books! Whether you snuggled with your person on the Haunted Mansion, or just watched Hall of Presidents 7 times in a row (because there's nothing more romantic than your love for your country), it's your day, so you do you!
EPCOT might be known as the "adult" park at Disney.  International cultural experiences, drinking around the world, and Disney-coined edu-tainment doesn't mean that this park isn't family-friendly, but there is definitely some big appeal for adults, here.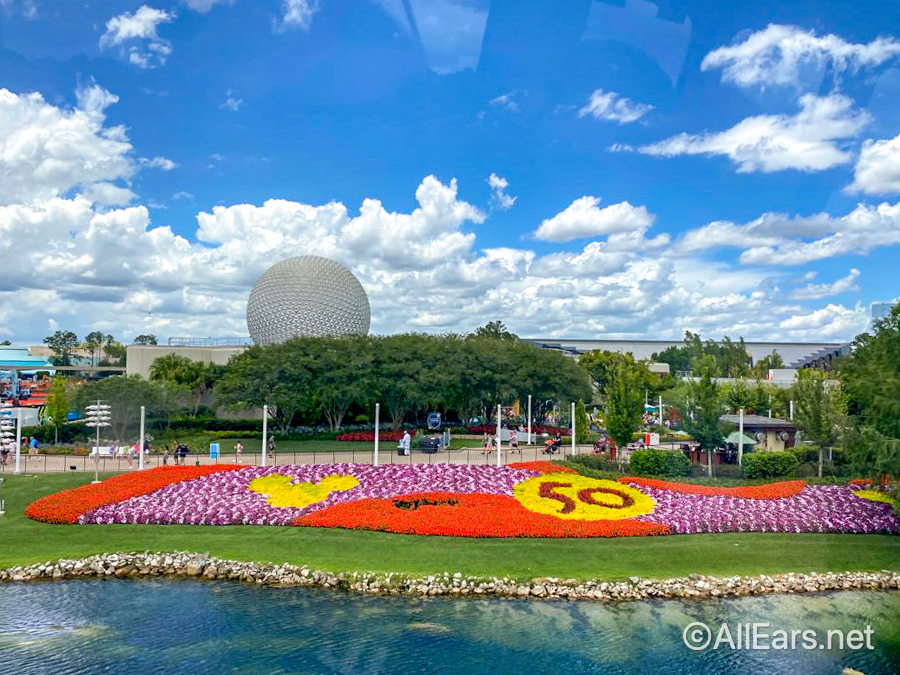 EPCOT is also the home to the newest attraction to open in Disney World, Guardians of the Galaxy: Cosmic Rewind, which is packed with fun thrills and nostalgic throw-back tunes that totally vibe with older generations.
There is a lot to see and do in EPCOT, but not a ton of attractions. So though you can definitely use Genie+ here to skip some of those longer lines at the most popular attractions, you probably don't need it to check off everything on your list.
Disney World's newest attraction (for now…) opened here in Spring 2022, Guardians of the Galaxy: Cosmic Rewind, a groovy indoor coaster with an even groovier soundtrack. It's currently using the Virtual Queue or Boarding Pass system, so you won't be able to just hop in line here, you'll have to study up and have quick fingers on your phone to secure a spot in the Virtual Queue at either 7AM or 1PM. Your other option is to come out of pocket and pay for an Individual Lightning Lane.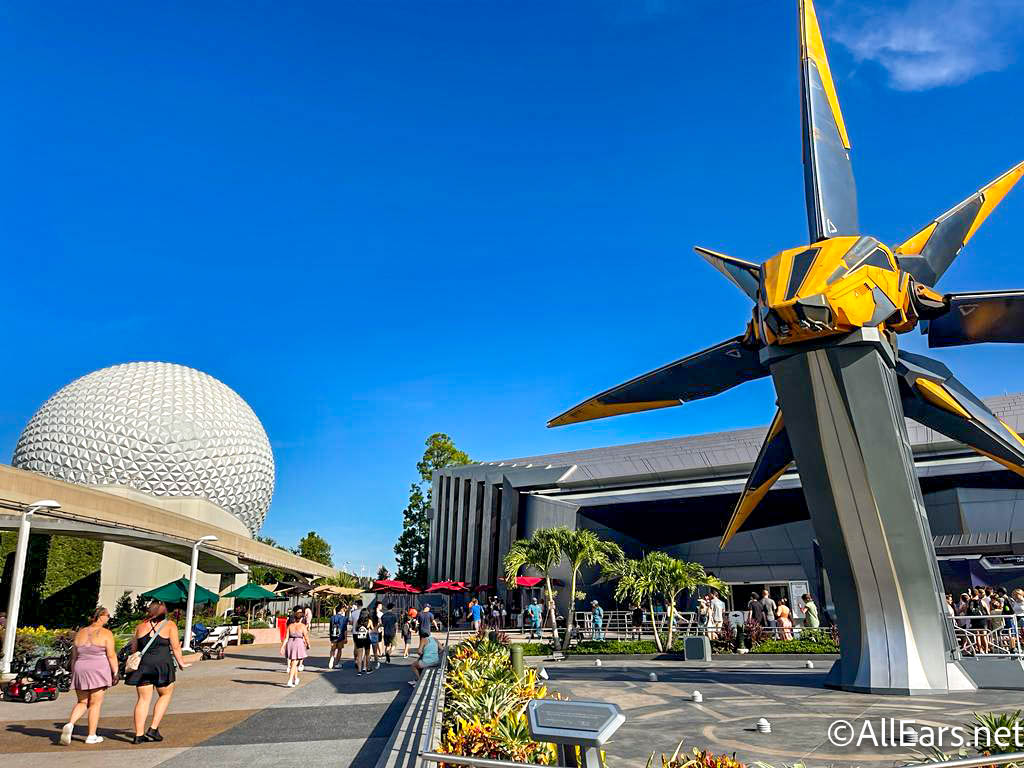 The most popular rides you should prioritize are:
Frozen Ever After isn't the most thrilling, and adults who aren't chompin' at the bit to see Arendelle's royal sisters could just skip this attraction from their list. It's a fun, charming ride, but doesn't qualify for an adult must-do, unless you love Frozen. After you've completed these must-dos, there are some other classic EPCOT attractions you should make time for.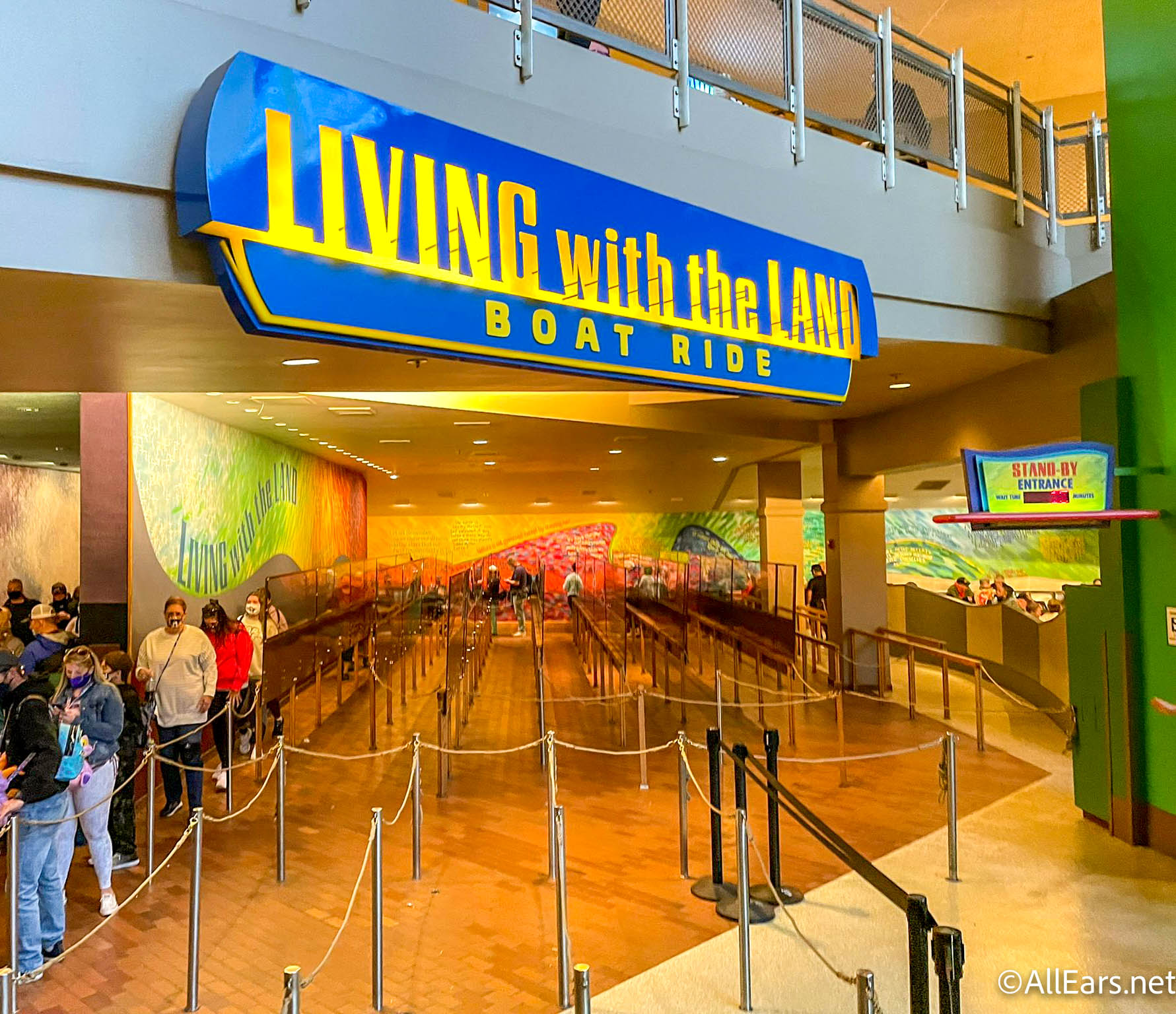 In the same vein as Frozen Ever After, Journey into Imagination with Figment also doesn't meet the criteria for an adult must-do unless you're an 80s EPCOT kid and are a die-hard Figment fan. Similarly, The Seas with Nemo and Friends isn't an adult must-do, but if you skip the ride, we still recommend taking some time to explore Sea Base Alpha, which is the second largest aquarium in the US, with a total tank volume of 5.7 million gallons and houses 8,500 animals. But if you need an excuse to cuddle up close to your person, then, by all means, board that Clamshell in Nemo — but don't blame us if you get "Big Blue World" earworm stuck in your head for the rest of the day.
If you need an escape from the heat or maybe a spot to sit down and enjoy a show, resting your weary tootsies, there are some beautiful shows that capture the education, culture, and creativity EPCOT was built on: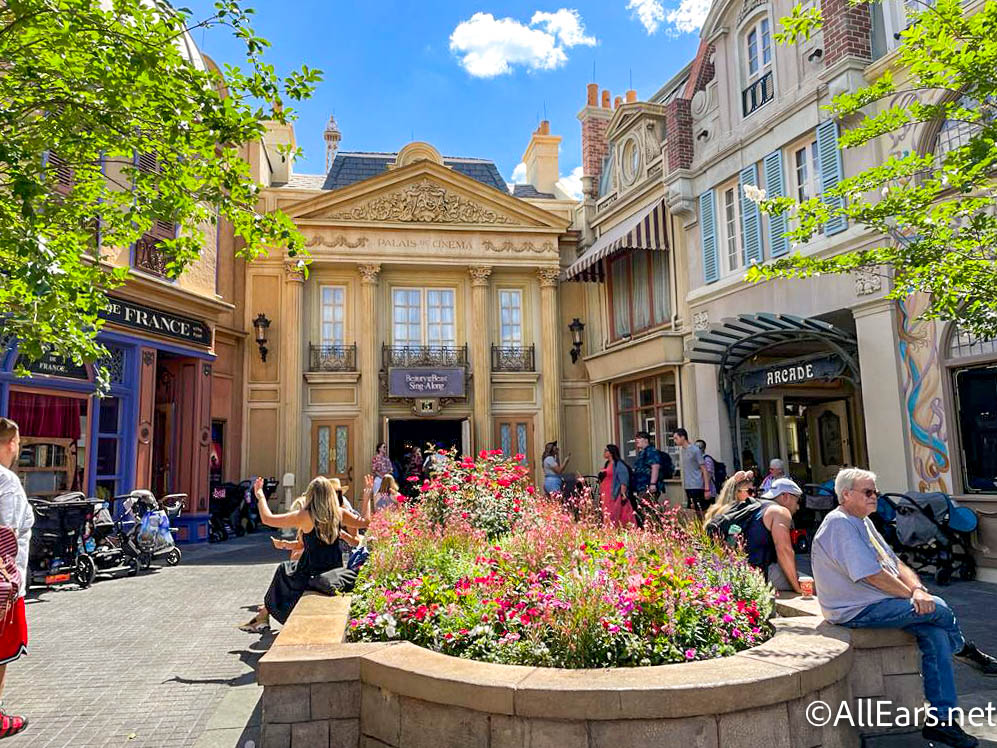 Each show tends to run about 20 minutes long, so you won't have time to do them all in one day plus all of the rides and pavilions you'll want to be sure to check out. But these are nice and entertaining respites from the walking and the heat and might help give you some time for digesting in between snacks around World Showcase.
And, of course, you'll also find various entertain around World Showcase, like the Mariachi Cobre in the Mexico Pavilion and Sergi in the Italy Pavilion. These entertainers don't just add some zip to their pavilions but are amazingly talented and worth stopping to appreciate.
We know, you're in EPCOT to ride Cosmic Rewind, and gorge yourself on snacks and drinks around the world. No? You want some more stuff to do in EPCOT?  How about meeting your favorite character?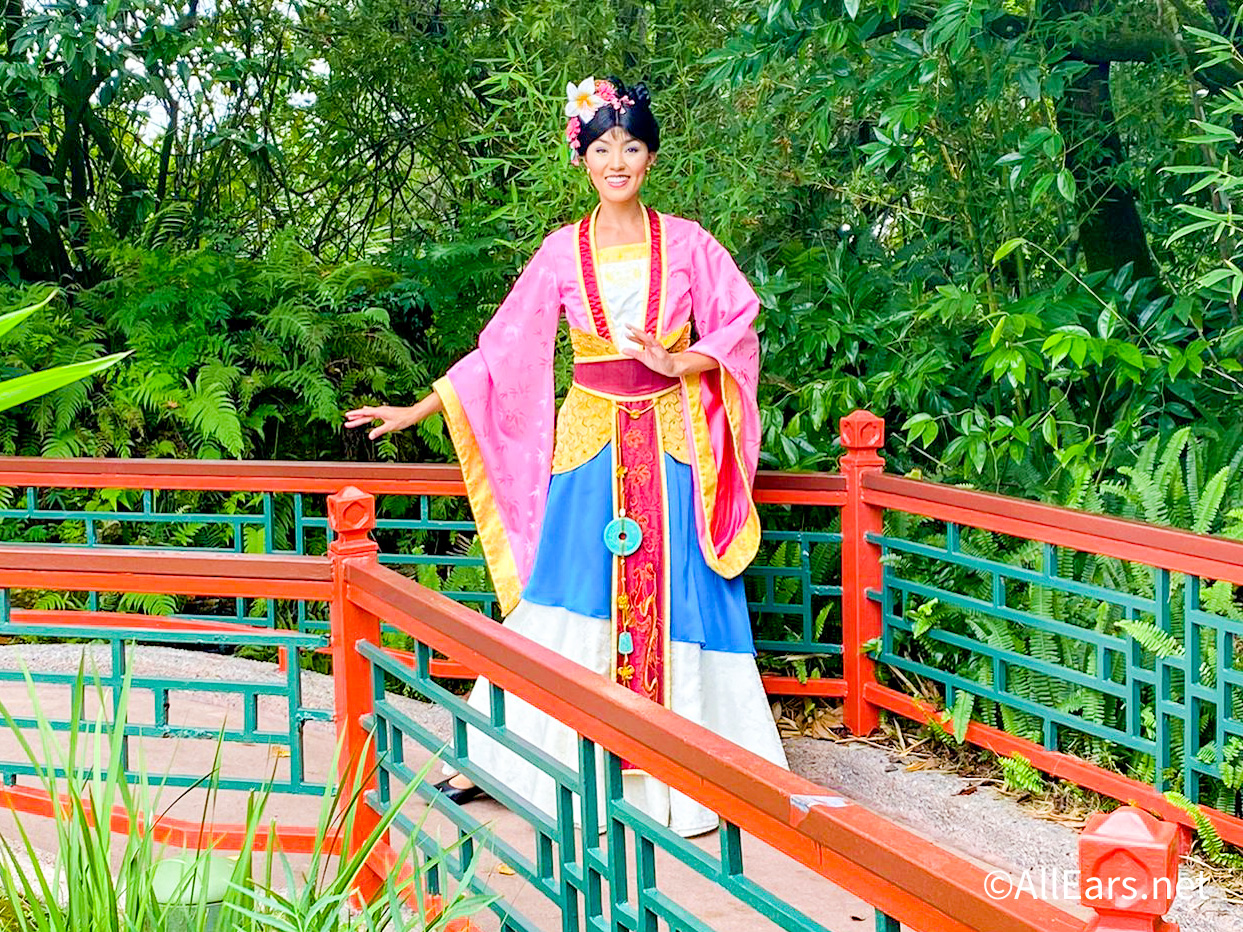 If you'd rather avoid standing in line to meet characters,  you can always book a Character Meal. Garden Grill has Mickey, Pluto, Chip, and Dale in their farmer's outfits greeting their guests. And Akershus Royal Banquet Hall is host to a number of rotating Disney princesses where you can usually find Ariel, Snow White, Aurora, Belle, and Jasmine.
You might find some characters wandering the grassy knoll outside the Imagination Pavilion, near the International Gateway in between the UK Pavilion and France, or on the outskirts of the American Adventure Pavilion. Don't let the kids have all the fun, you can hug Donald, too!
What might be one of the most perfect Disney date night options is to spend an evening wandering around World Showcase. Whether you munch at various Festival booths or make a reservation for a cozy, sit-down meal,
Since EPCOT is host to some of the most popular dining experiences, this is another situation where you'll want to mark your 60-day calendar to book those reservations. For those must-do table service meals, we recommend Le Cellier (if you want a really good steak or gourmet poutine), Space 220 (for an immersive and truly unique experience eating in space), Via Napoli (for authentic pizza and Italian cuisine), Biergarten (for an all-you-care-to-enjoy Oktoberfest celebration), and we'll always sing the praises of Garden Grill for its food and its character interactions!
If you want something a bit quicker, Regal Eagle Smokehouse in the American Pavilion delivers some tasty BBQ; Les Halles in France is a great spot for a sandwich, quiche, or pastry; Yorkshire County Fish Shop in the UK offers classic fish n' chips; and Connections Cafe & Eatery has a great selection of a very broad menu!
If you do visit EPCOT during one of its four festivals, explore the menus to find some tapas-size snacks. You can make a meal out of just snacking around the world. And EPCOT is home to some of our favorite snacks as well, like the School Bread at Kringla Bakeri Og in Norway or the caramel popcorn from Karamell Kuche in Germany.
And you can't forget about the popular challenge to drink around the world. Though you do need to exercise responsibility (have a designated driver, stay properly hydrated, and don't over indulge), but there are a lot of fun and unique drinks to try around World Showcase.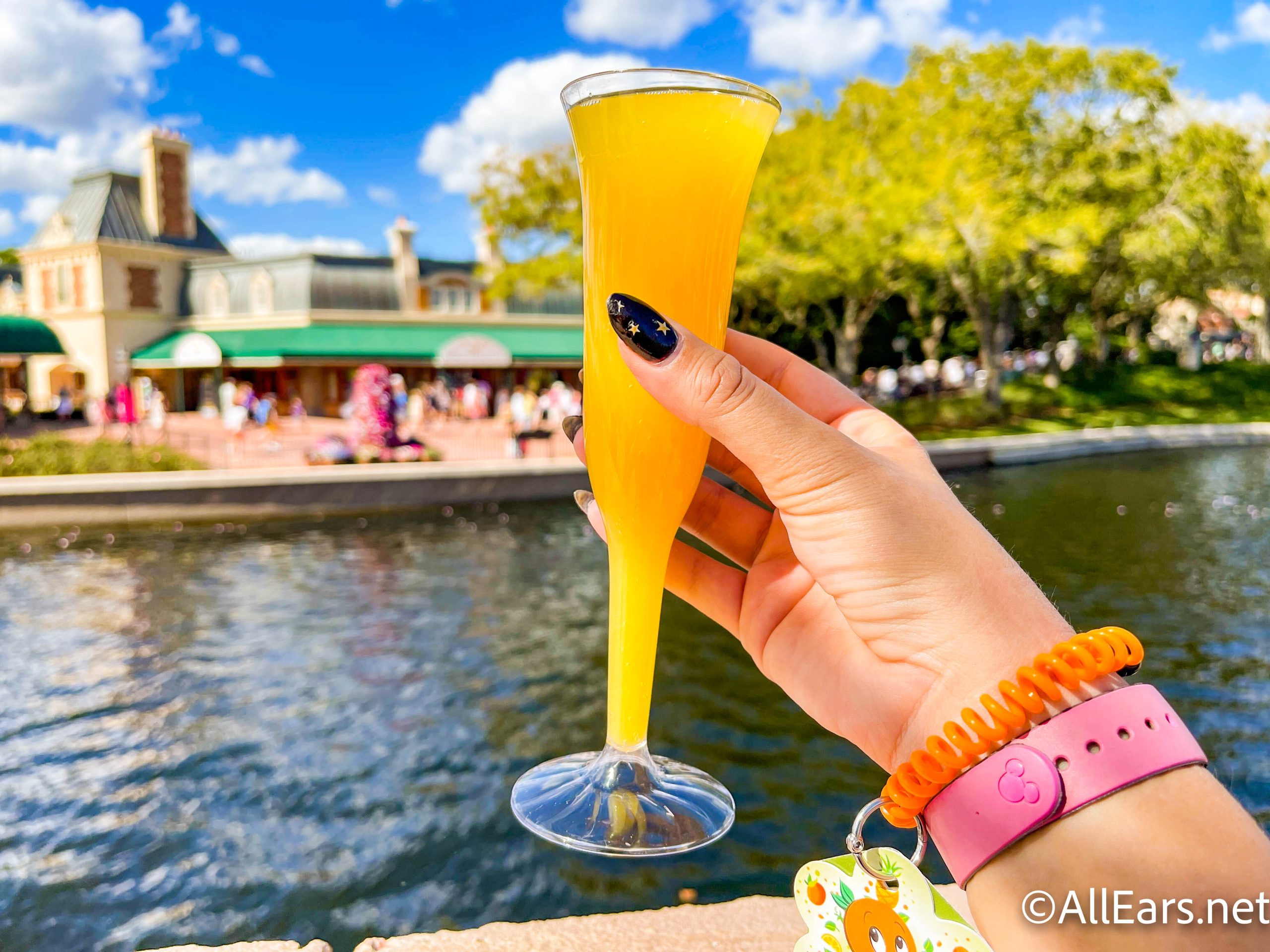 La Cava del Tequila, in the Mexico Pavilion,  not only has some amazing margaritas, but you can also (for a bit extra) experience a tequila-tasting seminar. Tutto Gusto in the Italy Pavilion has some authentic Italian wines (and wine flights for the indecisive), which pair well with their charcuterie boards! And Rose and Crown Pub, in the UK Pavilion, give you that real British tavern vibe with some killer Black and Tans.
A Little Something Extra
EPCOT also offers a Capture Your Moment photo session if you have a certain international backdrop in mind to commemorate your couple's getaway. Or consider the Behind the Seeds tour in the Land Pavilion. Horticulture may not be your love language, but it's a fun, limited-booking experience that can provide you and your partner with some fun information and unique memories.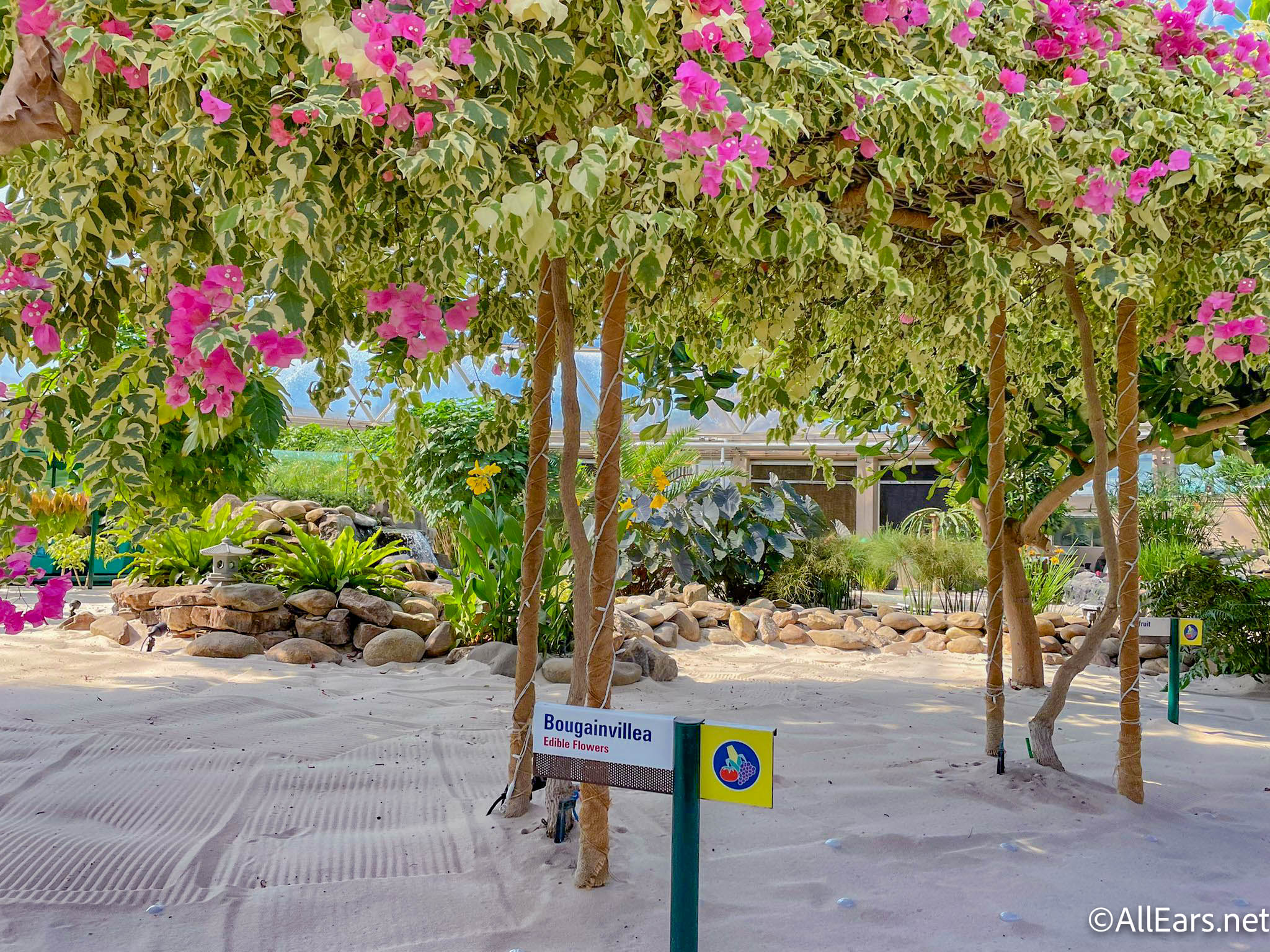 Now that you squeezed in all of those must-do attractions, enjoyed some classic shows, and filled your tummies with international delicacies, what better way to end the night than with a celebration of cultures, music, and fireworks! To sweeten the deal, look into a Fireworks Dining package available at either Rose & Crown or Spice Road Table to secure that perfect view.
And it's not just fireworks. This show includes pyrotechnics, lasers, LED screens, lights, and moving fountains. It's all choreographed to classic Disney songs sung and accompanied by artists from more than a dozen different countries and cultures from around the world. On your way out, stop and watch the Beacon of Light show that lights up Spaceship Earth.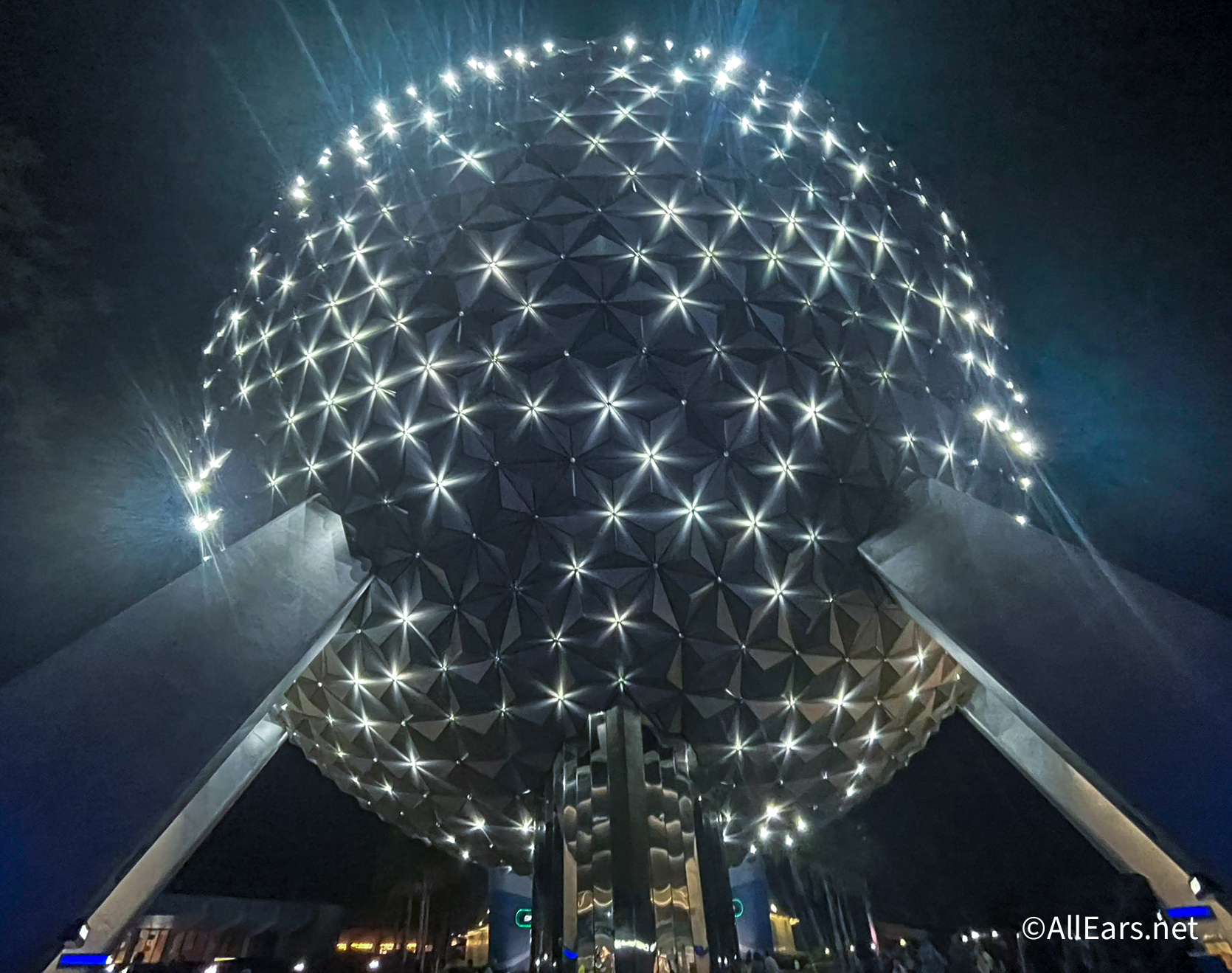 You might just like this peaceful light show better than the fireworks!
Now, here's the real deal tip. After the fireworks, linger a bit, let those crowds dissipate, and take the opportunity to take a leisurely stroll around an emptying World Showcase. Most of the shops and experiences will be closing or closed after the fireworks, but it's still a beautiful view seeing all of the pavilions lit up and less crowded than they were that afternoon!
You've mastered your adult day in EPCOT with some educational experiences, epic and unique foods, exotic cocktails, or other beverages, and don't forget those shows that offer some beautiful entertainment as well as some much-needed air conditioning. That wraps up our perfect day in EPCOT, and now time to prepare for our next perfect day in Hollywood Studios!
Looking for thrills? A nostalgic walk into classic Hollywood? A chance to adventure alongside some of your favorite movie franchises? Welcome to Hollywood Studios, where your entertainment dreams come to life.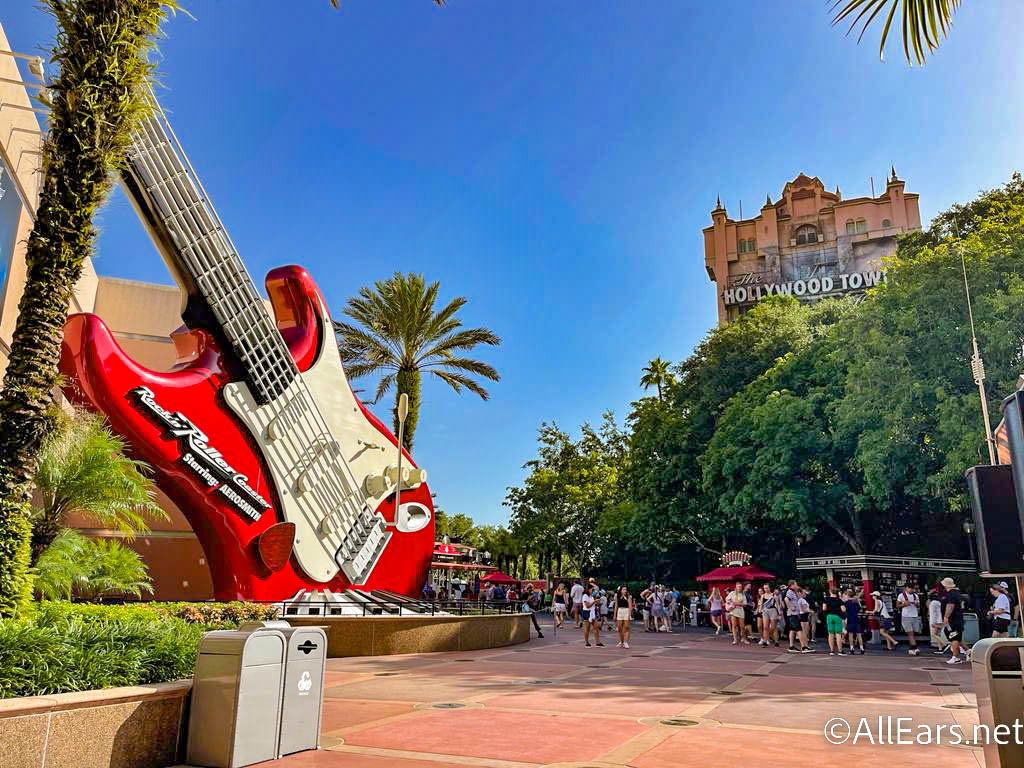 This park contains some of Disney World's most thrilling rides, like Star Wars: Rise of the Resistance, Tower of Terror, and Slinky Dog Dash, and is the other park that we'd recommend you consider getting Genie+ for. We've listed some of the must-do experiences you'll want to prioritize for your day in this park.
Hollywood Studios is packing some thrills, well, Disney-style thrills, so get your lungs ready for some epic yelling opportunities, cuz you'll be squealing either out of terror or joy, but some squealing will take place.
The big hitters in this park are: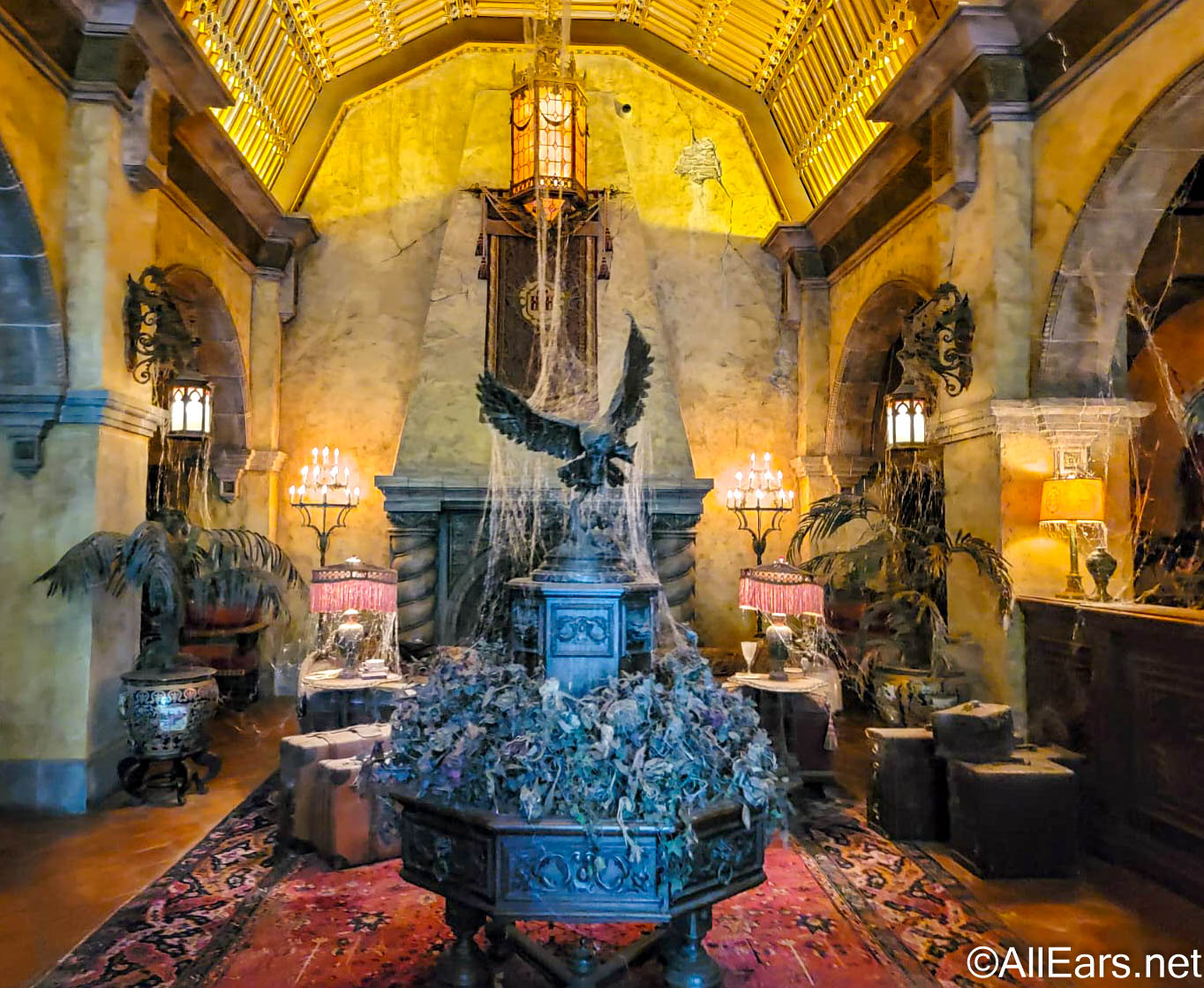 Keep in mind that Rise of the Resistance can frequently experience technical difficulties, so make sure you have a back up plan. Once you've secured your plan for fitting these into your day, there are some solid other attractions you'll want to add in: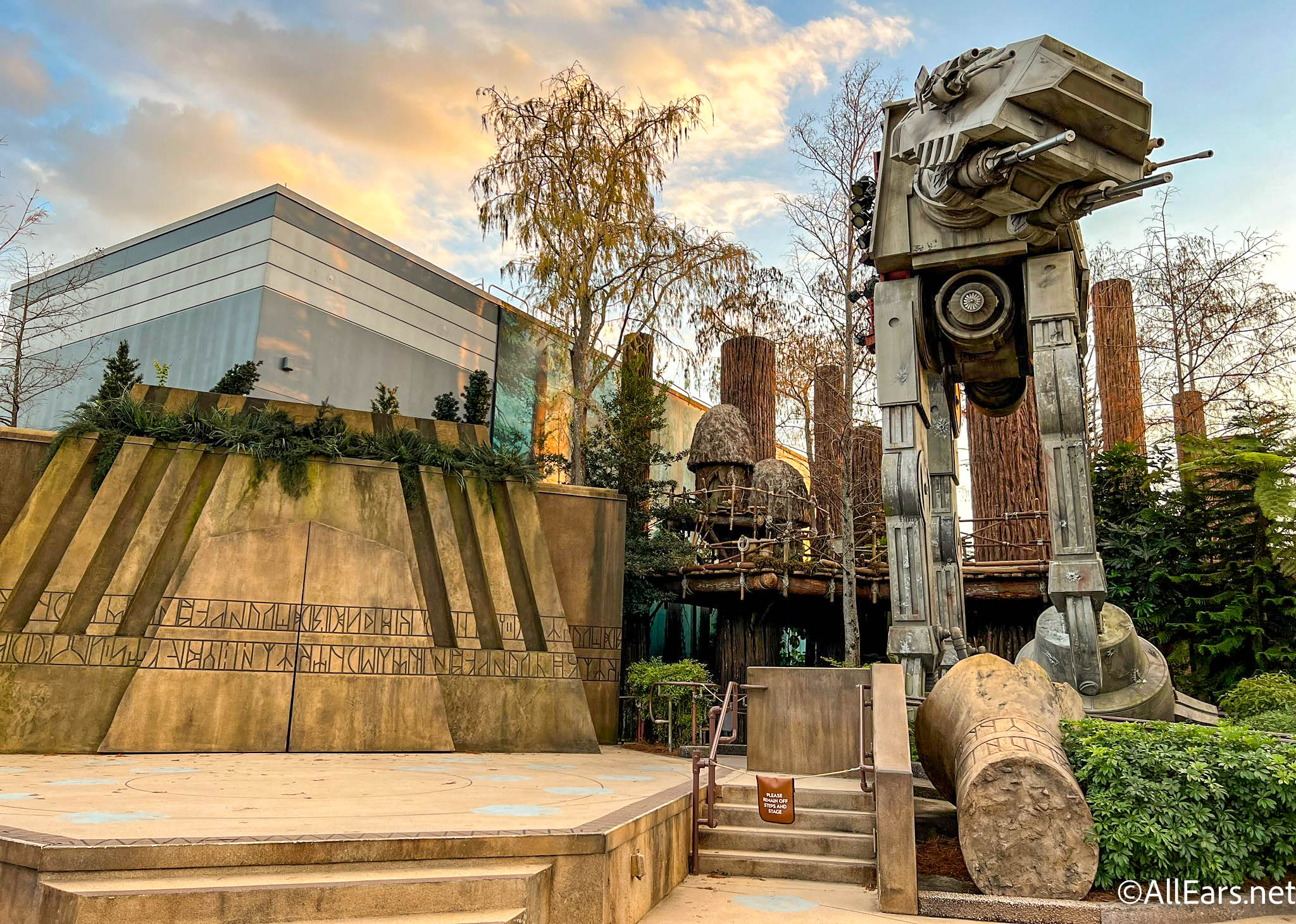 And since this is Hollywood and all about "on with the show," then, of course, there are some amazing shows to consider: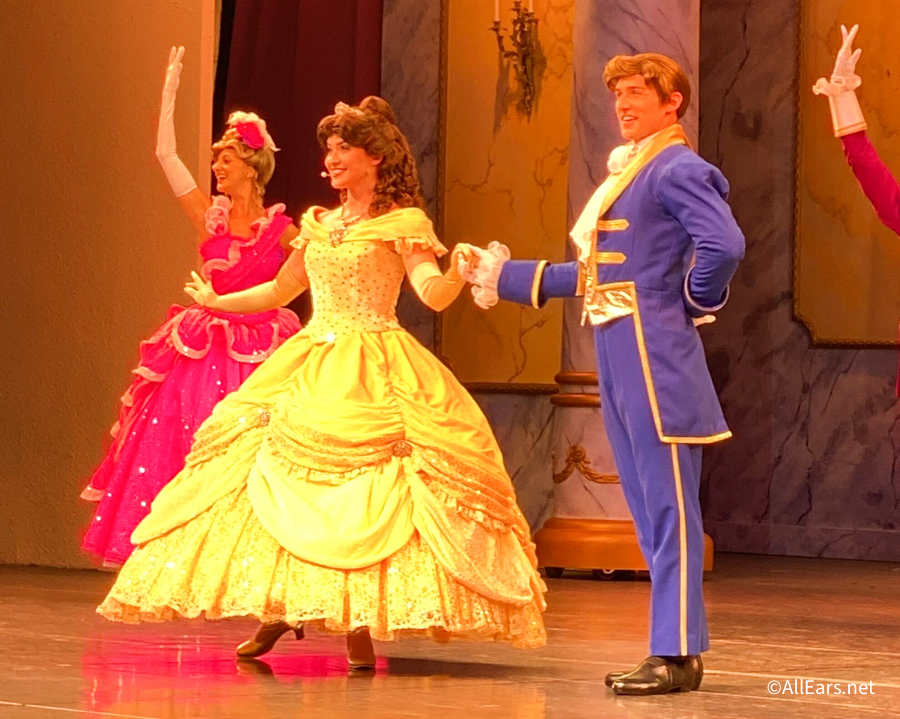 Once again, these shows can run from 20 to 40 minutes, so they offer a nice break from the heat and hustle of park touring, but also take up a huge chunk of time. Our universal recommendation is MuppetVision 3D. Even though the 3D effects are a bit dated, the Muppets are classic, and we never pass an opportunity to visit!
While visiting Hollywood, it just makes sense to run into some celebrities!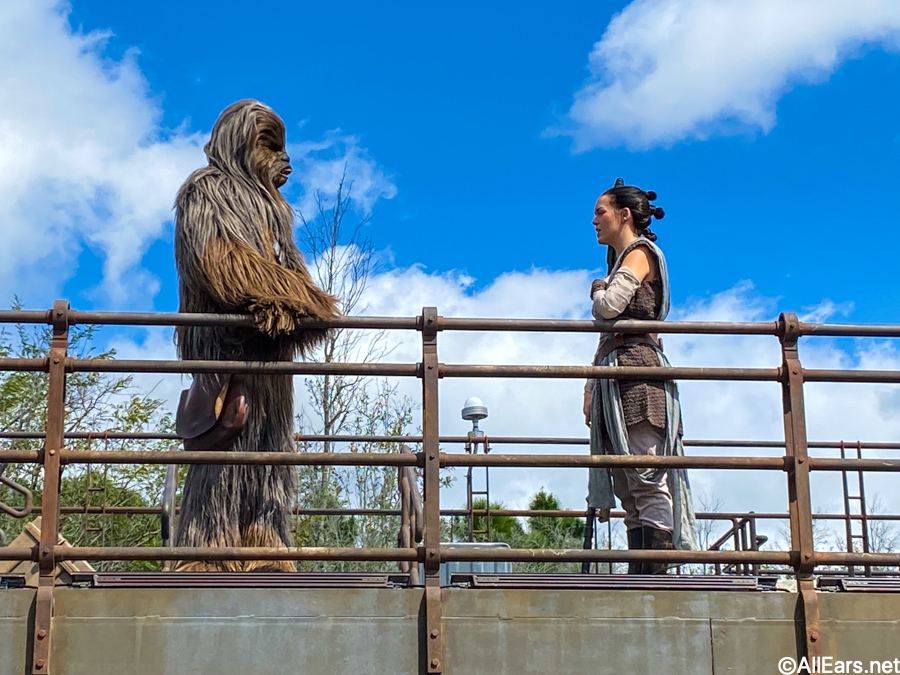 And though you won't necessarily get time for a photo and autograph, you can several Star Wars characters in Galaxy's Edge, like Kylo Ren, Rey, Stormtroopers, and Chewbacca. You may also spot some classic Disney characters like Pluto, Goofy, or Chip and Dale around Echo Lake.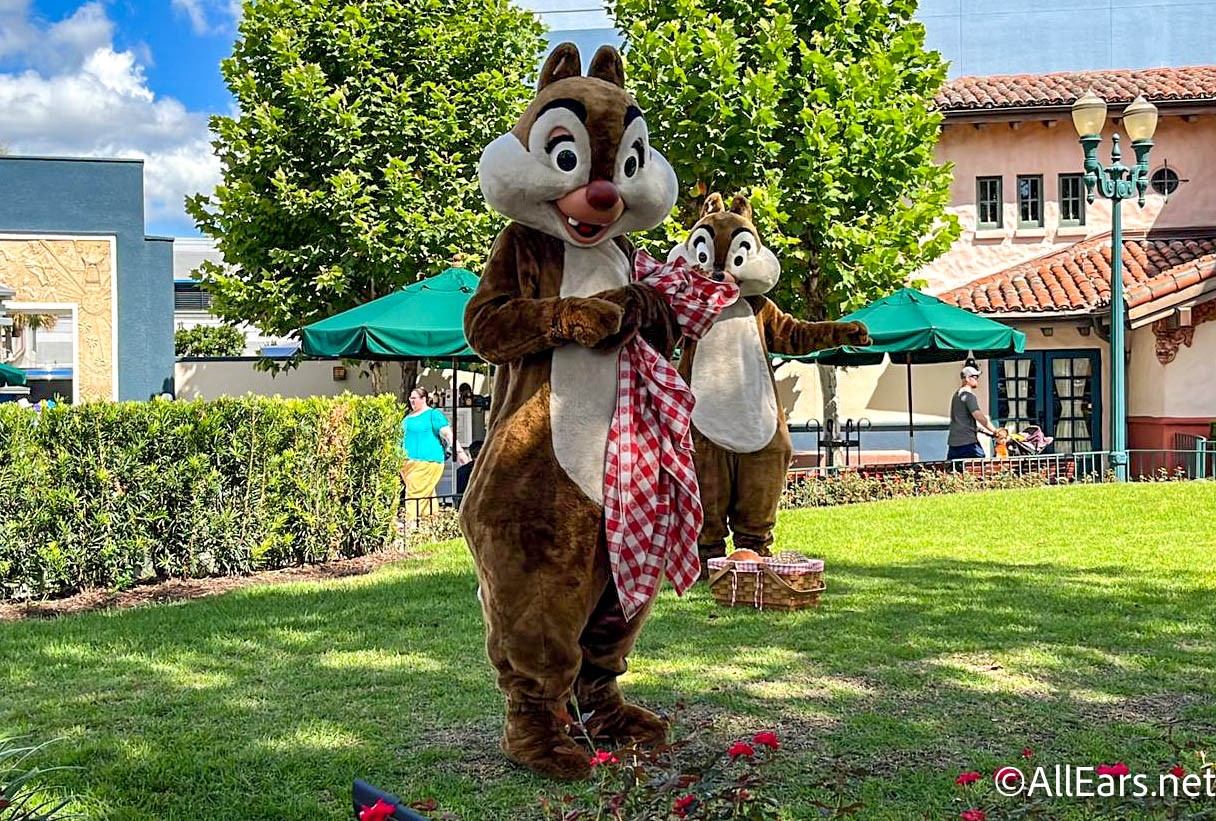 Hollywood and Vine offers a buffet for breakfast, lunch, and dinner with character meetings, if you prefer to dine with celebrities. Breakfast hosts characters from Disney Junior, so adults might want to avoid this meal to avoid the throng of eager preschoolers. While lunch and dinner switch up for Minnie and friends in their seasonal outfits.
Hollywood Studios may currently hold the title on Disney thrill rides, but it is not known for providing thrilling food. There are some noteworthy snacks that we keep coming back to, and some fun restaurants where we honestly enjoy the experience more than the food.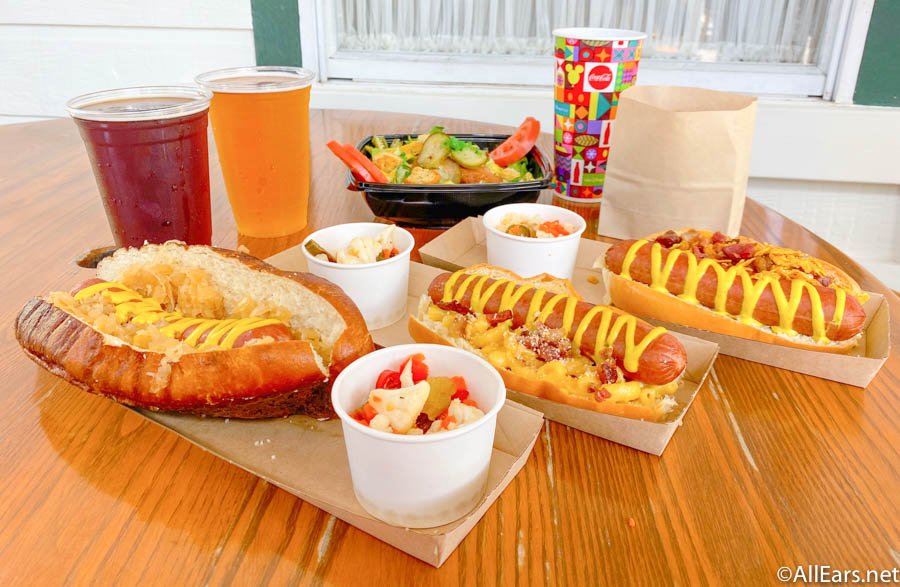 If you're looking for a sit-down, full-service meal, we like Hollywood Brown Derby the best. It's a bit pricey, and a bit hoity-toity, but always delivers a top-notch meal. This is a particularly great meal for adults since its theming is a bit more sophisticated, families tend to flock to the more kid-focused options, leaving this spot (though still family-friendly) a bit lighter in terms of the pint-sized travelers.
For those fun dining experiences and pretty good food, there's 50's Prime Time Cafe, where you dine on down-home cookin' with your "relatives;" Sci-Fi Dine-In Theater, where you eat classic diner food in a stylized drive-in theater show quirky film clips; and Oga's Cantina over in Galaxy's Edge where the vibe and drinks are out of the world, but the food is… not recommended.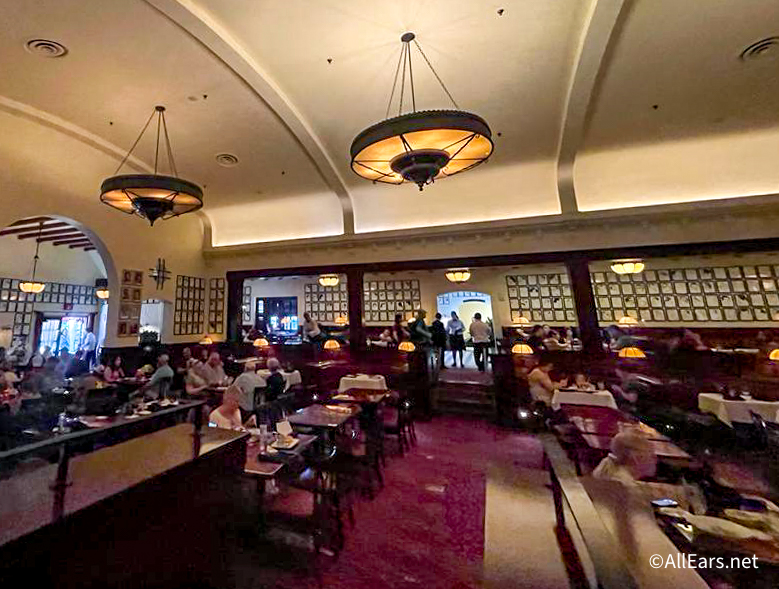 For quick bites, the selection here is pretty standard, nothing super noteworthy. ABC Commissary has had some fun dishes, with the addition of their Shrimp Tacos. The Ronto Wrap in Galaxy's Edge is really good (we like the breakfast version, too!) If you like hot dogs, Fairfax Fare has you covered. And the charcuterie option at BaseLine Taphouse is a solid choice. And for snacks, we gravitate toward the Carrot Cake Cookie at Trolley Car Cafe, Wookiee Cookie at Backlot Express, and Lunchbox Tarts over at Woody's Lunchbox.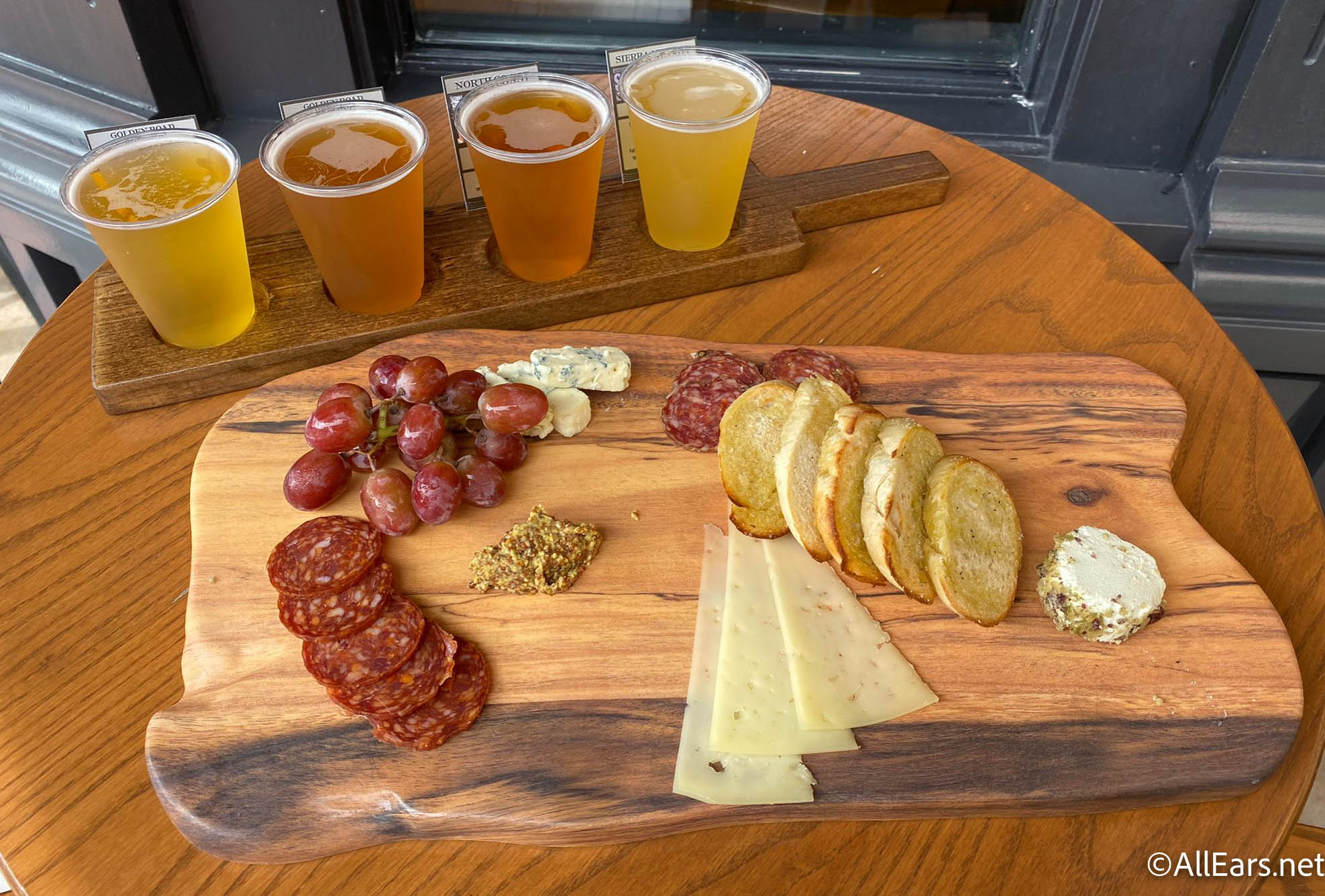 You can find some good food here, but it doesn't really compare with the selection available at EPCOT or Disney Springs.
We touched on some of the lounges here, but Hollywood Studios is host to three of our favorite lounges: Oga's Cantina, Hollywood Brown Derby Lounge, and BaseLine Taphouse. Oga's puts you right into the famous cantina scene from Star Wars: A New Hope. This is not a full-service bar; all of the drinks are pre-mixed, so you won't be able to order your favorite martini or old fashioned here. But the drinks are fun, and there are so many details to enjoy. Just keep an eye on the clock because guests are limited to 45 minutes in the lounge.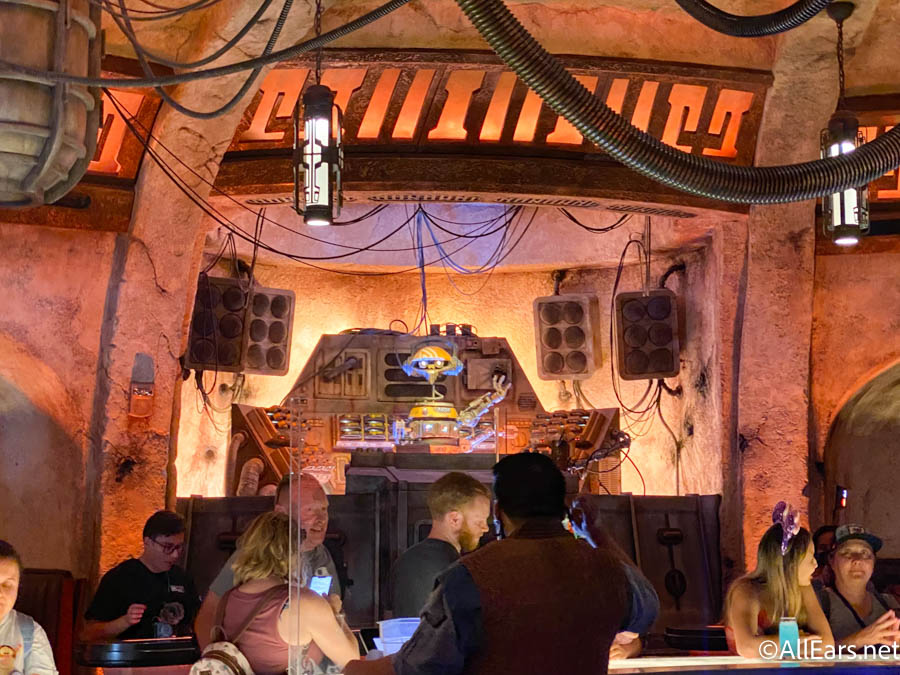 You know that scene in Finding Nemo when the dentist's niece, Darla, is thumping on the aquarium and little starfish, Peach, is reciting the mantra "Find a happy place…find a happy place"? Well, when life starts thumping on us like Darla on the aquarium, our happy place is imagining sipping a cocktail at the Hollywood Brown Derby Lounge patio, enjoying the background music, and people-watching.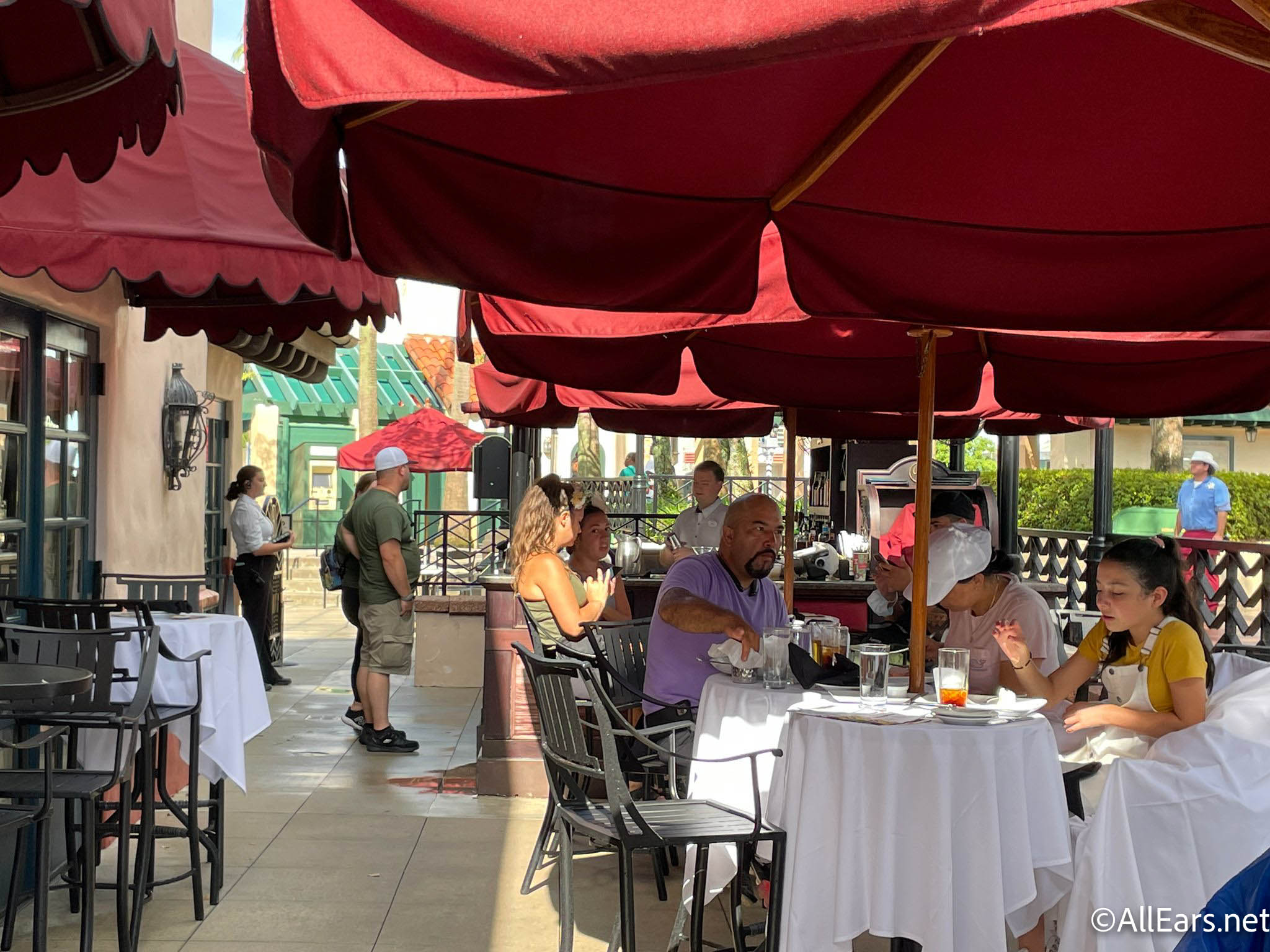 Yep, this can be your happy place, too!
A Little Something Extra
Hollywood Studios also offers a Capture Your Moment photo session if you're looking to capture that silver screen magic in your photo session. Or if y'all discover that you're Force-sensitive while visiting Batuu, then look into booking a lightsaber-building experience at Savi's Workshop. It's not a cheap adventure, but at the end of this amazing interaction, you have a custom collectible and some priceless memories.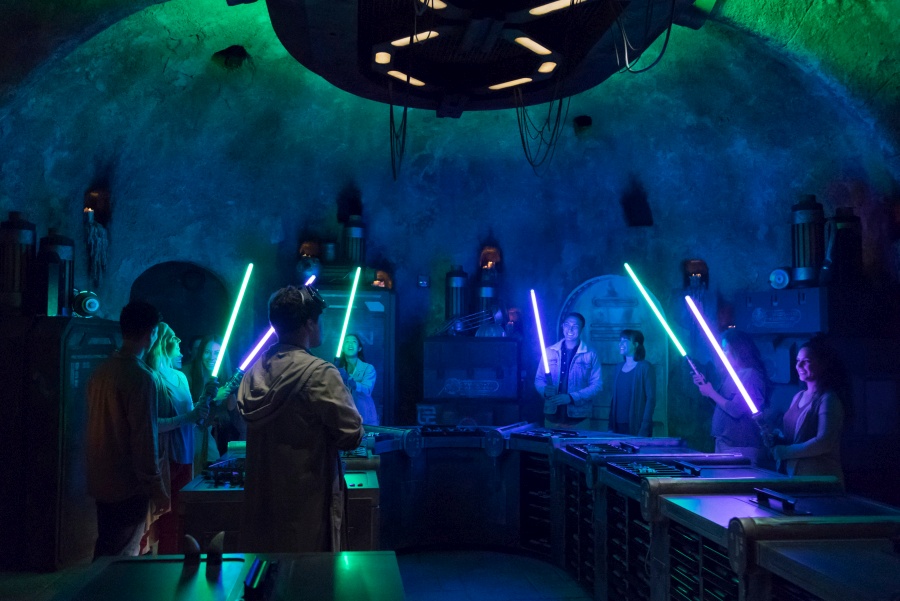 Ok, pry yourself away from the Brown Derby Lounge patio and make your way down Sunset Boulevard, because it's SHOW TIME! Hollywood Studios knows how to put on a show. One of the best ways to finish a day at "The Studios" is with Fantasmic!
This epic nighttime spectacular returned after a long hiatus with some new music and new scenes to overwhelming fanfare! If you love Disney characters, water projections, laser shows, and good triumphing over evil, then this is the show for you!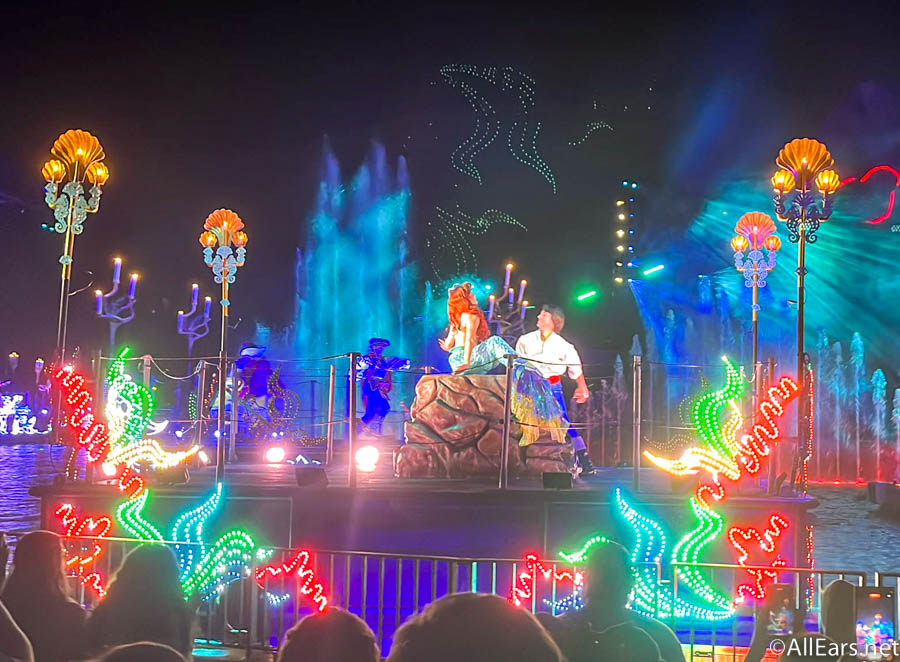 Be aware that you won't be the only one seeking a prime seat for this show. You and your forty-thousand closest friends (ok, maybe not that many, but a lot of folks) will be filing into the Amphitheater for the show. Since this show uses water effects, so unless you want to feel a constant mist of attraction water, you may want to sit a little further back.
All the thrills, celebrities, shows, and epic snacks (not to mention probably saving the galaxy from the First Order a time or two), means you've had a COMPLETE day at Hollywood Studios. That wraps up our perfect day in Hollywood Studios, and now time to prepare for our next perfect day in Animal Kingdom!
Disney's Animal Kingdom is a spectacular theme park unlike anything you have ever experienced! The exquisite detail that Disney is known for shines through in Disney's Animal Kingdom, where landscaping and attention to detail dominate the 500-acre park as it celebrates nature, animals, and the call to adventure.
Animal Kingdom isn't overflowing with rides, but there's plenty to see and do.  Similar to EPCOT, if you keep your eyes open and let yourself wander, you never know what hidden treasure you might stumble across. So, if you're looking for a chance to slow down and stroll hand in hand with your significant other, well, Animal Kingdom gives you that and more!
The main attractions here are… well, the animals (hence the name, we suppose), but there are some you'll want to hit up bright and early to avoid some long lines.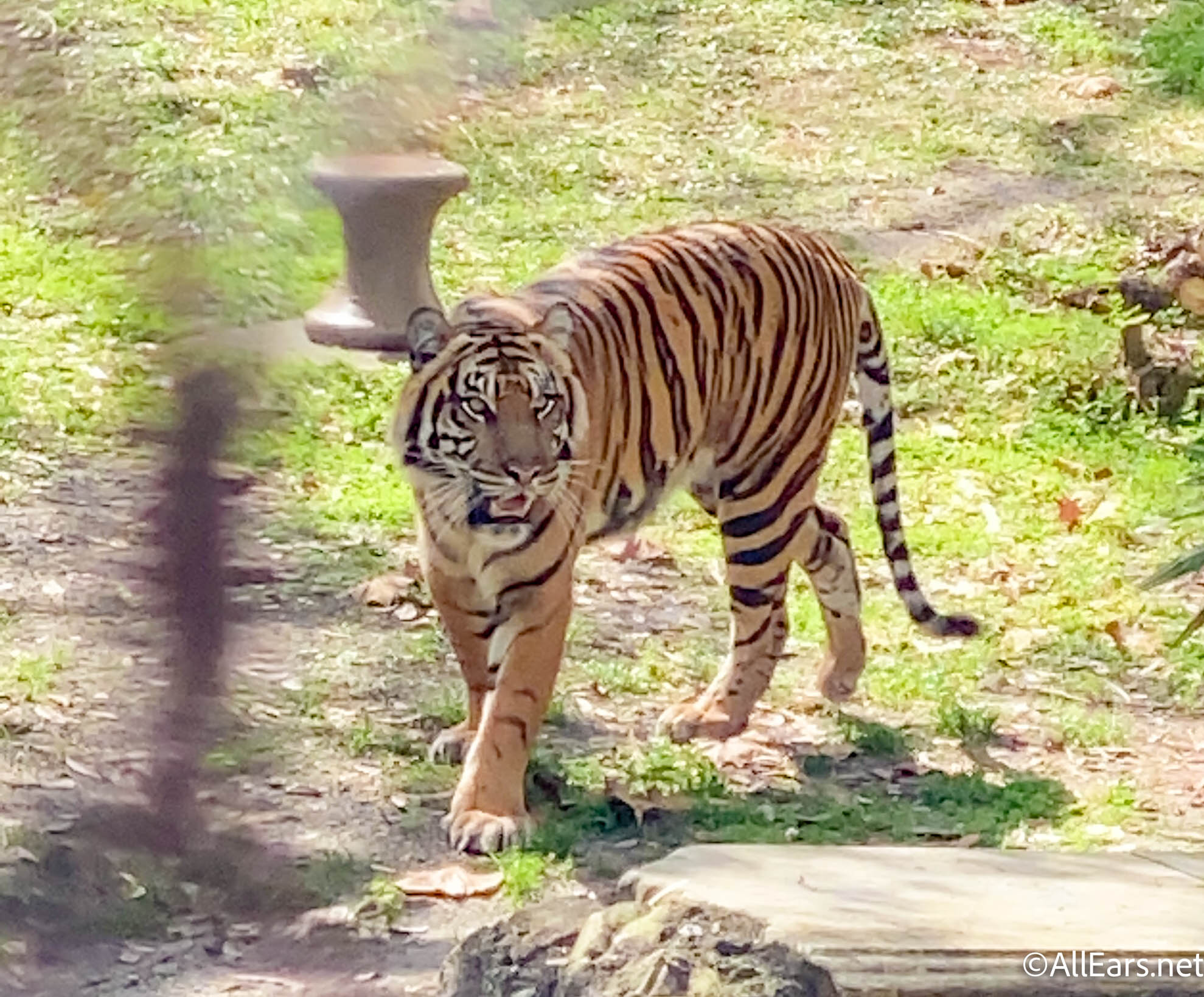 But let's be real, you can re-ride both the Safaris and Flight of Passage (if the line isn't too ridiculous) many times because it just never gets old! Some other attractions might sporadically have long lines, but usually, they're pretty moderate:
Ride Dinosaur now, while you can, because Disney has recently mentioned concepts for retheming this area. So, once again, dinosaurs (and DinoLand) are facing extinction.
On hot days, the line for Kali River Rapids might back up, as folks look for that refreshing splash of attraction water to cool them down.  Expedition Everest can also get a little busy sometimes, but this attraction has a Singler Rider line, which can sometimes be faster! And as we mentioned, there aren't a lot of rides here, but there's still plenty to do.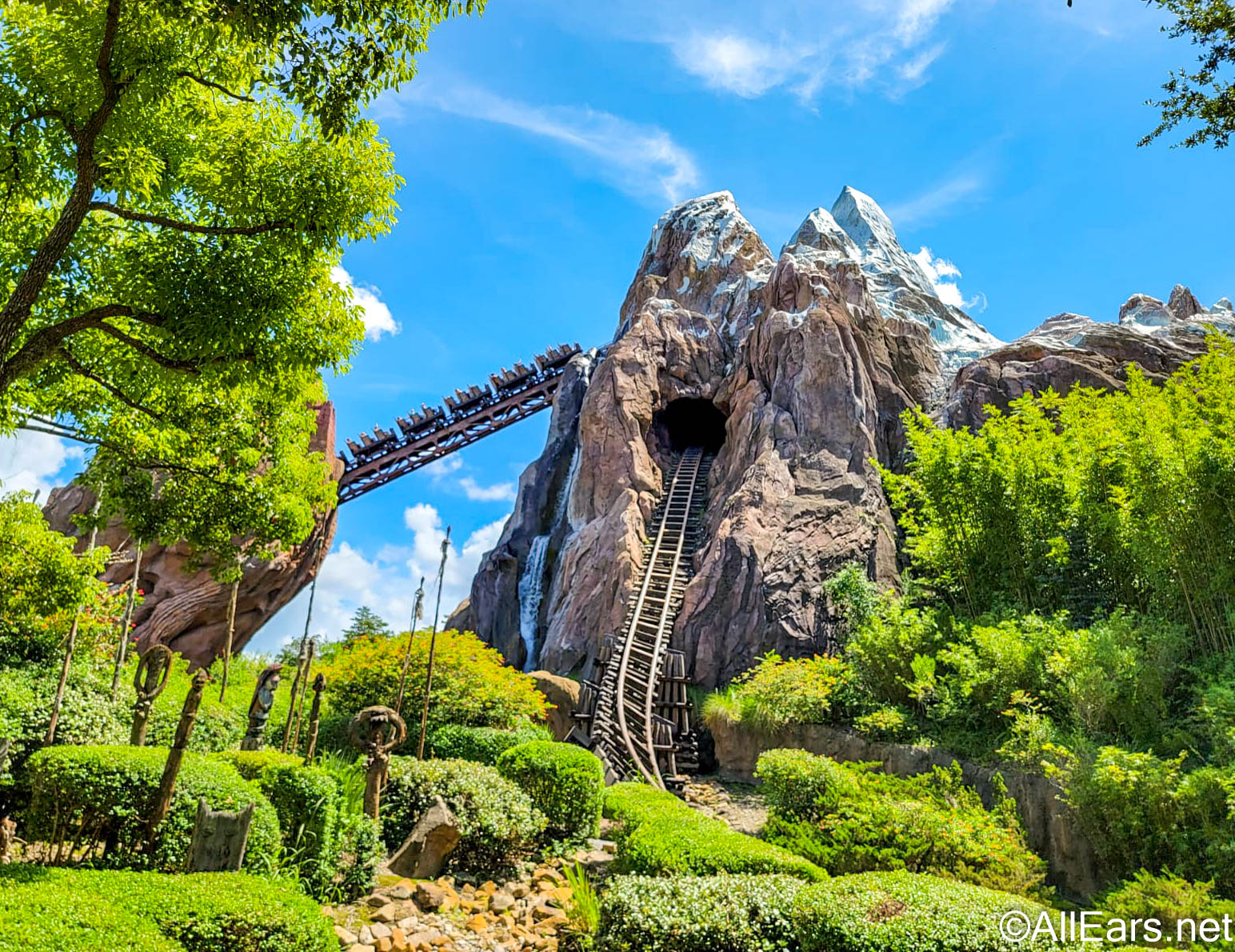 Take time to explore the Discovery Island Trails, Gorilla Falls Exploration Trails, or Maharajah Jungle Trek to see all of the unique animals, creative theming, and storytelling and chat with a Cast Member in the area to learn about these amazing animals.
Then finally, the shows!! Animal Kingdom shows rival those over at Hollywood Studios. Festival of the Lion King and Finding Nemo: The Big Blue… and Beyond!  are both Broadway-style musicals with beautiful costumes, impressive puppetry skills, and fun, toe-tapping tunes. And the aerial acrobatics of the bird performers to Can You Feel the Love Tonight is pretty darn romantic! So grab your honey's hand, but the feelings come at you in this one!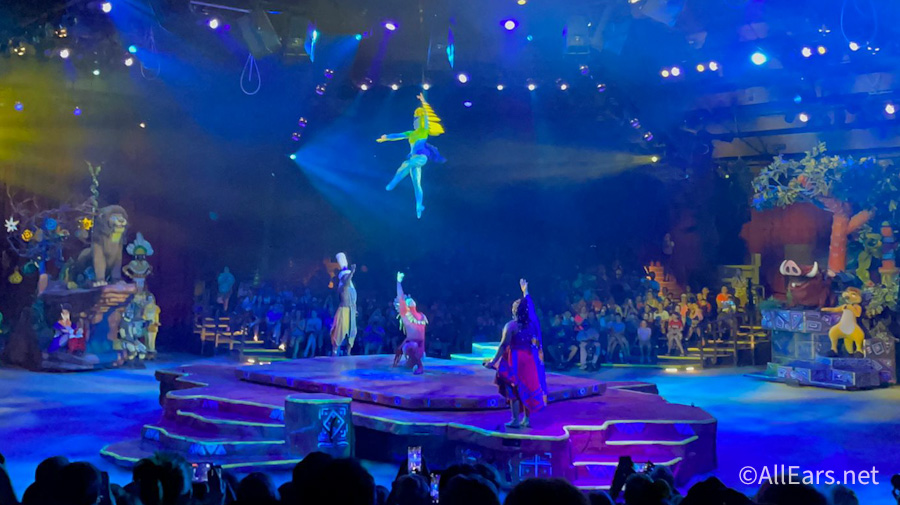 The two other shows in Animal Kingdom, It's Tough to be a Bug and Up! A Great Bird Adventure immerses guests in the worlds of these fascinating and talented animals. If you have a fear of bugs or birds, you may want to avoid these shows, because you may find yourself getting a little more familiar with these creatures that you're comfortable with.
We all know that the animals are the big stars of the show here, and though you can't hug a tiger here, you can still spot your favorite Mouse for a hug, high-five, or quick howdy.
You'll also be able to wave at characters as they cruise around the Animal Kingdom waterways on flotillas. We've classic and unique characters on these festive barges like: Mickey, Minnie, Chip and Dale, Pocahontas and Meeko, Russell and Dug, and Baloo and King Louie.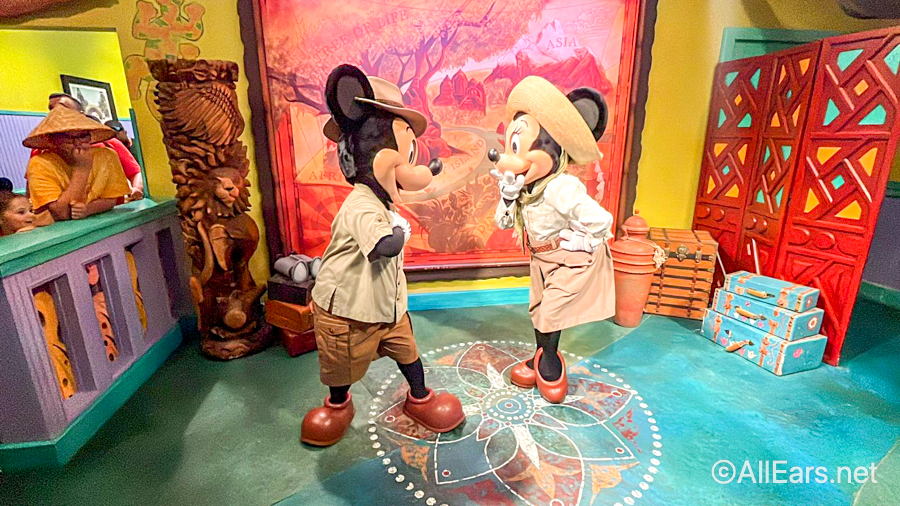 Though not a traditional meet-and-greet, it's fun to see some Disney friends sometimes when you least expect it!
During the holidays, you can also find the holiday animal menagerie, which features some wintery animal puppets that are so adorable you can't help but stop and interact with them.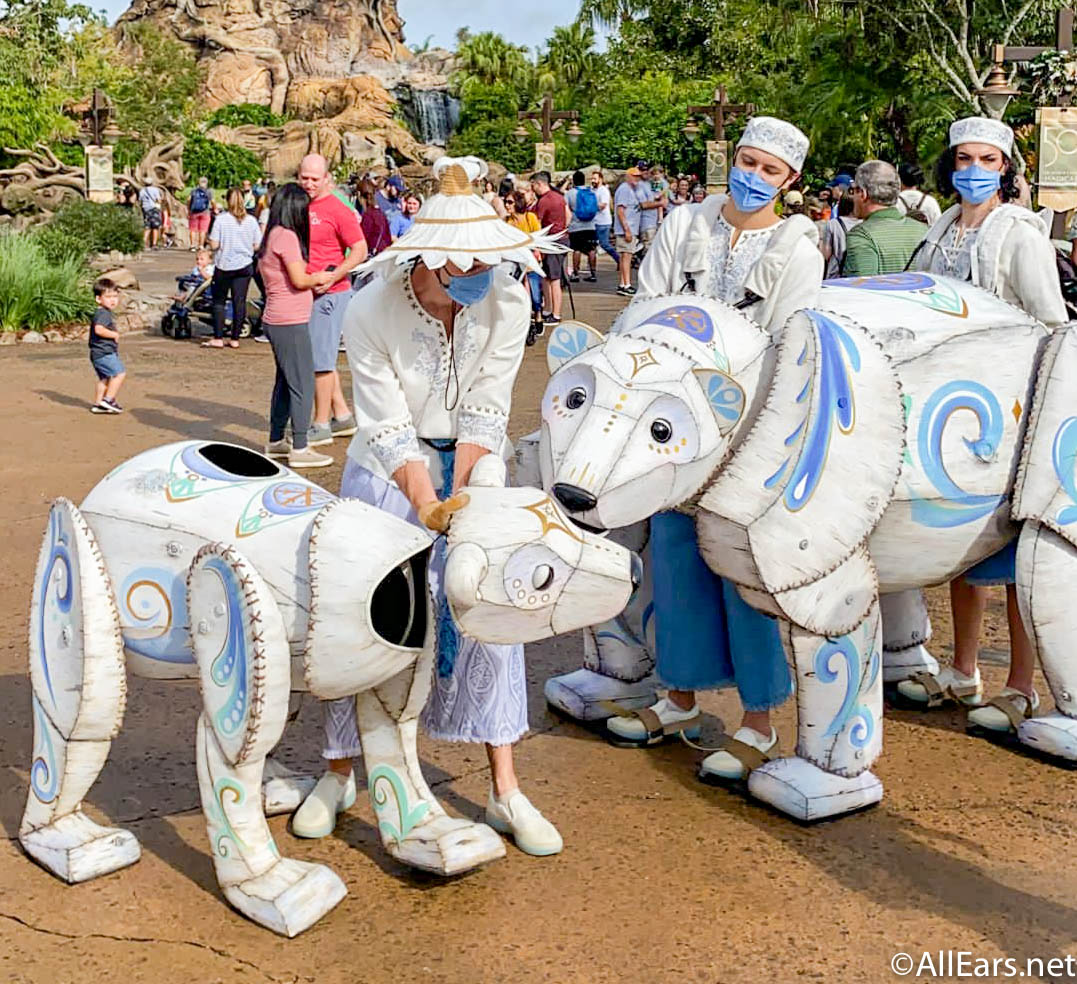 Animal Kingdom winter menagerie for the Instagram win.
Animal Kingdom has some of the best snacks and dining experiences at the Disney Parks! And it hits the mark on everything. We got restaurants we love, quick service we love, and snacks galore! And if you like unique or spicy, yet still approachable food, well, you've come to the right park!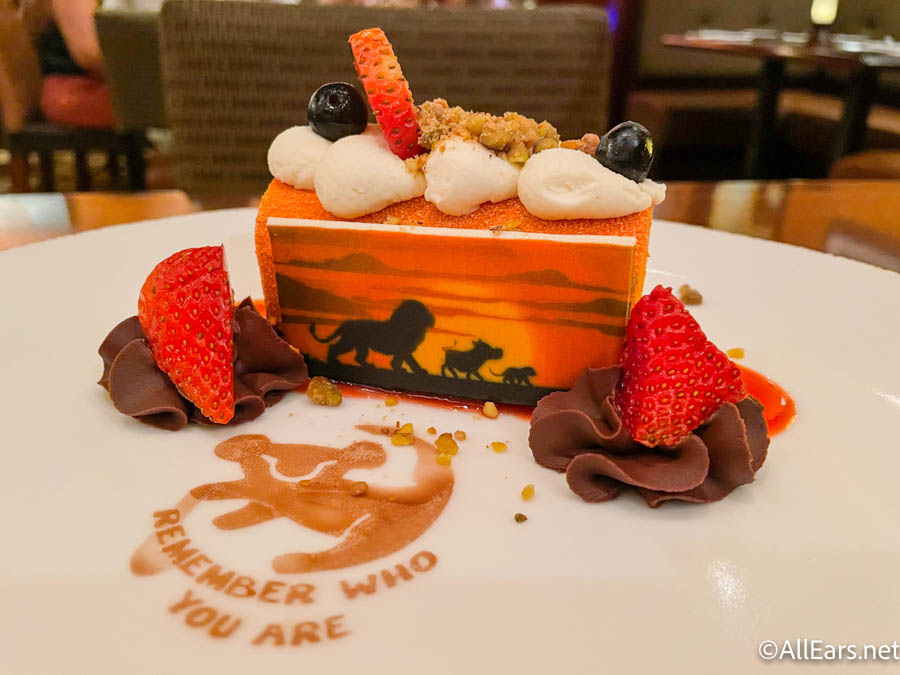 Yak & Yeti offers a huge menu of Asian-fusion inspired dishes. If you're looking for something a bit unique, you can find it here, but for those pickier eaters, there are also some more familiar eats. Tusker House is the character meal with Donald and the gang greeting diners in their safari outfits. As a buffet, this is also a good spot for picky eaters to wander through and get those familiar foods, while also having the opportunity to try some African-inspired dishes. And of course, as a buffet, it's great for those larger appetites, as well. Tusker House (as a character meal) is super popular, so make sure you secure that dining reservation right at that 60 day mark.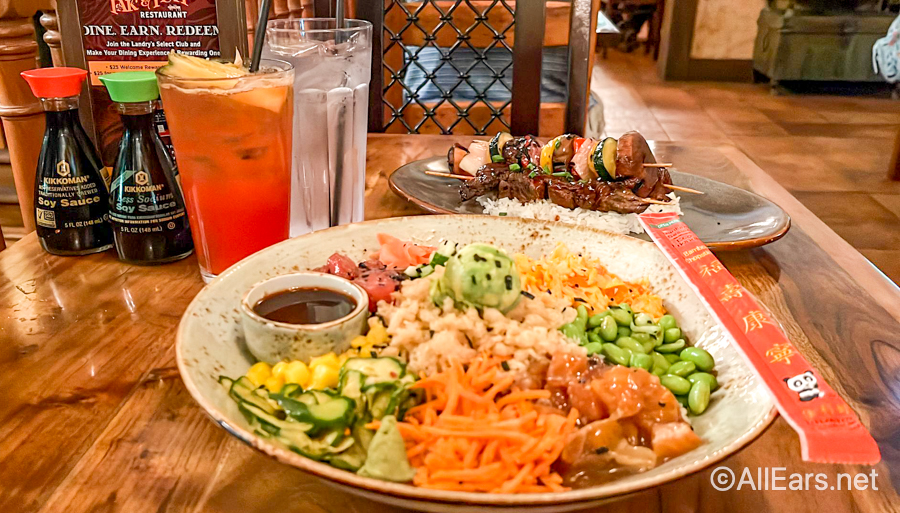 Tiffins is a swanky option with some higher prices and honestly feels like you're eating inside an art gallery. One of the coziest spots in Animal Kingdom is the neighboring lounge for Tiffins, Nomads Lounge. This spot gets hoppin', so if you wanna try some unique cocktails, some light (yet classy) eats, and beautiful scenery, you'll want to look into joining the Walk Up Waitlist here.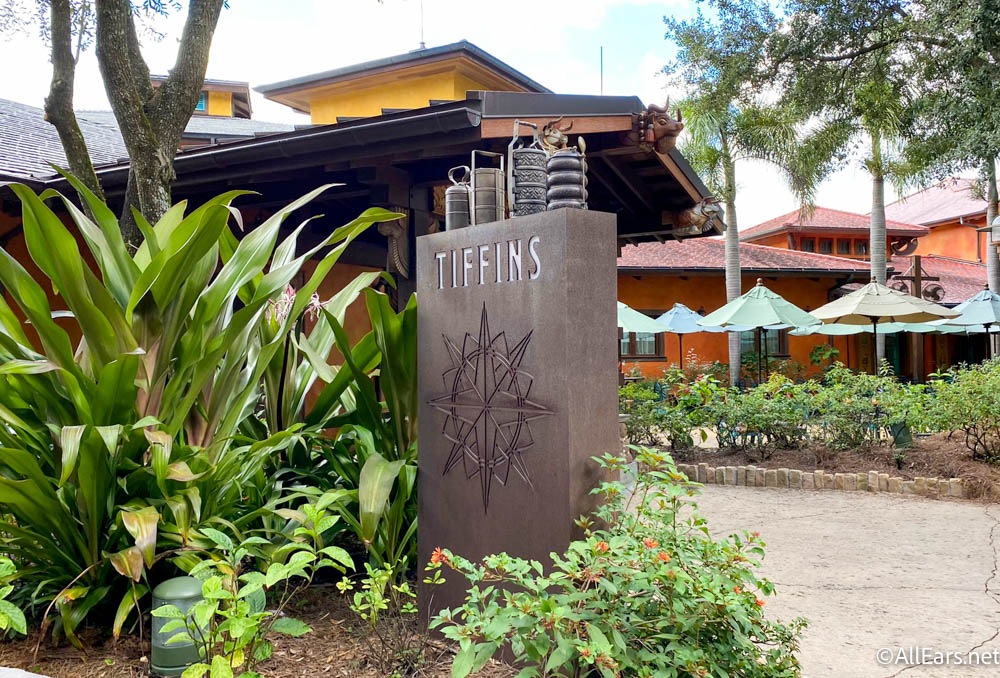 For quick service, picky eaters can find their bliss at Restaurantosaurus (for burgers, sandwiches, and fries) and Flame Tree BBQ has some tasty smoke BBQ that you can literally smell all around Discovery Island (perfect for carnivores!). Or if you're looking for something a bit more unique, Satu'li Canteen (for those delicious cheeseburger pods and protein bowls) or Yak & Yeti Local Local Foods Cafe has some familiar Asian-inspired meals (like fried rice and sweet & sour shrimp).
And so many snacks!! Eight Spoons Cafe has baked mac and cheese we can't get enough of! Isle of Java has a Tiger Tail pastry for sweet tooth cravings, Mr. Kamal's has some seasoned fries that are shareable (but you won't wanna share), Pongu Pongu has a Pongu Lumpia sweet pineapple cheesecake style eggroll that is different but delicious. Or for other pineappley cravings, Tamu Tamu is the spot for those Dole Whip lovers.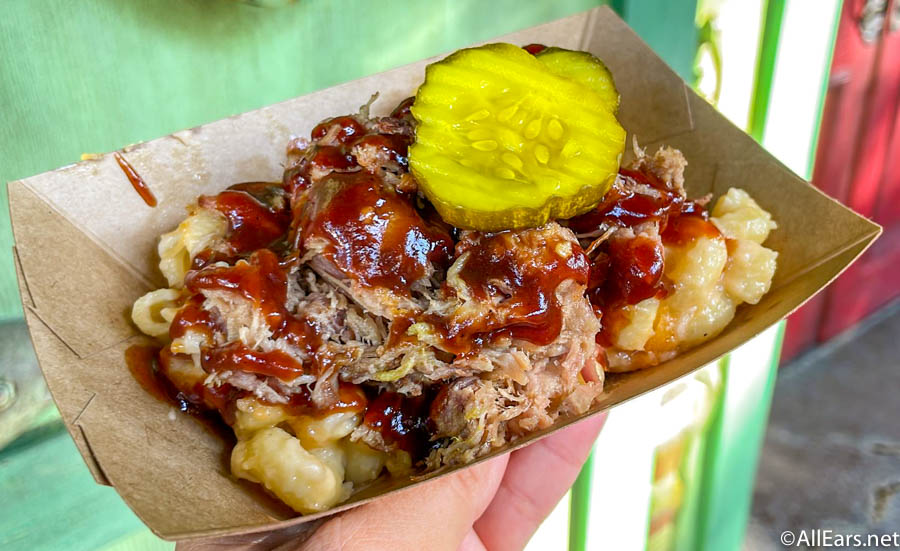 Are you hungry, yet? See? We told you, Animal Kingdom packs in the flavor!
And we can't forget some of the fantastic lounges here that are perfect for relaxin' and sipping on your favorite beverage. Dawa Bar, by Tusker House in Africa, has prime people-watching opportunities as you can grab a table, and relax while everyone else hustles and bustles around you. And the added perk of being close to African musicians and dancers adds to the ambiance of a day in Harambe Village.
Or wander closer to Pandora: World of Avatar, and on the boundary to between this off-planet oasis and Discover Island, is another little oasis… Nomad Lounge. The secret is out about this little hideaway, and it's become so popular that it has a walk-up waitlist! So, if you want to grab a table here to enjoy this picturesque safari getaway, then you'll head over right when it opens to get on that waitlist!
A Little Something Extra
Animal Kingdom also offers a Capture Your Moment photo session if your adventure takes you Pandora or Africa. And there are a number of special tours to get a closer look at the animals, learn from the Imagineers and Animal Kingdom animal caretakers. They range from $35 to $199, so you can likely find one that fits your budget and makes for a pretty unique date!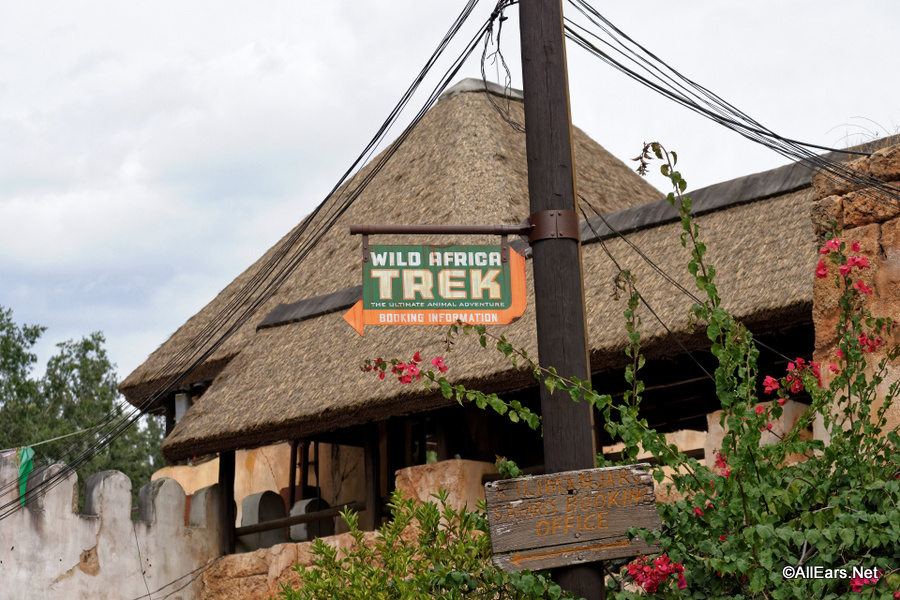 Night Time Show
You won't find any grand fireworks shows at Animal Kingdom, because fire, explosions, loud noises, bright light flashes and wild animals just don't mix.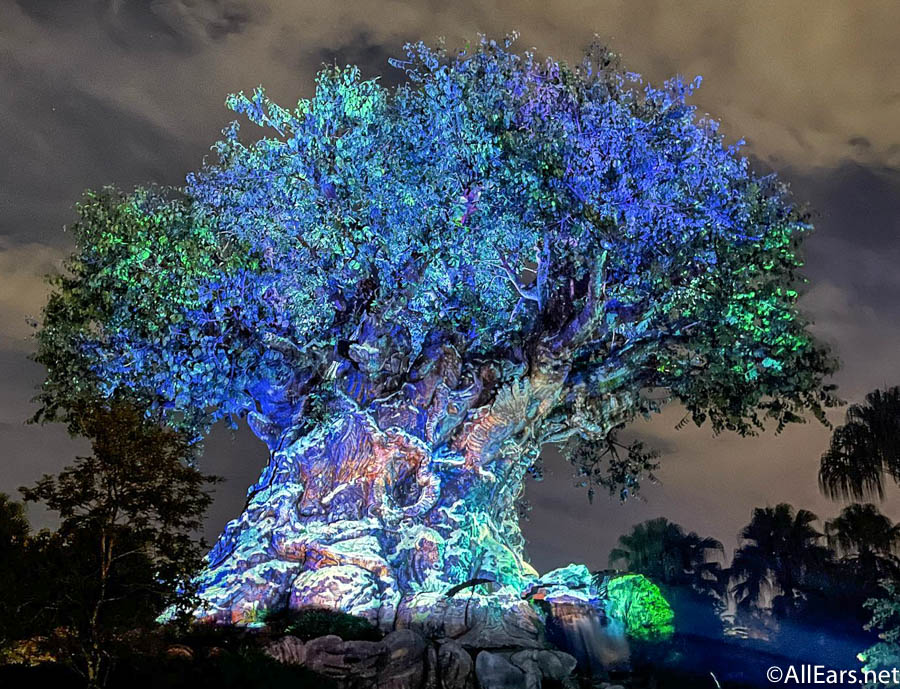 But we do recommend staying after sunset to watch the Beacon of Light projection show on the Tree of Life. The park icon lights up, and a projection show tells the story of some animal friends as they come to live from the tree and interact together. It's a peaceful, magical show that is the perfect way to wind down after your day exploring nature and appreciating all of these amazing creatures.
We also recommend lingering in the park in the evening because most folks tend to focus on Animal Kingdom in the morning and then head to another park, Disney Springs, or spend their afternoon at their resort pool after they've done the few attractions here. So that means, it empties out after about 4pm, giving folks a bit more breathing room and a chance for you to really take in all of those Imagineering details!
You've ventured to Mo'ara Valley in Pandora, and SIVAKO'd on the back of a banshee, escaped the Yeti guardian of Everest, and saw some amazing animals on the safari and trails, so you've had a COMPLETE day at Animal Kingdom. That wraps up our perfect day in Animal Kingdom, and now time to prepare for our next perfect day in Disney Springs & the Resorts!
Sometimes considered a fifth park for all it has to offer, Disney Springs won't require any Genie+ access, though you may still want to have your phone handy for Mobile Order at some of the dining locations.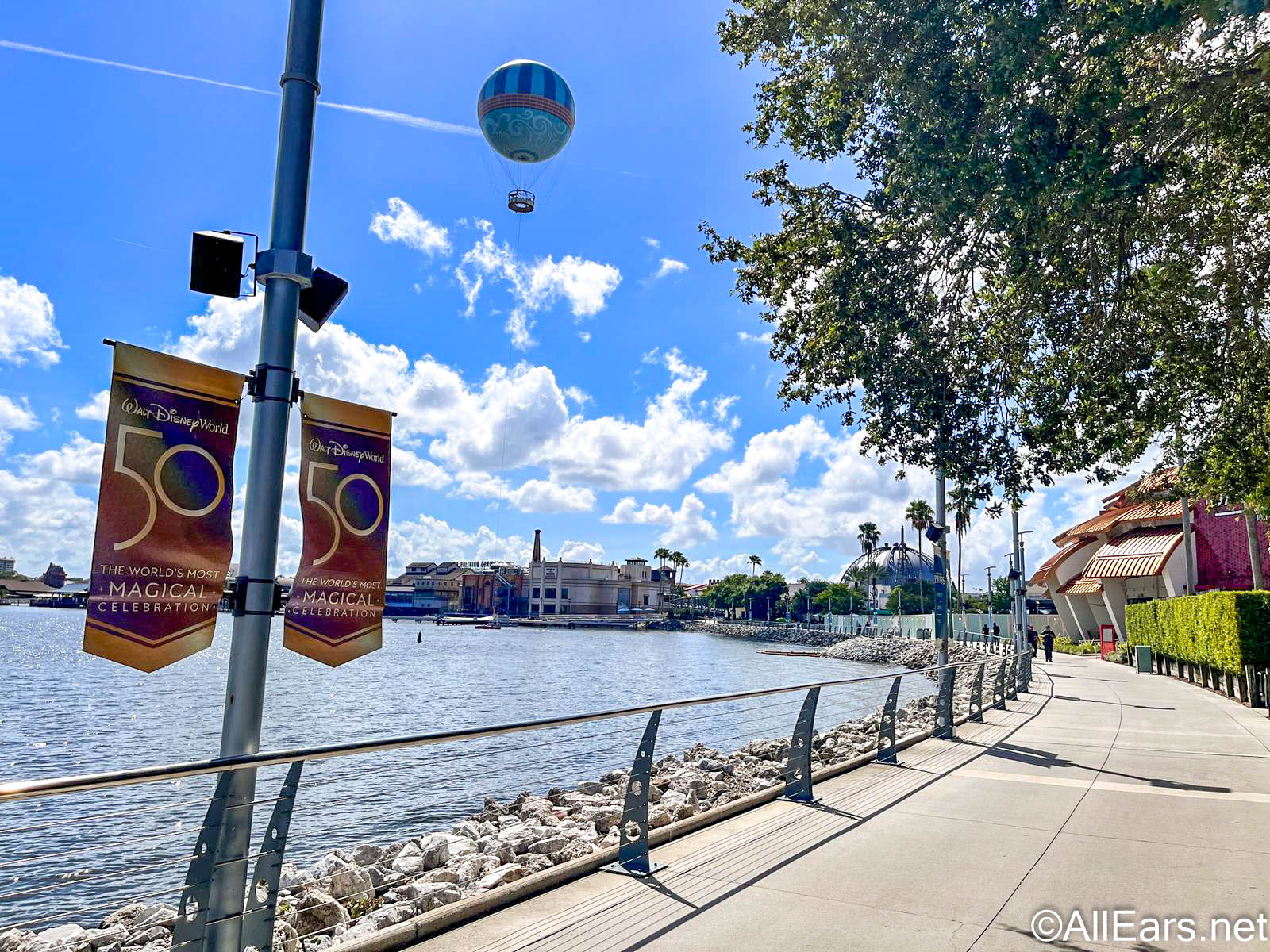 But just because you won't find classic dark rides or thrilling coasters doesn't mean that there aren't some fun attractions here. let's take a look at how you can spend some of your day at Disney Springs!
There are actually a few "rides" in Disney Springs, but you will have to pay to ride these options:
If you looking to cruise the Sassagoula waterway in a unique way, head over to The BOATHOUSE and snag a ticket to ride in one of the zippy Amphicars. Or if floating through the air is more your style, the Aerophile balloon will lift you up 300 feet in the air for sweeping views of the Disney World property. (And time it properly to capture some amazing fireworks views from Magic Kingdom or EPCOT).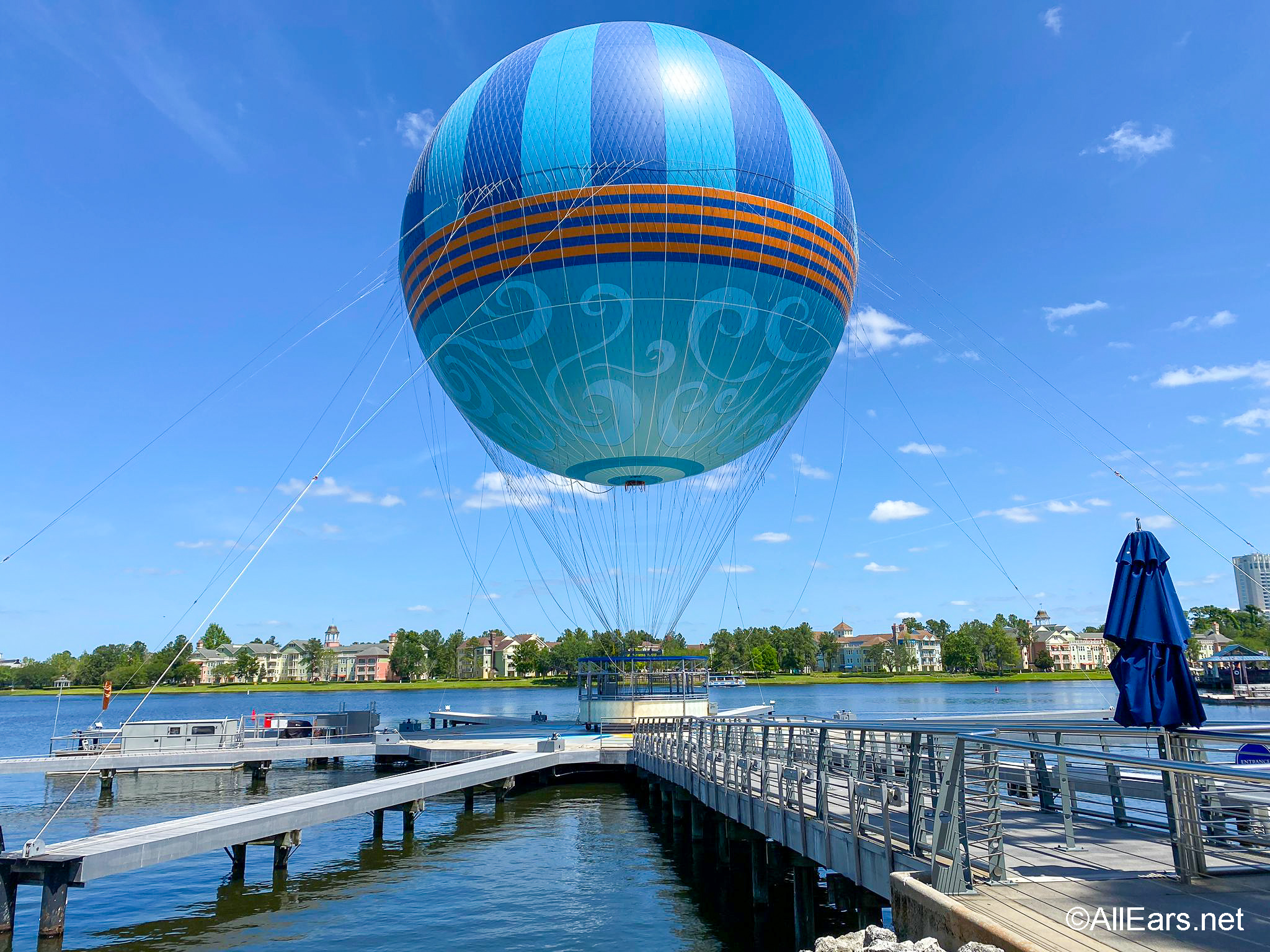 If you prefer to keep your feet on solid ground, Disney Springs has some great shows for you, as well.
If you don't want to set aside several hours for these shows, you can also catch live music all throughout Disney Springs in the evenings. And the House of Blues usually has a schedule of performers, so you can plan to eat to the beat there!
Or, if you're up for a bit of friendly competition, check out Splitsville, which not only has an extensive menu but is also a bowling alley!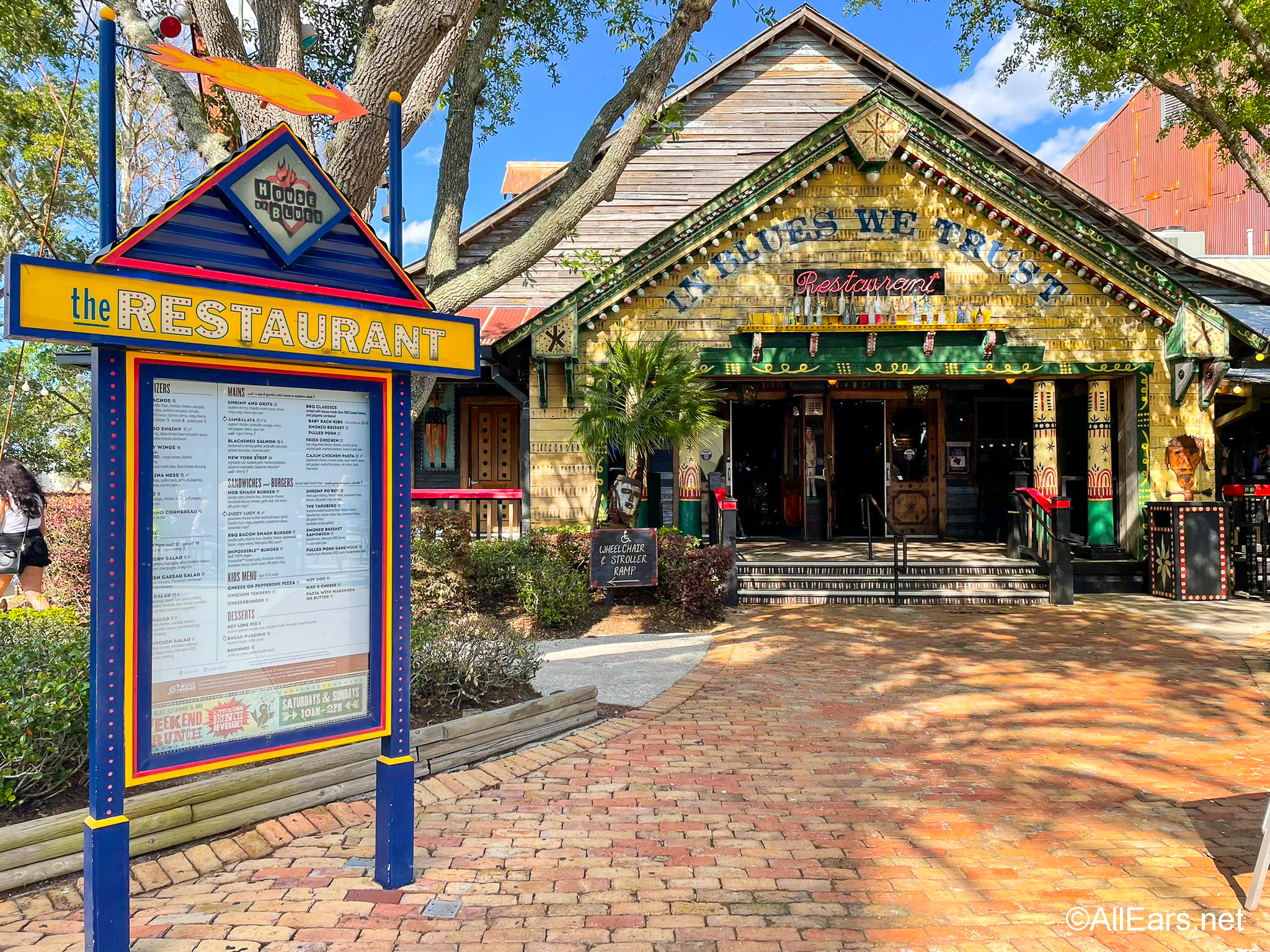 And there is no limit to the shopping and dining opportunities in Disney Springs with some one-of-a-kind shops and the world's largest Disney Store!
There's no shortage of restaurants at Disney Springs! The only limit is the size of your stomach (and the depth of your wallet). Some of our favorite restaurants are in Disney Springs, and you should definitely check out if one (or more) of these fit into your vacation plans!
Some of these spots offer amazing weekend brunch menus as well, so you can be flexible with your plans. Ok, they make some pretty snazzy date nights, too.  So, they've got you covered whether you're looking for a live-music party all night long, a mellow conversational date night, or a stick-to-your-ribs brunchin' situation.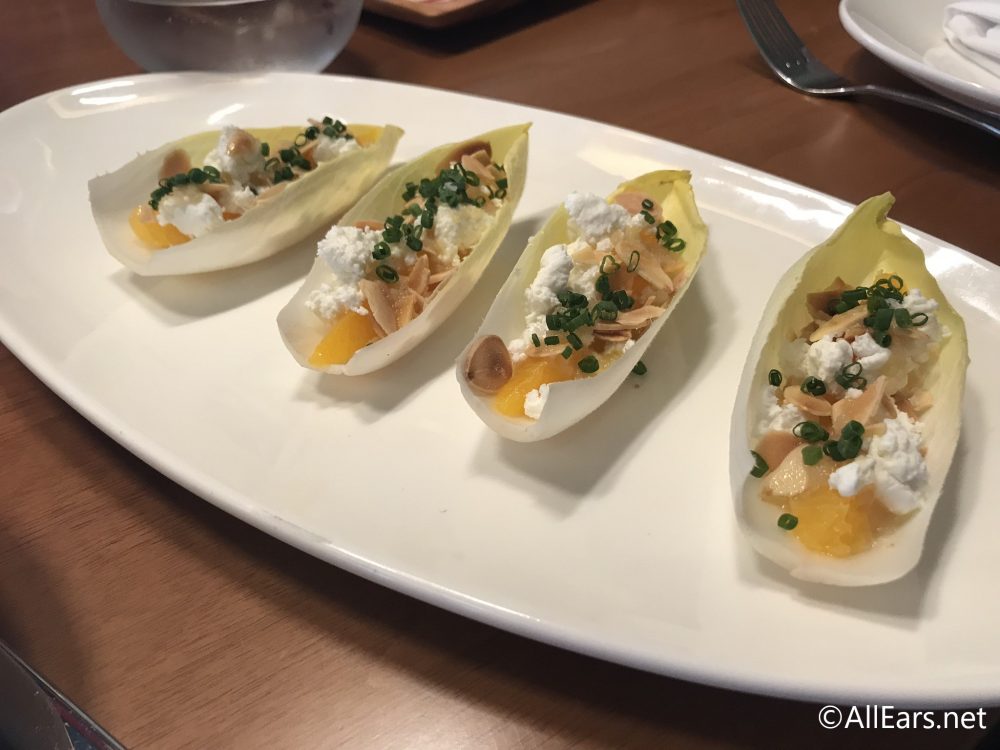 But there's so much to see and do, maybe you just want a quick but quality meal? Well, buckle up because Disney Springs brings their A-Game with quick service options like: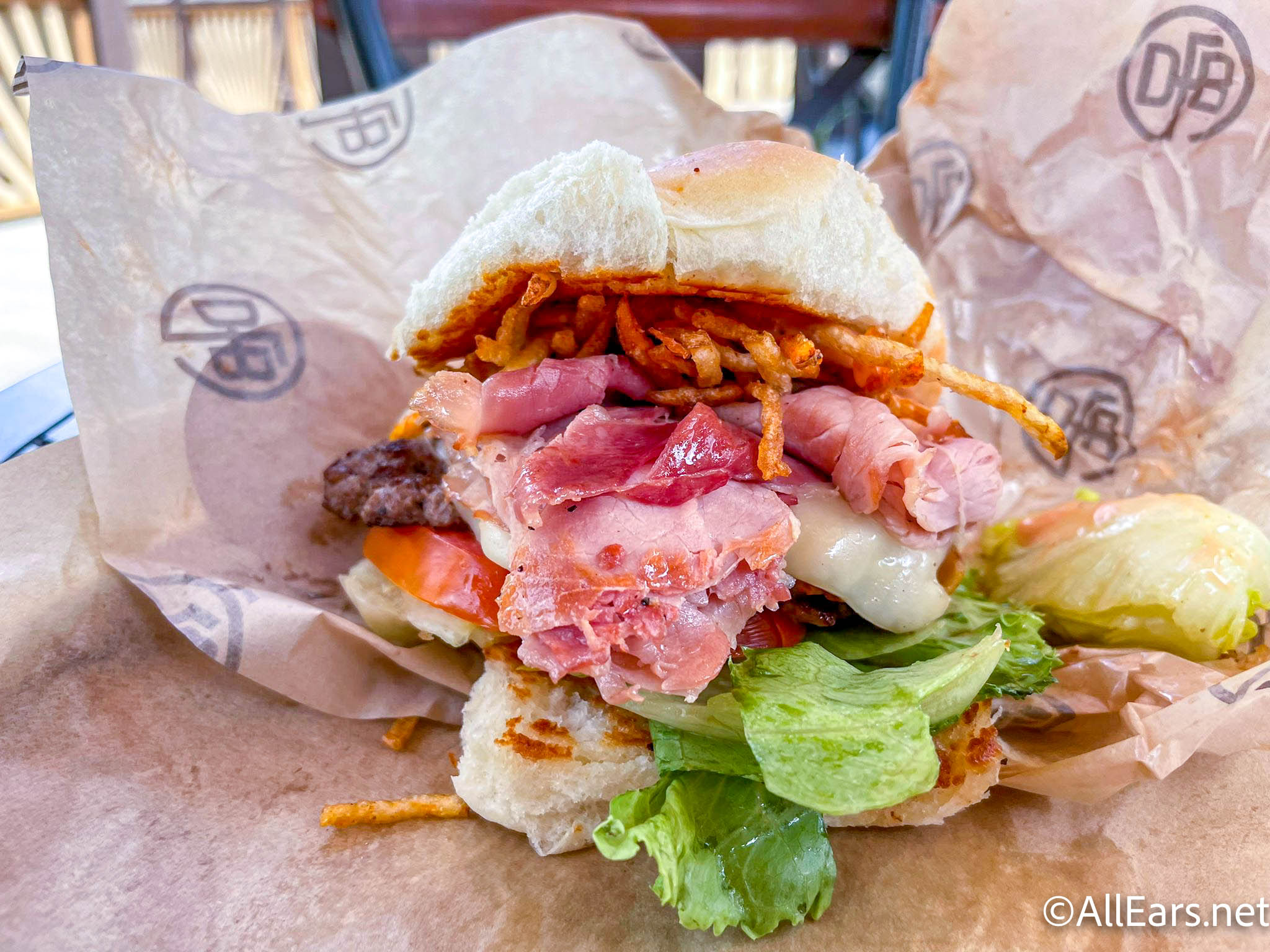 To satisfy your sweet tooth, Disney Springs has everything from over-the-top donuts, to cookies so good they require a virtual queue, and Dole Whip flights.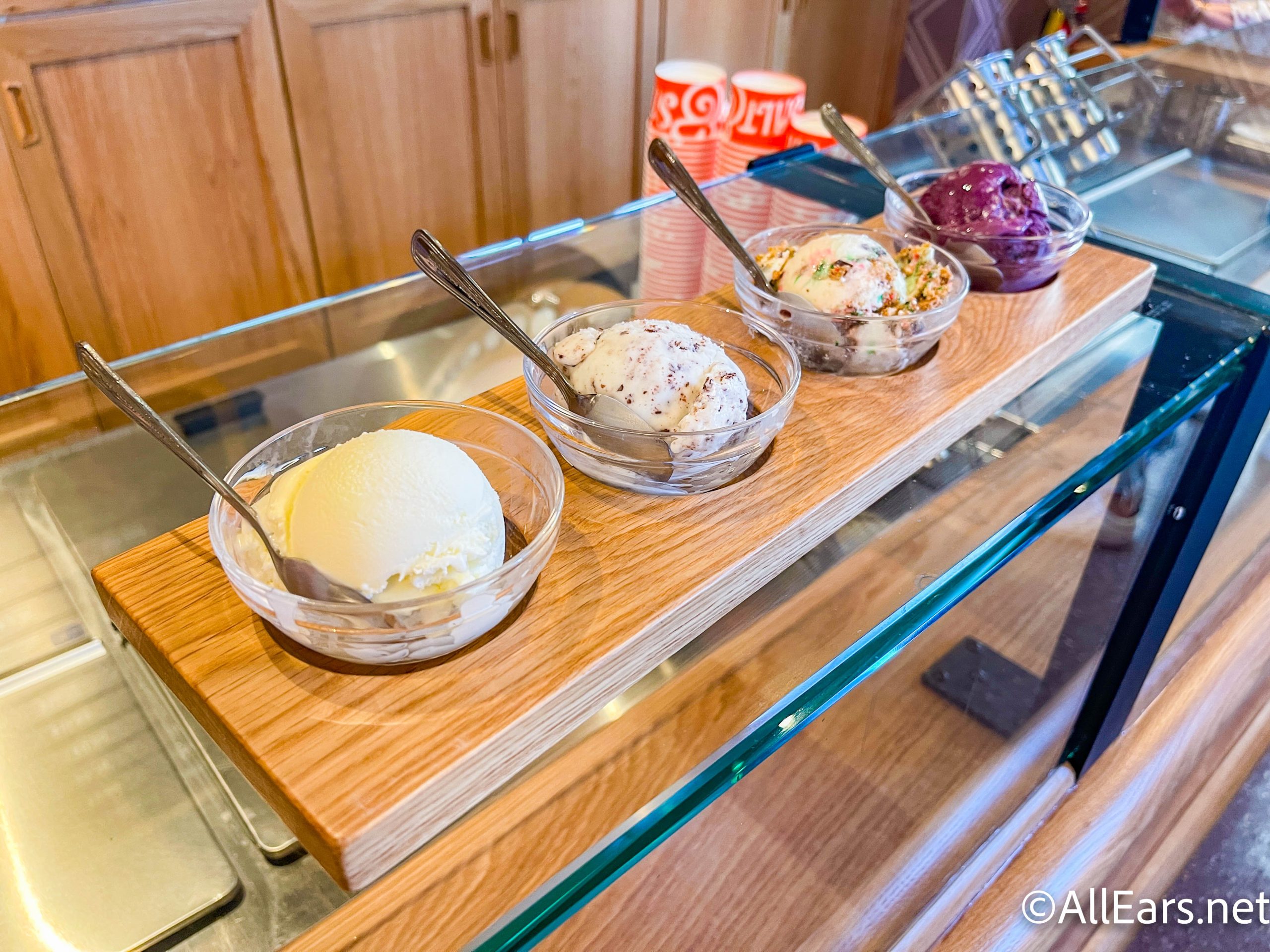 If you crave it, Disney Springs has it!
It feels like every spot in Disney Springs has a happy hour option, shoot there are even cocktail carts (yep, we're serious… Cocktail. Carts) in Disney Springs.
So, it's not really a matter of if you can find a spot to get a drink in Disney Springs, because you have a number of options. Wine or liquor? Stroll and sip or sit and chat? Cozy or lively? Unique or classic? No matter what your vibe is, Disney Springs has it. And we can't list it all, but here are some go-to's!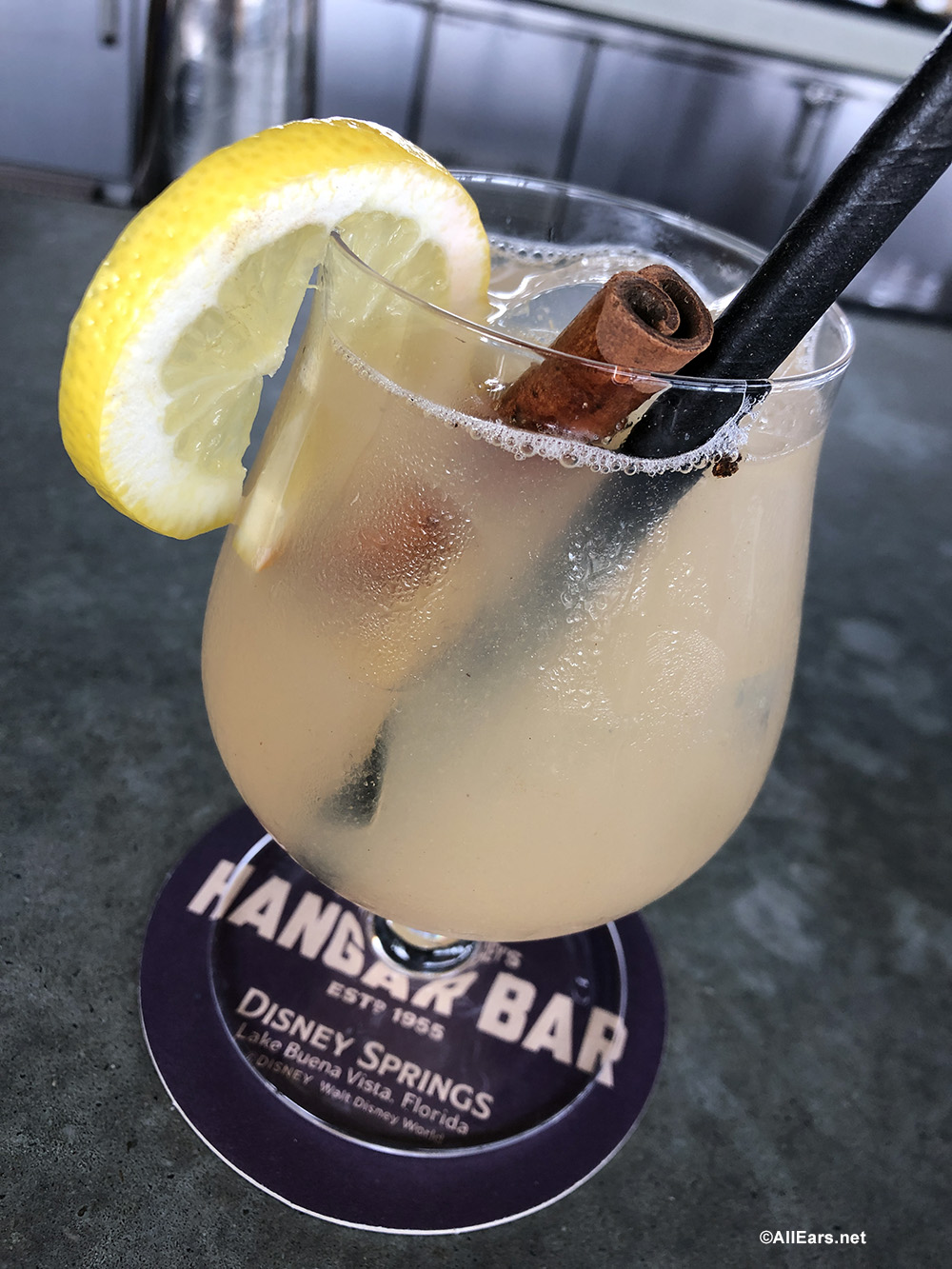 Now that you've mentally planned your Disney Springs bar crawl, this is our cue to remind you to drink responsibly, stay hydrated, and enjoy, but don't let your fun overtake someone else's vacation memories. You know, stay kind and courteous!
If you're spending the money to stay at a Disney Resort Hotel, you may as well make some time to enjoy some of the amenities that you're paying for, right?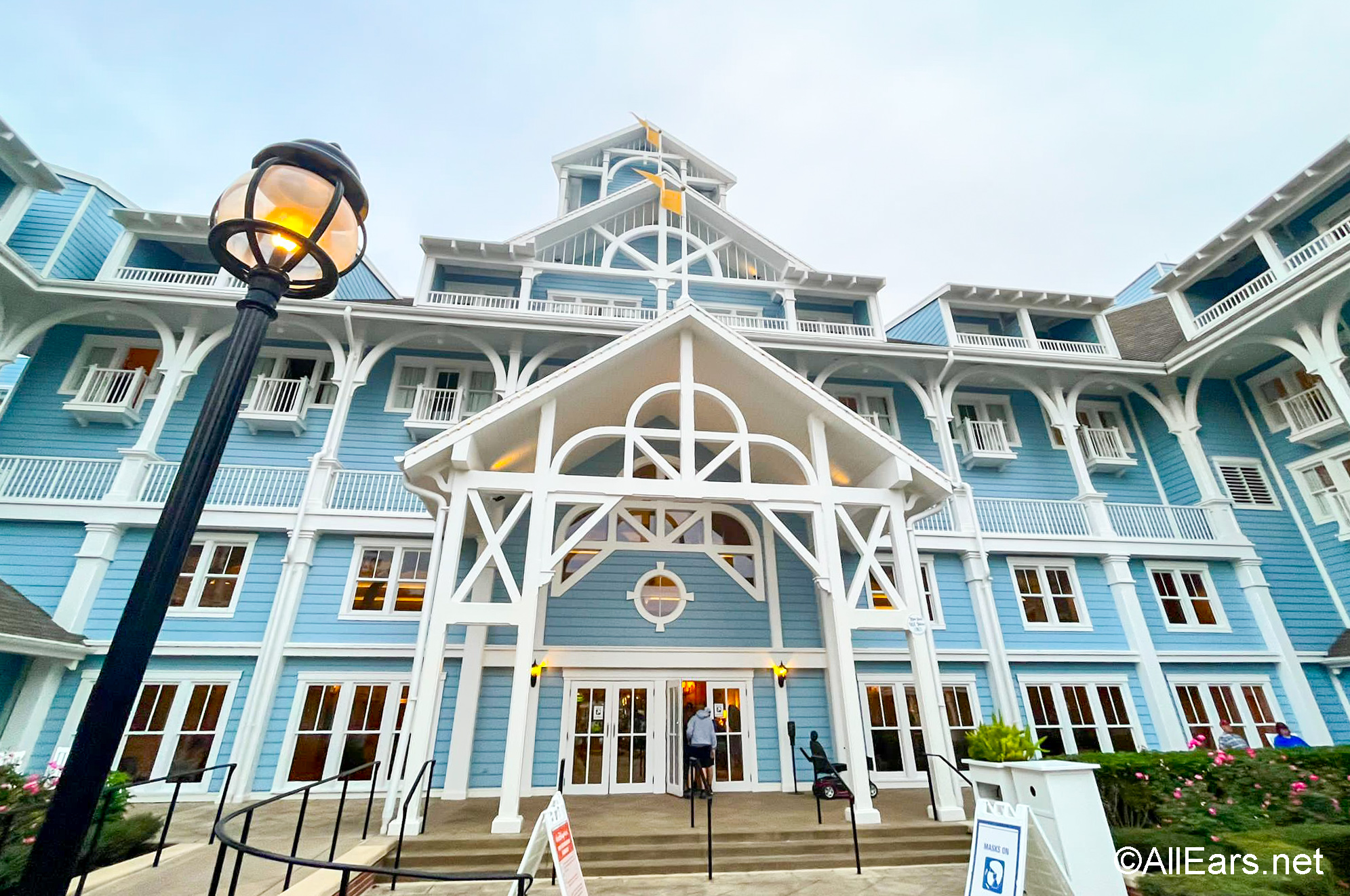 Some come with an extra charge (like spa treatments or horseback riding), but other things you can do for free! Let's see what some of the resorts have to offer!
Each Disney Resort Hotel has a different theme and story, and some of those amenities are uniquely themed to fit into those environments. All the resorts have pools, gift shops, fun-themed lobbies, dining areas, movies under the stars, and expansive (and immaculate) grounds and jogging trails. Depending on your resort level, you could also have access to fitness centers, lounges or bars, coffee shops, meeting areas, outdoor firepits, and live entertainment.
Visit Fort Wilderness for archery lessons, horseback riding trails, and carriage rides at Tri-Circle D Ranch. Visit Saratoga Springs or the Grand Floridian for spa treatments and massages.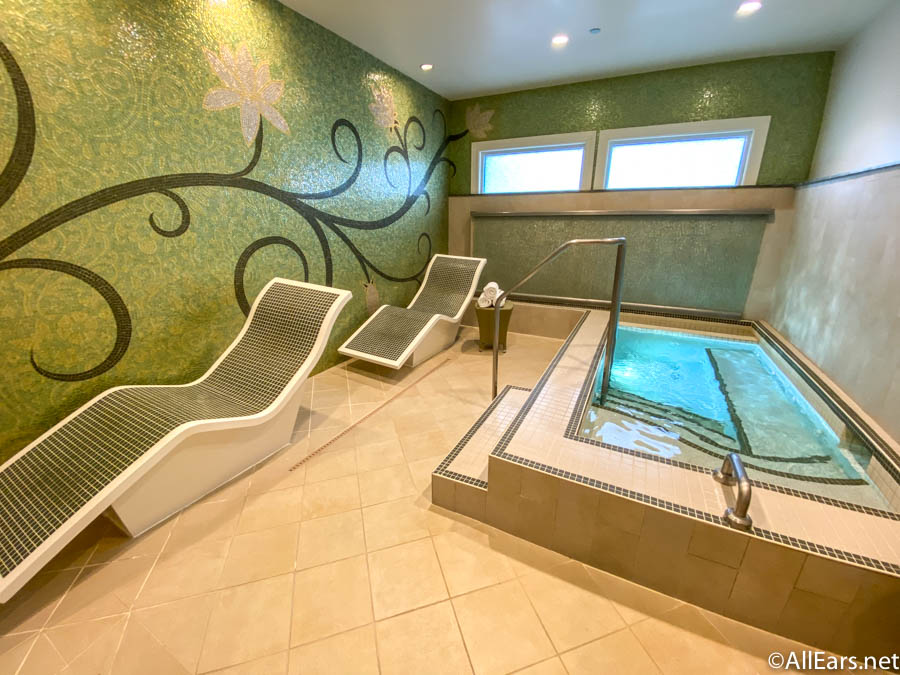 And head over to the BoardWalk for some live entertainment in the evening, and don't sleep on checking out Jellyrolls! This bar over at BoardWalk Inn is just a good time with drinks, live music, and dueling pianos. They even sell refillable cocktail tumblers.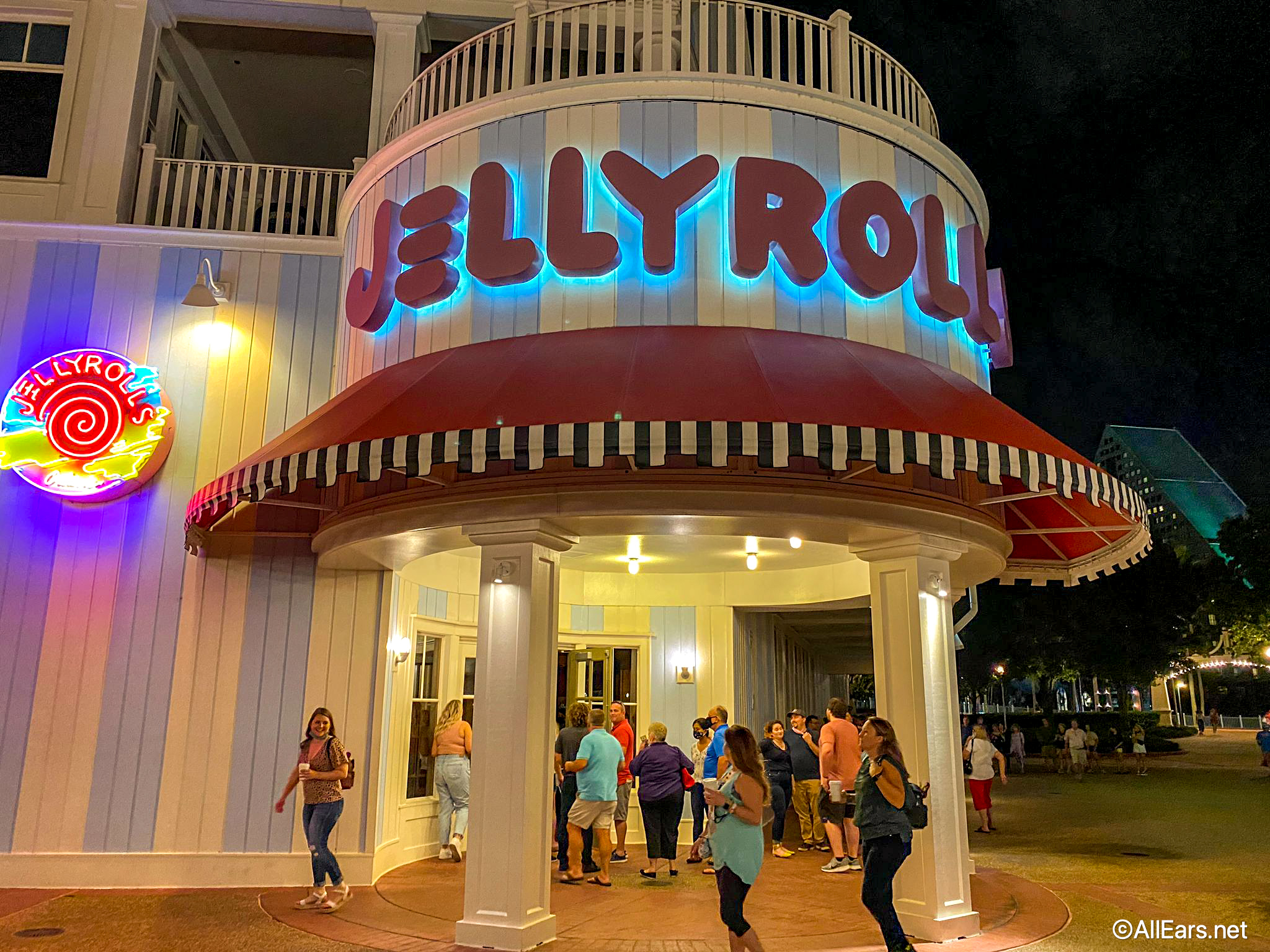 So, yeah, don't deprive yourself, go there. As soon as possible.
Are you looking for a fancy dinner for a date night? Some good ol' down-home cookin'? An international culinary experience? The best burger you've ever eaten? Or do you just want to make a meal out of Instagram-worthy cupcakes?
The Disney Resorts have some of the best dining experiences (yeah, we just said that about Disney Springs… and EPCOT… and Animal Kingdom… and we mean it every time)!
Character Meals are reserved for families-only, adults and "kids of all ages" are welcome. You can always count on Chef Mickey's (at the Contemporary Resort), Cape May Cafe (at the Beach Club), and Story Book Dining at Artist Point (at Wilderness Lodge). For incredible steaks, check out Yachtsman Steakhouse (at the Yacht Club), Steakhouse 71 (at the Contemporary), Toledo (at Gran Destino Tower at Coronado Springs), and Jiko (at Animal Kingdom Lodge).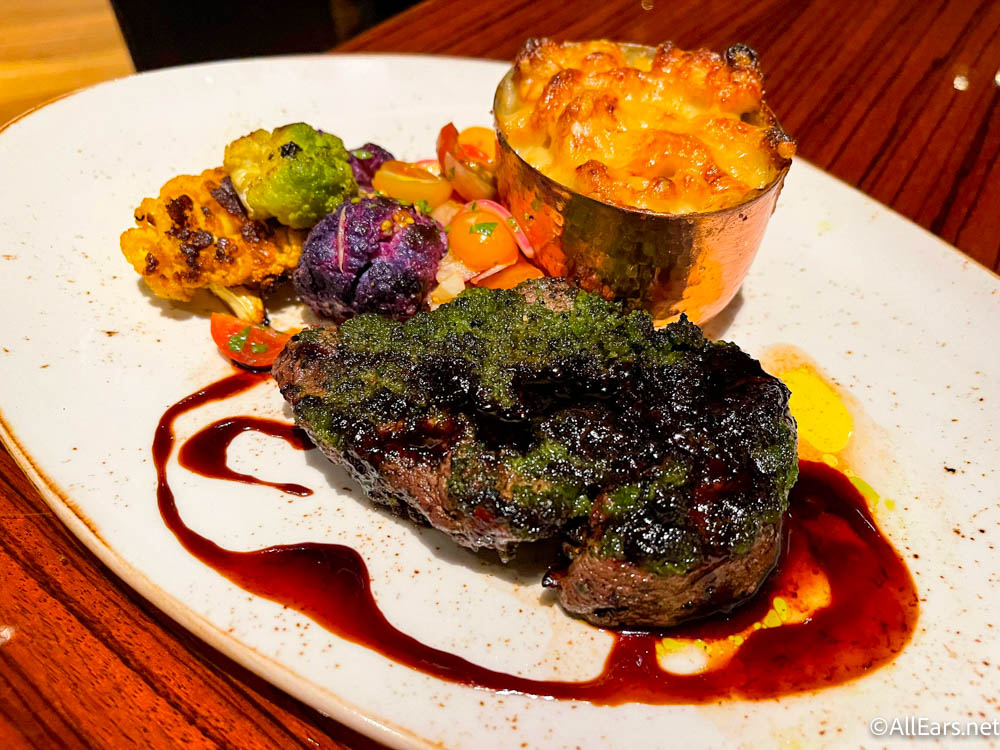 If you have some big eaters and need an all-you-care-to-enjoy experience, check out Trails End (at Fort Wilderness),  Whispering Canyon (at Wilderness Lodge), Boma (at Animal Kingdom Lodge), and 'Ohana (at the Polynesian). For a romantic date night, look into Topolino's Terrace (at the Riviera), Citrico's (at the Grand Floridian), California Grill (at the Contemporary), and Ale & Compass (at Yacht Club).
For more casual quick service options, some of our go-to's are:
So whether you're staying at one of these resorts, or just passing through, don't pass up the opportunity to grab an epic meal at one of these locations!
And when it comes to lounges, the resorts have some little treasure troves of cozy nooks or lively venues.  We've already mentioned JellyRolls which is great for some live music and even refillable cocktails. Just down the boardwalk from JellyRolls is AbracadaBar for a mystical experience, Territory Lounge in Wilderness Lodge offers a quiet respite from the parks, Enchanted Rose in the Grand Floridian is an elegant lounge with nods to Beauty and the Beast, and Dahlia Lounge at Coronado Springs for unique wines and special views.
Whether you're looking for an after-dinner drink, a quiet spot to relax, or a zippy time with some tunes to dance to, explore these lounges to find your favorite.
PHEW! That's four park days, plus a bonus day at the Disney Resorts and Disney Springs for all of your romantic needs. So, the hard part is over (the planning part), now comes the fun part — to do it!
Keep following AllEars for the latest Disney news, tips, and travel info, and be sure to sign up for our newsletter!
Join the AllEars.net Newsletter to stay on top of ALL the breaking Disney News! You'll also get access to AllEars tips, reviews, trivia, and MORE! Click here to Subscribe!

What do your perfect 5 days in Disney look like? Let us know if the comments below!