If you're like us, you're still upset about not receiving a Hogwarts letter when you were 11. (And we're not getting over it any time soon!) While you can live out your magical fantasies at The Wizarding World of Harry Potter at Universal Orlando, wouldn't you love to take some of that magic home with you?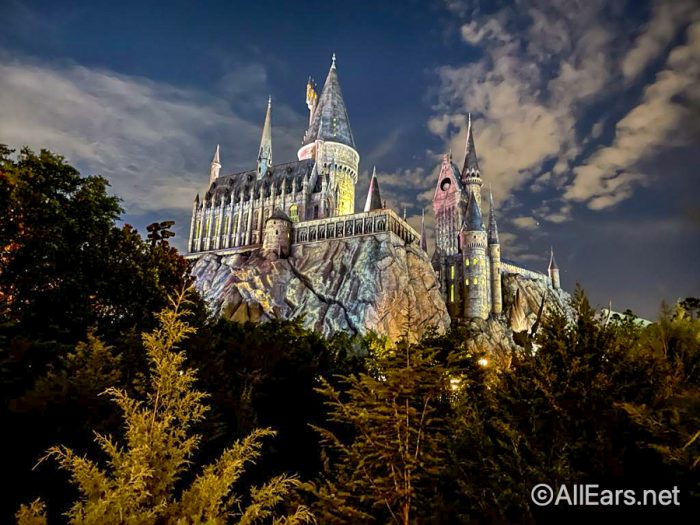 We have compiled a list of decor items sorted by Hogwarts house, so you can rep your house with pride! We also included some general Harry Potter decor so no matter what you'll feel like you're living in the books.
Now you may want your house to look like a castle, but that doesn't mean you need to empty your vault at Gringotts, because we made sure to find items that give you that Harry Potter vibe without having Harry Potter's gold!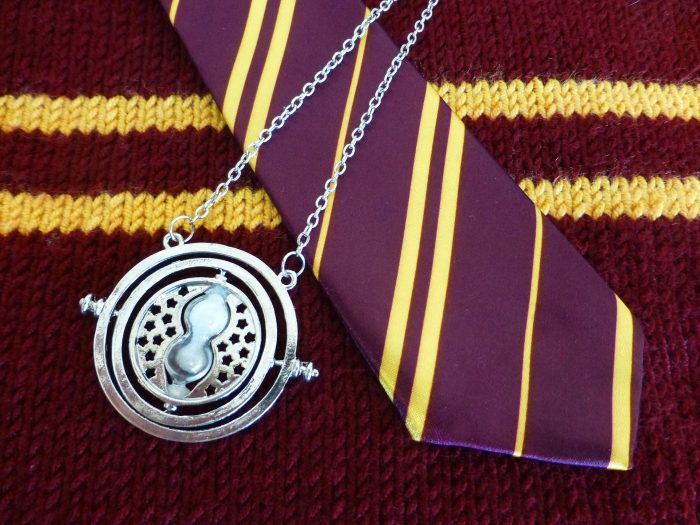 Gryffindor
For the bravest of us, we have chosen items that represent not only this house's colors and crest but also famous Gryffindors through time like Harry Potter!
Ravenclaws aren't the only bookworms! These stunning bookends feature an initial and the rampant lion in an expensive-looking diecast metal.
Reviewers find these beautiful in person and appreciate the quality for the price. Imagine how perfect these would look with your entire collection of Harry Potter books in between!
Okay, we can't get over how detailed and beautiful this piece is! Hedwig sits on a volume of books, with Harry's wand and a copy of the Marauder's Map beside her. This statue can be displayed either within or outside of the clear, 7-inch case it comes with, if you're the type who likes to make dusting easier.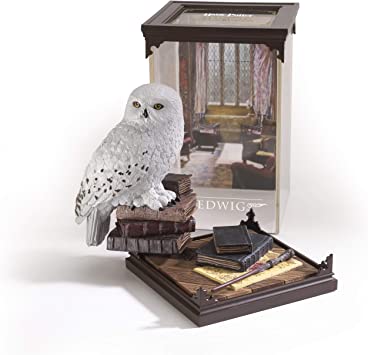 Our staff loves collectibles from the Noble Collection- all of their products are officially licensed and have superb quality, so you know you're getting an item that will be well-made and make any Harry Potter fan proud.
Looking to theme a whole bedroom with house pride? Try adding these burgundy light switch covers! This is such an easy way to add fun theming to a room without having to do too much work- just unscrew, set the cover on top, and replace the screws.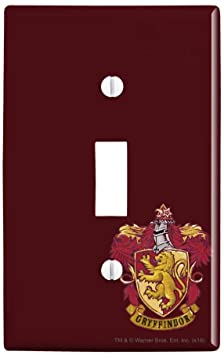 The bottom corner features Gryffindor's house crest. The cover is pre-drilled, meaning you're less likely to crack it when installing, and the material is scratch resistant which would be perfect for a kid's bedroom!
Sprinkle some Harry Potter magic into your daily shower routine! This Gryffindor Pattern Bath Mat has a layer of memory foam to softly cushion your feet.
Reviewers noted you don't have to relegate this item to your bathroom- it also makes a great kitchen mat! They also noted the Society6 bath mats are well-made and a good size as well.
Showcase your own sports achievements or other special moments in this Gryffindor Quidditch frame! The scarlet and gold color scheme will fit perfectly with your Gryffindor theme.
The frame fits 4 by 6 pictures, and the decorations are 3D. The product is officially licensed too, so you know you're getting the real deal!
Start their love of Harry Potter young! If you're a new parent and want to theme your nursery, this Hedwig mobile will be perfect above the crib. It also plays Brahm's Lullaby to soothe your baby to sleep!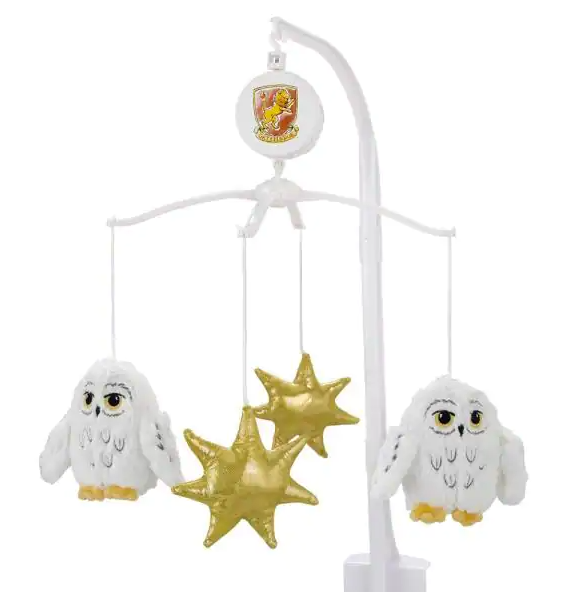 This adorable mobile is soft and features two owls, two suns, and a Gryffindor crest on the top. It will fit most standard-size cribs and includes parts for mounting.
Let the world know what house you belong to! Proudly display this Gryffindor banner outside your front door or in your garden. Or, hang it up inside your home with your other Harry Potter items.
The triple-layered fabric is durable enough to withstand the elements so it's perfect for adding a bit of personality to your yard. If you want to display it in your lawn or garden, you'll need to purchase a stake separately.
Who doesn't love a good string of fairy lights? These string lights feature Gryffindor's house crest. They are battery powered, so you can display in a variety of places!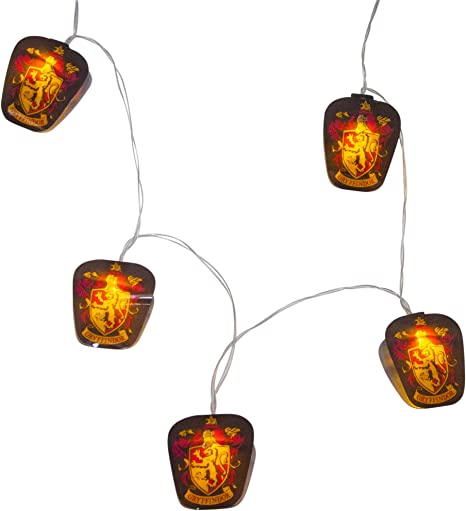 The string is 2.5 meters long and comes with batteries so they're ready to go right out of the pack. Decorate your bedroom or bookshelf to illuminate your books or other Harry Potter collectibles!
It's important to always bring out the fine china when guests are over. Serve your friends and family some chocolate frogs on these Gryffindor Crest dessert plates!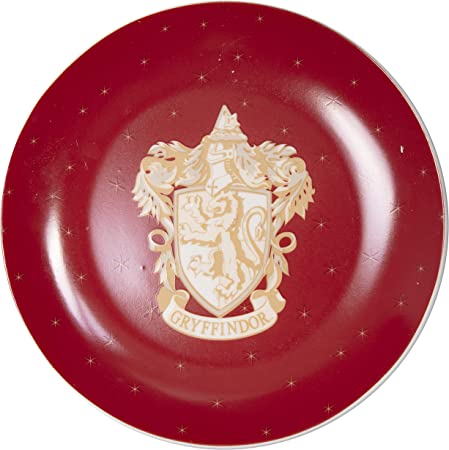 Each plate is a gorgeous red with the house crest in gold, and the design is peppered with tiny gold stars. It comes in a set of four, highly durable porcelain that is both microwave AND dishwasher safe (win!).
Maybe you want to be more subtle with your house rep. No shame in that! We found this gorgeous antique-style rug in Gryffindor's house colors.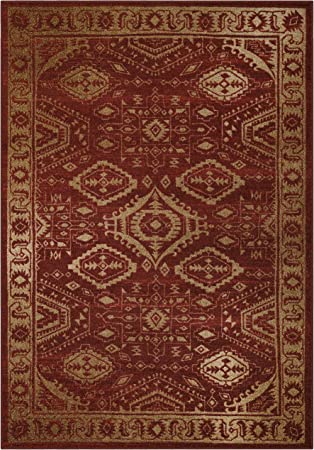 Decorate your space to give a subtle nod to your house, or add it to add some more Hogwarts flair to your Gryffindor themed room!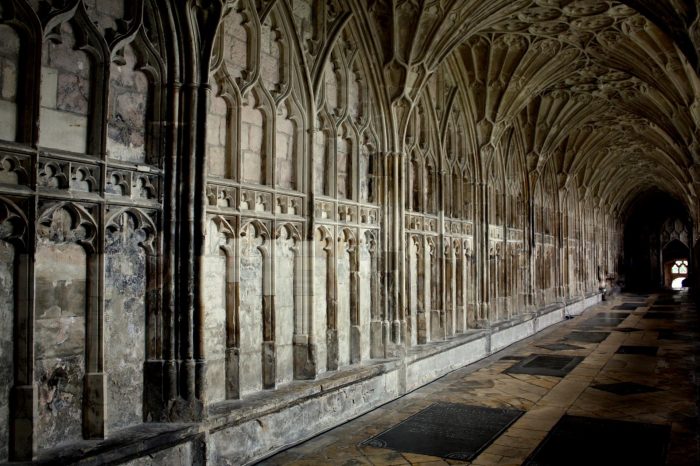 Slytherin
Don't worry Slytherins, we know you're not evil. Ambitious and cunning as you may be, we know you aren't above snuggling up with a cozy blanket or two!
Cuddle up with this large throw while reading The Beadle and the Bard, or use this as a tapestry to make your office feel a bit more like the Slytherin dorm.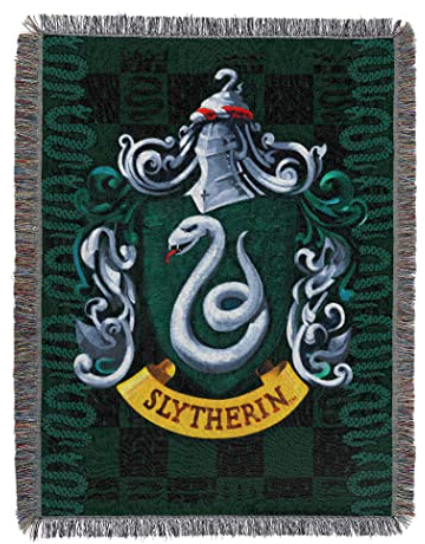 This tapestry blanket is woven with Slytherin's crest in exquisite detail. Accidentally spilled your butterbeer on it? Don't worry, it's machine washable!
How awesome would this officially licensed house crest print look adoring your walls? Perfect for bedrooms, studies, or even dorm rooms, this house crest print from Wayfair will let everyone know you have house pride.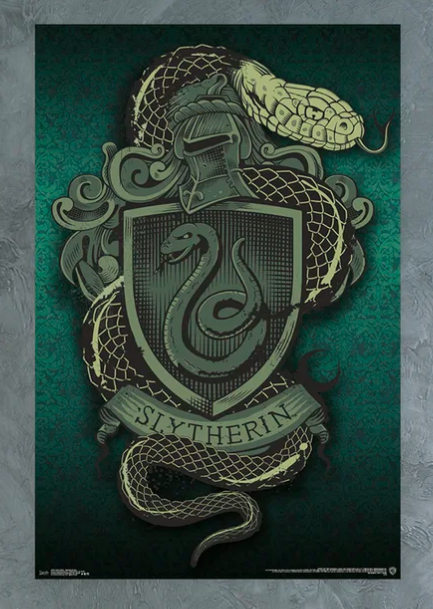 Keep in mind this print comes without a frame, so either hang as a poster or try thrifting an antique gold frame from your local charity shop to really fit the vibe!
Need to add some more personality to your desk at the office? Or just want a little reminder while you work from home just how cool you are? Pop this Slytherin desk sign near your computer, or use it to decorate your bookcase or mantle!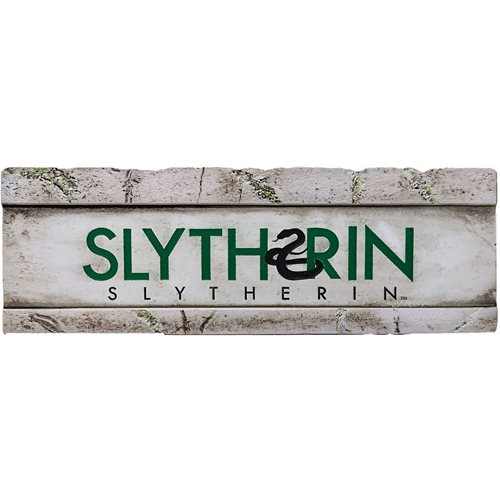 We love the faux aged stone design of this sign, and the slithery snake sneaking in between the letters. Now everyone at work will know not to mess with you!
Your guests will be majorly impressed when you break out this intricately designed Slytherin goblet. Only sip your finest beverages from here while you contemplate just what makes your house the best.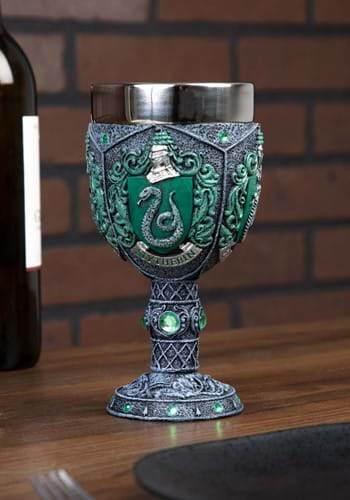 The base of the goblet is made of pewter and features emerald detailing and sparkling green gems. Enjoy a celebratory drink after special occasions or just break this out whenever you're feeling fancy!
Okay, so, we know you ALL aren't Death Eaters. But some of you still like the Death Eater aesthetic, and we wanted to make sure to include something for you!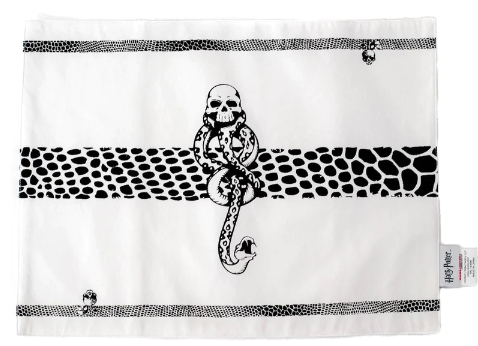 Reenact Voldemort's meeting with his evil crew by using these Death Eater placemats during your next dinner. The placemats come in a pack of 4 and each features the Death Eater logo and detailed snake print. Use them at your next dinner party, but don't be offended if your guests are a little wary of what's in the food!
The Venn diagram of people who love candles and love reading is almost a complete circle, so we had to include at least one candle on the list! It also wouldn't be a Slytherin section without mentioning one of our favorites, Draco Malfoy.
This 9 ounce candle smells like sweet cedarwood and apples and makes a great edition to your personal library. Light when reading and be transported to another world! (We also love the description on the label!)
Here's an item for the little Slytherin in your life. Make sure your babies learn the values of your house with this baby sensory blanket! The blanket comes in the house colors and features a Slytherin print.
Edged with textured ribbons, this blanket also comes with a link attached so you can clip it onto your stroller and bring it with you wherever you go (even to Harry Potter World!). The fabric is a plush fleece that will be soft on skin.
Prefer more cutesy designs? It doesn't really get cuter than this! Your house mascot has never looked more adorable than on this ceramic Slytherin trinket tray.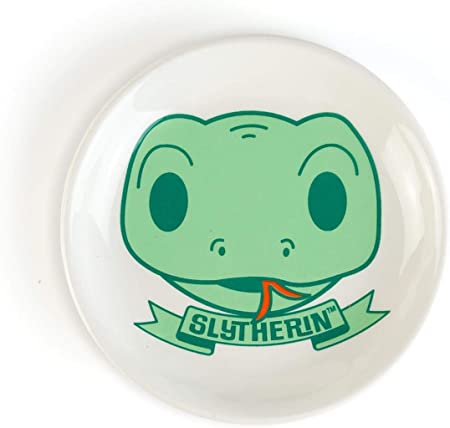 Plop your favorite jewelry on here or leave by the front door as a catchall place for keys and other small items. Reviewers noted the quality of this item and love the design!
Going for a Slytherin vibe in your bedroom but don't want one of those kiddie sheet sets with the typical Slytherin print? Try leaning into a Slytherin aesthetic with these emerald green satin sheets!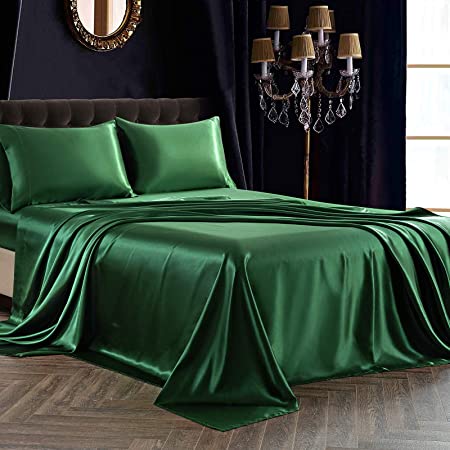 This set comes with everything you need to make your bed as regal as your house. We could totally see these being the official bedding of the Slytherin dorms! This sheet set comes in a variety of sizes, so no matter what bed you have they can accommodate.
For the boho Slytherin, dress up your space with this pastel green Slytherin tapestry. We think this would look great in a dorm room and could help cover up those bare walls!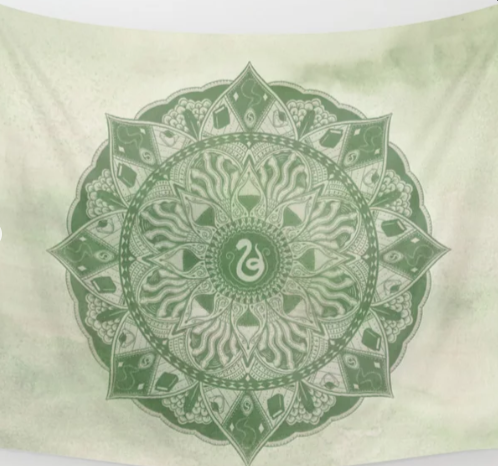 With these tapestries you can pick your size, so go small or go big to suit your space. The mandala design features a snake in the center and other magical symbols throughout, and it's one of our favorites on this list!
Ravenclaw
"Wit beyond measure is man's greatest treasure!" Ravenclaws will love these items inspired by the house dedicated to lifelong learning.
Wizards need to bathe too! Adorn your shower with this curtain in Ravenclaw's signature blue and featuring the house crest. This curtain comes with hook rings, so you'll be ready to install as soon as it arrives.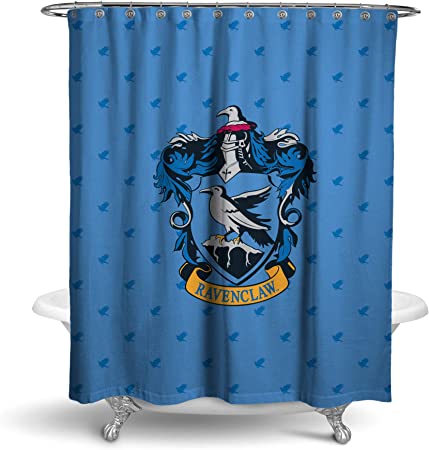 We love the added eagle pattern in the background which adds a nice touch to an overall simple design. Reviewers noted this curtain is lined so you won't need an additional inner curtain, which is a plus!
Looking for something a bit more understated? Opt for this wooden Ravenclaw sign that you can display virtually anywhere! We think it would look nice propped up in your kitchen or hanging in an office.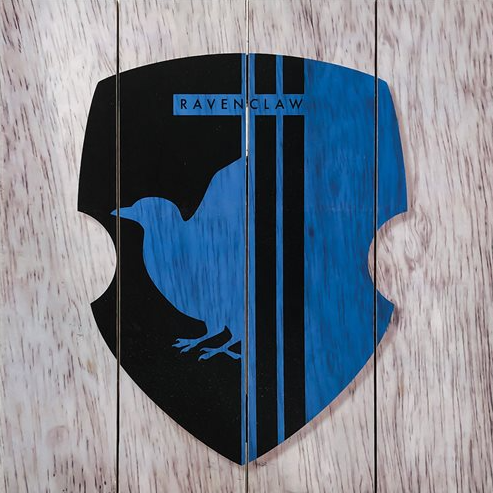 This 10×10 square sign has a minimalistic Ravenclaw crest painted on it and is a great addition for any Ravenclaw enthusiast's hoard.
Use this laundry hamper to motivate your kids to actually throw their laundry somewhere else besides their floor! This hamper has an awesome Ravenclaw design and features mesh for breathability.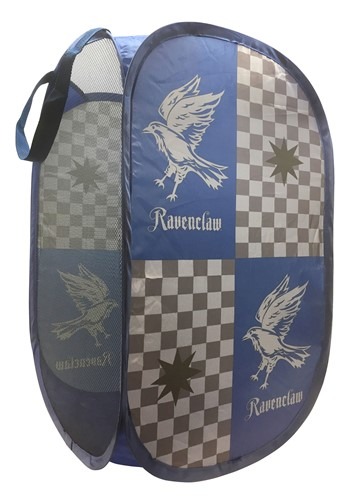 It is also collapsible, which also makes it great for college students or those tight on space. Now if only we had the magic to make the laundry sort itself!
You'll feel like you're enjoying a feast in the Great Hall when drinking out of this Ravenclaw tankard. The exquisitely crafted tankard is made of bronze resin with intricate details that you just can't take your eyes off of!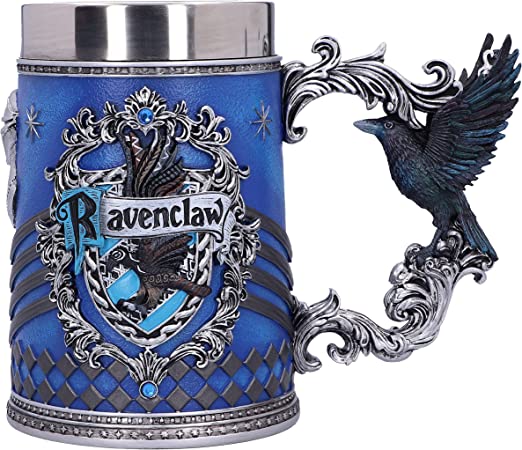 One side features Ravenclaw's crest and the other three of its tenets: wit, wisdom, and learning. We can just picture sipping from this tankard while marathoning the movies and enjoying some Bertie Bott's Every Flavor Beans!
We are kind of obsessed with this reed diffuser that looks like a little potion bottle! In perfect Ravenclaw blue, this reed diffuser also features a Ravenclaw label and a mini house necktie wrapped around the neck.
The specially design scent is complicated, and includes notes of lotus, white musk, Japanese cedar, and vanilla. Does that sound up your alley? Use this diffuser in your bedroom for a relaxing scent to waft you to sleep.
Prep yourself for movie night by snuggling up in the SOFTEST throw blanket ever! With a bold Ravenclaw print, this blanket is perfect for those cold winter nights when you just want to stay up late reading.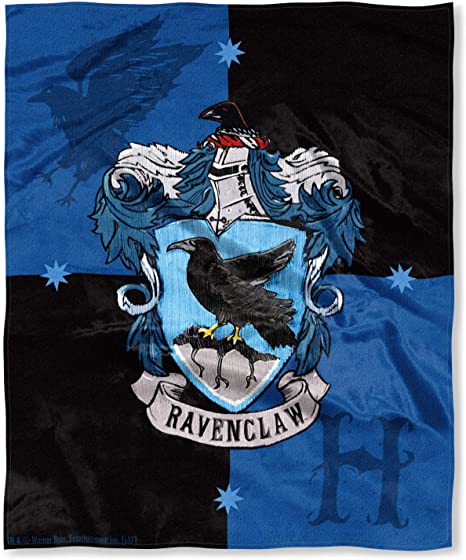 This blanket is thick and soft and will cover most people from neck to toe! Buy this for yourself, or gift to an important Ravenclaw in your life!
Plenty of Ravenclaws are big readers; it's just a known fact. Show off your love for Harry Potter AND reading with this perfect pillowcase!
This pillowcase fits 18×18 throws and is machine washable, so don't worry about any spills. Put this in your library or set in your living room for guests to see!
True Ravenclaw fans know the Ravenclaw common room has a night sky ceiling. Achieve that effect at home with this totally cool star projector! The projector also comes with a Bluetooth speaker and white noise machine, so you can go to sleep under the night sky.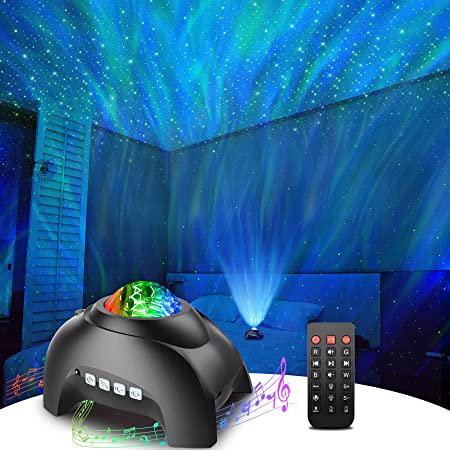 LED lights create twinkling stars and Northern Lights effects on your ceiling so you feel like you're at home at Hogwarts. The remote controls all 16 effects, which we would say is pretty much like having a wand!
We are loving this print of our favorite Ravenclaw! This portrait is quintessential Luna: Spectre Specs, a copy of the Quibbler, and her famous radish earrings!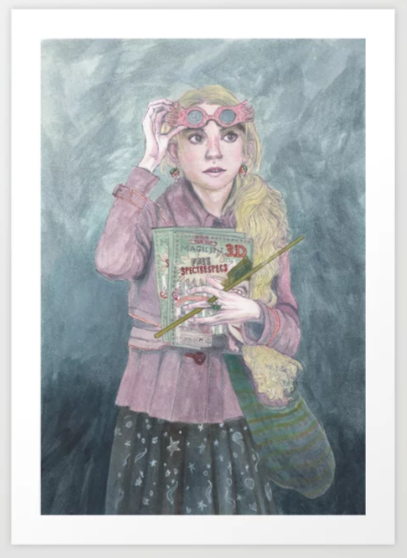 The artist totally nailed Luna's vibe in this print. Offered in a variety of sizes, this print will look spectacular in your home!
It's so annoying when you go to the book shop and want more books than can fit in your arms. Next time, bring this tote bag with you! Book lovers will totally understand the sentiment on the design.
These bags constructed of are double-stitched, durable material, which means they can hold a bunch of books, no problem (even hardbacks!). Now you won't have to leave any books behind the next time you want to go shopping!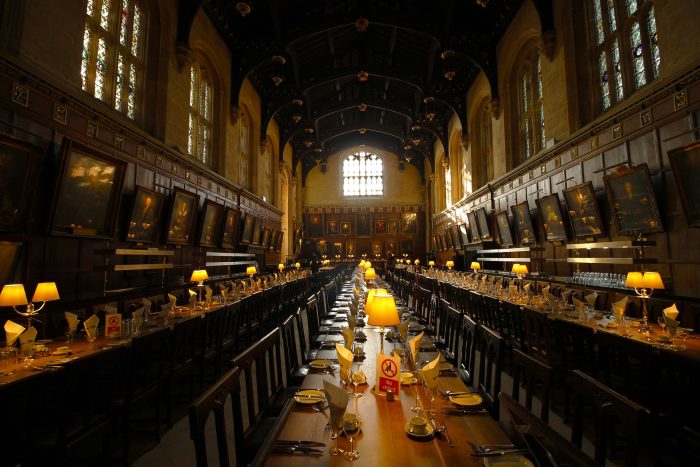 Hufflepuff
Hufflepuffs, don't worry, we'll never forget you! Show off your true loyalty and kindness with these sweet items that will wow your friends.
You may not have been able to get sorted by the real thing, but you can still have a reminder of what it would have been like! This wall art features the sorting hat and its famous description of Hufflepuffs, with a cute badger watermarked background.
MightyPrint makes wall art that are high quality and made with a durable translucent film material. They also are created to diffuse light so if you place this print in front of a window or in a lightbox it'll look even more magical!
Proudly display your wand on this gorgeous Hufflepuff stand by The Noble Collection. Two badgers hold up either your favorite wizard or witch's wand or your own personal one!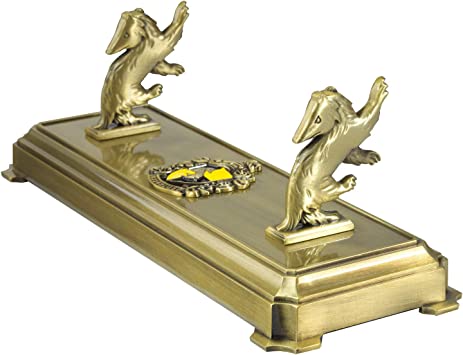 This die cast stand is made entirely of metal and coated in a stunning gold tone, with a relief of Hufflepuff's house crest in the center. Whose wand would you display on here?
Add a little magic to your garden with a garden stone featuring your house crest! These stones are hand painted with vibrant coloring and made of durable resin that can withstand the outdoors.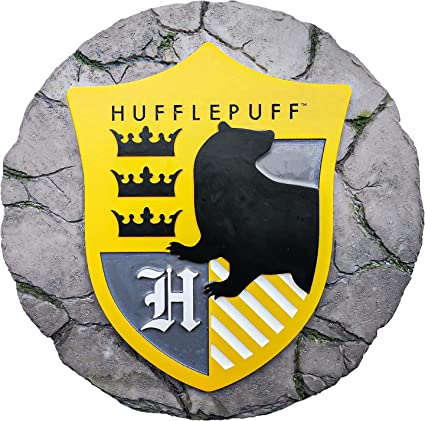 Set this up in a flower bed or add to a full path of stones for an English countryside look. These stones also include hardware for hanging if you'd like to display on the side of your house!
The deeper and more muted colors of this Hufflepuff throw make it feel like something you'd really see in the common room! Hufflepuff's house crest has never looked better than on this tapestry blanket.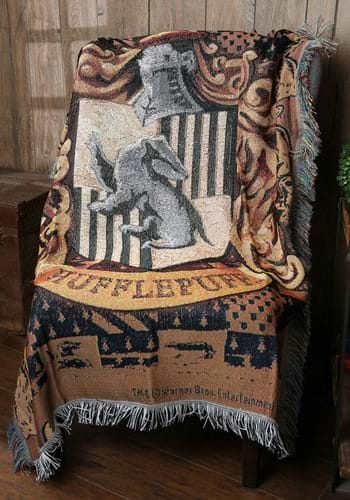 Curl up on the couch with a snack after wrapping yourself up in this large woven throw. Or, display on your wall for that traditional Hogwarts castle feel!
Hufflepuffs, we know you love your food (your common room is the closest to the kitchen, after all!). Keep the theme going and add a little Hogwarts flair to your kitchen with these super cute Hufflepuff magnets!
Each pack comes with six glass magnets, featuring a variety of Hufflepuff art. Now you can proudly display those top marks you got in Charms class for everyone to see!
Turn up the cozy vibe by lighting a Hufflepuff soy candle! This candle magically turns from white to your house's signature yellow once lit.
Each candle comes with two wicks and a wooden lid, and features a gold Hufflepuff design on the glass. This candle is unscented, so it's perfect for those who love the flickering flame of a candle but are more scent sensitive.
One of the most important Hufflepuffs, Cedric Diggory will always be immortalized on this throw blanket! Cedric's Hufflepuff jersey is the design for this blanket, the last thing he wore in the films.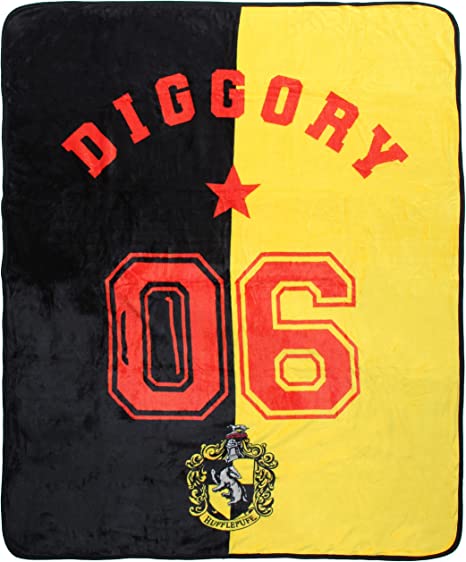 This throw is SO soft because it's made with silk touch fabric. When you use it you will feel like you're being hugged by a bunny.
Jazz up your Hufflepuff decor with some matching pillowcases in the house's traditional yellow and black! These pillowcases feature a modern abstract design that will go with almost any style.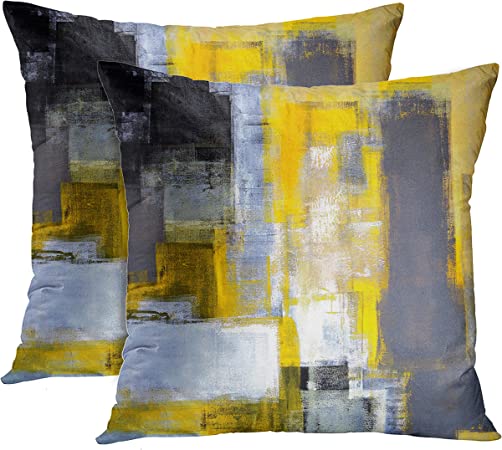 Each pack comes in a set of two covers and will fit standard 18×18 pillows. Add to the growing collection on your bed (we know you already have about twenty!).
It doesn't get more Hufflepuff than this! This print gives us total cottagecore vibes and features a variety of items that fit the sweet and kind Hufflepuff aesthetic.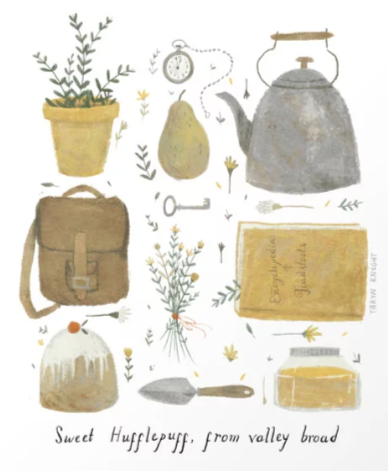 A tea kettle, pot of honey, and more all make up this lovely little print. We think this would look perfect in your kitchen or hanging up next to your indoor plants.
Going for a Hufflepuff theme in your bathroom? This bath mat will fit right in! The intricate gold leaf scroll on the black background definitely gives us Hufflepuff vibes.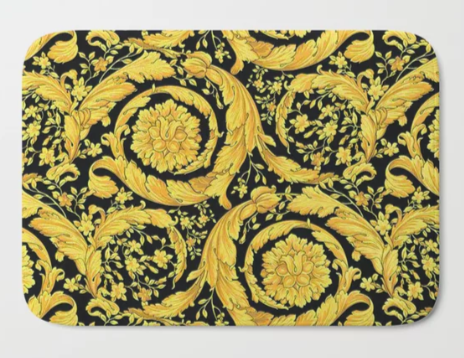 Your feet will thank you for purchasing this mat every time you step on the plush memory foam. Choose from the two sizes available for the best fit for your room!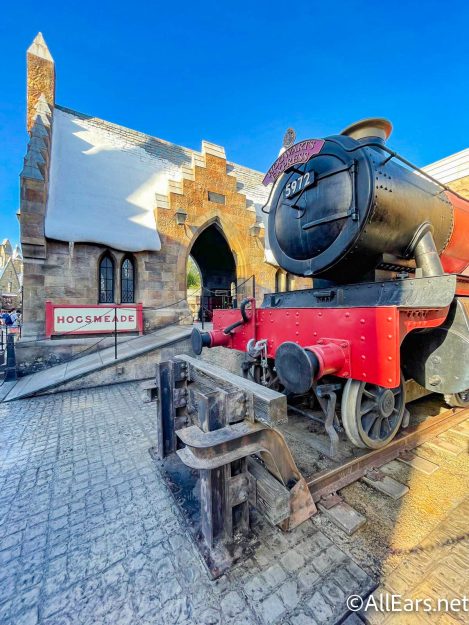 General Harry Potter Decor
For the undecided or those who just want to add more magic to their household, check out these other cool finds to add to your dragon's hoarde!
Light up your space with this potion bottle lamp, featuring one of the best quotes from the series. Perfect for Halloween, Christmas, or just any time of year!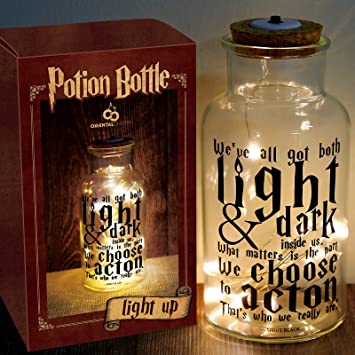 We think this would be an excellent night light for a Harry Potter themed kid's room, or gift it to your Potterhead friend for their birthday!
Double bubble toil and trouble … what do you have brewing in that cauldron? No eyes of newt here, just cookies! Fill this Hogwarts cookie jar with your favorite treats.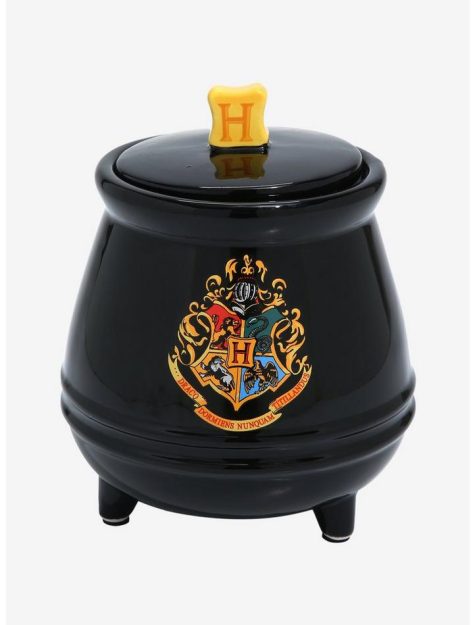 This cauldron shaped jar features the Hogwarts crest and motto, draco dormiens nunquam titillandus (that's "never tickle a sleeping dragon" for you non-Latin readers out there!).
Serve your charcuterie wizard-style on this Quidditch-themed artisan serving plank! This 18 inch acacia plank is great for cutting or serving food, or just display on your wall in your Harry Potter themed kitchen.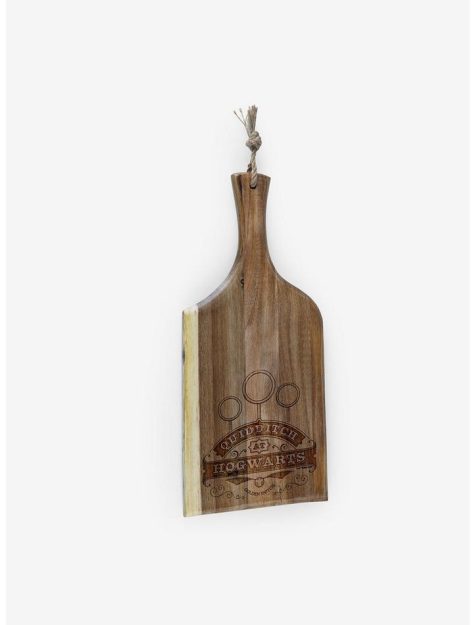 The rustic style of this plank is paired with a "Quidditch at Hogwarts" design featuring three goals and the golden snitch. Break it out to serve your favorite hors d'oeuvres before you start in on the Butterbeer!
Fantastic Beasts fans, we haven't forgotten you! Add a little 1920s vibe to your Harry Potter theme with this The Blind Pig print from MightyPrint!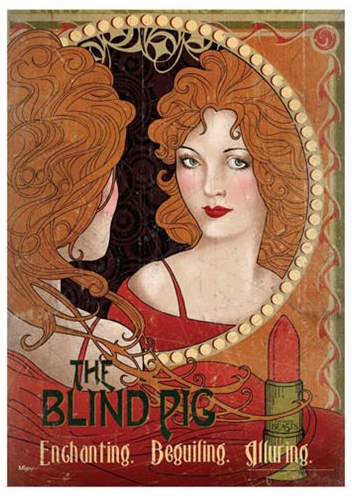 Set up your own speakeasy at home with this print as the main feature. Hang it, then kick back listening to jazz and sipping on your favorite cocktail!
Need some more office or library decor? We've got you covered! Light up your space with this golden snitch desk lamp. The snitch is displayed in a bell jar that looks like something right out of Dumbledore's office!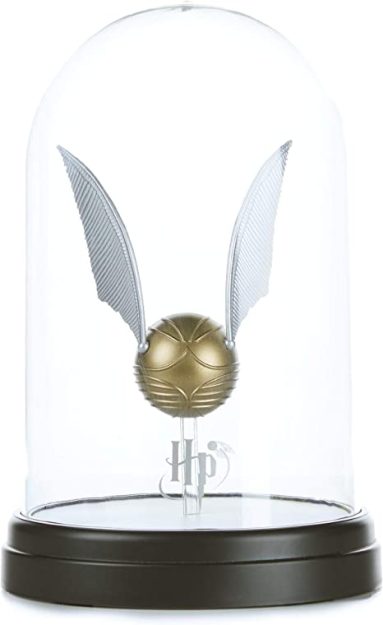 This lamp is USB-powered and just under eight inches tall, and would be right at home on your nightstand, desk, or anywhere else you need a little illumination.
Want the look of the amazing Hogwarts library but just don't have all those books collected yet? You can fake it for the time being with this wizard library tapestry!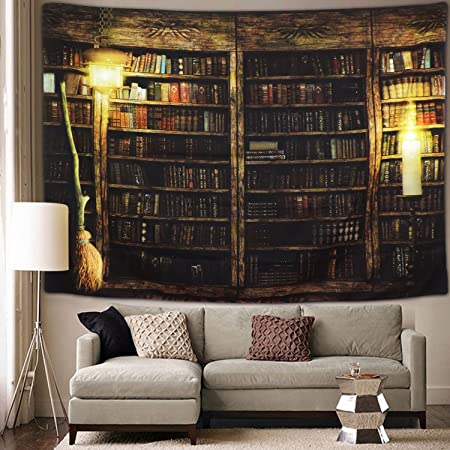 The design shows many bookshelves filled with ancient tomes, and of course the all important broom, a wizard's favorite mode of transportation. Just hang it up and your room will be instantly transformed!
If you're the kind of person who's always losing their keys, this is a great item for you! The perfect spell for keys, this key holder is made of die cut metal and features the alohamora spell along with other iconic Harry Potter silhouettes.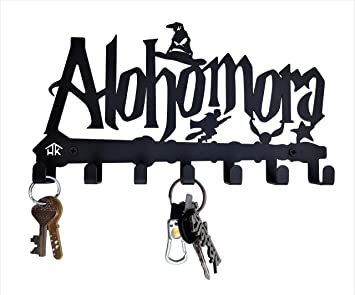 The rack can be installed on your wall wherever you need it and can hold seven plus key rings. Skip the remembrall and just know your keys will always have a home on this holder!
There's something extra magical about Hogwarts in the winter. Bring a little bit of that magic to your home with this Hogwarts Express snow globe!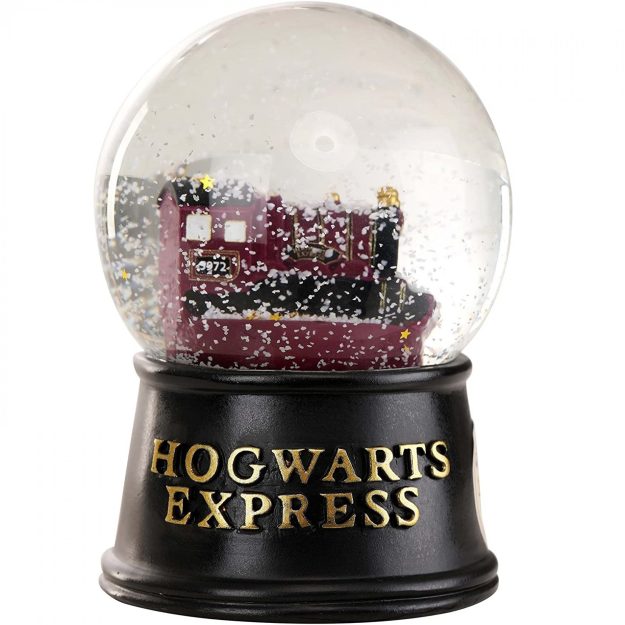 The best way to reach Hogwarts is by train of course, and the Express looks absolutely charming in a flurry of white snow! Add this little piece of magic to your usual holiday decor.
While maybe not so appealing in the films, you gotta admit this mandrake planter is super cute! This little guy comes with a faux succulent inside, so no worries about accidentally killing another plant!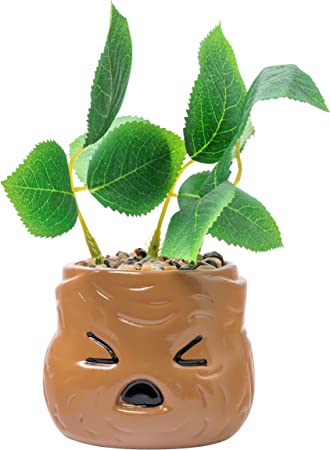 Each planter has the classic screaming mandrake face, minus the actual ear-shattering yell. Set this guy amongst your real plants to make Professor Sprout proud!
If you really want to keep your friends and family guessing if you're a witch or not, add these Hogwarts spice jars to your kitchen counter!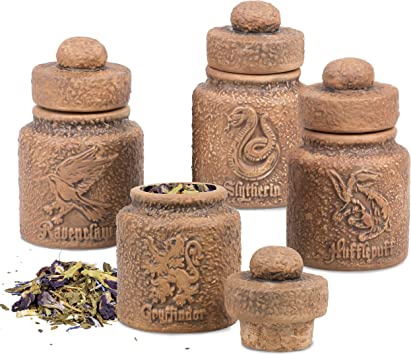 Each jar features a different house's crest, and the textured ceramic makes them look like you just nicked them off of Snape's potions shelf. The stoppers are lined with cork to ensure your herbs (or other magical ingredients) stay fresh!
With these items you'll have your home looking spectacular faster than you can say "Expelliarmus!" If you are looking for some first-hand inspiration, check out our video where we rank everything in The Wizarding World of Harry Potter at Universal Studios!