National Geographic's latest unscripted series on Disney+ debuts today:  Magic of Disney's Animal Kingdom.  This backstage look at the popular theme park focuses on the care and habitat of the animals — the stars of the show.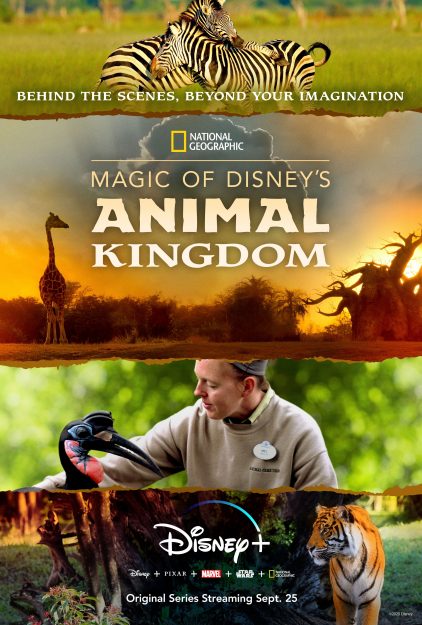 The eight-episode series is narrated by everyone's favorite snowman, Josh Gad (also credited as "TheManCanDoItAll Audio Engineer") and moves between the various animal habitats and animal hospital at Animal Kingdom, and the almost 6 million gallon aquarium at The Seas with Nemo and Friends in EPCOT as it shows the Disney resort cast members caring for all its animal inhabitants.
Viewers hoping for a deep dive into the Imagineering aspects of Animal Kingdom may be a little disappointed as the focus is largely on the animals.
There are occasional short segments, some with Animal Kingdom's lead designer Imagineer Joe Rohde, talking about the park's creative design and intention which are as insightful as his talks usually are.
Additionally, Kilimanjaro Safaris Cast Members show off their early morning rides through the enclosures and point out various animals with much better visibility than you'd typically get on the attraction  (no one ever explains why all the good animals are on the left side of the truck, however.)
In the episodes I screened, the main issues facing the animals' Cast Members were medical care and husbandry.  Multiple issues compound the already tricky veterinarian demands as animals have to be coaxed into position for exams while trying to avoid the need for risky anesthesia, or lifted out of a building in a crane.
The vets perform any number of procedures on their patients from chicken hysterectomies to shark endoscopy.  Through it all, the Cast Members show a devotion to their animal family that makes them euphoric when things go well, even wrist-deep in rhino fecal matter or manatee toe jam.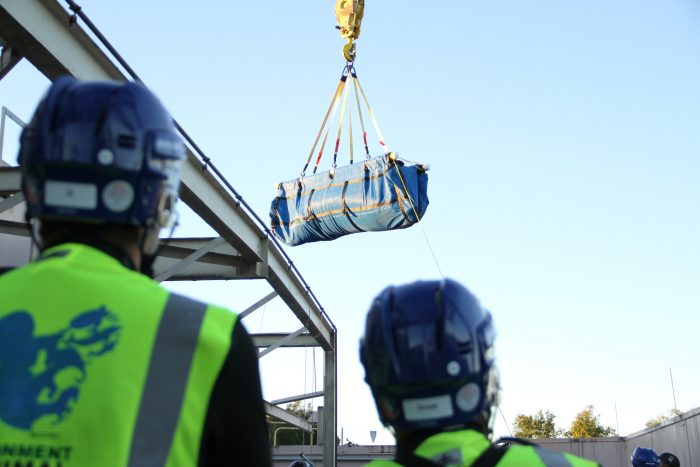 Because of the endangered status of so many of the animals in the park, there is a constant need to encourage breeding, which leads to some awkward moments.
One poor rhino, Dugan, is represented as shy and uncomfortable with women, but is put with a bunch of them in hopes of finding him a mate.  When he is later brought back for first aid after getting roughed up, you can only imagine him like the volunteer in the Indiana Jones Stunt show at Disney's Hollywood Studio who gets punched by Marian's stunt double, going "I don't think I want to do this anymore."
But because this is a Disney production, we know that Dugan will eventually find true love, or at least enough of what passes for it in the animal world to produce offspring.  Baby animals are everywhere in this show and are just as adorable as you'd imagine.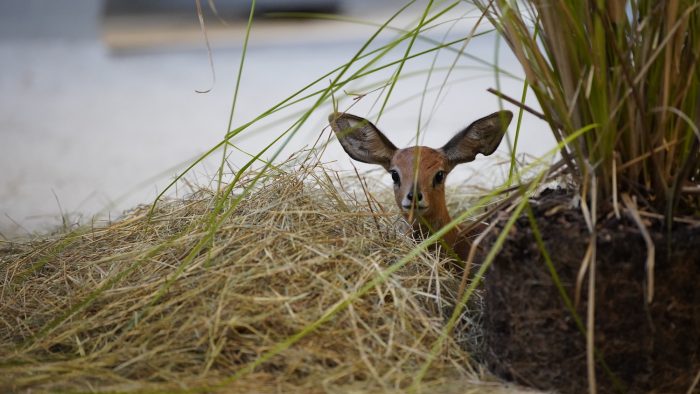 Magic of Disney's Animal Kingdom gives an informative look at all the effort and science that support the animals essential to the parkgoers' experience.  By showing how vulnerable the animals are to human carelessness (some are rushed to emergency surgical procedures because people threw food that were hazardous to them into their tanks) it will hopefully encourage people to be more mindful and invested in their survival and welfare.
If it is a little bittersweet to see pre-pandemic footage of the parks with guests all unawares of the restrictions they'll be under in the future, it is a reminder of the magic that same effort and science and widespread mindfulness can get back for us.
Magic of Disney's Animal Kingdom will premiere on Disney+ today, September 25th, 2020.
Be sure to follow @allearsnet on Facebook, Instagram and Twitter!
Check out our YouTube Channel for reviews, news, information and more!
Click below to subscribe to the AllEars® newsletter so you don't miss any of the latest Disney news!

Are you going to be tuning in to learn more about Animal Kingdom? Let us know below!