When Disney released menus for Bar Riva at Disney's Riviera Resort ahead of the Resort's December 16 opening, we were pretty sure an expansion of that menu was imminent. Lo and behold: now there's food! Lots and lots of European-inspired food.
Late last week, the Cocktails and Frozen Cocktails at Bar Riva were revealed. Now more beverages have been added, including this list of non-alcoholic options that includes a Frosty Blood Orange Granita and a Hibiscus Coconut Refresher. Those sound pretty perfect for sipping next to the Riviera Pool.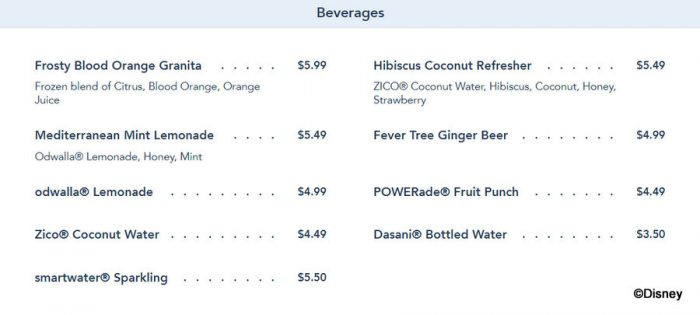 More adult beverages have also been added under Beer, Hard Cider & Water.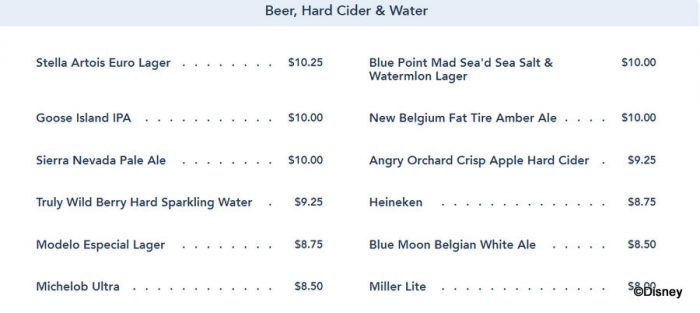 And to really dive deep into the European theming: two types of Sangria.

For bites to go with your bevs, Bar Riva offers two salads. The Tuna Nicoise was shared during a preview of Riviera food a few months ago.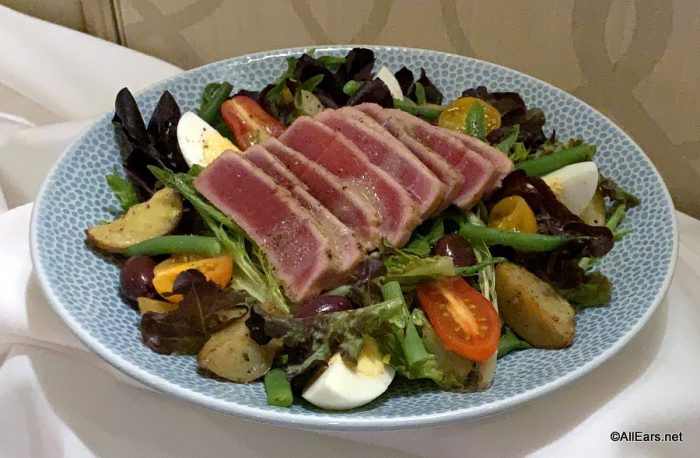 There will also be Hot & Cold Handhelds, including the Riviera Burger topped with a grilled portobello and caramelized onions.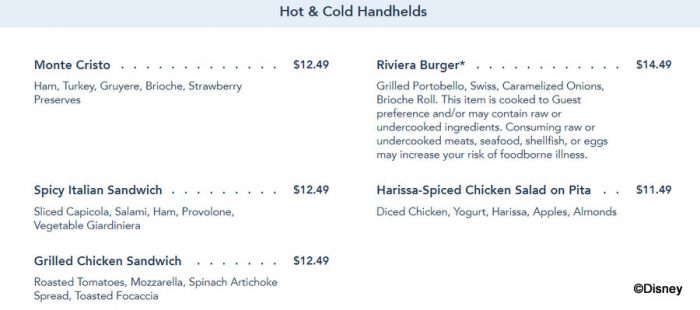 Bar Favorites offers a variety of tasty-sounding items like Shrimp Pasta (perhaps with house-made pasta from Topolino's Terrace?), Chicken Wings, and a Grilled Vegetable Skewer that is not listed as Plant-Based but that sounds very similar to Primo Piatto's Plant-Based skewer, so we'll keep an eye on that.

Finish off your meal at Bar Riva with a dessert! Warm Chocolate Cake, Classic Tiramisu, and Fresh Seasonal Fruit are the offerings on today's menu.

This menu is a massive expansion on the small menu revealed last week, and we're glad to see that the foods here have a lot of European influences. Note that during the Riviera food preview, we tried some breakfast items from Bar Riva, too, and those have not been added to the online menu. If/when they are, we'll update!
Also note that many of the options on the Bar Riva menu are also served at the Resort's quick service spot, Primo Piatto, so you'll have some flexibility on where you want to fuel up when you're staying at Riviera Resort.
Are you planning a stay (or a visit for some snacking) at Riviera Resort? Let us know what you're looking forward to by commenting below.