Not too long ago we posted our guide to eating healthy at Walt Disney World theme park quick-service spots,  and followed that up with a guide to healthy eating at the quick-service spots at Disney Springs.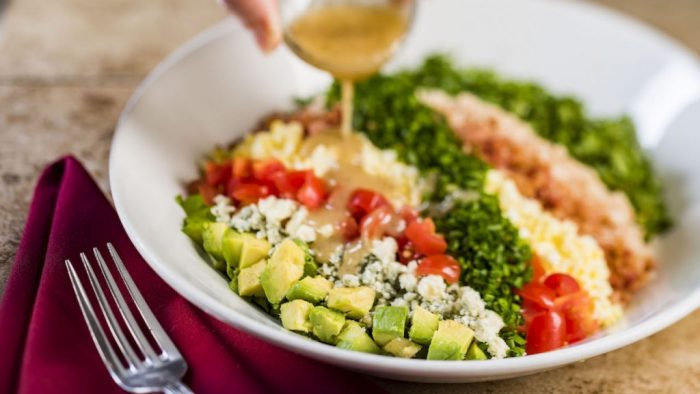 We thought it was time to provide a similar round-up of where to eat healthy at the Disney World table-service restaurants!
A Few Tips
Trying to eat a healthy meal anywhere can be difficult, but when you're on vacation at Disney World? It seems nearly impossible. Vacation is meant to be a time of no rules, and all of the tempting Disney World table-service restaurants are calling you!
But there are plenty of spots that feature light entrees with fish or chicken and other healthier options. If you follow some common sense rules, it's not such a challenge to eat right!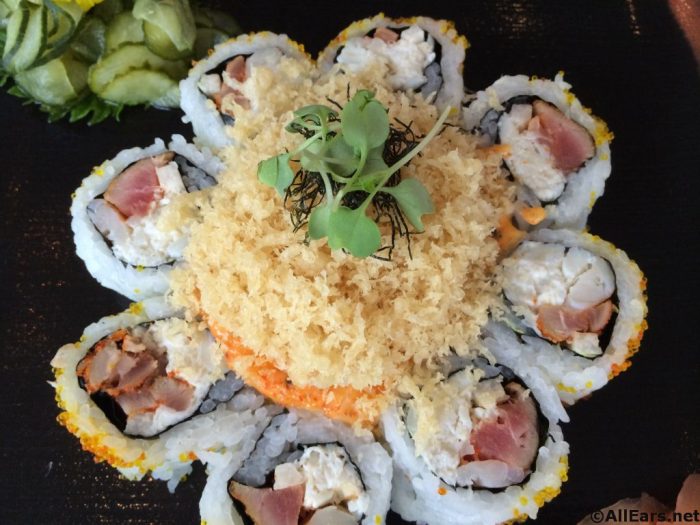 First off, despite the fact that fried chicken is delicious, avoid fried foods and choose baked or grilled items, which are better for you overall. This also includes different sides that you can get with your meals. Instead of going for the french fries, most places will let you sub them out for a side salad or a fruit cup.
Another good tip I can give is to eat everything in moderation. Allow yourself a treat once a day, so you don't feel deprived. You're on vacation, after all! Have a dessert with one of your table-service meals that is both satisfying and healthy, or at least healthier than others. Some examples of this would be gluten- or sugar-free items or various fruits.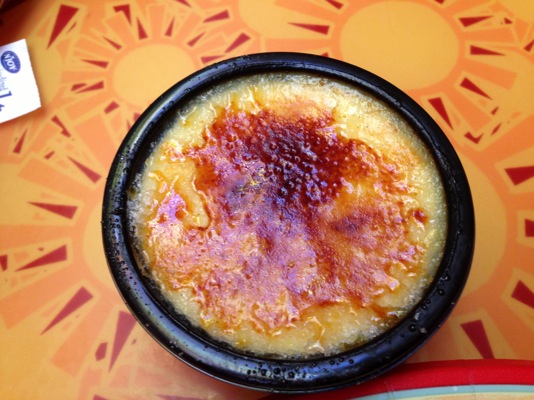 Restaurant Recommendations

Each area in the expanse of Disney World has fantastic table-service restaurant options for those who are health-conscious. I'm especially partial to the delicious seafood available! Who'd have ever thought that clean eating would be so easy on vacation, right?!  Here are our suggestions for some of the best places to eat rather healthy:
MAGIC KINGDOM
Healthy Choice breakfast: m

ultigrain toast, egg white scramble, avocado, cotija cheese, and jalapeño
Herb-salted pork tenderloin with corn purée, fava beans, and garlic pistou
HOLLYWOOD STUDIOS

Sci-Fi Dine-In Theater Restaurant
Vegan tofu lettuce wraps with w

ater chestnuts, shredded carrots, spicy cucumber, Szechuan sauce, and soba noodle salad

Oven-roasted turkey sandwich served on a multigrain croissant with bacon, lettuce, marinated tomatoes, and cilantro-avocado aïoli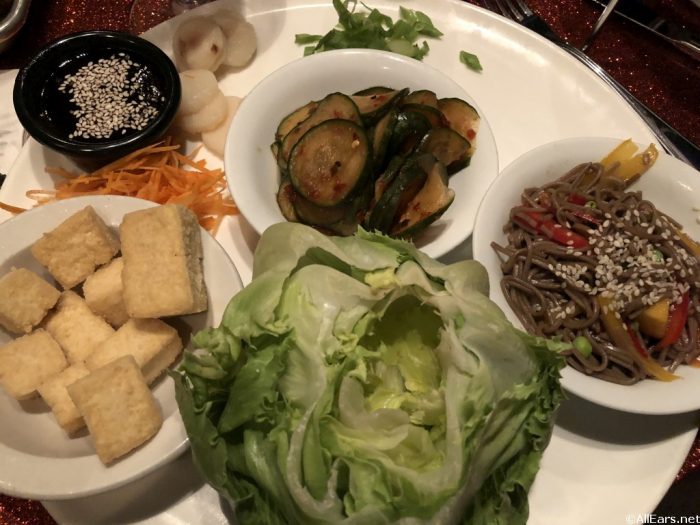 Famous Cobb Salad (either starter or entree)
Several other entrees, including Vegetarian Pho, Faroe Island Salmon, Bell & Evans Chicken Breast
EPCOT
Various types of sushi, including California rolls, seared tuna rolls, and vegetable rolls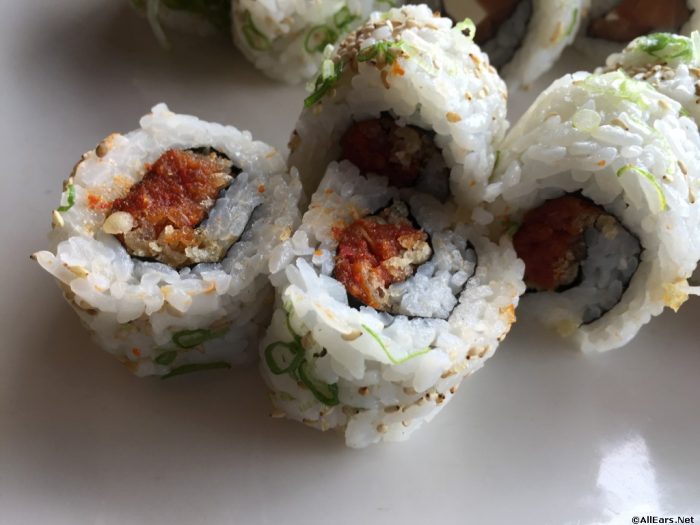 Pan-roasted Scottish Salmon with fresh kale, red and green cabbage, brussels sprouts, carrots, and red lentils with an aromatic English Spring pea sauce
Lemon Chicken Tagine, or Mogador Grouper Tagine,
North Atlantic Salmon with mushrooms, hummus & olive harissa tomato concassee
Chicken kebabs with olive salad, dried fruit, and sweet couscous
Seared Mahi Mahi with Caribbean shrimp salsa and coconut and cilantro-lime sauce, topped on a bed of jasmine rice
Grilled swordfish with lemon-herb vinaigrette, white beans, cipollini onions, and arugula
For dessert: No sugar added Angel Food Cake with berries
Starters: Prosciutto and melon, various salads
Branzino, simply grilled sea bass with spinach, potatoes, salmoriglio trapanese
Petto di Pollo – pounded chicken, oven roasted vegetables, pesto sauce
For dessert: Lemon sorbet
ANIMAL KINGDOM
Starter: Lettuce cups with m

inced chicken breast, chopped vegetables, and Saigon hoison sauce

Korean roasted cauliflower with white and red quinoa, brown rice, vegetables, and Korean BBQ seasoning

Seared Miso Salmon miso glazed Atlantic salmon, coconut-ginger rice, baby bok choy and shiitake mushroom stir-fry
Also daily Chef's Fresh Catch, grilled, broiled or pan-seared
Starter: Avocado and Tomato Salad
Pan-seared Alaskan Halibut – herb-roasted tomato, haricot vert, fingerling potato, saffron aioli, Kalamata marmalade
DISNEY SPRINGS AND DISNEY WORLD RESORT HOTELS

Fresh Mediterranean Market at the Dolphin Hotel
The Healthy Homestyle breakfast: scrambled egg whites, spinach, red bell peppers, low fat cheddar cheese, turkey, roasted sweet potatoes and a side of either a whole grain English muffin or whole wheat bagel with avocado butter
Thai chicken salad with Boston bibb lettuce, cucumber, papaya, pea tendrils, cashews, and a tamarind-ginger dressing
Todd English's bluezoo at Dolphin Hotel
A variety of seafood choices, but especially Bluezoo's Simply Fish selection of the night
Smoked honey-sesame salmon with green beans, forbidden rice, radish, turnip purée, and coriander vin blanc
For dessert – a trio of seasonal sorbets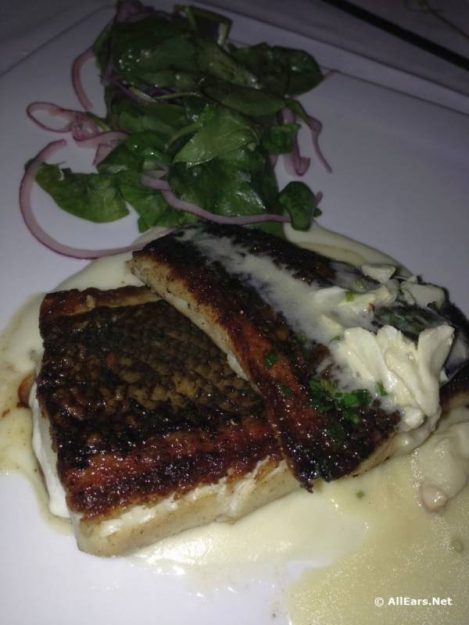 A variety of fresh fish dishes, including oak-grilled salmon with cauliflower purée, beets, and sunflower seeds and swordfish with vegetable mélange and potato beurre blanc
 For dessert: Panna "carpa", a no-sugar-added buttermilk panna cotta
The Wave at the Contemporary Resort
Breakfast: Avocado toast

with applewood-smoked bacon, poached eggs, and watercress salad;

Omelet your way with choice of ham, bacon, mushroom, onion, tomato, cheese, or spinach with breakfast potatoes

Dinner: Grilled pork tenderloin, tamari noodle bowl, sustainable fish of the day
For dessert: No sugar added creme brulee with fruit; seasonal sorbet
California Grill at the Contemporary Resort
Sushi!
Also a wide variety of fish dishes, including sea bass, ahi tuna, and salmon
Grilled pork tenderloin with a zinfandel glaze, crimini mushrooms, caponata-stuffed squash blossoms, and goat cheese polenta
Because of the tapas-style small plates here you can control portions better; specialties include charred octopus and poached tuna
Scallops with harissa vinaigrette, fava hummus, yogurt powder, olives, and roasted carrots
Hanger steak with salsa verde, various peppers, potatoes, and greens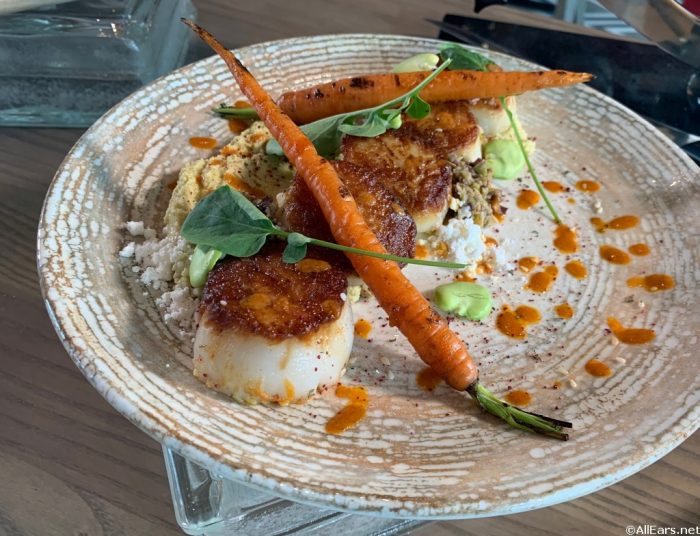 Sanaa at Animal Kingdom Lodge's Kidani Village
Tandoori chicken with traditional naan, rocket, pickled onion, tomato, and sambal mayonnaise

Salad sampler with

berbere black-eyed peas, jicama and citrus, Tunisian beet chermula

Quinoa vegetable tabbouleh salad with black rice, herbs, paneer, citrus dressing, and papadum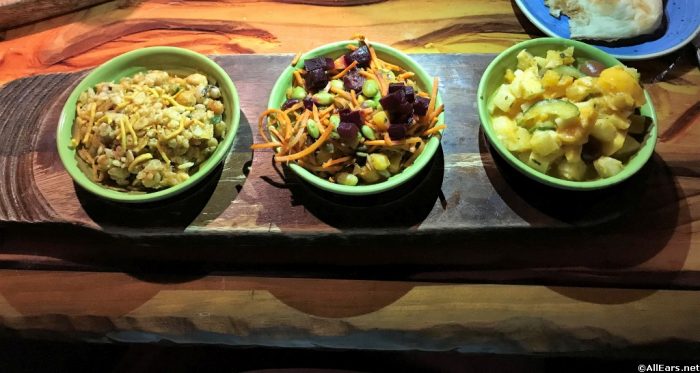 WIDE variety of seafood, including crab boil and shrimp boil
Beef Skewers with hazelnut romesco and pickled onions
Charred Octopus with smoked paprika oil, cannellini beans, and chourico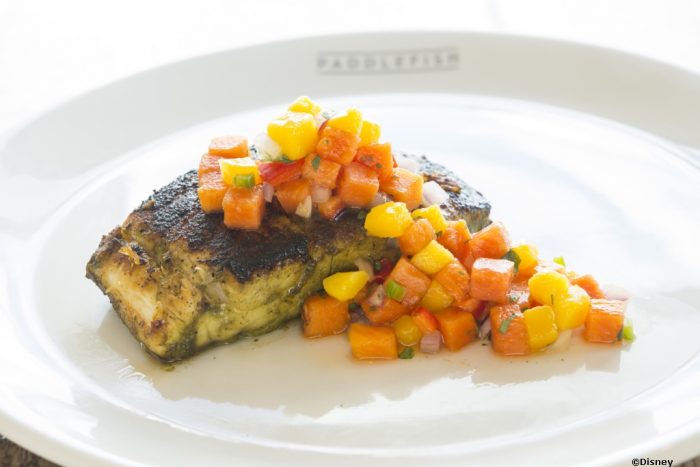 So much seafood, like cedar-planked Norwegian salmon with lemon vinaigrette and c

oriander-seared ahi tuna with soy-lime vinaigrette
Wedge salad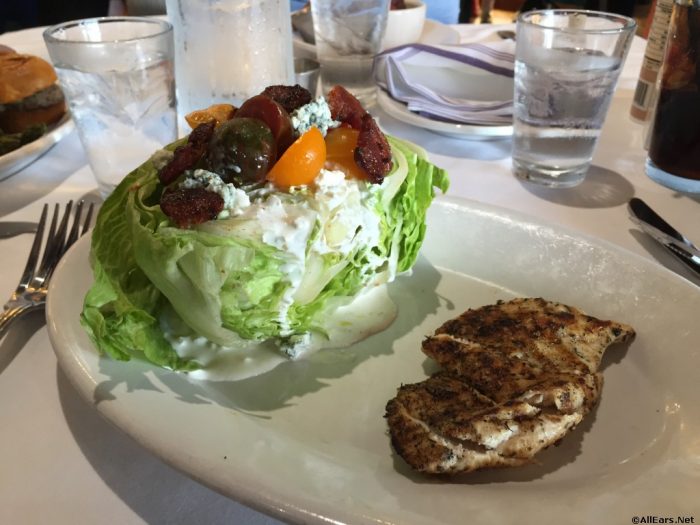 Wolfgang Puck Bar & Grill at Disney Springs
Faroe Island salmon with fennel, yogurt, quinoa, and sun-dried tomatoes
Pan-roasted half chicken with garlic-thyme jus, lemon, and potato purée
Have you discovered other healthy table-service meals on your Disney trips that we left out? What are your favorites, and why? Let us know in the comments below!
Be sure to follow @allearsnet on Instagram and Twitter!
Check out our YouTube Channel for reviews, news, information and more!
Click below to subscribe to the AllEars® newsletter so you don't miss any of the latest Disney news!