(This review of Toy Story 4 contains MILD spoilers for the upcoming film. If you do not want to know a single thing about the plot, or haven't watched the previously released trailers, we do not recommend reading any further.)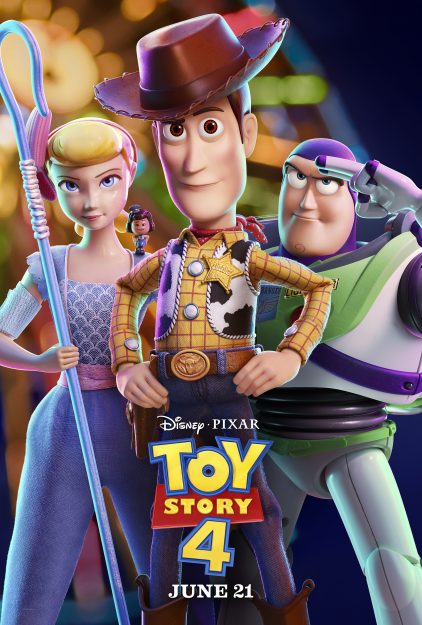 If you know me, you know I LOVE Toy Story. It's my favorite Disney movie, Buzz Lightyear is my favorite Disney character of all time, and I don't think I have ever cried harder than I did at the end of Toy Story 3.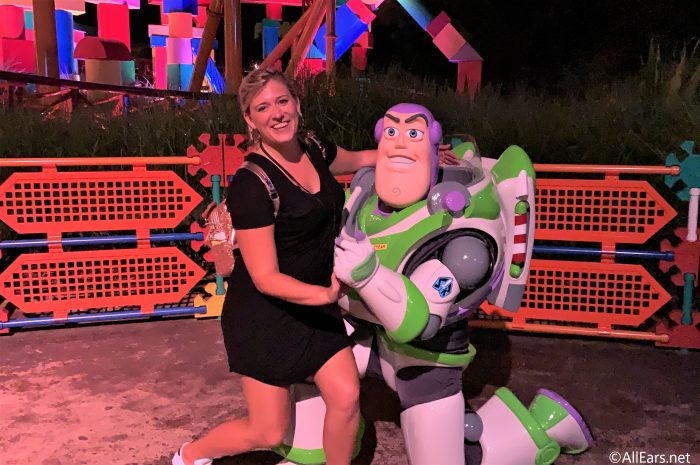 I tell you all of this so that you take the following sentence very seriously: When I found out Pixar was making Toy Story 4, I wasn't that excited.
I was confused where else the story could go — after all, Toy Story 3 wrapped up the trilogy perfectly, with a neat, little bow. To me, it felt fruitless to make another movie, and honestly felt like an easy way to make money. The Toy Story characters are beloved by so many, that no matter what, people are going to pay to go — even if the story isn't worthy of the name.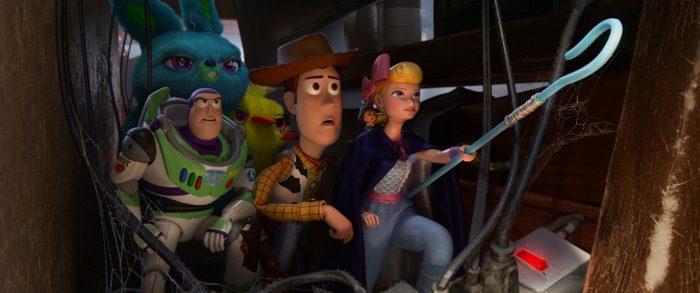 Seeing the trailers only compounded these feelings — I had questions, but I wasn't any more excited, just intrigued. What the heck has happened to Bo Peep? Who is Duke Caboom? Does Pixar really have the nerve to think they can make me have feelings about a spork?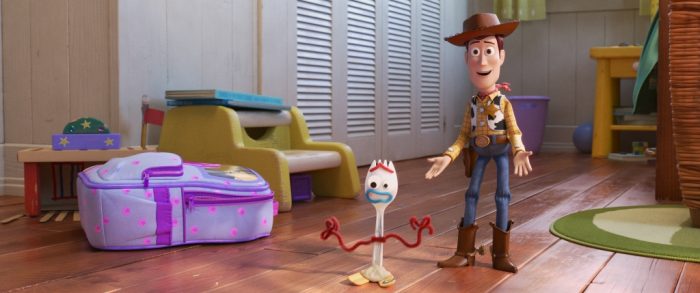 When we were invited to see an early screening of the movie, I was very curious and anxious. I tried not to set my expectations incredibly high, and planned to simply enjoy seeing Buzz, Woody, and the gang on the big screen again. I grabbed some popcorn, settled in, and waited for that familiar lamp to show up on screen…
One hundred minutes later and I was a puddle of emotions in my chair, wondering how I could have ever doubted Pixar to begin with. I laughed a lot, and cried even more. All of my questions were answered — even ones I didn't know I had. Not only did I like the Spork, but I desperately cared for his well-being and future!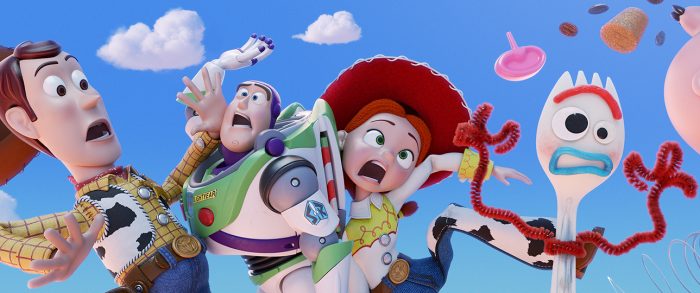 Let me tell you this right now — if you have low or no expectations, raise them.  If you have high expectations, raise them higher.
In the Q&A session with some of the cast and crew following the screening, I asked why they felt the need to make this movie, and if they were nervous. Director Josh Cooley answered, "[There was] tons of responsibility, tons of pressure. A lot of sleepless nights knowing we were going to attempt this, because we love the end of Toy Story 3 and feel like that's the completion of Woody and Andy's story. But there was more of Woody's story to tell."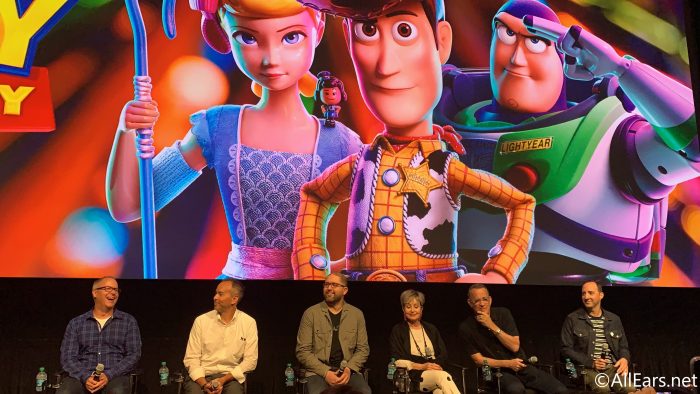 And boy oh boy, do they tell Woody's story. Toy Story 4 is really something special, in so many ways.
For starters, it's visually stunning. The colors, the animation, and the detail will absolutely blow you away. It's been almost a quarter of a century since the first Toy Story debuted and you can absolutely tell how far Pixar's technology has come. Director Josh Cooley stated that porcelain — as in, Bo Peep — was one of the hardest things to animate because of the shine. The animators spent hours looking at porcelain objects, observing things like how light bounces off of it, or what happens when it chips or breaks.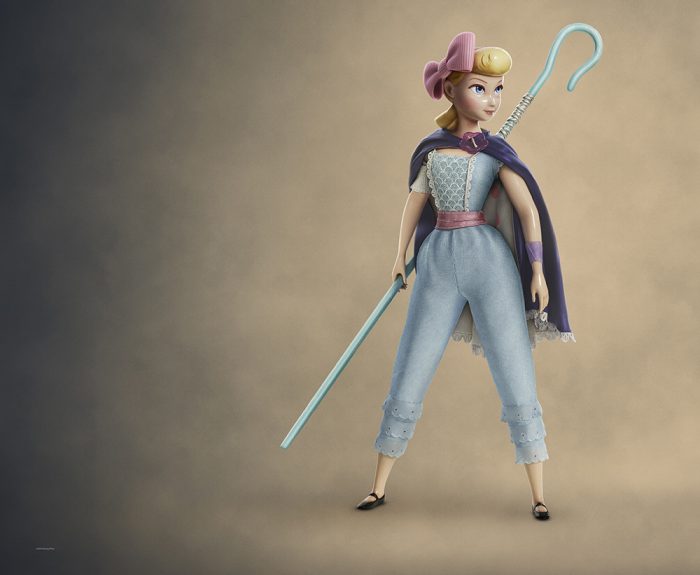 Another reason Toy Story 4 shines so brightly is because of the new characters. Pixar introduces a whole host of new friends, each one a thoughtful addition to the gang and a treasure in its own right.  None of these toys were added just to be added — they each serve a purpose to the story.  I found it hard to pick a favorite, though I think the room in general fell madly in love with Forky (Tony Hale).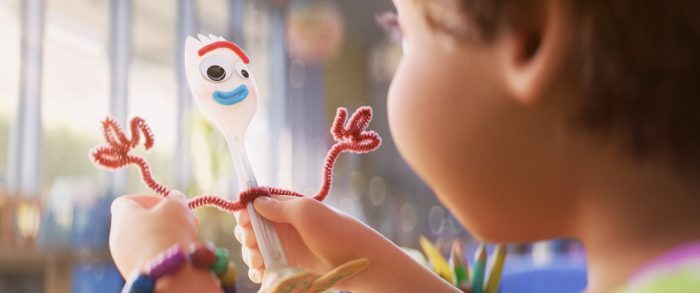 In the plot, Bonnie is nervous about starting kindergarten, so she makes a toy out of trash, with the main component being a spork. She names him Forky and clings to him for comfort and support the way many kids cling to a blankie. The problem is, Forky is nervous, anxious, gullible, and scared — he doesn't understand who he is or how he got here or why Bonnie needs him. Woody (ever the professional toy and child's best friend) on the other hand, fully comprehends why Bonnie needs him, and takes it upon himself to protect Forky at all costs. Of course, this turns out to be harder than expected, and things go awry.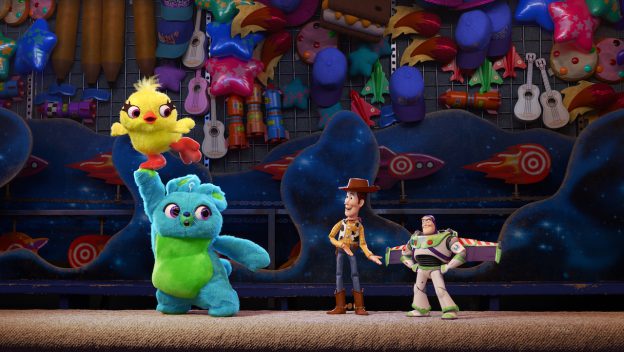 Other new characters include Gabby Gabby (Christina Hendricks) a baby doll who's more than meets the eye, and Bunny and Ducky (Jordan Peele and Keegan Michael Key), two carnival game prize plushes who are as funny as you want toys voiced by Key and Peele to be.  There's also Duke Caboom (Keanu Reeves) a Canadian stuntman who low-key might be the funniest Pixar character ever created. And let's not forget Giggles McDimples (Ally Maki), Bo Beep's new "Polly Pocket"-sized sidekick — in addition to her sheep.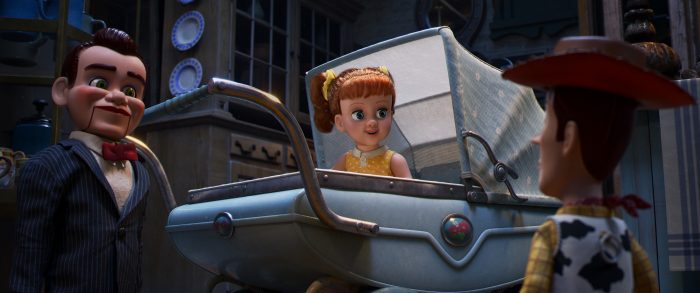 Speaking of Bo Peep (Annie Potts) — she is the pantsuit queen you never knew you needed. Bo is back, and we finally find out what happened when she and Woody said goodbye (hint: you'll cry). Bo is a lost toy now, and her romance with Woody quickly becomes a central plot of the movie.
The incredible story is full of twists and turns, none of which do I want to give away. Part of the joy and beauty of this film (as with many Pixar movies) is the unexpected, and we don't want to take any of that away from your Toy Story 4 experience. So if you're looking for more plot details or for us to give away the ending — sorry, you won't find that here!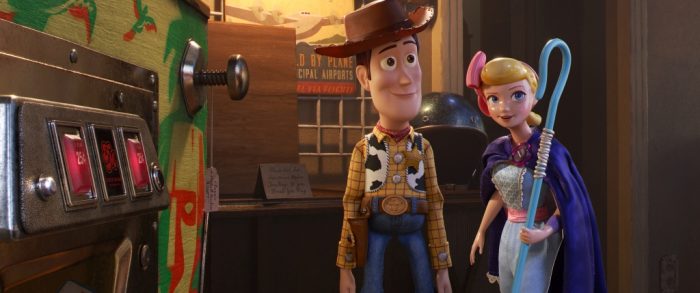 Instead, I will leave you with this: Toy Story 4 is hands down the funniest in the series, and very well might be my favorite of the films, after the original. Toy Story 4 is an animated movie that is far from a children's film. Don't get me wrong — your children will absolutely adore it. They will laugh alongside you at the gang's hijinx and beg you for a Duke Caboom action figure. But as with many Pixar films, the bigger messages are left for the adults — those of love and loss, of friendship and fear. You'll connect with a toy, or heck even a spork, in ways you never even imagined.
I went into Toy Story 4 uncertain, nervous, and hesitant, and I left crying about a piece of plastic and an old cowboy doll. Now, if that's not Pixar magic… what is?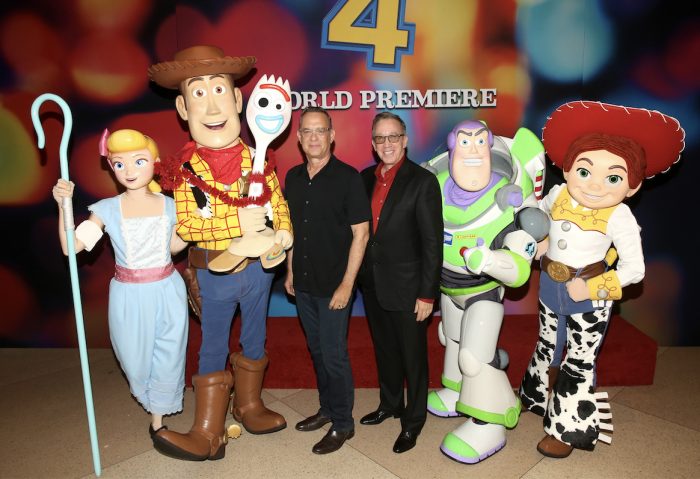 What are you most excited about? Let us know in the comments!
Want to read the latest on "Toy Story 4"? Check out these posts:
Disclaimer: AllEars.net was an invited media guest at the Toy Story 4 press junket, but this does not affect our opinions. Our opinions are our own.
Be sure to follow @allearsnet on Instagram and Twitter!
Check out our YouTube Channel for reviews, news, information and more!
Click below to subscribe to the AllEars® newsletter so you don't miss any of the latest Disney news!