Contributing photographer Jason of disneygeek.com was in the Disneyland Resort recently, checking on the status of various construction projects around the parks. He also had his first look at Star Wars: Galaxy's Edge. He shares a set of photos from his wanderings with us here.
The new Pixar Pals Parking Structure is racing toward its completion date — the end of the month. The new tramway is poured and the new load area is nearing completion.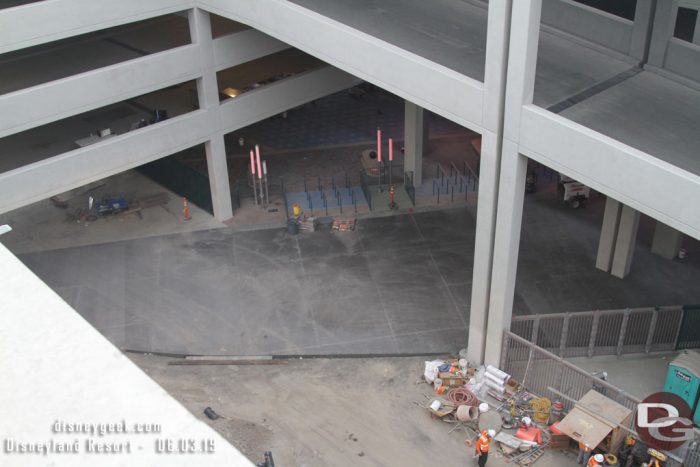 Pavers are being installed and other finishing details in the courtyard.
Both Disneyland and Disney California Adventure opened at 8 a.m. this day. This picture was taken about 7:45 a.m.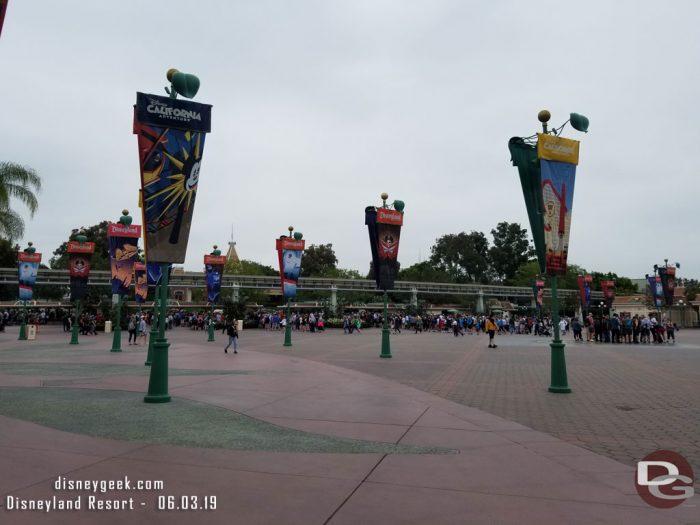 DCA had already started to let guests onto Buena Vista Street, so there was no queue.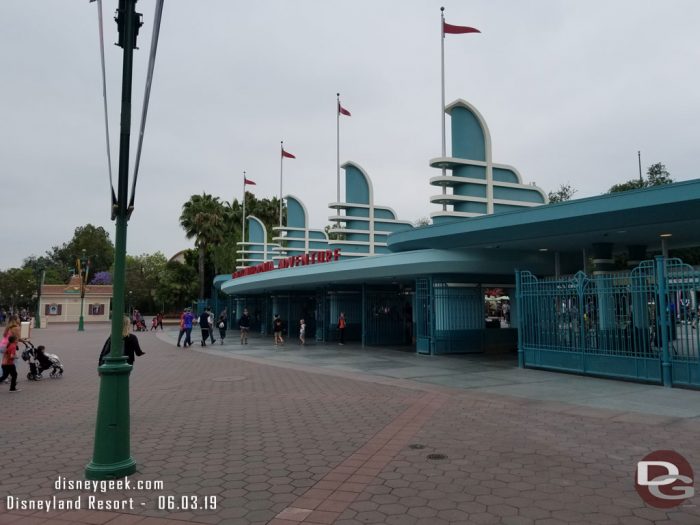 The Grizzly Peak Recreation area was a ghost town.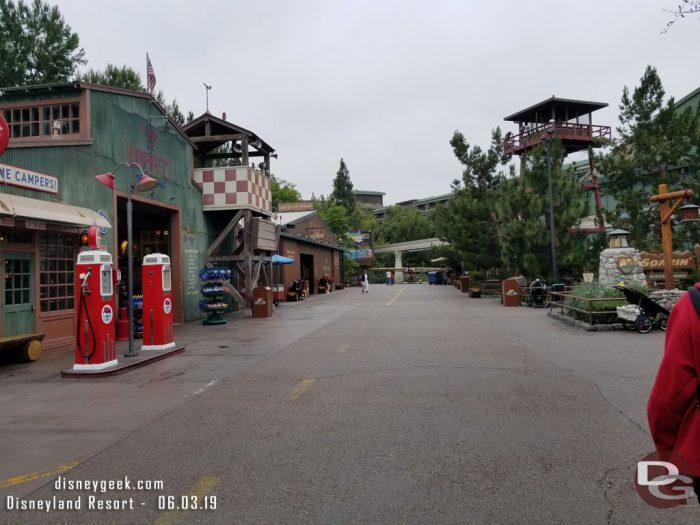 Soarin' Over California has returned for a limited time run, so I headed there first.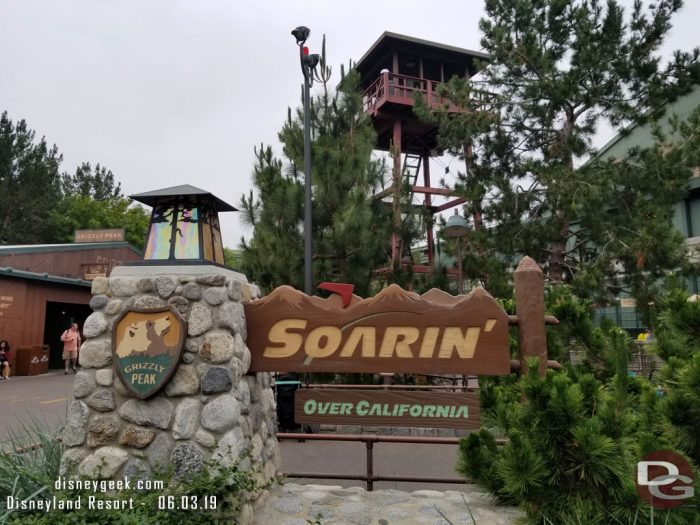 There was just a short queue about five minutes before the park opening.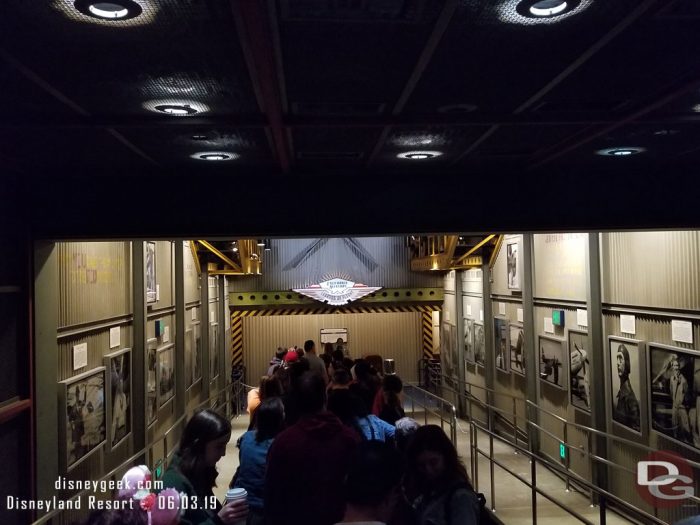 Next, I made my way out to Paradise Gardens.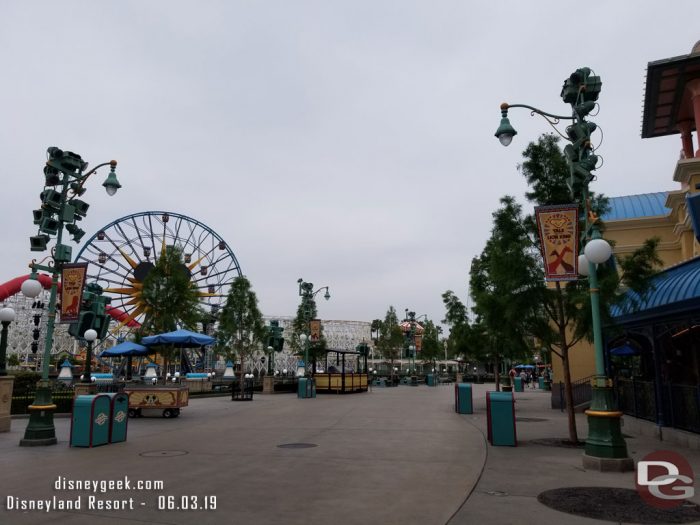 Banners for the new show Tale of the Lion King were already displayed. It debuted on Friday.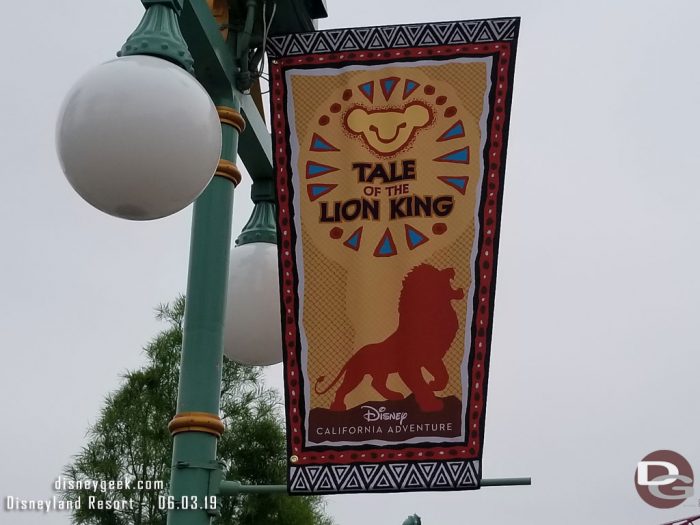 Pixar Pier was really quiet. Toy Story Mania! was a walk-on with no queue at 8:33 a.m.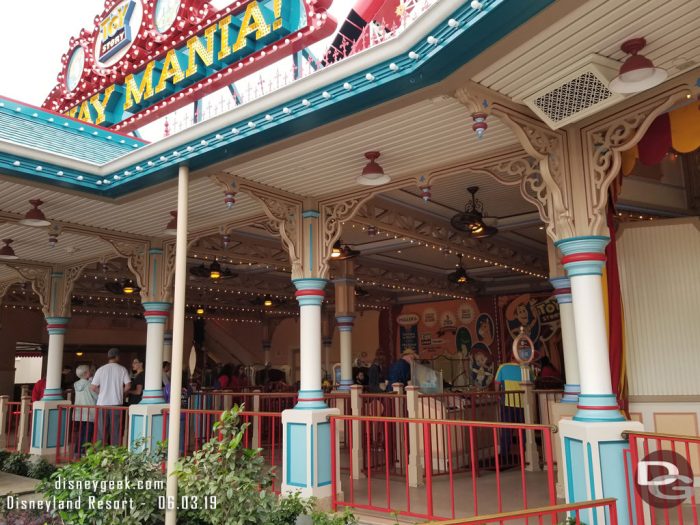 Pixar Pier was still pretty deserted at 8:48 a.m.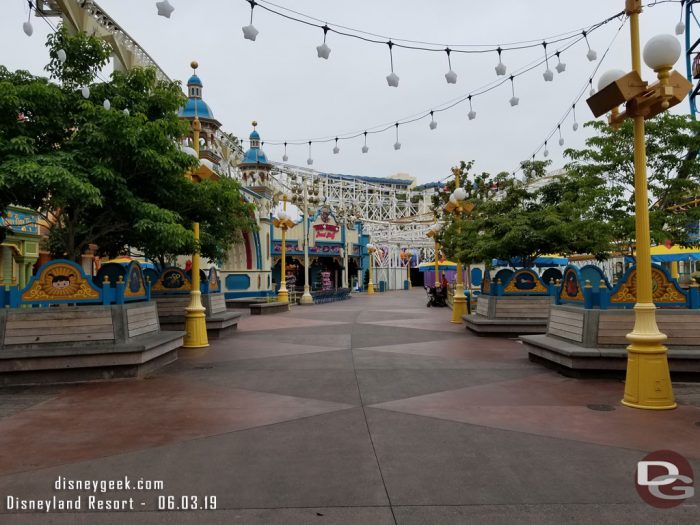 Next up, I took a spin on the Pixar Pal-A-Round. I had a nice view of the park below, which was still very empty.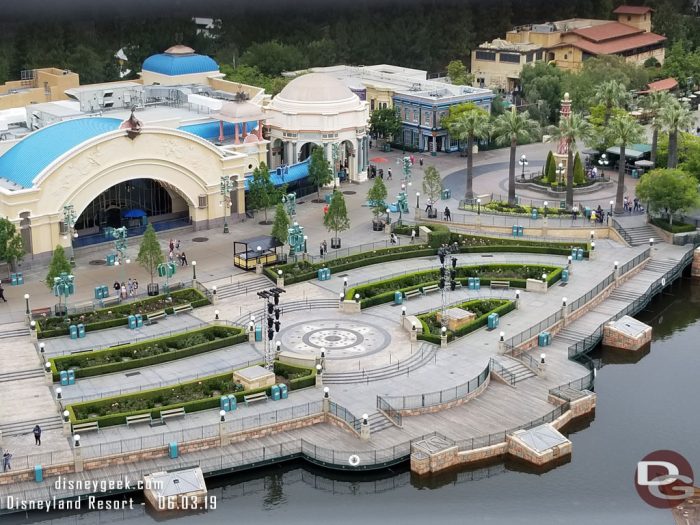 From my vantage point, I could check out the Marvel Project construction. You can see steel is rising up as the building and facade take shape.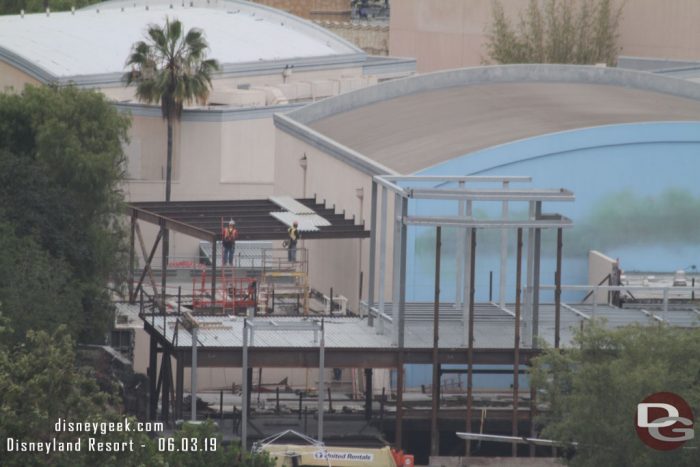 It looks like utillity work and preparations for construction are taking place on the former Flik's Fun Fair site. In the background you can see the Guardians of the Galaxy: Mission BREAKOUT! building.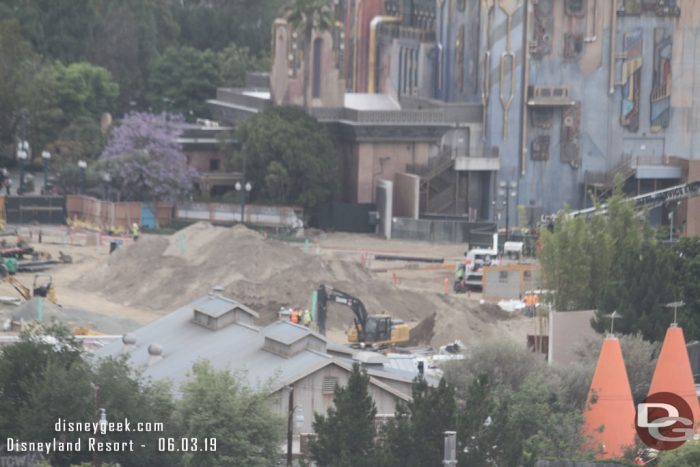 It also looks like the Inside Out Emotional Whirlwind attraction is nearing completion. It's supposed to open later this year.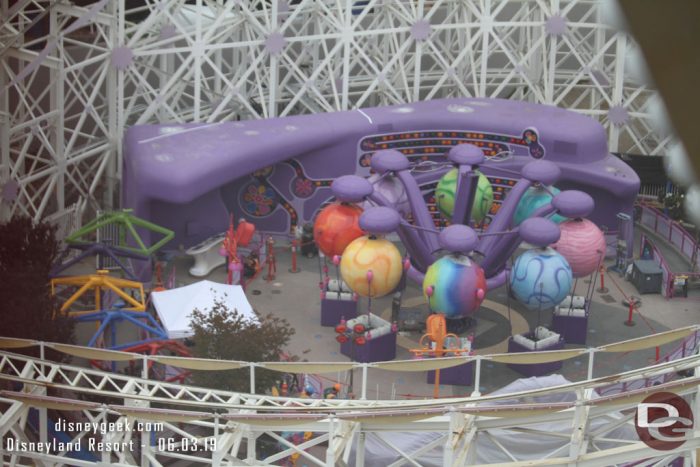 My next stop was Disneyland. I arrived on Main Street around 9:30 a.m.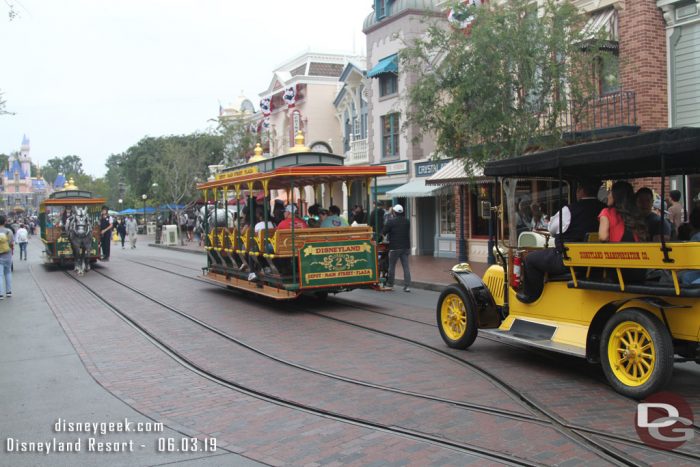 The tip board shows Disneyland wait times at 9:35. It was a quiet morning.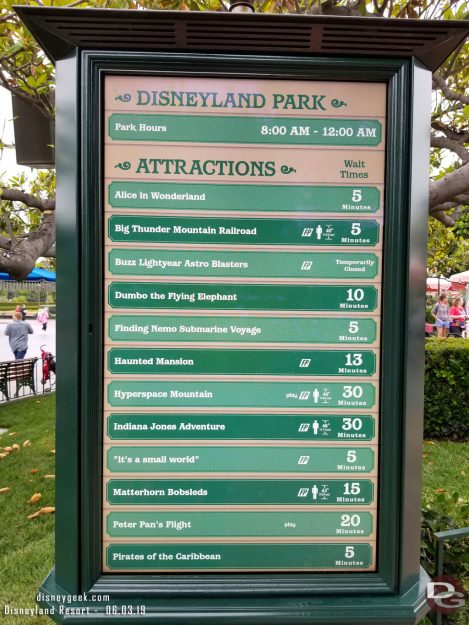 The Alien Pizza Planet sign is nearing completion.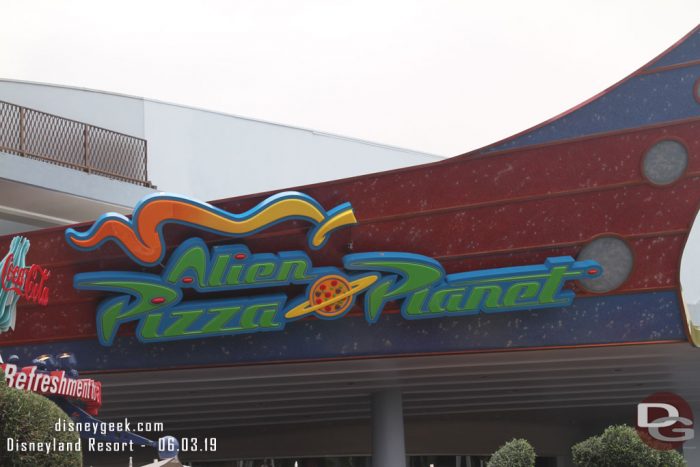 The Disneyland Band was performing in front of the newly restored Sleeping Beauty Castle.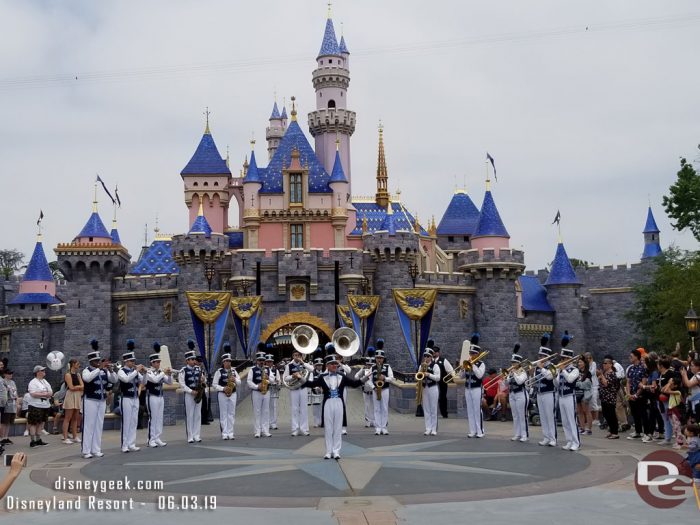 When they were done, Mickey Mouse led the band to Town Square.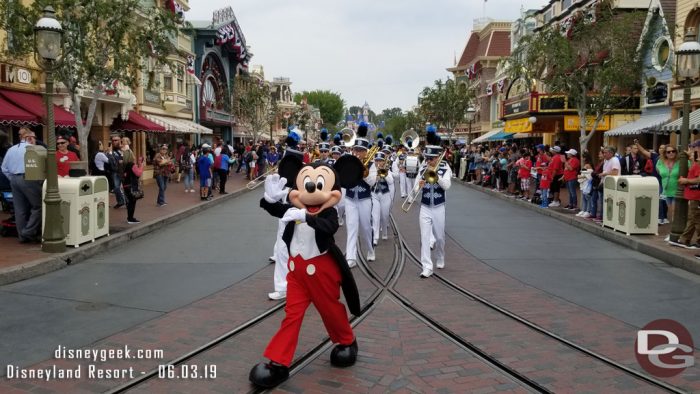 The sun was coming out, shining on the Rivers of America, as I made my way toward Critter Country and the entrance there to Star Wars: Galaxy's Edge.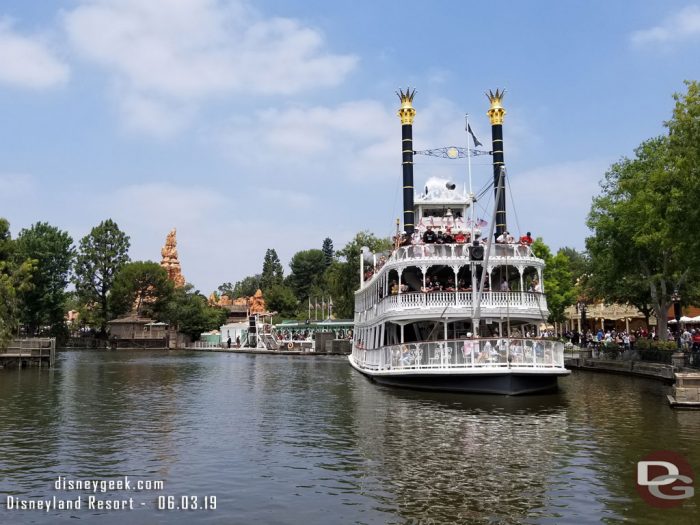 I spent a good part of the rest of my day exploring Star Wars: Galaxy's Edge for the first time. Since there have been so many other posts on it, I will skip that for now, but will have more photos as I return to see how the new land develops.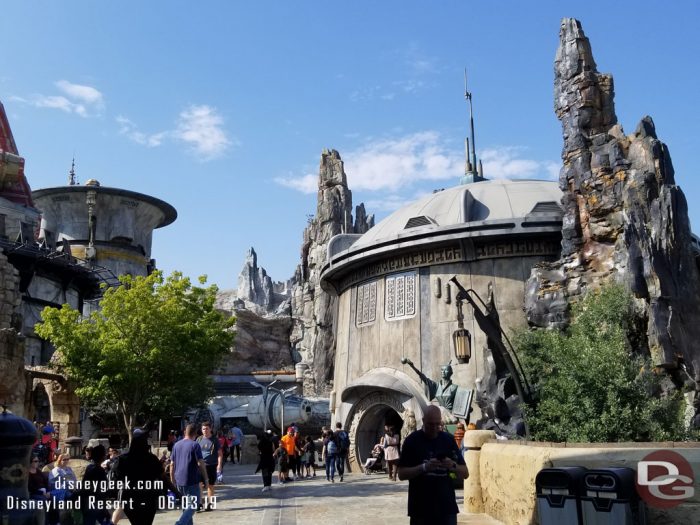 I'll leave you with a shot of the back of the new Hungry Bear sign on the walkway from Galaxy's Edge.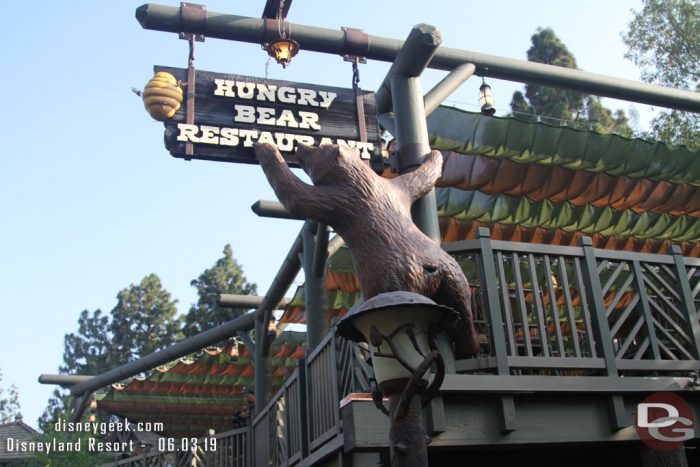 Hope you enjoyed these highlights from my trip to the Disneyland Resort. For additional photos and details from this trip you can check out the full Disneyland Update I posted on my site, https://disneygeek.com Also be sure to follow me on Twitter @disneygeekcom for pictures from the parks.
Remember to follow @allearsnet on Instagram and Twitter!
Check out our YouTube Channel for reviews, news, information and more!
Click below to subscribe to the AllEars® newsletter so you don't miss any of the latest Disney news!