Villains aren't just for Halloween anymore in Magic Kingdom! A new, separately ticketed event called Disney Villains After Hours will take place on select nights from June 6 to August 8.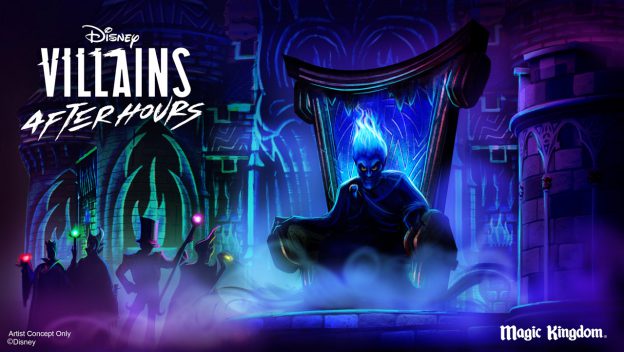 Tickets go on sale for this special event on April 29.
During the special event, the Central Plaza of the park will be transformed into a killer club scene with a DJ on the Cinderella Castle stage.  As the evening gets underway your "Caretaker" for the evening, the Lord of the Dead, Hades, will arrive in a burst of blue flames for the all-new show, "Villains Unite the Night."
"Villains Unite the Night" Show
With Meg by his side, Hades will sit on his dark throne awaiting the alignment of five planets, following a prophecy that states when they come together he will be able to rule the universe.
Of course, this dastardly plan won't go as expected, when an assembly of Disney Villains interrupts his party. Jafar, The Queen, Dr. Facilier and Maleficent arrive with henchmen in tow, prepared to showcase their powers with spine-tingling displays of skill. It seems these Villains have also heard the prophecy and believe they are the ones who will rule all.
Kate Pappas, managing producer with Disney Parks Live Entertainment explained, "This show is going to be more than 20 minutes long and run three times each night of the event, so everyone will have a chance to see all these great Villains on stage. Add in our amazing DJ, and the hub of the park will be pulsing with energy all night long!"
"Festival of Fantasy" Parade's Maleficent Dragon Float is "Set Free"
During the evening, the Maleficent Dragon will be freed from the "Festival of Fantasy" parade and let loose at night for the first time, breathing fire as she creeps through the park with her minions to join the party at the Central Plaza.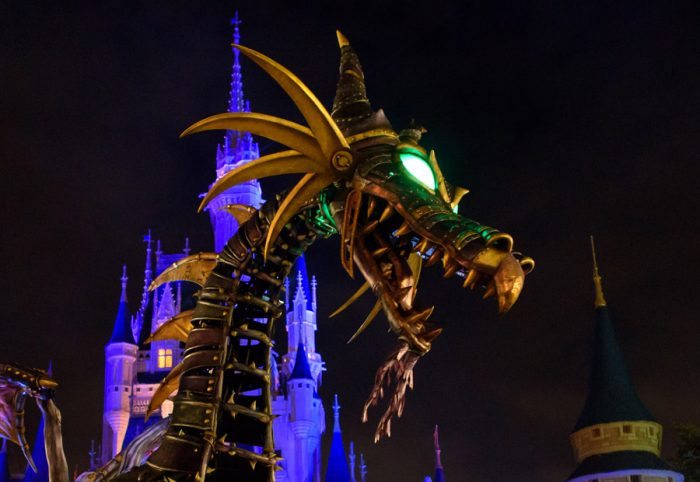 Villains Invade Space Mountain and Pirates of the Caribbean
In Tomorrowland, the Villains will invade Space Mountain, taking daring voyagers on a villainous trip they won't soon forget, with a new musical score and the vilest Villains taunting you as you whiz by. And over in Adventureland, a live crew of scurvy scalawags invades Pirates of the Caribbean in search of treasure.
Disney Villains After Hours also includes food and beverage selections, special event merchandise, and low wait times at more than 20 attractions and experiences across the park.
This event will not include character greetings with the Villains. Guests with Disney Villains After Hours tickets can enter the park at 7 p.m. on the event night. The event takes place from 10 p.m. to 1 a.m. Villains After Hours evenings will be:
Thursday, June 6, 2019
Thursday, June 13, 2019
Thursday, June 20, 2019
Thursday, June 27, 2019
Monday, July 1, 2019
Thursday, July 11, 2019
Thursday, July 18, 2019
Thursday, July 25, 2019
Thursday, August 1, 2019
Thursday, August 8, 2019
Tickets for Disney Villains After Hours go on sale April 29 and are $139 plus tax in advance or $144 plus tax on the event night. Annual Passholders and Disney Vacation Club Members can take advantage of a $30 discount and purchase tickets for $109 plus tax.
To learn more and purchase your tickets visit the Disney website.
Will you be attending Villains After Hours? Let us know in the comments below!
Can't get enough villains? Don't miss these recent villainous posts:
Be sure to follow @allearsnet on Instagram and Twitter!
Check out our YouTube Channel for reviews, news, information and more!
Click below to subscribe to the AllEars® newsletter so you don't miss any of the latest Disney news!