A multi-part story will kick off Sunday, May 5, on Disney XD and DisneyNOW's Marvel's Guardians of the Galaxy: Mission Breakout! The story arc will also feature several, distinct animation styles.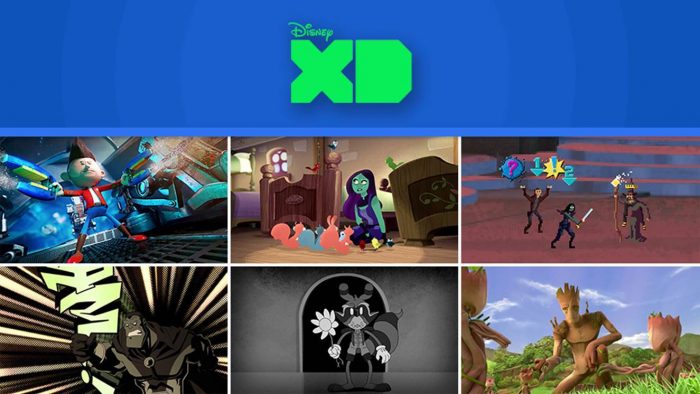 On Sunday, May 5, two back-to-back episodes of the series will air on Disney XD and DisneyNOW debuting the styles.
In the story, the Guardians are attempting to escape the Collector's collapsing ship. In an effort to escape, the Guardians jump into the Black Vortex Mirror — which not only separates the team but traps them in strange and new lands.
As the Guardians experience different times and dimensions we will see each world was created using different animation techniques that support the story. Animation styles used will include CG-stop motion, children's book illustration, 8-bit, motion comic, Golden Age, and traditional CG. Many of these animation methods will be a first for a Marvel animated series.
The premiere schedule is as follows:
Sunday, May 5 (9:30 p.m. EDT/PDT)
Black Vortex, Part One– When the Guardians become separated in the Black Vortex, Gamora wakes up in a children's fairy tale, while Drax is trapped in a comic book.
Black Vortex, Part Two – While caught in a CG sinister packing factory, Rocket must search for his best friend Groot and escape.
Sunday, May 12 (9:30 p.m. EDT/PDT)
Black Vortex, Part Three – Quill finds himself in a claymation world where the Milano is flying into the sun, threatening to melt him. Meanwhile, Groot and Drax must fight Ronan in a Golden Age world.
Black Vortex, Part Four – Gamora and Quill battle their way through an 8-bit Super Marvel World.
Marvel's Guardians of the Galaxy: Mission Breakout! stars Will Friedle (Disney's Kim Possible) as Peter Quill/Star-Lord, Trevor Devall (Johnny Test) as Rocket Raccoon, Vanessa Marshall (Star Wars Rebels) as Gamora, David Sobolov (Transformers: Prime) as Drax the Destroyer and Kevin Michael Richardson (The Cleveland Show) as Groot.
Will you be tuning into this special storyline for Marvel's Guardians of the Galaxy: Mission Breakout!? Let us know in the comments below!
And check out this page if you're curious to see how the animated show ties in with the attraction of the same name in Disney California Adventure!
Be sure to follow @allearsnet on Instagram and Twitter!

Check out our YouTube Channel for reviews, news, information and more!
Click below to subscribe to the AllEars® newsletter so you don't miss any of the latest Disney news!