As we reported the other day, the Star Wars: Galaxy's Edge merchandise that is being previewed at this weekend's Star Wars Celebration convention is being changed every day, in an effort to showcase the many different shops the new lands will feature.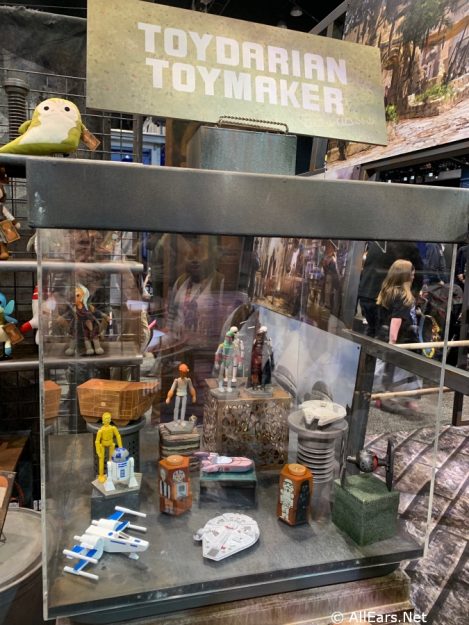 Saturday's focus was on the various toys and games that will be available.
The Toydarian Toymaker shop will feature toys that have a hand-crafted look. They will be based on the stories the children at the Black Spire Outpost hear and tell, and will be made from materials that might seem foreign to present-day Earthlings — but are familiar to residents of the planet Batuu.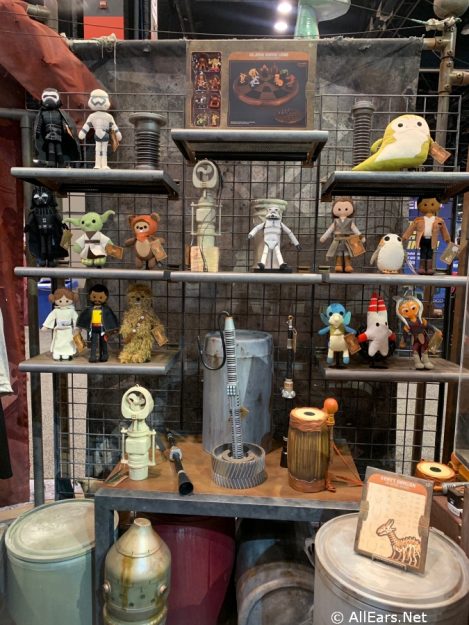 The Creature Stall, which will be located in the Galaxy's Edge marketplace, will sell a variety of familiar Star Wars critters, both plush and plastic.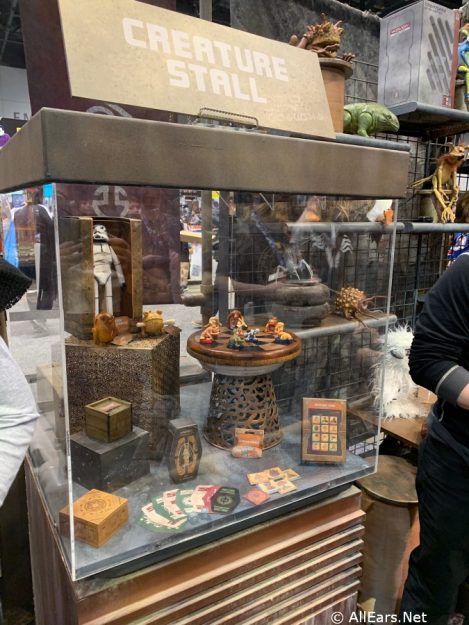 Sure to be a hit are these Kowakian monkey-lizards, below, which resemble a character known as Salacious Crumb — it was the creature that served as a sort of court jester for the villainous Jabba the Hutt.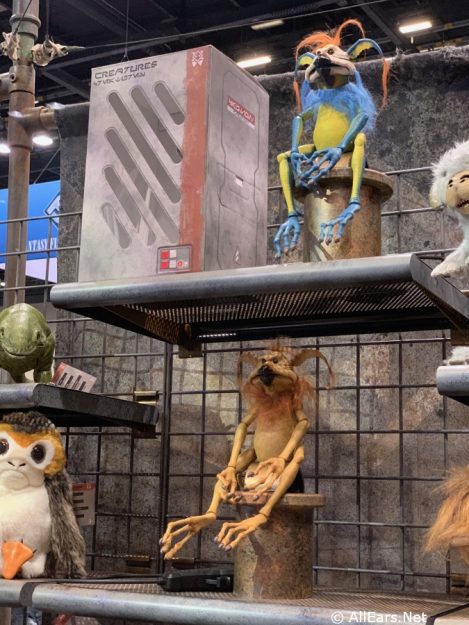 These critters will sit on your shoulder and can be manipulated to move, similar to the Banshees that are sold at Pandora – The World of Avatar.
The Creature Stall will also sell an adorable Porg that not only moves but makes sounds.
Toymaker Hasbro also revealed several Star Wars: Galaxy's Edge-specific items at the convention.
There will be tree sets of exclusive figures: a First Order 4-pack that includes Kylo Ren, Commander Pyre, Mountain Trooper, and an MSE (or mouse) droid…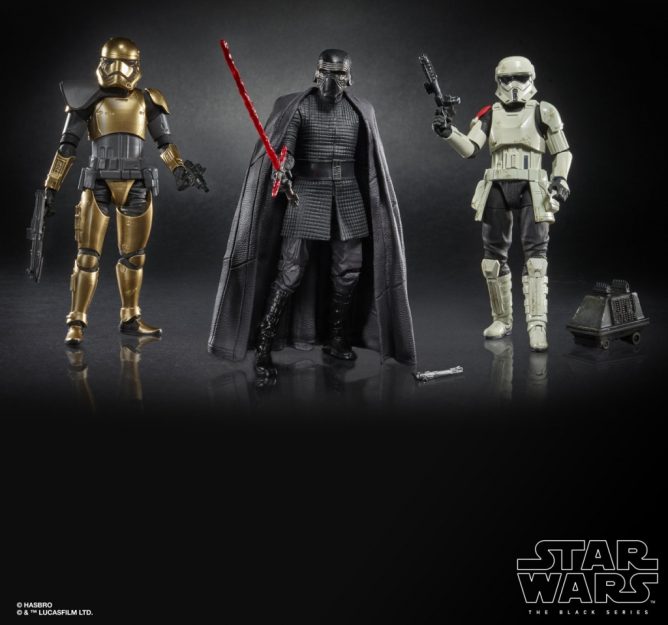 … A Droid Depot 4-pack that features C-3PO (with articulated elbows and updated thighs), R2-D2, BB-8, and DJ R3X, or Rex – the former Star Tours pilot who will be spinning tunes at Oga's Cantina…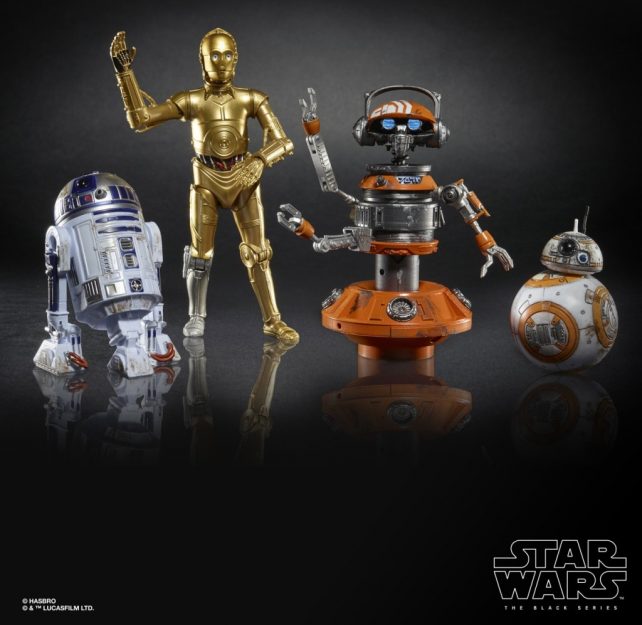 … And the Smugglers Run 4-pack, with Rey, cheerful and sad porgs, Chewbacca, and Hondo Ohnaka, a new character that will feature prominently as an animatronic on the new Smugglers Run attraction.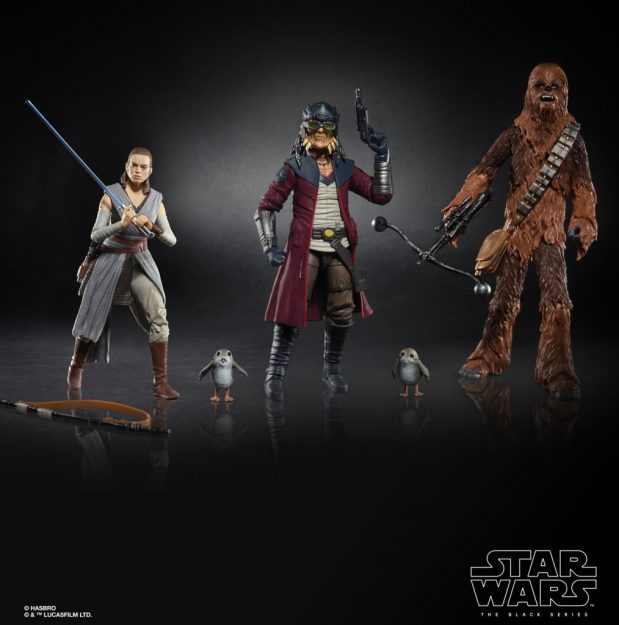 The packaging for these new Star Wars: Galaxy's Edge figures is designed to fit into the land seamlessly. Just as none of the apparel being sold will have "Star Wars" or Disney brand markings, there will be no Hasbro or Disney logo on the front of the packs.
Stay tuned for more news related to Star Wars: Galaxy's Edge coming out of Star Wars Celebration this weekend!
Are you anxious to get your hands on some of these new Galaxy's Edge toys? What toys or games would you like to see? Leave us a comment below!
Be sure to follow @allearsnet on Instagram and Twitter!

Check out our YouTube Channel for reviews, news, information and more!
Click below to subscribe to the AllEars® newsletter so you don't miss any of the latest Star Wars: Galaxy's Edge news!