One of the many re-imagined spaces in Disney California Adventure's recently-opened Pixar Pier area is the new sit-down restaurant Lamplight Lounge.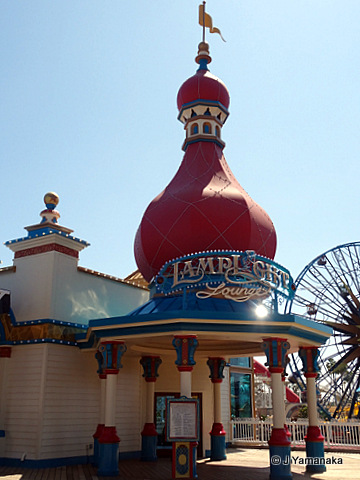 [Unattributed photos courtesy of Disney]
This location has been a restaurant from DCA's opening, and has undergone as many transformations as DCA itself. Originally "Avalon Cove by Wolfgang Puck," it was a fine dining establishment that was as short-lived as it was ambitious. It closed within a year and eventually reopened as "Ariel's Grotto – Disney Princess Celebration" which was a character dining experience and a prix fixe package option when "World of Color" started up in 2010.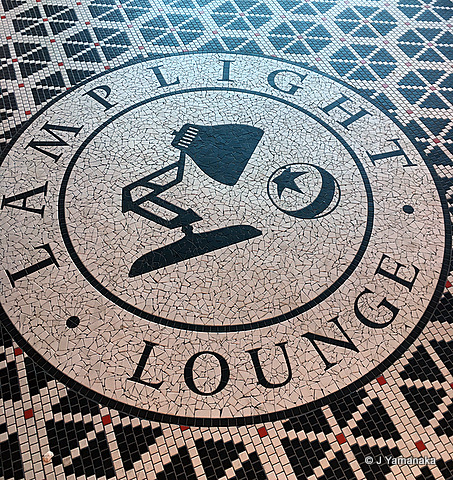 Now re-conceptualized as a "California casual gastropub," the restaurant still features the same panoramic view of Paradise Bay, but has a virtually all-new menu and a design that pays tribute to all the talented Pixar artisans.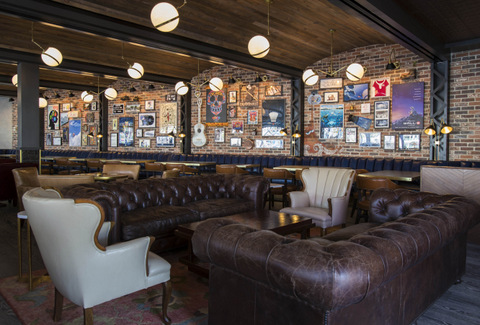 Handwritten notes and quotations from various Pixar employees adorn some of the walls, giving the eatery the air of a place where Pixar artists and storytellers come to relax and hang out. The sketch art chandelier (similar to the one in the Art of Animation resort at Walt Disney World) represents the notes and drawings generated in the course of creating one of the classic Pixar films.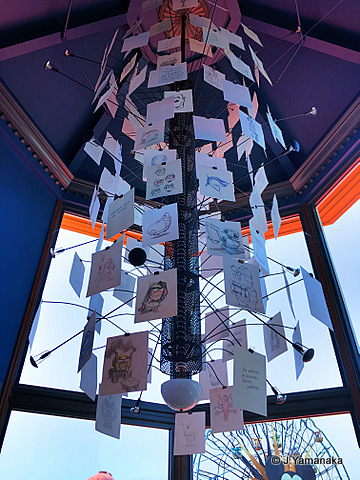 (The chandelier features blank pages at the top and more detailed drawings at the bottom, depicting graphically a film's evolution.)
Over on the t-shirt wall, some of the crew shirts designed specifically for members of different departments on different films are on display.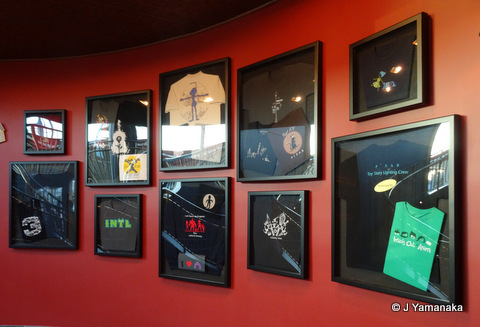 Replicating an actual conference table at Pixar, one booth sports a table containing die-cast "Cars" toys, with a variety of different Pixar toys and design notes to and from the manufacturers decorating the walls.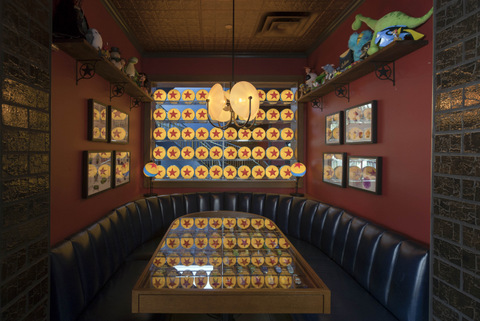 Even the signs on the restrooms mirror the restroom signs that can be found at the Emeryville studio.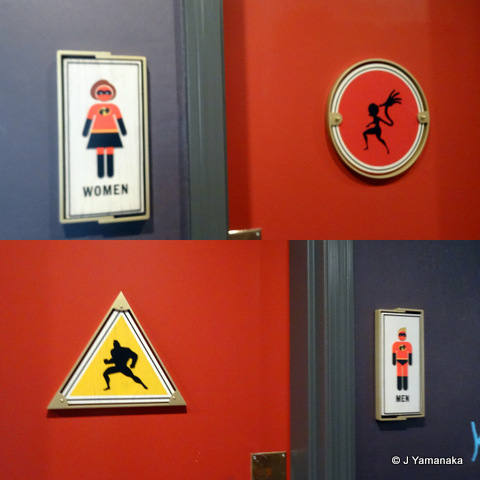 Lamplight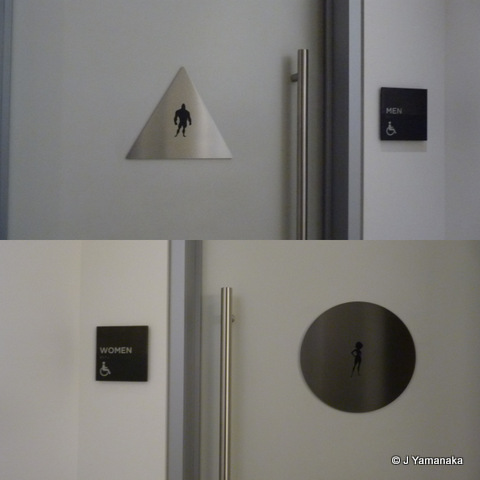 Pixar
As part of the media preview, Disney hosted a meal at Lamplight Lounge for us to take a look at the new menu.
— Lamplight Lounge Menu with prices and photos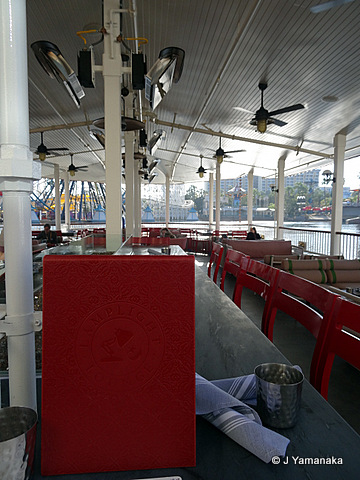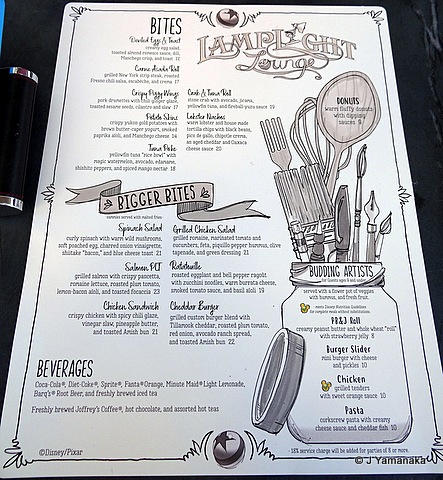 Surely the most impressive drink of the night was the Infinity Fizz: A combination of Powerade, apple juice, and cherry pearls, over a chunk of sublimating dry ice created a Buzz Lightyear-green smoking concoction with dancing pink balls.
The taste was a sweet-tart flavor that reminded me a little of "Nerds" candy. They don't give you a straw because the fumes going up your nose is supposed to be part of the experience–thankfully there's a perforated platform separating the dry ice from the rest of the drink so you don't get a mouthful of frozen carbon dioxide as another part of the experience. I thought that on the whole it was a fun thing to try, but the glass isn't that big and ends up being about 2/3rds full so probably not something I'd necessarily afford every time out.
The other specialty drink I tried was the 2319, named after the child contamination code from "Monsters Inc." A blend of strawberry, coconut, pineapple juice and Coke, this seemed like a perfectly respectable smoothy, but I couldn't taste the Coke at all.
As is often the case, the appetizers had a leg up on the entrees as far as variety and creativity, and I was able to taste a few of them. The one that I had the most expectations for was the tuna poke with covering rice bowl that you're supposed to smash with a big spoon.
While I did like it, I found it a little disappointing–the dome, which was kind of built up to me as this big production ended up performing a little like those puffy chips you get with peking duck after they've gone a little stale. It didn't really break very easily, and I was finally able to kind of cut a hole in the top before just removing the whole thing.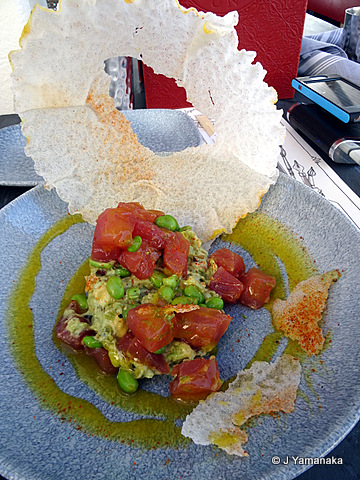 The other thing was that on looking at other photos of this same dish, every other example of it had it neatly stacked up in a layered cylinder, whereas the presentation of this one kind of looked like it had some tectonic instability. Tastewise it was pretty good, with the watermelon working better in concert with the ahi than I had expected in terms of both flavor and texture. The dome was not edible, but everyone else I spoke with afterwards liked theirs and said it shattered like glass, so this may just have been an unfortunate outlier.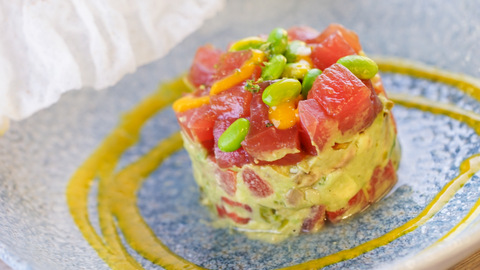 How it is apparently supposed to look.
The other appetizer I had was the crab and tuna rolls. I enjoyed these and appreciated that they didn't go with fake krab in them. The nori was a little tough, but that's hard to keep otherwise under conditions of mass production.
Other appetizers I didn't primarily order but got to taste included the evergreen Cove Bar lobster nachos which seemed pretty identical to the old ones.
Possibly my surprise favorite was the potato skins which were crispy and went well with the cheese. The one thing I did think was odd was the fact that I didn't actually see any skin on the paddies which were more like oversized tater tots.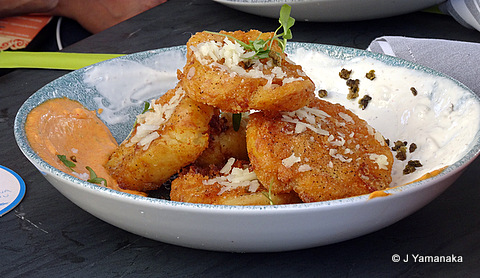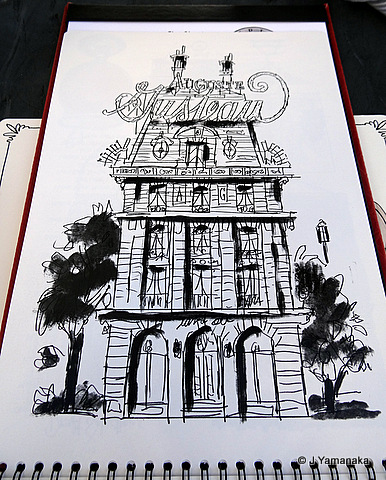 As far as the "Bigger Bites," I had the Salmon PLT which I liked quite a bit (despite being pretty full by this time.) The salmon was cooked well and the pancetta was every bit as crispy as described. The one thing that did seem off was that the description had it coming on focaccia, and it instead came on what appeared to be the same bun as the burger and the chicken sandwich. The fries were very good.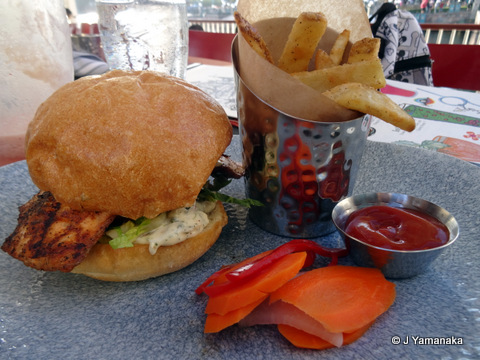 While I didn't get to try these entrees, they looked like they were good sized portions, making the Bigger Bites probably a better deal than the Bites as far as a cost/volume ratio given that the appetizers range around $15-20, and the entrees run around $20-23.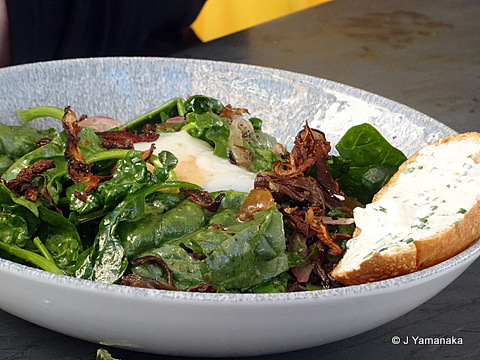 Spinach Salad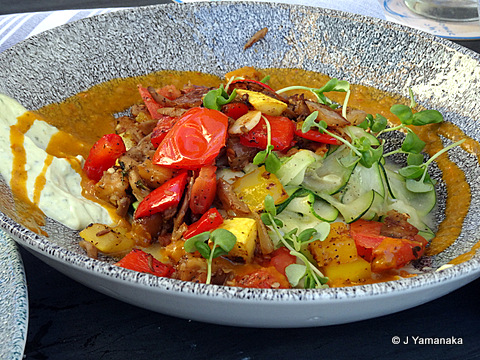 Ratatouille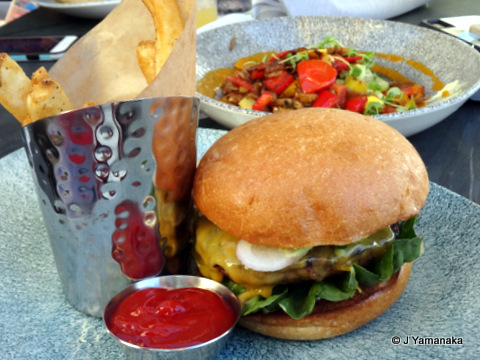 Cheddar burger
There were displays of food available for photos as well.

Grilled Chicken Salad

Chicken Sandwich
The only dessert on the menu was donuts, but they were done very well. I liked the dipping sauces which were strawberry and chocolate, as they almost gave the dish the air of a deconstructed jelly or chocolate donut.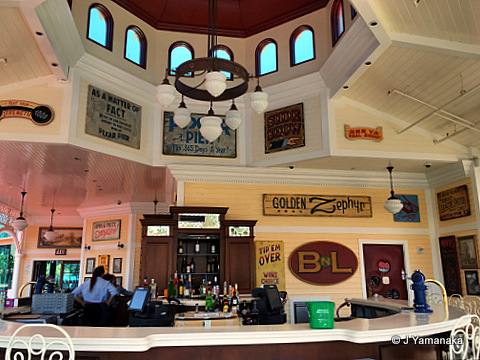 Up top, the old Cove Bar has largely remained close to its most recent incarnation, with the addition of Pixar Pier-related signs. You can order the Bites here, but not the Bigger Bites.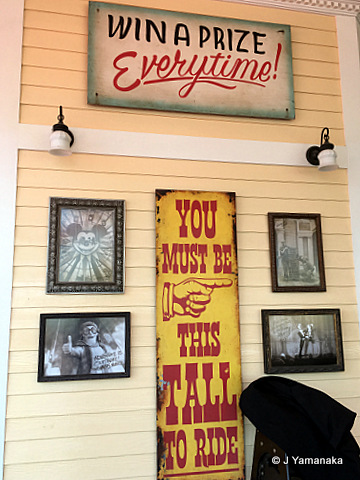 Finally, my favorite part of Lamplight may actually be the adorable sketch coasters they use here.
There are about seven different ones, counting one blank that people can use to make their own masterpiece. Characters represented include Jeff Pidgeon's alien, Domee Shi's Bao, and Pete Docter's cast of "Up."
So as a whole, I found Lamplight Lounge to be a pretty solid choice for a sit-down meal at DCA. Aside from the dome on the poke, I liked everything I tried. If I wasn't absolutely knocked out by anything, it may have more to do with a need for the kitchen to have a little time to settle into its new menu. People who enjoy admiring details will find a lot to pore over on the walls and tables here, and you'd be hard-pressed to beat the view.
If you're interested in more about the food, Laura Gilbreath spoke to DCA Culinary Director Chef John State about what's available at Pixar Pier, especially the Lamplight Lounge:
For those who would like to take a taste of the Lamplight Lounge home, here's a recipe for the Potato Skins appetizer:
Potato Skins
Lamplight Lounge
Disney California Adventure® Park
Makes 12
POTATOES
8 cups cold water
9 cloves garlic, peeled
2 shallots, peeled
2 sprigs fresh thyme
1 lemon, halved
1 tablespoon coarse salt
1 pound small gold potatoes (12 small potatoes)
1 cup cornstarch
1 teaspoon Spanish paprika
1 teaspoon ground cayenne
CAPER YOGURT
2 tablespoons butter
2 tablespoons capers, drained
1 (5.5 ounce) container plain Greek yogurt
1/2 lemon, zested and juiced
1 teaspoon coarse salt
Freshly ground black pepper, to taste
SMOKED PAPRIKA AÏOLI
3/4 cup mayonnaise
1 teaspoon smoked paprika
1/2 lemon, juiced and zested
2 teaspoons chopped chives
1 clove garlic, minced
POTATO SKINS
Canola oil, for frying
1/4 cup capers, drained
1/2 cup shredded Manchego cheese
Micro cilantro
FOR POTATOES:
1. Combine water, garlic, shallot, thyme, lemon, salt, and potatoes in
stock pot. Bring to a boil and simmer, covered, for 12-15 minutes,
until potatoes are tender.
2. Drain potatoes and cool for 10 minutes.
3. Combine cornstarch, paprika, and cayenne in a small bowl. Set aside.
4. Smash potatoes gently between two baking sheets until they are in
slightly flattened circles.
5. Line a baking sheet with parchment paper.
6. Roll smashed potatoes in cornstarch mix and coat on all sides. Place
on parchment lined baking pan and freeze for at least 2 hours.
FOR CAPER YOGURT:
1. Heat butter in small skillet over medium heat until melted. Add
drained capers and cook for 5 minutes. Remove capers from butter
and cool for 15 minutes.
2. Combine Greek yogurt, lemon zest and juice, and salt in a small bowl.
Add reserved capers. Season with pepper, to taste. Refrigerate until
ready to serve.
FOR SMOKED PAPRIKA AÏOLI:
1. Combine mayonnaise, smoked paprika, lemon juice and zest, chives,
and garlic in a small bowl. Refrigerate until ready to serve.
FOR POTATO SKINS:
1. Preheat oil in deep fryer to 350°F.
2. Drain capers and fry for 3-5 minutes, until crispy. Drain on paper
towels.
3. Remove potatoes from freezer and fry for 3 minutes, until crispy.
4. Top potatoes with Manchego cheese, fried capers, and micro cilantro.
5. Serve with caper yogurt and paprika aïoli.
*Be sure to ask your server to show you the secret dining room!
For the downstairs dining area, reservations are available up to 60 days in advance on Disneyland.com or by calling Disneyland Dining. The upstairs area is first come, first serve.