by Evan L. Weston
AllEars® Guest Blogger
We're deep into the heart of Mickey's Very Merry Christmas Party season, and that means the scramble is on to snatch up passes for the Magic Kingdom's premier specially ticketed event.
In my feature article in the November 15 edition of the AllEars® newsletter, I discussed how Magic Kingdom tends to be the most difficult park to convince the teen and young adult demographic to try, and the Christmas Party can exacerbate some of those perceptions. The event is built not around thrills or a club atmosphere, but around exclusive character meets and once-a-year shows and parades. But don't let the surface events fool you; there's plenty of fun to be found for our subset, including every young adult's absolute favorite thing in the world. Say it with me…
FREE FOOD!
Yes, there are not one, not two, but eight complimentary treats included with your Christmas Party admission! The offerings include four different cookies, three beverages, and what turned out to be my girlfriend's favorite, a blue raspberry snow cone that you should definitely have before it gets too cold! On the food side, the best offerings are the snickerdoodle cookies, on hand at Tortuga Tavern in Adventureland, and the peppermint bark cookies from Tomorrowland's Lunching Pad. If you're out on a cool Florida night, you can pick up hot chocolate at both of those locations, but I tended towards the spiced hot cider, located all the way in the back of the park at Pete's Silly Sideshow. It's worth the trek, if only to gawk at the sometimes three-hour line to meet the Seven Dwarves!
Mickey's Very Merry Christmas Party also includes a benefit you shouldn't discount: some of the shortest waits you'll ever see on the Magic Kingdom's flagship attractions.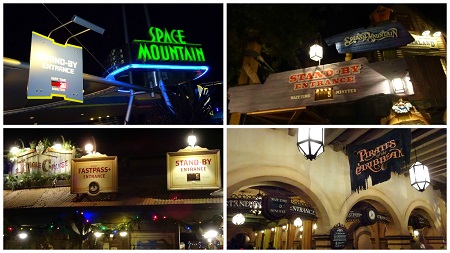 With capacity limited and most of the attention focused on the shows and parades, attractions that normally see wait times exceeding an hour often can be done in under 20 minutes. Space Mountain, for instance, never went higher than 25 minutes at any point during our Friday night visit to the Christmas Party. Line times plummet further after Holiday Wishes and especially after the final parade; just after 11 p.m., only the uber-popular Seven Dwarfs Mine Train had a wait higher than 20 minutes, sitting at a very doable half an hour.
Lastly, for those looking to get into the Christmas spirit, Holiday Wishes is well worth your time. Don't bother waiting forever in front of the castle for a premium view, though; instead catch it from the side of the castle (where plenty of the show is still visible) and stay near a hub exit, ready to break back for the rides before the crowd disperses. It's really not a bad view:
For other entertainment, Tomorrowland features four performances a night from VoicePlay, a supremely talented, Orlando-based a cappella group that came to fame on NBC's "The Sing-Off." The shows are, for whatever reason, never particularly crowded, and offer a very cool theatrical experience. It's absolutely wild what these guys can do with just their voices!
Between free food, short waits, and a little bit of Christmas magic, be sure to remember that Magic Kingdom, even Mickey's Very Merry Christmas Party, has something for everyone in the family!