Hear yea, hear yea. The royal little princesses have another opportunity to look their best before parading around at Walt Disney World.
We reported last month that the dining room in Cinderella Castle at Magic Kingdom is undergoing renovations after the holidays and the Cinderella's Royal Table dining experience is moving temporarily to Citricos at the Grand Floridian Resort. And that got us to thinking: What what would royal dining be without the opportunity for young princesses to be transformed at the nearby salon?
Of course, Walt Disney World planners have thought of this, and the Ivy Trellis Salon will begin offering the new Perfectly Prepared Princess Package on Jan. 8. (Reservations will open on December 22; call 407-WDW-SPAS.)
Much like the makeovers offered at the Bibbidi Bobbidi Boutique, a popular salon run by the fairy godmothers-in-training with two locations at Walt Disney World, the new services designed for kids ages 4 to 12 focus on hair, makeup and nails.
However, what you get for your money is not quite the same. As the mother of a 10-year-old daughter who LOVES the Bibbidi Bobbidi Boutique and has been fortunate to have visited it multiple times since she was a toddler, I have a keen interest in these types of experiences. Yet my first impression of the news of the makeovers offered as the Perfectly Prepared Princess Package is that they are significantly more expensive.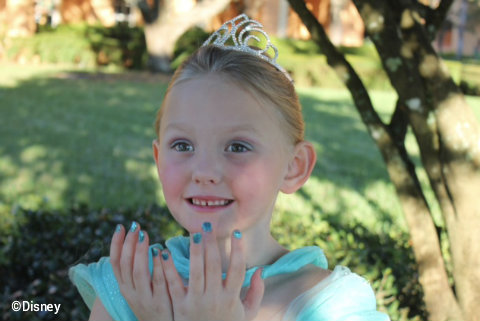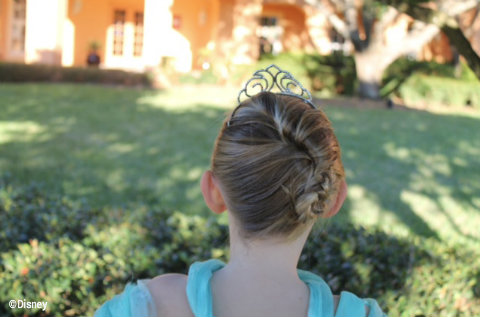 The new Perfectly Prepared Princess Package has three options:
** Princess hairdo with a souvenir tiara — $50.
** Hair-styling plus glow make-up — $75.
** Hair, makeup and a fancy manicure — $90.
By comparison, the entry-level Crown Package at the Bibbidi Bobbidi Boutique includes hair, makeup and nail polish PLUS a face gem, princess sash and tote for about $60. Even considering that the new package offers a manicure and the Bibbidi Bobbidi Boutique only paints a child's nails, that's still a $30 difference. And, sure, that could be explained as the cost of a spa service. But does a young girl really need a full manicure when painting her nails usually is just as exciting?
Certainly, parents can pick the option of the Perfectly Prepared Princess Package that best fits their budget, but I speak from experience when I say that many girls will feel cheated if they don't get all the treatments when the other young princesses are being indulged. In addition, visitors to the Bibbidi Bobbidi Boutique take their makeup palettes, hair accessories and nail polish home with them. I would imagine this will be the same at the salon makeovers because each princess is given a new kit for sanitary reasons. One of my fondest memories is seeing my daughter at age 4 clutching that pink Bibbidi Bobbidi Boutique bag for the rest of her day at the Magic Kingdom. She was so thrilled with her goodies that she would not let them out of her sight, and she even slept with them next to her pillow that night!
Still, I have to applaud the decision to add princess makeovers to more locations at Walt Disney World. (The Perfectly Prepared Princess Package also will be available at the Coronado Springs Casa de Belleza Beauty Salon and at the Yacht and Beach Club Resort Ship Shape Salon.) That's because the Bibbidi Bobbidi Boutique sites are so popular that you really have to make reservations far in advance, and even then, it can be difficult to book during busy periods. So, even with the higher cost considerations, the Perfectly Prepared Princess Package gives more families the opportunity to be immersed in the experiences that their children love. And after all, that's likely a large part of the reason they chose to vacation at Walt Disney World. And if you have any doubt about how important those experiences are to youngsters, just ask the countless number of little girls in princess dresses throughout the parks on any given day.