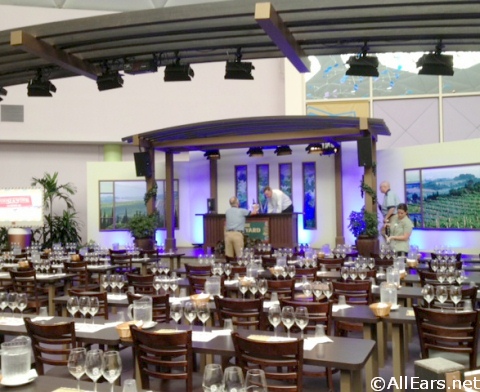 One of the less expensive events to attend at Epcot's International Food and Wine Festival are the beverage and culinary demonstrations held daily in the Festival Center.
The beverage seminars are either $14 or $11 and advance reservations are recommended. The popular beverages and culinary demos will sell out! Tables in Wonderland members, Annual Passholders, DVC members, and Golden Oak residents are able to purchase a $2 discounted ticket for these events Monday through Thursday ONLY. Discounted reservations must be made via telephone at 407-WDW-FEST.
Today I attended the Silver Oak and Twomey Cellars tasting at $14 per person.
Upon entering the Festival Center turn left and look for the "Check-In" area. You'll need photo ID to pick up your tickets for the day (beverage and culinary seminars).
TIP: You can only pick up tickets for the current day. Be sure to bring your list of what seminars you reserved and pick up all the tickets at one time.
After getting your tickets, continue left to the vineyard stage and wait to be seated, or if you have extra time, visit the marketplace and cafe. We decided to get a fruit and cheese plate to nosh on before the tasting. At $5.39 plus tax, it was plenty for the 2 of us to share.
Our presentation today was given by Charlie Campbell, National Sales Manager at Silver Oak/Twomey.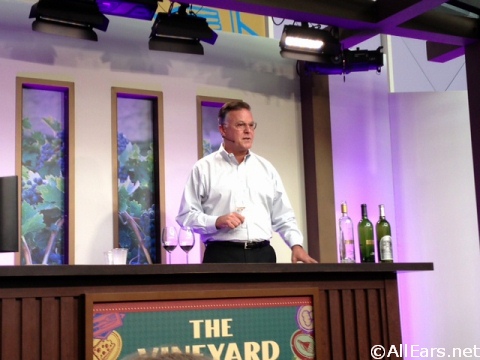 You never know until that day who will be presenting. Sometimes is the owner, winemaker or in this case, a member of the sales team.
TIP: If it is the owner or winemaker doing the presentation, they are sometimes available for a bottle signing after the talk. Check at the wine store prior to your seminar to find out.
Traditionally, three wines are poured at these tastings. There is a pitcher of ice water and small cups as well as a few (and I do mean few) crackers.
Also provided is a page with the wines you are tasting and a pencil to take notes.
TIP: The pencil is hard to read on the front of the page, flip it over and you'll be able to read your notes much better than I did! Or bring a pen to take notes with.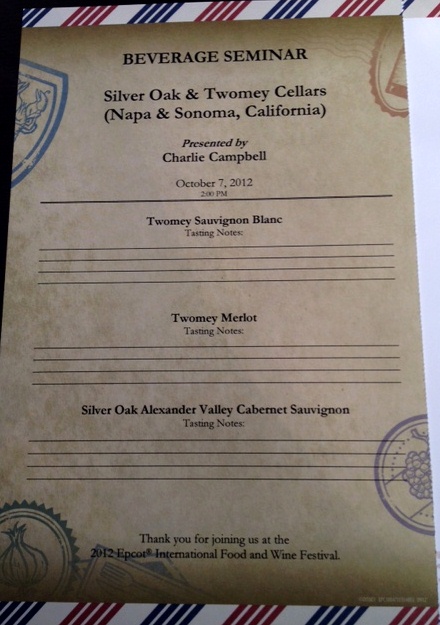 The three wines we tasted: 2011 Twomey Sauvignon Blanc, Twomey Merlot, and the Silver Oak Alexander Valley 2007 Cabernet Sauvignon.
Silver Oak is an American family owned winery and has been in business for 40 years.
Twomey and Silver Oak are owned by the same family. Silver Oak focuses solely on Cabernet Sauvigon, while Towmey produces Savignon Blanc, Merlot and 4 different Pinot Noirs.
I had never heard of Twomey Cellars before so I was glad to learn about them. We really enjoyed the Sauvignon Blanc (which actually was much better than the Duckhorn Sauvignon Blanc we had the night before at dinner). The Twomey wine was crisper and filled the mouth with lots of flavors. The Duckhorn was lighter with a short finish.
It was explained to us that "Twomey's founding winemaker, Daniel Baron, developed his passion for Merlot during the early 1980s while working in Pomerol and Saint-Émilion. For the Twomey Merlot, made at the winery's Calistoga location, Daniel uses a method known as soutirage traditionnel. Refined for centuries in Pomerol, soutirage traditionnel is a slow, careful process of decanting the wine from one barrel to another. At Twomey, this racking is done six times during the 18 months of aging. It is considered the ideal way to clarify red wine to crystal-clear brilliance while drawing its fruit characteristics forward and softening its tannins."
We enjoyed the merlot (which sometimes is blended with up to 10% cabernet franc). It had soft tannins and you could taste chocolate and dark fruits.
Last, but not least, we tasted the Silver Oak Alexander Valley 2007 Cabernet Sauvignon.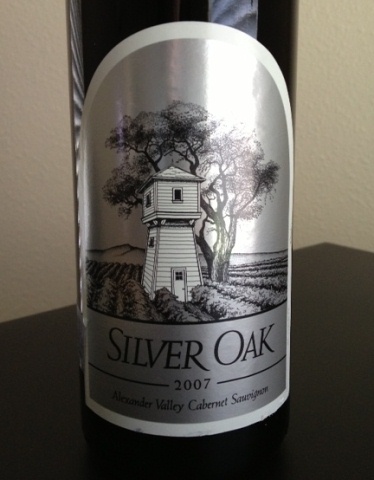 Two types of Cabernet are produced by Silver Oak. The first is from the Alexander Valley in Sonoma, the second from Napa Valley.
"Our 2007 Napa Valley, a blend of wine from vineyards throughout the appellation, is 90% Cabernet Sauvignon, 6% Merlot, 1% Cabernet Franc and 3% Petit Verdot. We blended the vineyard lots in early 2008 and transferred the wine to 100% new American oak barrels for aging. Blending prior to barreling allows us to achieve a balance of the wine's primary elements, such as fruit and tannin, before they are influenced by oak. The wine was then aged in barrel for approximately 25 months and another 20 months in bottle to harmonize its components before release."
The 2008 Alexander Valley Cabernet Sauvignon (100% cabernet) is a dark, rich full-bodied wine with great tannic structure and mouth-feel. It has a garnet color and a nose of ripe boysenberries, cherry liqueur, dark chocolate, sandalwood and a hint of roasting meat. On the palate, it is mouth-coating and incredibly rich in umami. It has a very long, savory finish with the slight grip of fine-grained tannins. Given proper cellaring, this wine should give drinking pleasure through 2030.
TIP: If you are a fan of Silver Oak and want to add a bottle to your collection… The Festival Center sells the 2007 Alexander Valley Cab for $55; this is about $20 less than retail or anything you'll find on the internet.
I highly recommend these beverage seminars as a great way to taste and learn about the various wines and winemakers!
NOTE: Some information has been taken from the website for Twomey Cellars and Silver Oak. If you are visiting California and wish to tour the winery, you must make advance reservations.