Vickie and I visited the new Princess Guest Rooms at the Port Orleans Riverside Resort at Walt Disney World. These rooms are filled with striking Disney details. After you admire the fireworks on your bed's headboard (very cool effect!):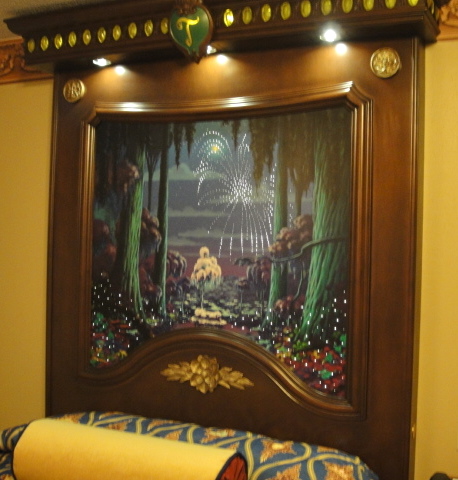 look for the classic Hidden Mickey on the table at the front area of the room. It's a dark Mickey image in the wood design of the table surface. Be patient; it may take you a few minutes to find it!

I toured WDW's Winter Summerland Miniature Golf Course to check out Hidden Mickey images. The gingerbread cookie with Mickey ears still peeks out from a stocking that hangs on the right side of the mantelpiece as you walk up the 16th hole of the Winter Course.

Kyle informed me that Donald has disappeared! In the past, a Donald Duck nutcracker stood proudly by Goofy on the left side of the Winter Course 16th hole mantelpiece.

But as you can see, he's been removed!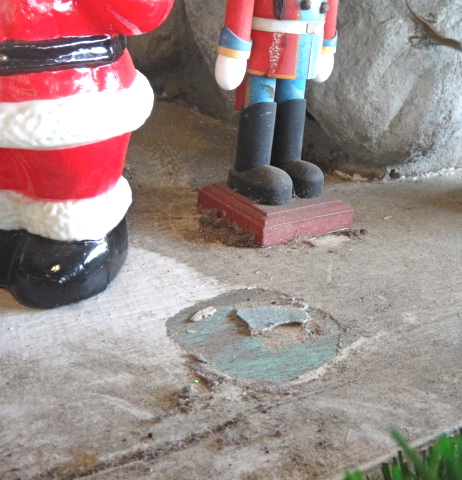 This is the reason we all must remain vigilant. Hidden Mickeys (and other hidden characters) sometimes vanish. Maybe Donald will return someday to his rightful place at the 16th hole of Winter Summerland!
Thankfully, Mickey, Minnie and Pluto are still smiling in a sleigh on another mantlepiece, visible from the 16th holes of the Summer and Winter Courses.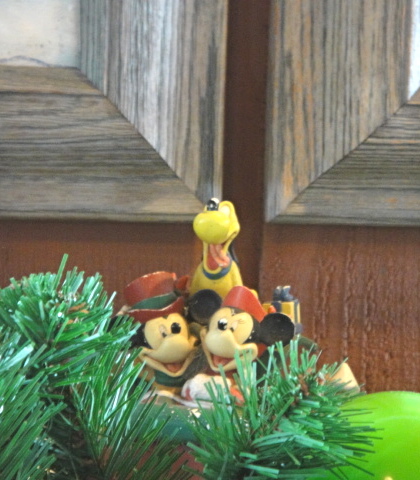 Hidden Mickeys add even more fun to miniature golf at Walt Disney World!