Vickie and I strolled toward the back entrance of Epcot one morning to check out a D23 event at the Food & Wine Festival. I spotted remnants of some Food & Wine (in this case, Beer) revelers outside the Beach Club Resort. I think they're still asleep!
I very much enjoy Disney's music lineups for the seasonal festivals. That evening, I was able to catch the last part of Starship's (with Mickey Thomas) set ("We Built This City …") at America Gardens Theatre.
The D23 event started in the American Adventure Pavilion Rotunda.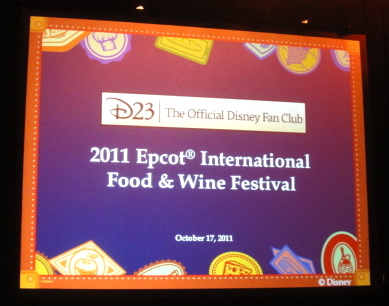 The highlight of the D23 event was meeting Disney Legend Bob Gurr. He was the early Disneyland attraction transportation guru, conjuring up the vehicles for Autopia, the Haunted Mansion, the Disneyland Monorail, the Submarine Voyage, and the Matterhorn Bobsleds, among others. He is incredibly energetic and enjoys the camaraderie with other Disney fans. It was an honor to meet him! (He did seem to know about Hidden Mickeys!)
The next day, we heard from other luminaries, including Marianne Hunnel and Michael Jenner, the creators of Epcot's Food & Wine Festival. Food & Wine gets better every year; thanks for all you do!
The D23 lunch included some delectable choices: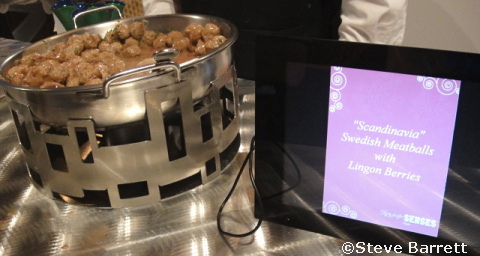 That evening, D23 had special seating for the America Gardens Theatre show: Sugar Ray ("I… just wanna fly, put your arms around me baby …")! What a show! The audience (me included) was really into the performance! (One cool fact: Sugar Ray has had the same band members for over 20 years; that's a real working partnership!)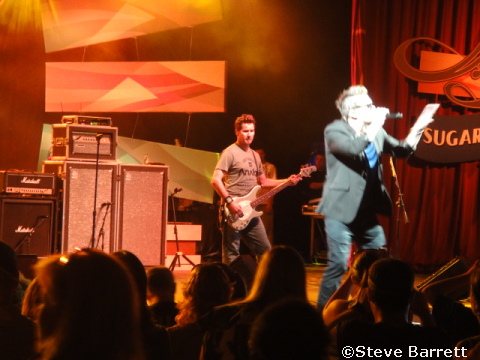 Sometimes, even though I live near WDW, I just don't want to leave! Thanks D23!